From Creation to Distribution: The Most Valuable Digital Asset Management Integrations
Managing and sharing digital assets can be complex and time-consuming in today's fast-paced digital world. Digital Asset Management (DAM) systems have become a crucial tool for companies that need to manage their growing libraries of digital assets, including images, videos, audio files, documents, creative application files, and more in a central hub.

While a DAM system can help to streamline the management of these assets, the true power of DAM lies in its ability to integrate with other business applications seamlessly.

This blog article will explore the most valuable digital asset management integrations and how to integrate them into your workflow.
Table of Content
What are Digital Asset Management integrations?
DAMs centralize a brand's content and integrations that aid in marketing those content in one place. A valuable and useful DAM must be connected to various digital infrastructures, such as content management systems, product information management tools, creative software, and more.

Digital Asset Management integrations are then the connections between your DAM system and other tools and software. DAMs with an open architecture with broad extensibility frameworks can then allow for the seamless transfer of digital assets across different tools and software, streamlining workflows and eliminating the need for manual file transfers.
Why are DAM integrations valuable?
By centralizing all digital assets in one location and automating various workflows that work together via direct integrations or APIs, Digital Asset Management integration helps businesses in many ways.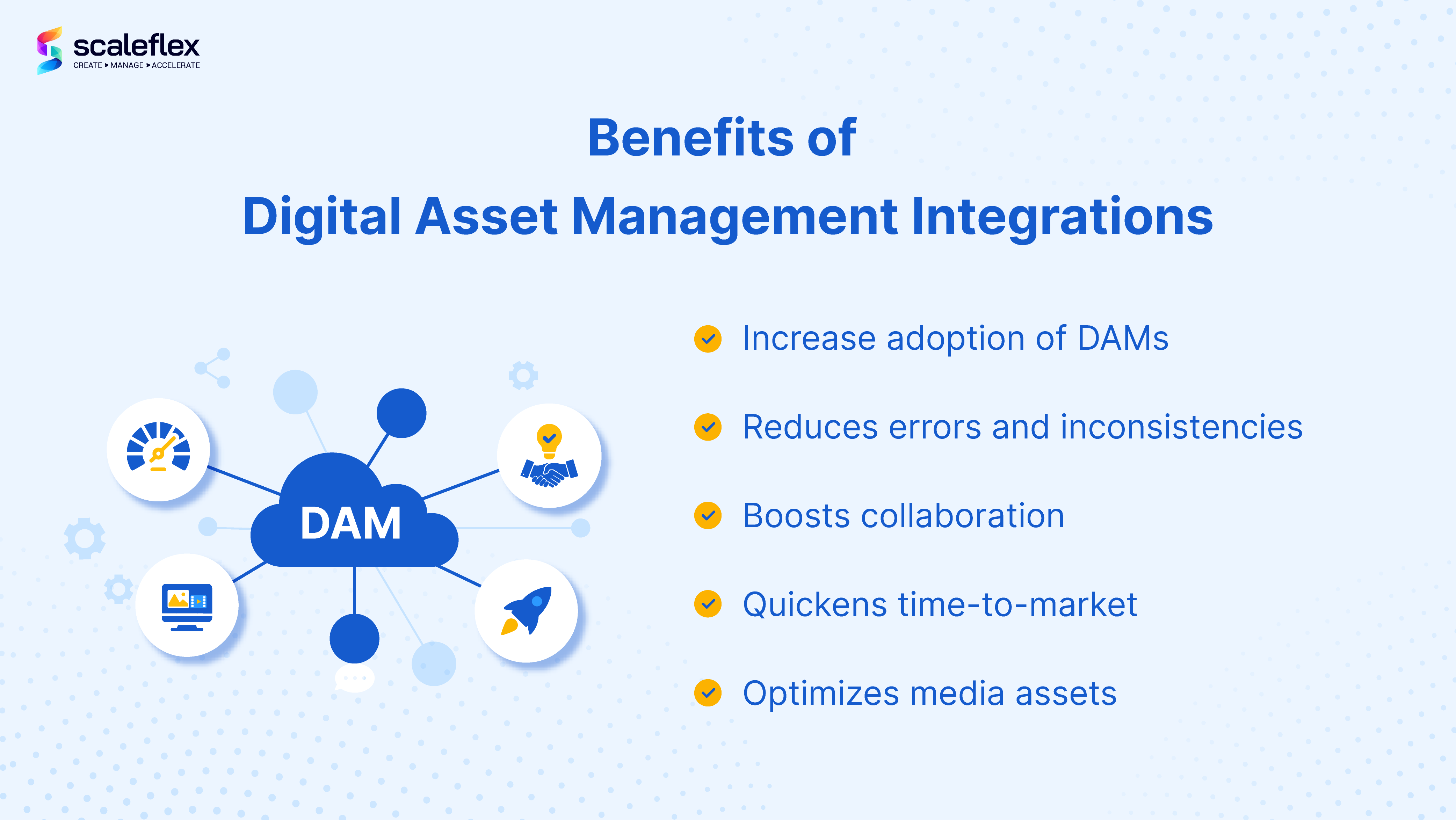 Increase adoption of DAMs
DAM integrations enable users to use the DAM with their existing business tools. This means that businesses do not need a company-wide overhaul and can fit a DAM easily within their current technology environment, especially when adopting a DAM with MACH Architecture.
Reduces errors and inconsistencies
When working with so many different platforms, mistakes may happen when downloading and uploading a media asset from one platform to another. For example, when integrating a DAM with a CMS, assets can be automatically synced across multiple channels, ensuring that only the latest, approved version is distributed. Metadata will also be synchronized across the platforms to ensure that assets are consistently and accurately labeled, making them easier to search, retrieve, and use.
Boosts collaboration
Digital Asset Management integration can enhance collaboration by enabling teams to access assets from other systems. Creative teams using design software like Adobe CC to create and edit media assets can easily share the completed artwork directly through the DAM. This removes additional steps and eliminates the need to move from one system to another. Other teams, like sales and marketing, can also access, comment, and approve these assets in one place before it is displayed on websites, sales decks, and collaterals.
Quickens time-to-market
With connected systems, marketing teams can anticipate a much faster time-to-market for their media assets. Want to update a new logo on your marketing collateral? Marketers no longer have to scour through the website to update the links and media assets, when everything can be synced from the DAM.
Optimizes media assets
DAM asset integrations with other tools and software can provide additional functionalities such as media optimization. Processing images and videos for the web can be a time-consuming and tedious task. Not only do marketing and development teams need to pay attention to the best formats, but they also need to ensure images are compressed without compromising quality.

Digital Asset Management with in-built media editors and optimizers can be exceptionally useful to boost time-to-market speeds. No more relying on another software to compress images, files, and videos when you can do it automatically from the DAM.
What are the top DAM integrations?
There are a variety of ways to integrate Digital Asset Management, such as an out-of-the-box integration by DAM providers, custom-built integrations through the use of APIs, and external dam integrations (third-party). No matter which one is chosen, each of them comes with its own unique benefits.

Now, we'll look at the top types of integrations for a DAM to be valuable in business operations.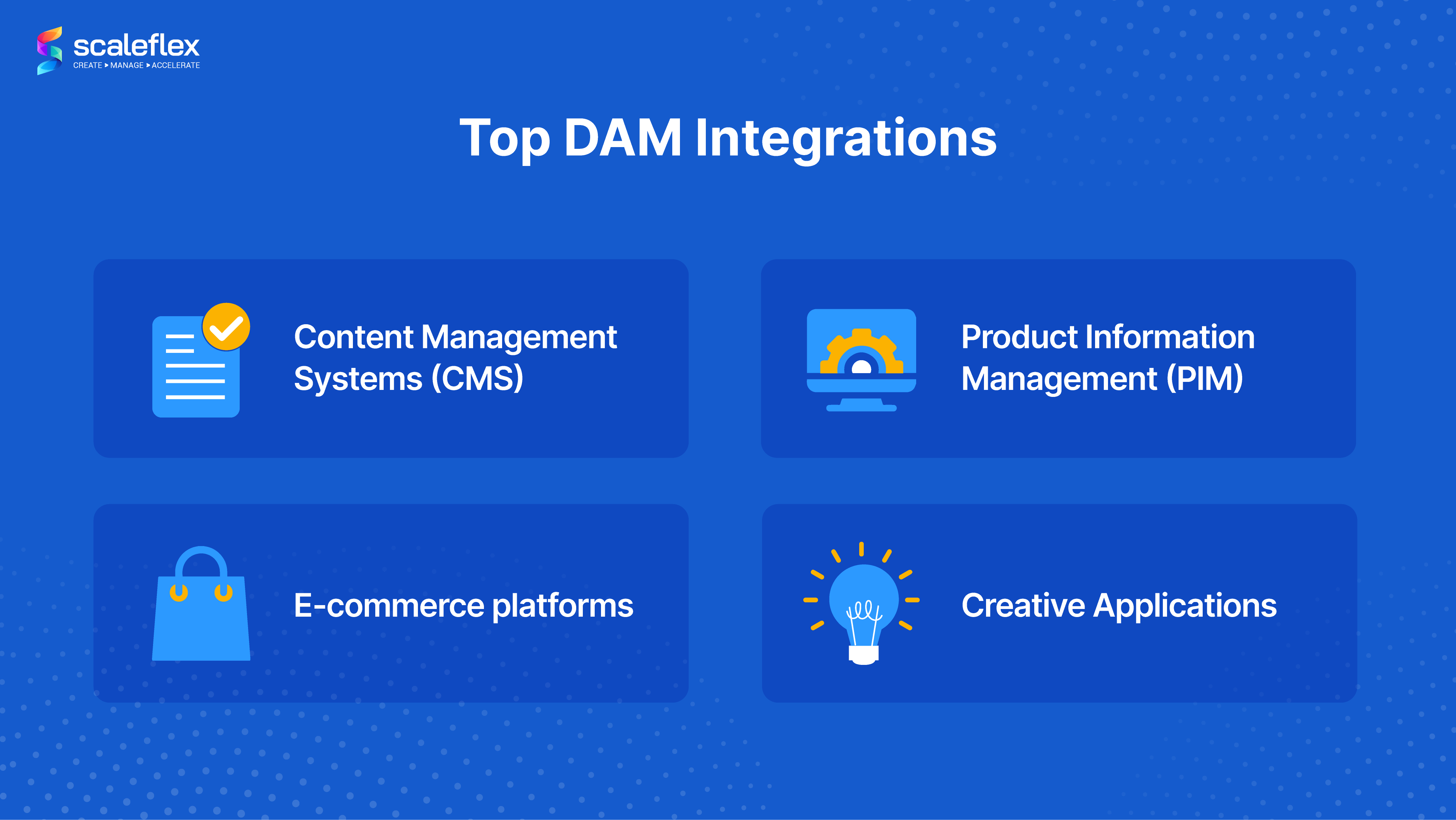 Content Management Systems (CMS)
DAM and CMS integrations are a game-changer for marketers and content creators as you can easily search through your DAM content for your website or blog without leaving your CMS platform.

No more cumbersome uploads and downloads from a media library, and no more duplicate media assets. Instead, you can open the DAM integration panel directly within your WordPress CMS (for example) and search through your media assets to select the perfect images or videos you want to publish. Not only will this streamline your publishing process, but it also ensures that you're posting the highest-quality and optimized versions of your digital content without any additional effort.

Scaleflex's Filerobot DAM integrates with popular CMS like:
Learn how APRIL, leading French insurer utilized Filerobot Headless APIs via seamless integration to Prismic CMS.
Product Information Management (PIM) systems
While DAMs are useful ways to store and manage important metadata and custom fields for your company's brand assets, many enterprises need a more specialized solution for managing highly detailed product information.

Integrating your DAM and PIM systems can help companies seamlessly structure, save, and access specific product information within a PIM, while still being able to view and access the corresponding brand assets within the DAM. This not only streamlines workflow, but also ensures that all product information and assets are always up-to-date and easily accessible.

Scaleflex's Filerobot DAM integrates with Akeneo PIM, and we're happy to build custom integrations to other PIMs for your business needs.
E-commerce and online store management platforms
E-commerce brands often have to continuously create thousands of banners and videos for festive sales campaigns, new product launches, and more. They also need specialized AI-powered automations like background removal of product visuals to create sleek images for use on their websites and marketplaces. Interactive 360 product images and videos are also necessary to help them deliver a seamless user experience. As such, having a DAM to automate all these processes that integrate well with their e-commerce platforms allows them to easily add optimized images to their product pages.
Marketing teams and e-commerce managers no longer have to worry about low-quality images or spend hours searching for the right visuals. With DAM and e-commerce integrations, brands can quickly access approved and up-to-date images and drop them directly onto their website. The seamless integration not only enhances customer experience but also showcases the best versions of your products.

Scaleflex's Filerobot DAM integrates with e-commerce and online store management platforms like:
Creative Applications
Integrating DAM tools with popular graphic design and creative applications like Canva and Adobe Creative Cloud, provides numerous benefits for creative workflows. These integrations eliminate the need to download and re-upload the content, allowing graphic designers and creative teams to easily transfer files between systems, track detailed asset version history, and update content that already exists within the DAM.

For example, for designers who are creating a promotional poster in Photoshop and need to insert your company's logo, or photographers with a DAM who need to apply a logo as watermark, you can open the DAM extension within Photoshop, search for the right asset and these downloaded images can be inserted as a new file or layer in your existing project. Such integrations save lots of time, maintain the quality of your assets, and ensure brand consistency across all content.

Marketing teams and other users can then find and repurpose approved collateral for their projects, while remaining on-brand, without waiting for a designer's approval.

Scaleflex's Filerobot DAM integrates with creative applications like:
What are the key takeaways?
DAM asset integrations with other tools and software can seem overwhelming, but it doesn't have to be. Many DAM systems like Scaleflex offer pre-built integrations with numerous popular tools, making it easy to set up and use. And if you have a unique workflow or require a custom integration, Scaleflex's global R&D team is happy to work with you to develop a new plugin and integration.

DAM integrations provide a valuable opportunity for businesses to streamline their workflows and improve efficiency, making an already powerful DAM even more robust from the creation to distribution of an asset. By connecting your DAM software with other tools, you can automate workflows, reduce errors, and increase collaboration. Our best tip is to consult the advice of DAM integration experts at Scaleflex and work with our experienced plugin developers for a smooth integration process. Schedule a meeting to find out more.
---