Digital Asset Management (DAM) vs Content Management System (CMS): What Is What?
In an internet minute, one million hours of content and digital assets were consumed by users worldwide. When it comes to content operations and managing digital assets, there are numerous systems in the market.
Since the terms "content" and "digital assets" are used interchangeably today, it may be challenging to differentiate between two management solutions - Digital Asset Management (DAM) and Content Management System (CMS). What is what, and how do they differ? Let's learn more in this blog post.
Table of Content
Understanding DAM vs CMS
Digital Asset Management (DAM) is a platform that helps companies store, manage, render and deliver rich media such as text, graphics, photographs, videos, and audio. It supports a wide range of different teams in content operations - marketing, design, development, communications, and external stakeholders.
In comparison, a Content Management System (CMS) is software that facilities the creation, revision, organization, and publishing of content. It is usually only accessed and owned by the marketing teams with a media library that hosts media assets relevant to the development of web pages.
DAM vs CMS: Similarities & Differences
The similarity between DAM and CMS is that both systems manage digital assets and content. Because these two terms are used interchangeably, it makes it confusing.
Digital assets refer to anything that exists only in a digital form and comes with a distinct usage right. They include digital documents, audio recordings, motion pictures, images, visuals, videos, and more. Content, essentially digital assets, is used in different contexts to deliver a message. In the context of a CMS, content refers to anything that exists on the webpage.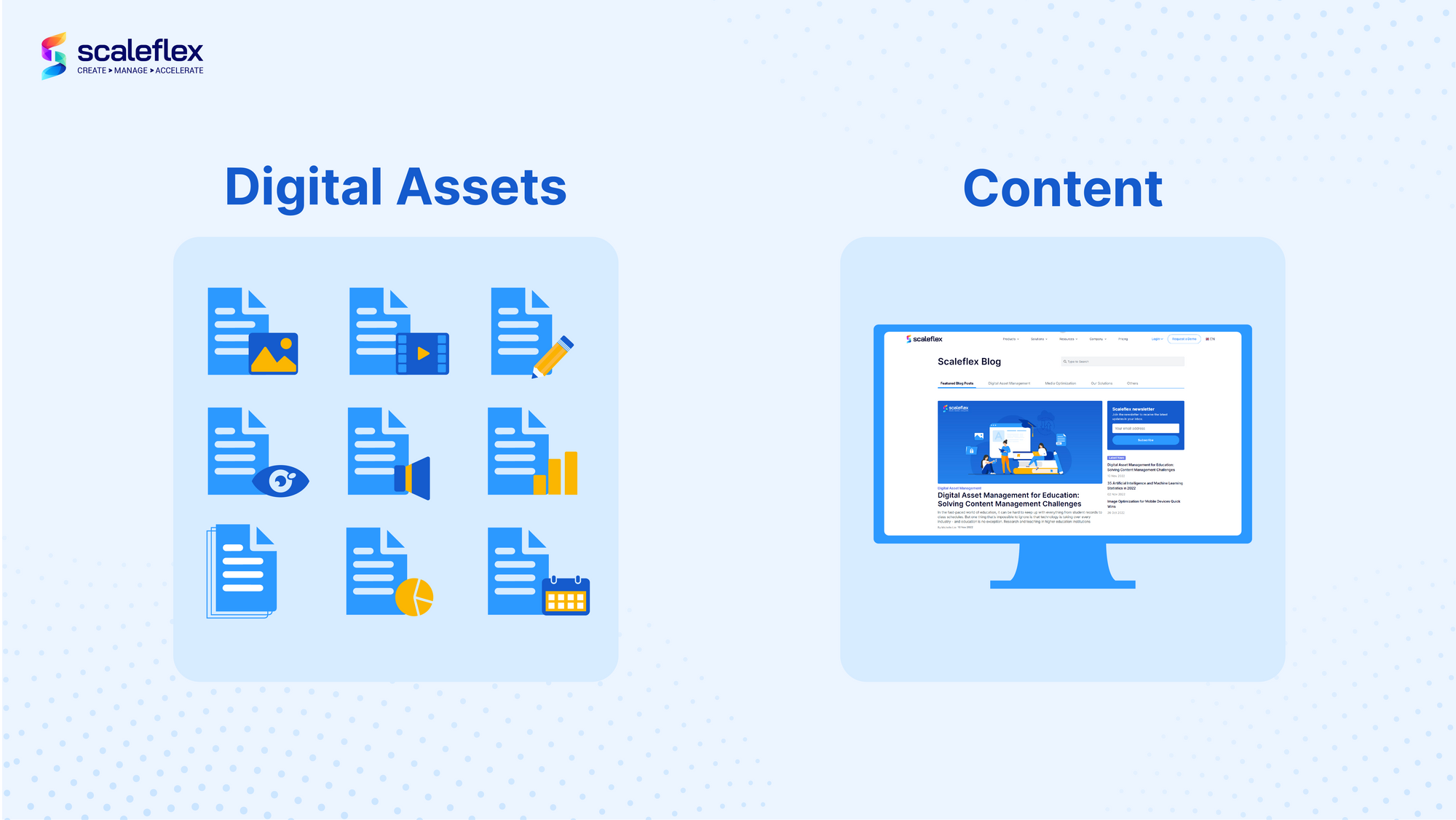 After debunking the difference between assets and content, we can now clearly see that the key difference between content management system vs digital asset management is that the former takes care of website content. This refers to the visual assets on landing pages, solution pages, and product pages.
DAM content management does more than that, as it is the practice of managing the entire company's digital assets (including documents) and helps deploy the library of content to numerous channels.
What does a CMS do?
Publishes blog and website pages
Edits the content and media on a website
Controls the structure and data of the website
What does a DAM do?
Stores media in a single location
Increases the storage and sharing efficiency of media files
Improves project effectiveness
Key Features of DAM and CMS
Instead of a content DAM vs CMS scenario, businesses often use DAM and CMS platforms together and getting to know each solution's key features would help to better understand the different use cases and illuminate which one your company needs for managing content.
Features of DAM
DAM is the single source of truth for all digital assets, allowing companies to manage all types of assets, including PDFs and word documents. It also helps to streamline workflows as all comments, feedback and validation can be done in one place. DAM content systems also have media optimization technologies and automated content processes using AI to help speed up time-to-market.
Some of the key features of Digital Asset Management include:
Storage and management of brand and marketing assets (photographs, visuals, videos)
Meta-data tagging of media assets
Search and retrieval of media assets using enriched search
Duplicates management and version controls
Collaboration in one place
Media transformation (crop, resize, compress and convert files
User permission controls
Monitoring dashboards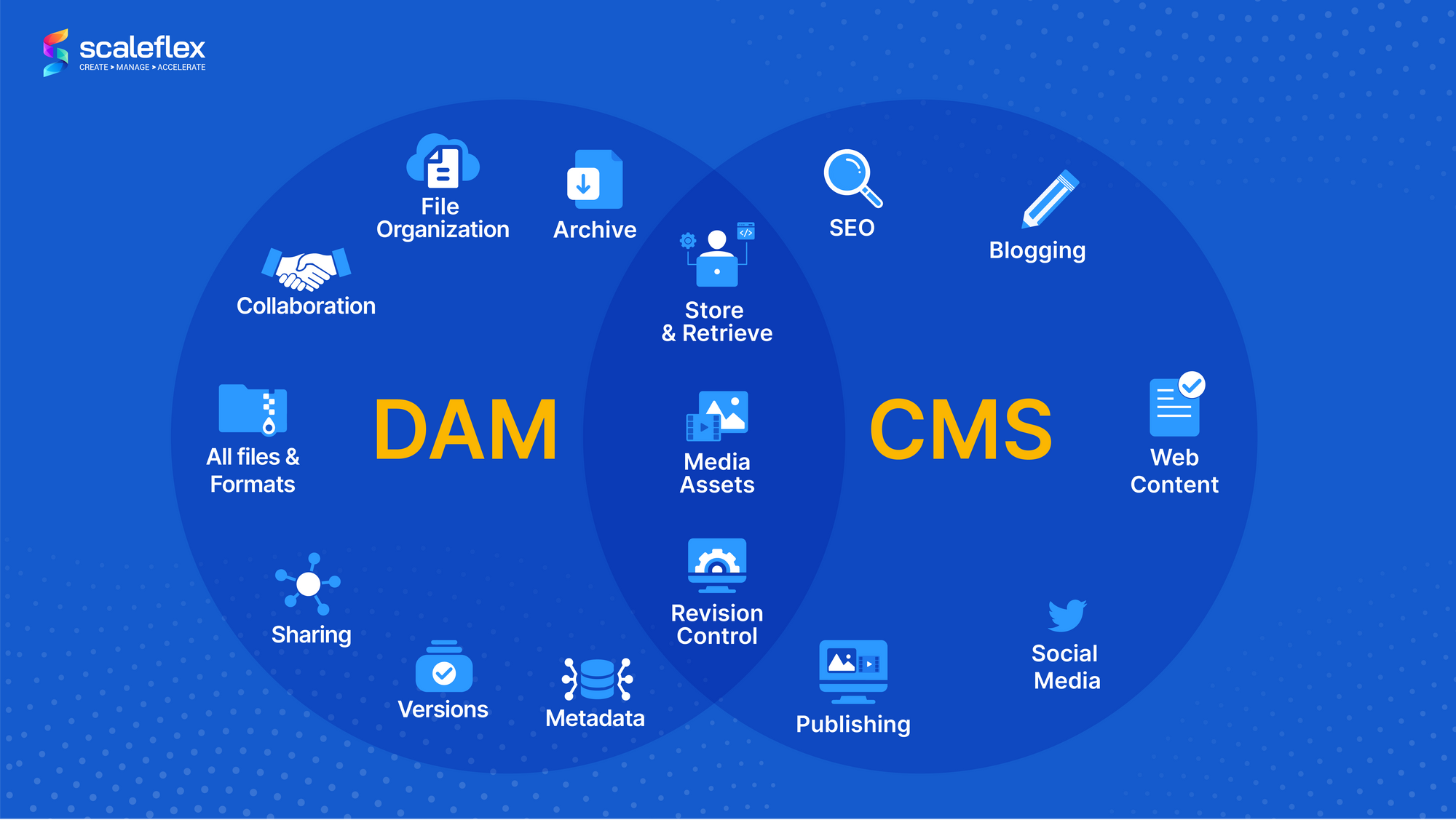 Features of CMS
CMS asset management grants the ability to publish, edit, and remove content on your website. It manages everything on a web page, such as product images, videos on your blog post, and homepage banner images. A CMS can also track web page versions, SEO copies, and manage user roles.
Some of the key features of a Content Management System include:
Store, publish and edit website content (photographs, visuals, videos)
Searchable content library
Web page builders and page templates
Crop and resize images
User permission controls
Write, edit, and publish blog posts
Leverage DAM and CMS integration
While digital asset management vs content management systems is different, they shouldn't be seen as distinct solutions. Instead, they can be used in unison. Today, companies don't just create content for websites, they do so for a range of other projects - marketing collateral, social media, presentations, and more.
When companies find ways to integrate the two, they'll be able to leverage the powerful features of both solutions, improving productivity, efficiency, and collaboration.
Benefits of a DAM and CMS integration
Work from a single interface: When you're able to access your digital asset management platform from your CMS, you can effectively re-use media content across your website without having duplicate content.
Use advanced search features: With the metadata-tagging capabilities of DAM, you can easily access the latest on-brand media assets.
Unify brand assets, deliver consistent brand image: No more having to worry about having different versions of your brand's logo. Deliver high-quality customer experience consistently.
Conclusion
Websites are the always-on, always-available brochures of every company. They must showcase the latest and the greatest of the brand, delivering the best user experience. While a CMS can do most of that, having digital assets in different storage and with numerous individuals can slow down workflows.
The answer is to combine the capabilities of DAM and CMS for efficient workflows. No more asking where's the latest version of a visual when you can effortlessly search and retrieve it from your company's DAM.
How, then, should you integrate the two? Scaleflex's Filerobot Digital Asset Management solutions offer seamless integration to a variety of popular CMS like WordPress, Kontent, Adobe Commerce (ex-Magento), Prismic, and Drupal via plugins on the marketplace.
We hope that we've helped you figure out the difference between enterprise content management and digital asset management and how you can integrate both. Want to find out more? Speak to Scaleflex's DAM experts now!
FAQs
CMS vs DAM vs MAM vs PIM - What are the differences?
DAM vs PIM: These solutions are used to streamline processes in creation, storage, and transformation of digital assets. The key difference is that PIMs manage specific product information while DAM manage all other types of visual content surrounding the products.
DAM vs MAM: MAM systems focus entirely on video, while DAM manages other types of digital files alongside videos. As such, MAM is seen to have a more extensive set of video capabilities.
CMS vs DAM: We've covered quite thoroughly in this blog post, but the quick difference here is that CMS deals with content on websites while DAM takes care of digital assets that can be used for other projects beyond building websites.
Can I use a CMS without a DAM?
Yes, certainly, bloggers who are starting and may need to use a blogging platform may wish to start with a CMS only, without a DAM. However, if they want to take their blogging to the next level - they should invest in a DAM that can help them manage all their digital assets. Furthermore, some DAMs have media optimization technologies that help reduce file sizes and improve web performance.
Can I use a DAM without a CMS?
This combination, too, works. Some companies may not need blogging tools or CMS platform's features as they design and build their own websites. As such, DAM can be used on its own as a single source of truth for all media assets.
---