Filerobot WordPress DAM plugin: Your all-in-one image optimizer and image editor
Powering over 43% of websites on the Internet, chances are that more than 1 in 3 websites you visit today uses WordPress as their Content Management System (CMS). It is a valuable tool for anyone to create and manage content publishing: from content marketers, bloggers, people with little technical experience to skilled programmers.

But why do you need Digital Asset Management for your WordPress site?
Digital Asset Management solves Content Challenges on WordPress
WordPress users face numerous challenges when they have to upload and manage a growing amount of digital content.
1. Limited Image Search Capabilities
Having trouble searching and managing your visual content through the native WordPress gallery?

With a plethora of images across numerous pages on your website, users sometimes find it hard to navigate to the right image in the image gallery.

On WordPress, the DAM system comes in the form of its in-built media library that you can use to upload documents and images. Yet, the categorizing, accessing, or sharing functionalities you might anticipate from a conventional DAM system are not available.

Even though there are features to include image metadata in WordPress itself, the search capabilities may not be as advanced and sufficient to support an extensive database of images.
2. An over-reliance on Plugins to Address Content Needs
The draw of WordPress CMS is that it comes with numerous plugins for almost everything without the need to edit a single line of code; great for non-technical users.

Want a better image editor? – WordPress gallery plugin

Require automated image optimization functions? – WordPress image optimization plugin

Yet, having too many plugins can become confusing over time, or worse, slow down your entire website.
3. Visual Content and the Compromise on Website Speed
We all know Google prefers fast-loading websites. With new and varied types of content uploaded daily, WordPress websites may eventually slow down if months of accumulated visual content are not correctly optimized. WordPress image optimization typically involves individuals manually resizing images and ensure they are in the correct format before uploading them to the native gallery.

But what if I want image optimization to be automated too? Another plugin?

You may then be perplexed about how you should juggle having seamless content operations without compromising website speeds.

Not to worry, with the Filerobot DAM plugin, you don't need to rely on numerous plugins to solve all your content challenges. The plugin allows you to manage your digital assets efficiently, works as a WordPress image optimizer, and even helps as a WordPress image editor.

Especially when digital content increases exponentially each day, business owners need these DAM features to categorize their media files and share them safely with others in order to scale.
Simplify your WordPress Content Operations with Filerobot DAM plugin
We're proud to share the launch of Filerobot DAM plugin on WordPress. This new plug-and-play integration requires no development and enables WordPress users to leverage Scaleflex's powerful Digital Asset Management solution, Filerobot!

Bid goodbye to scouring the gallery for your images, slow image editors and numerous plugins; Filerobot is the single-source-of-truth for all your digital assets.
Highlights of the Filerobot Plugin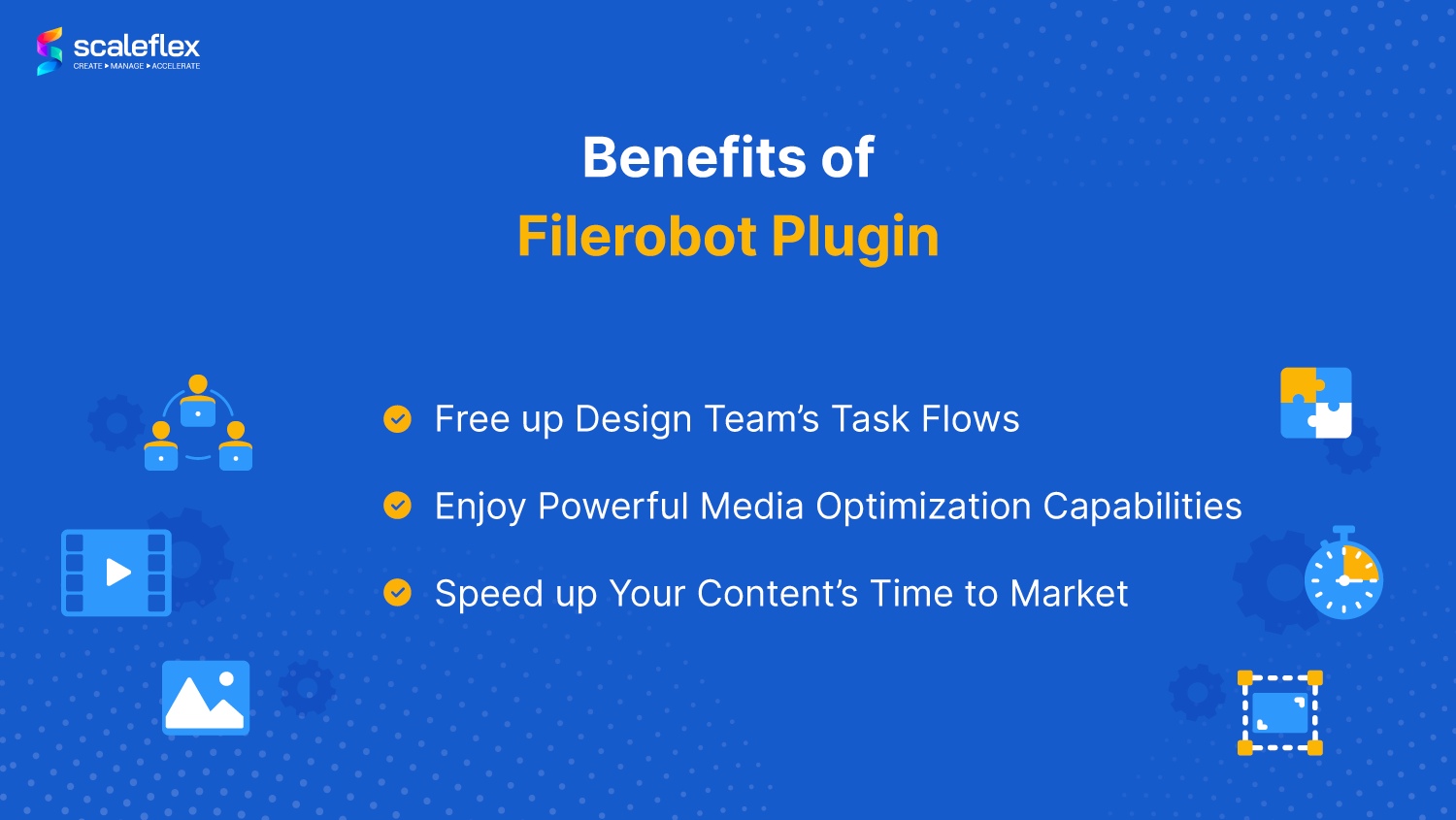 Free up your design team's task flows by enabling content teams to gain autonomy over image editions and variants. With our Filerobot Media Asset Widget (FMAW) in the media library and social media presets, you can easily crop, resize and create optimized image variants ready for your social platforms like Facebook and Instagram!

Enjoy powerful media optimization capabilities with automated production of responsive images, smart lazy loading features, video transcoding and adaptive streaming abilities; Filerobot DAM WordPress plugin takes care of all your digital assets and improves your site's Core Web Vitals instantly! Have your own CDN for media acceleration? Filerobot DAM can be easily integrated by creating external asset links.

Speed up Your Content's Time to Market and experience seamless collaboration between and among teams with improved content workflows via the Asset Hub. Looking for the latest approved image is fuss-free with powerful search capabilities based on AI-based tags and customizable metadata, complete with versioning control and duplicate management.
Filerobot DAM x WordPress plugin, it's easy and quick!
Filerobot stores, manages, and distributes your digital assets worldwide at rocket speeds. With no development required, simply set up your Filerobot account, activate the plugin and enjoy a fuss-free WordPress integration. The Filerobot plugin also works well with other popular plugins like Classic Editor, Gutenberg Editor, WooCommerce, Elementor and ACF.

No matter how comprehensive you want your DAM to be, our base plans offer you 100GB Cloud Storage, 1TB CDN Traffic, 1TB Cache, and 5 Tenants.
7 Steps to Install Filerobot DAM plugin on WordPress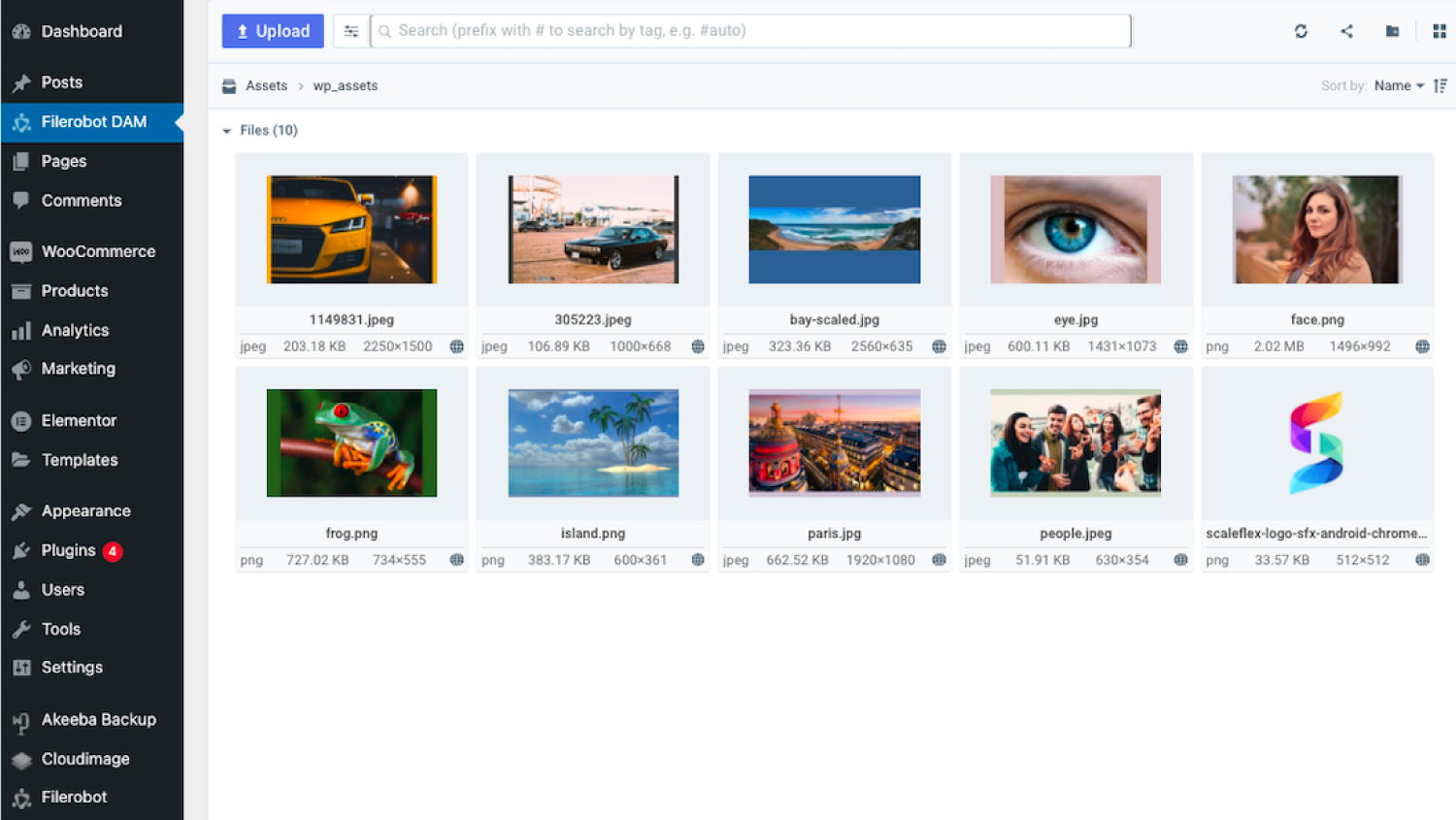 1. Download the Filerobot plugin and set up your account (or request for a demo if you don't already have one)
2. Log in to WordPress admin panel
3. Navigate to Plugins > Add New
4. Locate 'Filerobot' via the search panel
5. Activate the installed plugin
6. Head over to the Filerobot admin page
7. Interact with the plugin's setting page

Once you've done that, the Filerobot now replaces the native WordPress gallery and optimizes all your images.

Now, look forward to fast and responsive images with greater team collaboration features on all your web pages!

To have an in-depth look at how the Filerobot WordPress Plugin works, read the documentation and request for a demo with the Scaleflex Team!
---