New: Filerobot DAM and Canva Integration!
Challenges of collaborating on and sharing content from Canva
Today many Creative and Content teams are using the graphic design platform Canva to help create great looking and engaging content for their websites and social media campaigns. To be able to share content from Canva with other teams, you are required to either:
Invite them to the platform
Create a shareable link and forward it
Download your content and find a channel to share it through
The issue with all of the above methods is that it makes alignment and collaboration difficult when working with teams outside of the Canva platform.

However: help is at hand! Read on below…
Simplifying the sharing process from Canva with Digital Asset Management
We are proud to announce that Canva is now integrated into our Digital Asset Management platform, Filerobot! This integration means that teams using Canva can utilize the platform directly inside Filerobot! This has three key business advantages:
1. Simplify collaboration (with non-Canva users)
Canva users can upload their creative work directly into the Filerobot Asset Hub, making it accessible to non-Canva users, making collaboration on your visual assets a breeze!
2. Maximise SEO for Canva created content
Upon upload from Canva to Filerobot, all visual content created in Canva will be automatically optimized by Filerobot, so when it's published on your website, or other channels, it will already be light and fast - helping achieve maximum user-experience and SEO!
3. Streamline your creative workflows
This integration allows teams not only to upload to Filerobot directly from Canva, but also to work on the Canva platform directly within the Filerobot Asset hub! This means one less step to contend with in the creative process.
6 Quick Steps to Upload Files from Canva to Filerobot
So, how does the Filerobot Canva integration work?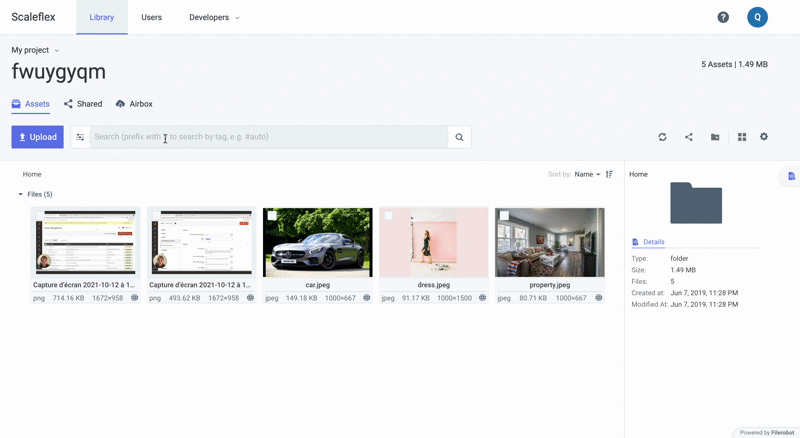 From within the Filerobot Asset Hub:
1. Select Upload
2. Choose "Canva (Design and Upload)"
3. Locate the assets you wish to edit and upload
4. Make required edits (optional)
5. Select Publish
6. Upload to Filerobot!
Once complete, your content (now optimized!) will be available in Filerobot for all teams to be able to access, collaborate on, and finally publish to your various marketing channels.
Takeaways
Centralizing the management and operations on your content is important to help drive team efficiency and increase the ROI of time spent creating and working on visual assets. The Filerobot Canva integration makes it easier than ever to centralize and collaborate on the content created in Canva, whether you are a user of the Canva platform, or not.
To learn more about how this Canva integration works, and how it can accelerate your creative processes and foster team collaboration, click here to connect with the Scaleflex team!
---