Digital Asset Management For Photographers: Organize Your Photos At Scale
If you are a professional photographer who often get fully booked during peak seasons, managing high volume of heavy media such as images and videos will definitely be a crucial mission in your daily work. You must have at least once stumbled between running for short, consecutive production lead-time with your photos and the tentative lack of storage due to your growing size of media assets. That's when the Digital Asset Management system, shortly known as DAM, becomes one of the very few all-in-one solutions that help you to organize, store, retrieve and share your entire digital content, consisting of catalogues, photographs, images,, and various types of other files. In other words, a professional DAM system can be your assistant that will aid you in managing your entire work process, with all of its aspects, from one single, centralized place.

In the following article, we are going to introduce you to the world of digital asset management for photographers. If you are facing the challenge of finding a good photo management software to handle your digital assets efficiently, then continue reading.

So, what should you know about DAM for photographers, and DAM in photography as a whole?
Table of Content
The Challenge: How to Organize Digital Photos?
In the contemporary world of professional digital photography, efficient photo management should be a priority. Unfortunately, it is often neglected regardless of how far the camera industry has made. It could be that you are used to doing things in a certain way for many years. But it is highly likely that it takes you more time and effort.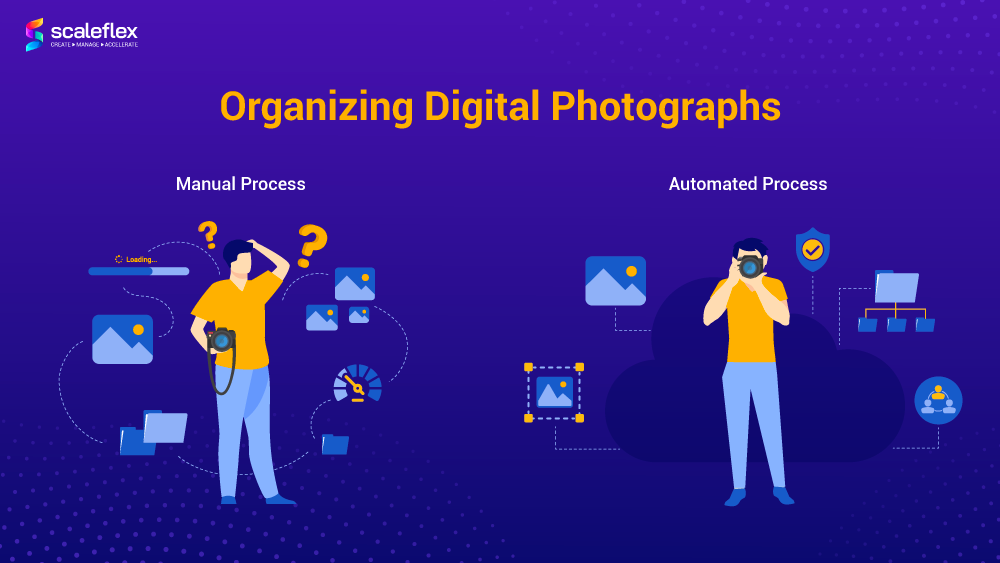 Some of the manual steps of managing your expanding photo collection include deleting unnecessary images, organizing them in separate albums and folders, editing, and downloading and backing them up. The biggest disadvantage here is that you are doing everything manually or you are using different tools (i.e. one for editing and another one for backup) for each needed action, which results in chaotic joggling and multi-tasking.

This is where digital asset management comes to save the day. It is considered one of the most, if not the most, efficient method to organize digital photos.
What is Digital Asset Management (DAM)?
By definition, digital asset management refers to a business process that organizes, stores, and retrieves digital assets, and manages rights and permissions. Digital assets include photos, videos, music, logos, documents, presentations, and other forms of multimedia content. Literally, anything in a digital format that is detailed by its metadata can be considered a digital asset.
Return to the Table of Contents
Digital Asset Management Software
DAM platforms are the software type that gives you the power and full capability to systemize, standardize your digital photos in a safe, centralized environment. What is more, DAMs increase productivity and brand consistency, as they create an automatic workflow.

A digital asset management software has many features that will help to automate your workflow, a process much needed in organizations, which covers the most basic operation to the advanced ones. Shortly said:
It enables the search, media upload, and download of content (photographs included);
It helps you share the content both in-house and externally;
It provides control of permissions, or who can access your content;
It provides a system for licensing and rights management (including copyright);
It enables you to easily add, modify and control the watermarking step, which saves your time but still protects the copyrights of your content;
It allows you to edit images easily (cropping, resizing, colour corrections, background removing etc.) via an integrated Image editor;
It helps you approve workflow elements;
It can be integrated with other systems that you use;
It gives scalability to your business or brand.
Such a platform sets expiration dates for asset licensing, controls user access to files and folders, and even provides in-app analytics to show you how your assets are performing. When using the integrated image editor, the software stores any previous versions of your edited images, so you can view them at any time.

The sole purpose of a DAM platform is to store all your assets in a centralized basis, and allow you, your colleagues and even your clients to collaborate on the assets with ease. There are various types of DAM platforms, depending on your organization's size, needs and use cases. Some platforms are open-source and free, and could be a great choice for a smaller team or company. A larger organization, however, will benefit from a platform that also includes add-on modules, like brand guidelines and workflow management tools to help improve efficiency across the digital content lifecycle.
Return to the Table of Contents
How do Professional Photographers Benefit from DAM?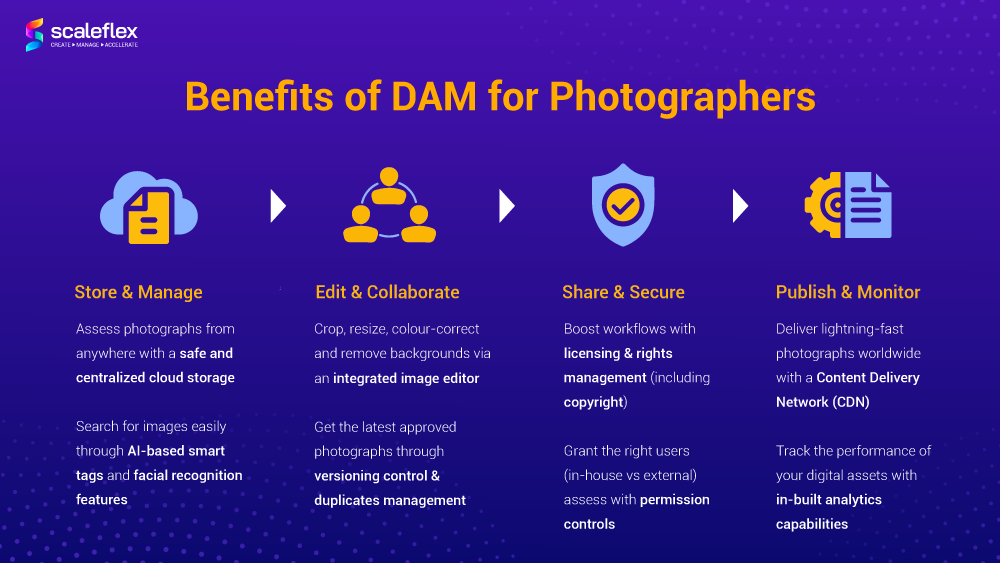 What about digital asset management software in photography? How will you, as a professional photographer, benefit from using it?

One of the key aspects of digital asset management in photography is that it enables you to develop a flawless, flexible workflow by creating a photo maintenance routine, providing a photo management tool, and ensuring copyrights.

A DAM software can carry out and fulfill the entire process from the moment of taking a photograph to the moment of publishing it. A specialized platform will help you to store and transfer the photo, rename it, make it searchable (by setting automated tags), edit and share it. It will also help you to organize and track your photographs, store them, back them up, and retrieve them, in a stable and secure manner. Most importantly, it will ensure that copyright is handled correctly for each one of your photographs.

If you have a heavy workload that consists of multiple daily photo sessions and requires working with other team members (such as designers and marketers), a DAM tool will provide you with a simplified work system, and will give consistency to the work of your entire team. Without strong consistency, you will find it very difficult to scale your business and help it grow steadily.

Another example of how useful a DAM can be for a photographer is facial recognition. This AI DAM feature is very handy for photographers who shoot portraits on an almost daily basis. All you need to do is to assign a name to a face, and the software can locate and sort other images with that person. Some photographers describe this feature as "one of the smartest pieces of software," as it boosts the workflow to an entirely new, highly productive direction.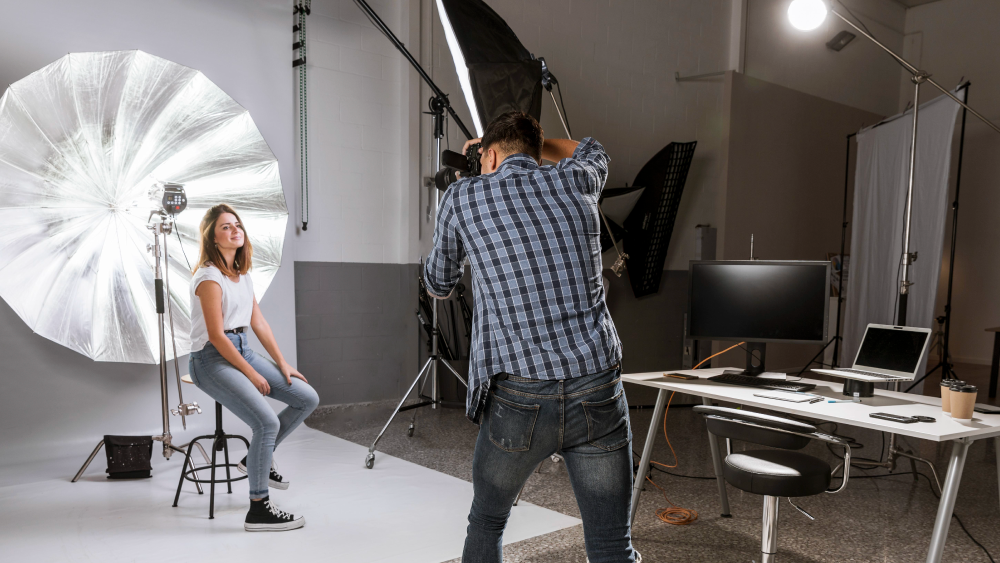 Return to the Table of Contents
Do all Photographers Need a DAM Software?
If you are reading this article, then perhaps you have reached the point of needing a DAM in your professional photography work. This need most likely stems from a busy schedule and an expanding photo collection that contains thousands of files and needs better management. That being said, we should mention that even though DAM software is a great investment, it is not always affordable initially to most photographers, especially those who freelance with minimal team or small and medium. DAM, from its own year of evolving, has been positioned to be more suitable for photographers with lots of photo sessions and events in their calendar, and less time for photo management, as well as agencies that work with multiple photographers.
Conclusion
A digital asset management for photographers will help you to manage and organize your digital photos, and investing in one will help your photography business grow. Perhaps you are wondering which is the best DAM software for photographers, and the truth is that there isn't a unified, universal answer. The choice depends heavily on your goals and your workflow.

Nonetheless, an excellent option is the Filerobot DAM and its integrated Photo editor and Media Asset Widget. Filerobot is designed to be compatible with various appliances and operating systems. This professional solution will assist you and your team in storing, processing, sharing, and accelerating your images. As for the Photo editor and Media Asset Widget, it will help you to use most of the Filerobot DAM capabilities within any third party application, by implementing just a few lines of code.
FAQs
What is DAM for photographers?
A DAM software for photographers will aid in completing the entire process from taking a photograph to publishing it. This tool enables you to store and transfer your photos at ease, rename them, make them searchable, edit and share them. It is the best solution to organize and track your photographs, store them, back them up, and retrieve them, from one centralized location. Most importantly, the tool ensures that copyright matter is handled correctly for each one of your photographs.
How do photographers organize their digital photos?
Some of the manual steps of managing a photo collection include deleting unnecessary or duplicated images, organizing them in separate albums and folders, editing them with built-in tools, and downloading and backing them up. The biggest disadvantage of these steps is that you are doing everything manually and you are using different tools (i.e. one for editing and another one for backup work), rather than choosing one solution to do everything for you.
Return to the Table of Contents
---