DAM And PIM: Why Integrating Both Solutions Could Be A Good Idea
Modern businesses are data-driven, especially E-Commerce. They rely on the accumulation, storage, and organization of data for customer acquisition, research, and general operational purposes. Product Information Management (PIM) and Digital Asset Management (DAM) systems both feed into this data-centric approach and, in the following guide, we'll look at how PIM and DAM solutions work, how they differ, and in which way they can work together to meet your commercial needs.
Table of Content
Digital Asset Management (DAM)
A Digital Asset Management (DAM) creates a centralized hub designed to handle the creation, storage, and management of digital assets. These assets include any form of digital media that is owned by the company, consisting of:
Logos
Documents
Videos (product videos incl.)
Images (product images incl.)
Metadata (product metadata incl.)
Layouts
Promotional Materials
Product Information Management (PIM)
A Product Information Management (PIM) creates a single location where all product data can be stored. This data relates to all of the company's products and enables easy storage, organization, and use. Some of the data types contained within a PIM system include:
Product UPC/SKU Numbers
Specifications, Including Weight and Size
Product Ingredients and/or Materials
Product Descriptions, Titles, and Taglines
Product Images and Videos
Shipping Requirements
Storage and Handling Requirements
What do DAM And PIM Have In Common?
PIM and DAM are equally important, and while there are some big differences in the way they are integrated and used, there are some similarities as well.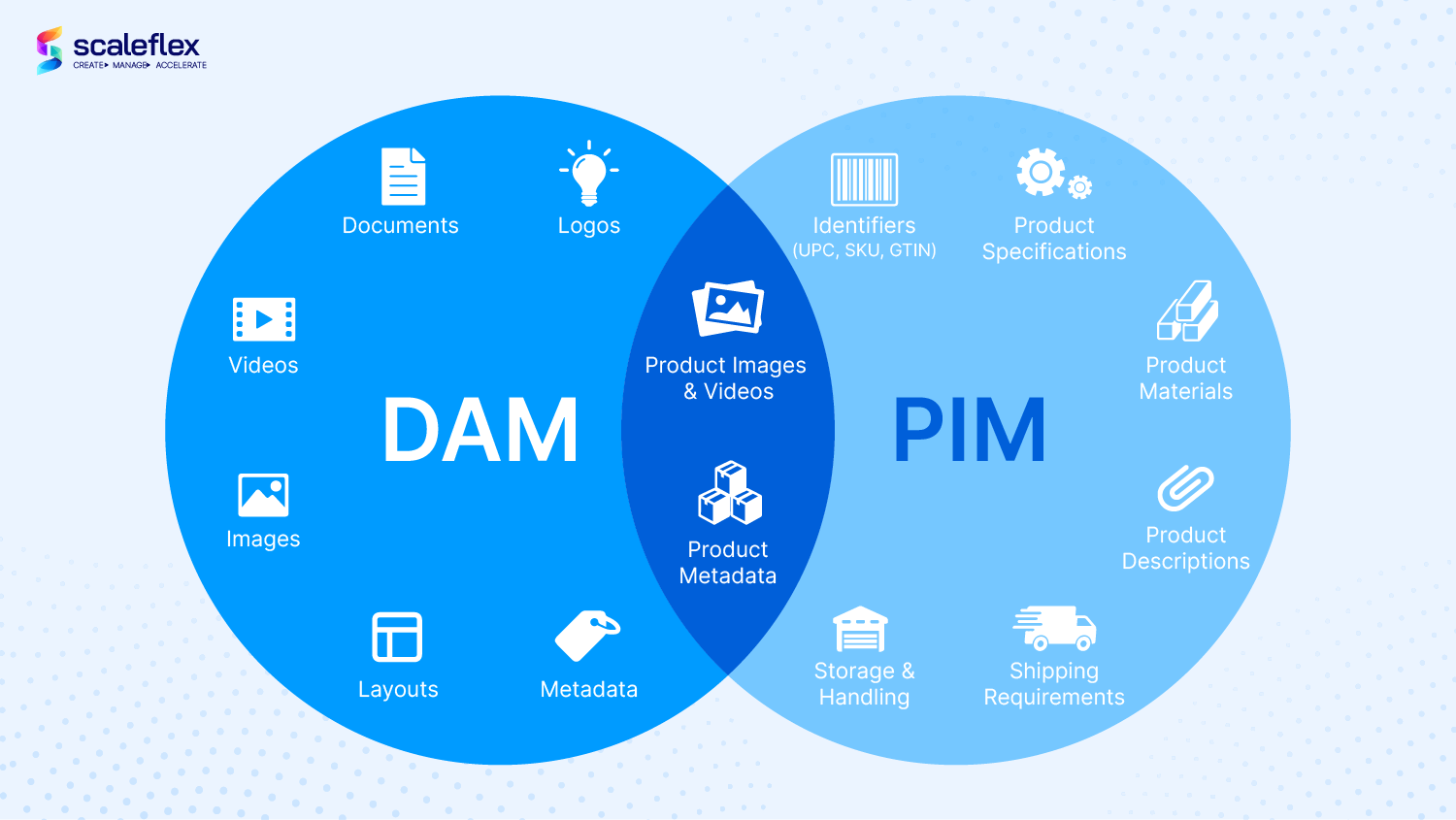 Both are designed to provide a single centralized hub for essential data and assets to be used and published across multiple channels (ERP, e-commerce website, institutional website, Print-to-store, etc.) The assets that they contain also overlap in areas of metadata management and product asset management - DAMs store and manage them while PIMs allocate them to the products.

PIMs and DAMs are designed to streamline the process of asset creation, storage, and manipulation, using a lot of automations, thus boosting organizational productivity.

They both benefit the company's bottom line, enhance the customer journey, and ensure that the assets remain consistent, accurate, and on-brand from creation to publication and archiving.
Return to the Table of Contents
The Difference Between DAM And PIM
A PIM deals with data pertaining specifically to products and spans the entire lifecycle of those products. DAM systems, on the other hand, relate to the brand materials in general.

The main difference between PIM and DAM systems, therefore, is that the former focuses on the product data while the latter deals with the visual content mainly.

As an example, if you operate an online tea or coffee business, PIM will include all data from those products, including the names, contents, allergens, descriptions, and the SKUs you use to categorize them.

The DAM is where you keep your brand logo, visual layouts, materials of advertising campaigns, instructional videos, and any product images, videos, or audio that you use to tell your brand story and create immersive Digital Experiences.
DAM Key Features
DAM systems can be utilized in most industries and provide the business with a simple, streamlined, safe, and effective way to manage their digital assets.

These digital assets can then be accessed by everyone within that organization, from the writers, designers, and marketers running brand campaigns to new employees checking product videos. It can also be used by legal teams to monitor trademarks and copyrights and ensure they are not being misused.

Just as importantly, it provides all of these benefits in a safe and secure platform that is fully protected against unauthorized access and use.

In essence, the digital asset management system is an index of all the business's digital assets and operations and is an essential component of any service- or product-based organization.
PIM Key Features
By creating a single location for all product data to be stored, companies can easily edit those product details and update their catalog to meet changing consumer trends.

Inventories become more accurate, content creators (writers, designers, SEO experts) have everything that they need, and the brand is able to gain detailed insights into how those products are sold and shipped.

A product information management system also benefits the consumers, informing them whether a particular product is still in stock, how long it will take to ship, and whether it has the updated specifications that they are looking for.
Return to the Table of Contents
PIM And DAM Integration
For most companies, especially multi-brands and international companies, it's not a question of PIM or DAM, but PIM and DAM, as they can benefit from using both of these systems. They work very well together and so dual integration is often the best way forward. But that doesn't apply to all businesses and you may be better suited to single PIM or DAM integration.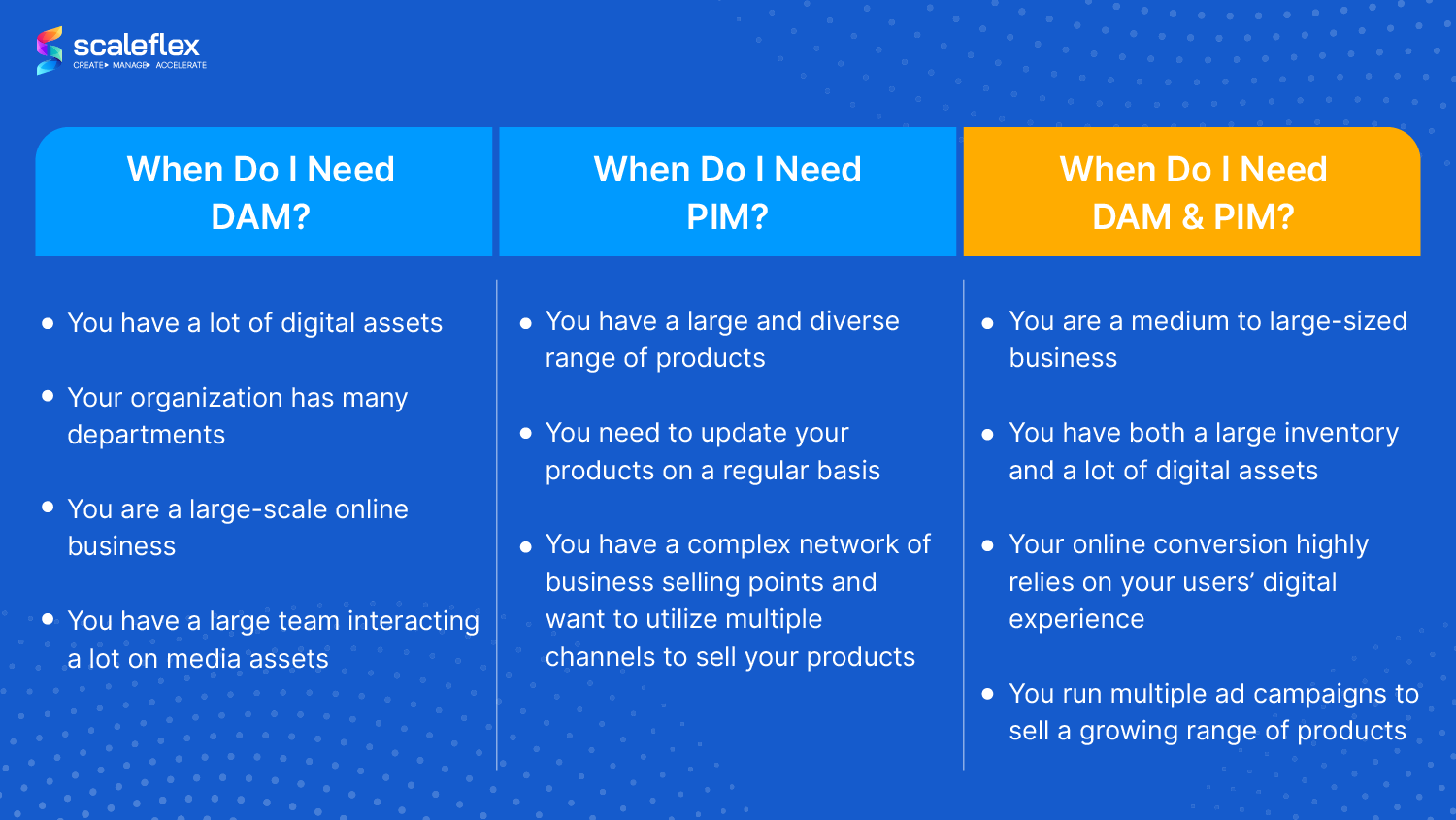 PIM Integration
PIM solutions work by integrating data from Customer Relationship Management (CRM) software and other data feed channels. All of this information will be then synced to a single system. PIM solutions support cross-channel integration across numerous product data sets and systems and play an important role in any e-commerce setup.

PIM integration provides the following benefits:
Omnichannel Support: With a PIM, you don't need to keep your offline and online sales separate. It will combine your products and sales across all channels, including your retail store, online store, events, parties, affiliates, and anywhere else your products are sold.
Reliable Data: All data that enters the PIM is accurate and up to date, giving you reliable insights into your products. These insights exist throughout the product life cycle.
Improved Marketing: The more you know about your products, the more effectively you can market them. PIM solutions help you to create targeted campaigns by leveraging consumer data.
DAM Integration
A DAM solution connects assets from a variety of channels and synchronizes them to a single system, reducing the Time-to-Market of any product page or marketing campaigns. An integrated DAM system creates a centralized location for all of these assets and is then used to access, organize, and change them as needed.

Some of the benefits of using a DAM include:
Easy Access: You'll have fast and easy access to all digital assets, making it easier to launch new marketing campaigns.
Marketing Support: DAMs work with various tools (including PowerPoint) to help you create presentations and marketing campaigns.
Brand Consistency: DAMs promote brand consistency by sharing copyrighted and trademarked materials among your employees and even external marketing vendors.
PIM & DAM Combined
A combination of PIM and DAM will suit most e-commerce business types, especially those dealing with large volumes of traffic, products, and sales.
The PIM helps you to manage all of the data relating to your products while the DAM system deals with digital assets relating to products branding and marketing. Combining the two solutions provides a streamlined approach to asset creation and storage and keeps your productivity high.

Besides the benefits of PIM and DAM mentioned above, the common integration of both systems delivers an immediate synchronization of all media assets from the DAM into the PIM and also saves a lot of working time for content management and operations.

DAM and PIM systems can be easily combined using MACH architecture. This stands for Microservices, API, Cloud-native and Headless, and essentially functions like a series of LEGO blocks that can be stacked together, adding additional parts (capabilities, features, and solutions) to create a cohesive and functional workflow.
PIM & DAM Service Provider Types
There are two options when it comes to integrating these systems: Full Service and Separate Systems.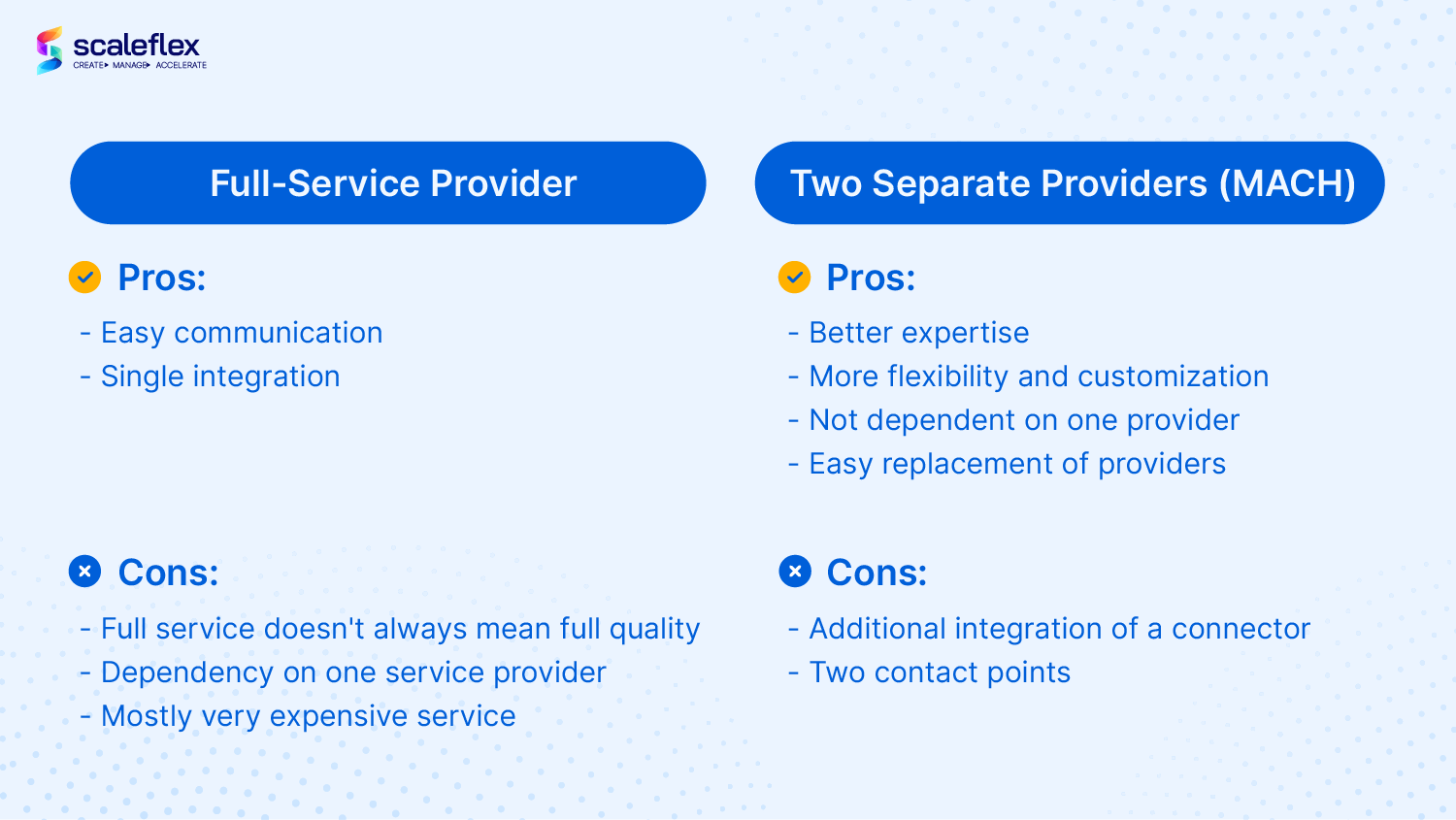 A full-service provider offers both PIM and DAM solutions and delivers these in a single integration.

The result is a single streamlined integration that keeps all of your assets under one virtual roof. Communication is easier and asset management is a breeze. However, it can be difficult to find a solution that offers a "best in class" for both PIM and DAM. You may need to lower your expectations in one of these areas just to find a solution that combines both systems.

Full-service providers can also be expensive, and if your organization can't reap all of the benefits that they provide, it's an expense you likely can't justify.

By working with two specialized providers, you're able to get the best PIM and DAM solution and ensure that all of your needs are met. This solution is more cost-effective and provides you with more customization options and flexibility. It also means that you're not reliant on a single provider.

The downside of working with two separate solutions is that you have two contact points and you're relying on a connectivity point, which means there's more that can go wrong and the system isn't as streamlined as it could be.
Conclusion
PIM and DAM systems play important roles in the management of modern online businesses. They reduce the digital paperwork and the chaos that would otherwise ensue from running multiple programs and collating data from various sources. They are simple, straightforward, scalable solutions that most businesses can benefit from.

For most businesses, it's not about DAM vs. PIM, as they work very differently, have their own unique benefits, and work especially well when combined. The one that's best for you will ultimately depend on the size of your organization, the complexity of your projects and the type of work that you do.

Check out this case study about Filerobot DAM and Akeneo PIM, a MACH integration that helped an online clothing store to successfully combine the benefits of both asset management solutions and enhance the time-to-market speed.


Return to the Table of Contents
---