What Is Content Operations And Why Is It Beneficial?
Whether or not you are already familiar with this term, every organization that executes content marketing strategies does have some form of content operations - organized or not. When done right, the efforts will grant your organization a solid blueprint to follow and consistently generate content that resonates with your audience.
Table of Content
What is Content Operations?
Content Operations (or ContentOps) is a way of thinking about content. It involves all the activities carried out behind the scenes of a content marketing strategy to ensure it functions properly.

It is a framework that combines people, processes and technology required in the strategic planning, creation, distribution and management of content in an organization throughout its lifecycle.

ContentOps involve:
determining how to integrate content needs and business priorities
ensuring that different teams work together efficiently and effectively to develop a content strategy
learning which assets work best to convert users with CTA into customers
It includes small actions from vastly different teams, like a marketer using a Digital Asset Management system to search for the brand guidelines, and big projects like the entire product, sales and marketing team collaborating for a product marketing campaign.
Who needs Content Operations?
ContentOps are necessary for any business that creates content to market products or corporations that want to establish a brand. The need for content is increasing as the digital world diversifies across mediums. For the majority, creating and improving omnichannel digital client journeys is a daily must-do, and for brands to succeed and scale, you'll need a comprehensive grasp of digital content operations and how to direct them strategically.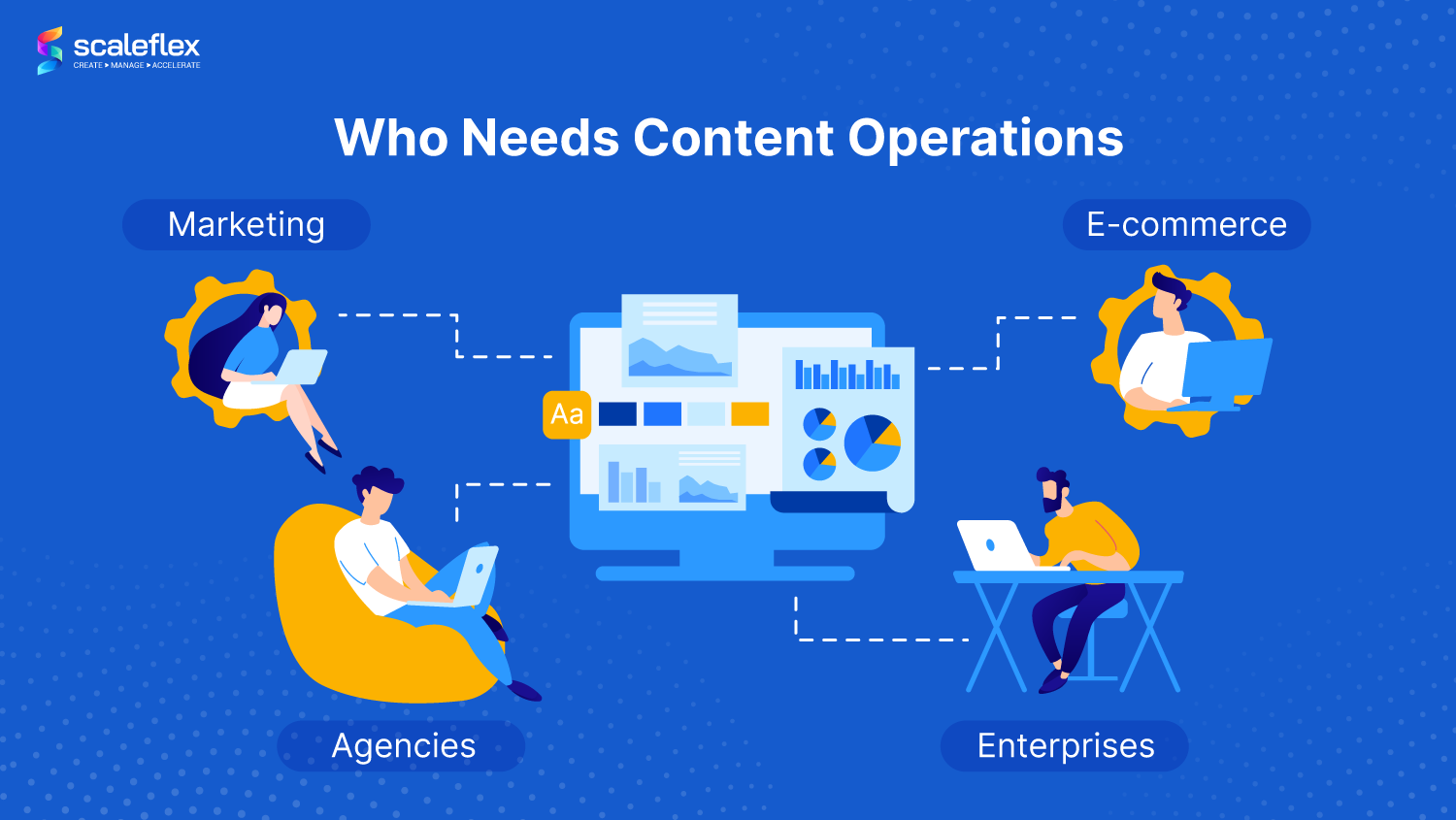 Some examples of the roles, verticals and industries that require good content operation are as follows:
Marketing Teams: Good content managers and marketers need a solid understanding of what people, processes and technology are required to produce different types of digital content. They need to align their content strategies in consideration with their teams' capabilities to streamline their digital content operations, saving time and money while creating successful campaigns.
Agencies: Agencies create all kinds of content from videos, images, visuals, animations, and blog posts to social media posts for a variety of industries and different brands. Agencies must have a firm grasp of the different omnichannel needs and a clear strategy their employees can follow. A clearly defined digital content operations framework can help them achieve faster content-to-market workflows and higher-quality work.
E-Commerce and Marketplaces: With a plethora of new products and services to list daily, e-commerce and marketplace teams can benefit from well-defined ContentOps. Often, listing new products is repetitive, involving the work across diverse teams (designers for product images, operations team for quantity, marketers for product descriptions and marketing copies, and developers to ensure that the e-store functions well). Effective processes can help online retailers to produce quality product listings much faster.
Enterprises: While every scale of business operations can benefit from content operation, enterprises cannot live without it. In industries like finance, banking and insurance, creating content that can potentially shape your customer's perceptions and meet the requirements of multiple stakeholders is essential. And not doing it right can cost you. With the reliability of automated technologies, content ops help large brands maintain loyal customer relationships.
Return to the Table of Contents
What are the benefits of Content Operations?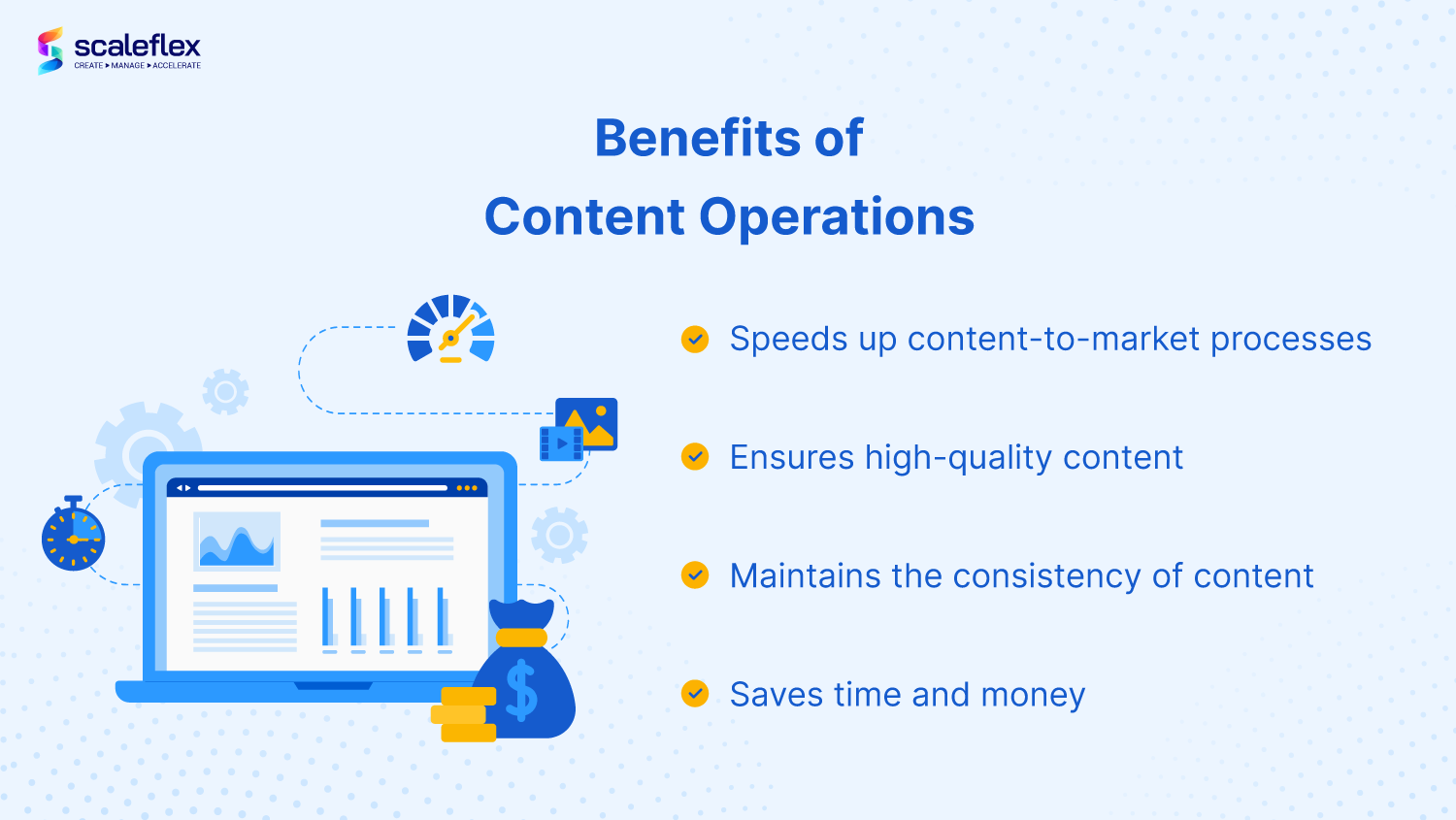 ContentOps help you make the most of your content to benefit your business and customers.
Speeds up content-to-market processes
How does ContentOps help produce content faster, you may be wondering? It is by breaking down content silos that slow down the production, management, and distribution of content. Here are 2 scenarios to consider:
Annoyed with the to-and-fro emails between drafts and final validation? ContentOps helps organizations manage their digital files properly, from creation to publishing, ensuring that all types of content are stored in one place.
Frustrated with working on the wrong version of the content? Time and resources can be saved when ContentOps processes are well-defined, with technologies to avoid such situations.
Ensures high-quality content
No one likes boring, run-of-the-mill visual content and blog articles. As the digital content world gets more competitive, with tons of content on the Internet, high-quality content is what your business needs to have a positive impact on consumers. ContentOps then will enable enterprises to unleash the true potential of content by prioritizing customer experiences (CX). With high-quality and engaging content, it then helps spur corporate growth.
Maintains the consistency of content
Other than creating high-quality content, they must be consistent when building a brand, especially for startups and small to medium businesses. ContentOps can help to ensure teams standardize and gain access to the latest, on-brand digital assets whenever they need them.
Saves time and money
The end goal of all those benefits - is to save precious time and money. With clearer processes, planning and strategizing becomes much more accessible and you won't have to brief your team members on every task.

Return to the Table of Contents
The Three Pillars of Content Operations
To cover the best practices on leveraging content operations for your organization, we'll first have to understand the three pillars - People, Processes, and Technology.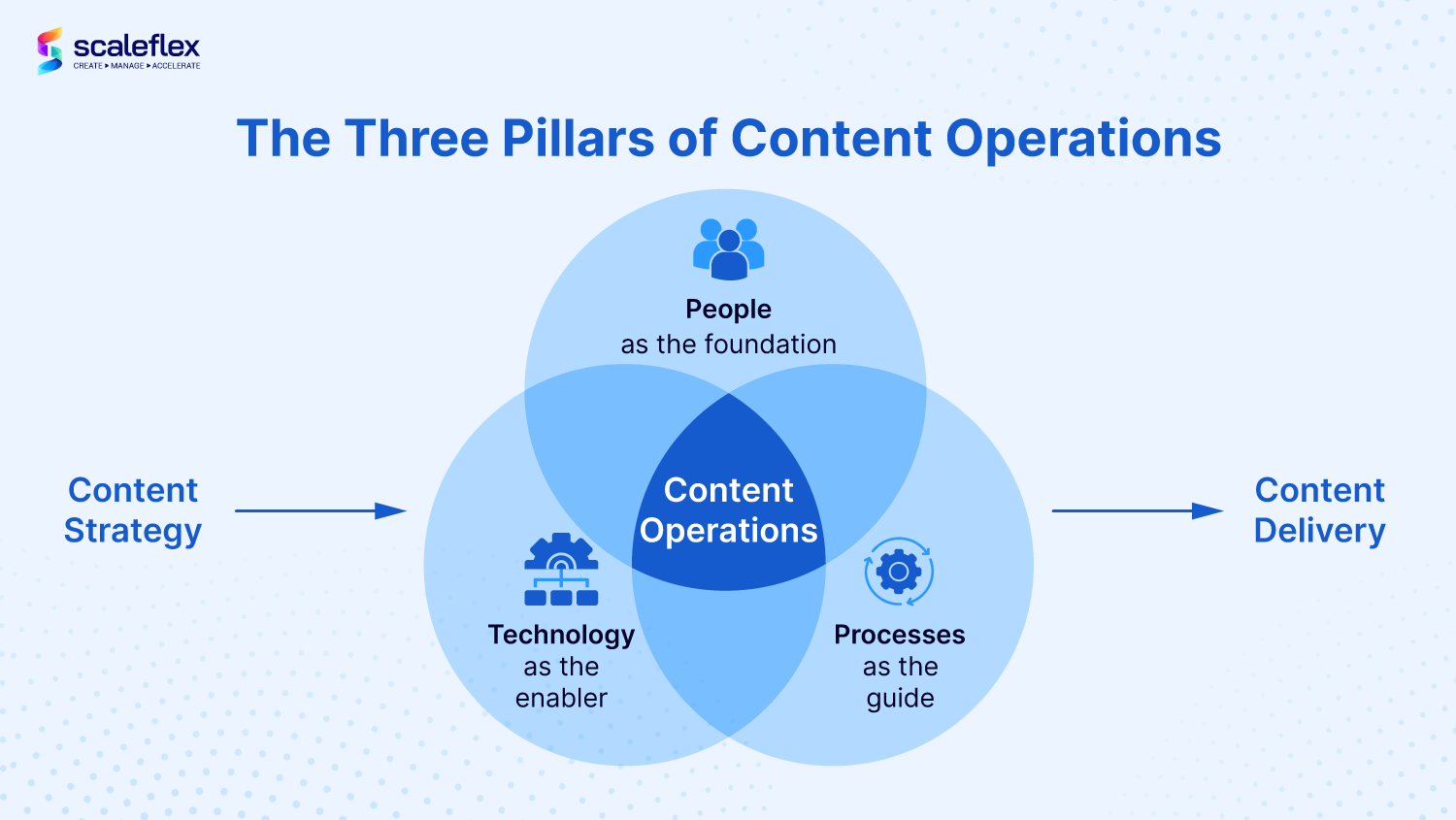 People as the foundation
As in all types of content, we need great ideas from amazing people who understand what customers want to see and hear - that's why 31% of B2B companies have devoted resources to expanding their teams.

Not just people - but specific roles and responsibilities of each need to be clearly defined. Today, we see diverse teams (marketing, design, developers, sales) working on content in silos, even though they may not necessarily be experts in producing the actual content. Each team then works on familiar platforms, resulting in materials that are often off-brand, out-of-date, and of poor quality.

That's why we need to connect the other two pillars - processes to guide and technology to empower.
Processes as the guide
To get your desired results from content marketing, content teams need consistent production, which involves repeatable processes designed for speed and scale. Your procedures specify every activity part of a more significant project, along with who is in charge of it, what it depends on, and who comes after them in the content workflow.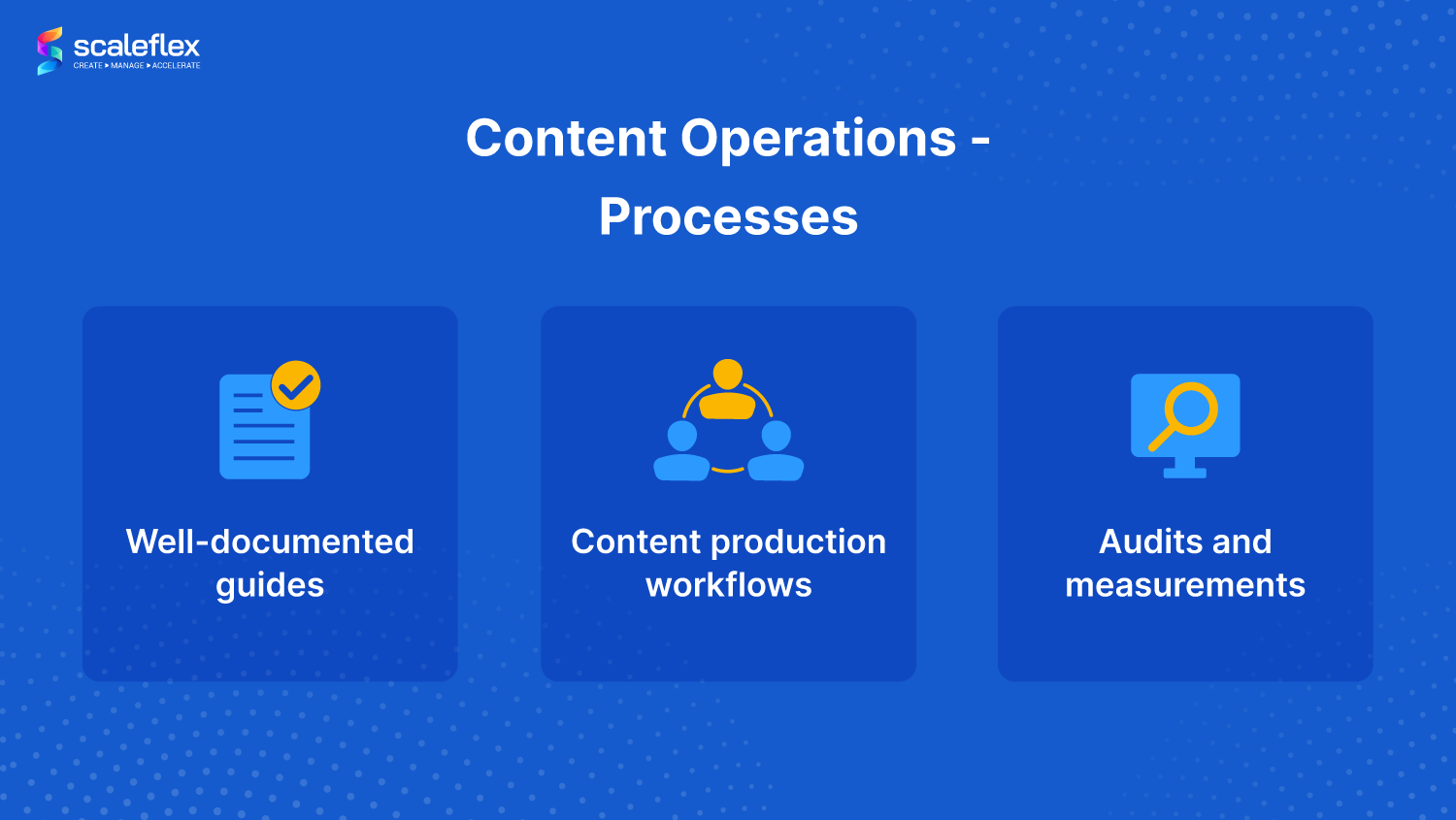 Some processes in good content operations frameworks include:
Well-documented brand guidelines or style guides - Many organizations have an introductory course to educate newcomers about the brand guidelines. However, a one-time training session without documentation becomes futile in the long run. There needs to be a document or document management system that people can go back to and rely on.
Content production workflows - These workflows could be a step-by-step guide or checklist before publishing content. Having such workflows helps to eliminate unnecessary errors and ensure that the digital asset is validated. Specifications such as frequency of checks, daily, weekly, monthly, quarterly, or yearly, will also be helpful.
Audits and Measurement - Content can run free when it is not kept in check. A good process to track performance is needed to spend time wisely and only create what is valued and preferred by consumers.
The secret to success? It is to plan all of these components strategically.
Technology as the enabler
It is impossible to operate your content operation without the appropriate technologies as efficiently as possible. With the right tools, applications and platforms, you can streamline your processes, extending your capabilities to other business areas.

Content operations typically require a "central hub" to manage workflows, especially when teams collaborate across different time zones and offices. Without modern technologies, that is not so simple to accomplish.

Having the right content operation technology also grants you control over your workflow by efficiently managing all the steps in the creation process with one system, complete with analytics and reporting tools to track how well your content is performing. Since all these are typically automated, your teams spend less time on repetitive tasks and more time on what's most important - creating exciting, innovative content!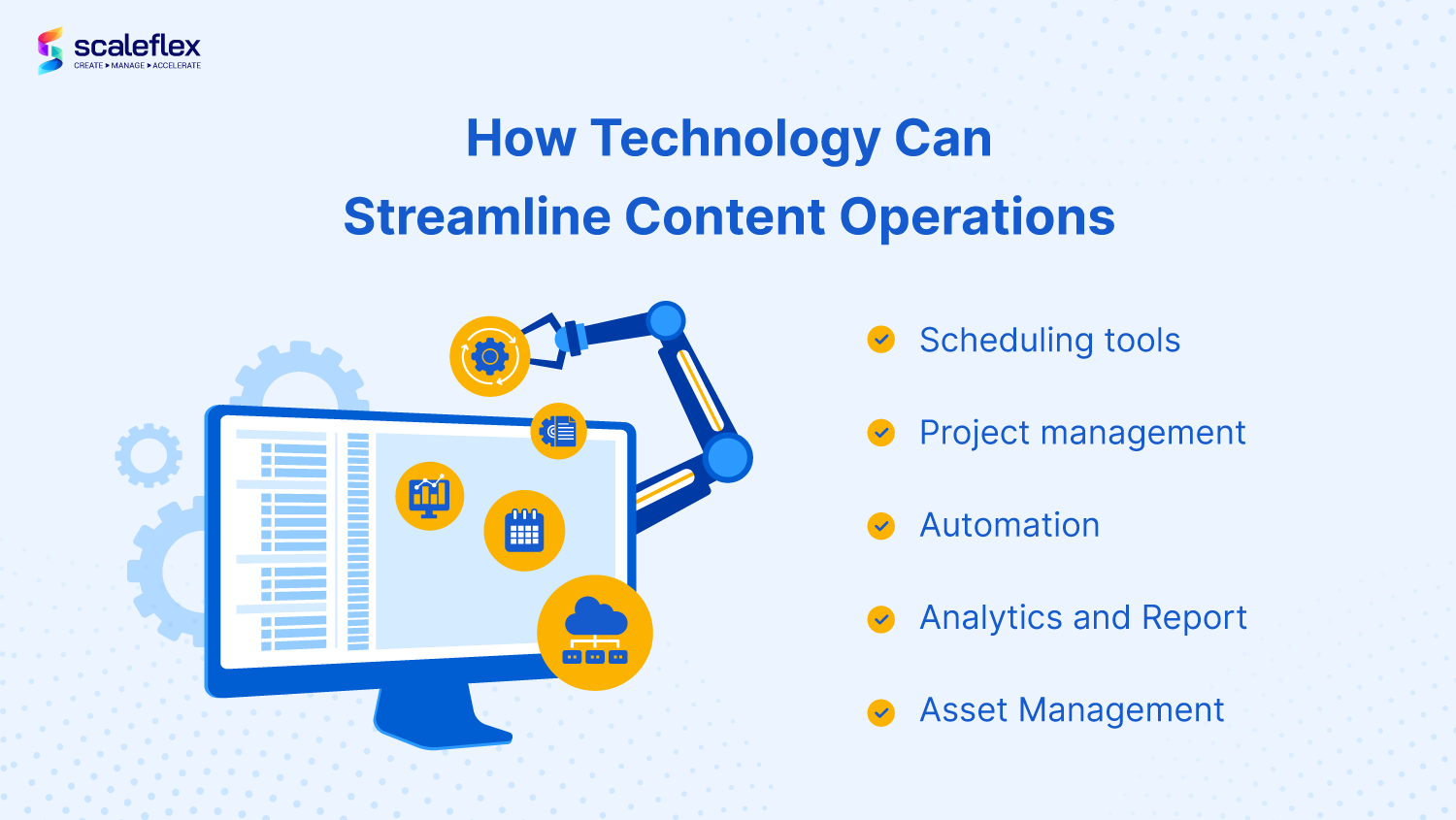 Some examples of technologies you should consider implementing include:
Scheduling tools: Having an editorial calendar that can be shared across teams to schedule when content is published can be very helpful.
Project management: You require project management tools to enforce a production workflow for various roles and permissions.
Automation: A large portion of content operation tasks involve continuous, repetitive work. This could include image optimization, background removal for product images and smart-tagging. Automating most of these processes can help boost productivity as your teams can focus on what they do best.
Analytics and Report: Another essential part of ContentOps is to track how well your content is doing. Being informed about the result of your efforts can help you streamline your operations and prioritize digital assets that perform well.
Asset Management: Content and marketing teams work with numerous forms of digital and media assets. From collaterals, images, stock photos and videos, it'll be good to have an all-in-one place to store these critical assets.
Even though all these technologies are crucial, marketers know how frustrating it is to have numerous tools and platforms in their MarTech stack. Content teams need content operations software that can bring them together and not use technology to create even more content silos.

That's where platforms like DAM, MAM, and PIM can come in handy depending on your business structure and needs.
DAM, MAM, PIM
Depending on your business needs, choose which platform can help boost your digital content operations wisely.

DAMs help you to centralize all your digital assets in one content backend for developers and a single media library for marketers. Agencies can collaborate efficiently to comment and validate media assets from within the DAM, resize, crop, and edit images with social presets, and share files seamlessly and securely with clients and external partners.

Media Asset Management (MAM), in comparison, is more focused on media assets, such as multimedia and video files. This could be a more suitable content operations platform for design agencies and media freelancers who work primarily with video and images.

Product Information Management (PIM) is helpful for e-commerce and marketplaces, which need a central tool to help them organize not just product images but also product descriptions, UPC and SKU numbers.
Key Takeaways
Combining the best of People, Processes, and Technology with clearly defined roles and responsibilities, well-documented processes and the best-in-class technologies, you can truly unleash your content operation's potential.

Speak to Scaleflex's DAM experts to find out how Filerobot, a performant DAM designed to work in your existing environment, can help you to store, optimize, accelerate your digital assets anywhere and everywhere and scale your content operations.


Return to the Table of Contents
---