Stock Photos, Copyrights and Image License Management In a DAM
While we don't deny the benefits of creating your own branded images, don't we love the convenience of stock images? In just a short amount of time, you get to obtain a professional-looking image to beef up your slide decks and enhance the aesthetic look of your collaterals.

As convenient as it is to obtain licensed images, managing how you use them, when you use them, who uses them, and for how long are just some of the challenges businesses face. Using an image without properly abiding by the vendor's licensing terms can bring legal trouble. Image copyright infringement could get you sued by the creator, making it a big hit to your business - even if it doesn't cost you anything, it could damage your brand's reputation.

That's why it is so important to leverage a Digital Asset Management (DAM) system and its powerful features and capabilities to manage stock photos, copyrights, and image licenses.
Table of Content
Why is image license management important?
With more than 350 million stock images on the market, the industry is expected to reach 7 million by 2027. Perfect for advertising and marketing, commercial creative projects, social media posts, and collaterals, stock images are good resources to obtain high-quality visuals.

Designers would know how vital stock imagery is as they can find anything from vector files, and customizable templates to video footage available for licensing and use.

To use all these to boost your marketing efforts, businesses will need to pay attention to image license management as it ensures that the images used are appropriately licensed and that the creator's rights are not violated.

Are there copyright-free images, then? Nearly every photograph or image created in the past three decades still has some form of copyright protection. And to find a copyright-free image that your organization can use, you will need to know the different types of image license types and check images for copyright before using them.
What are the different image license types?
A digital image license or photograph license is a form of a contract between the creator of the image or photograph and the individual or business who wishes to use the image. The license grants and restricts how the image is used in marketing materials or any other form without being liable for copyright infringement.

When sourcing free-to-use images and stock photos on Unsplash, Pixabay, and Google Images, you'll come across different types of image licenses. Regardless of the type of image license, copyright law states that it is illegal for individuals or companies to share and use images online and in print. Knowing your image license types is essential in organizing stock photos and image license management.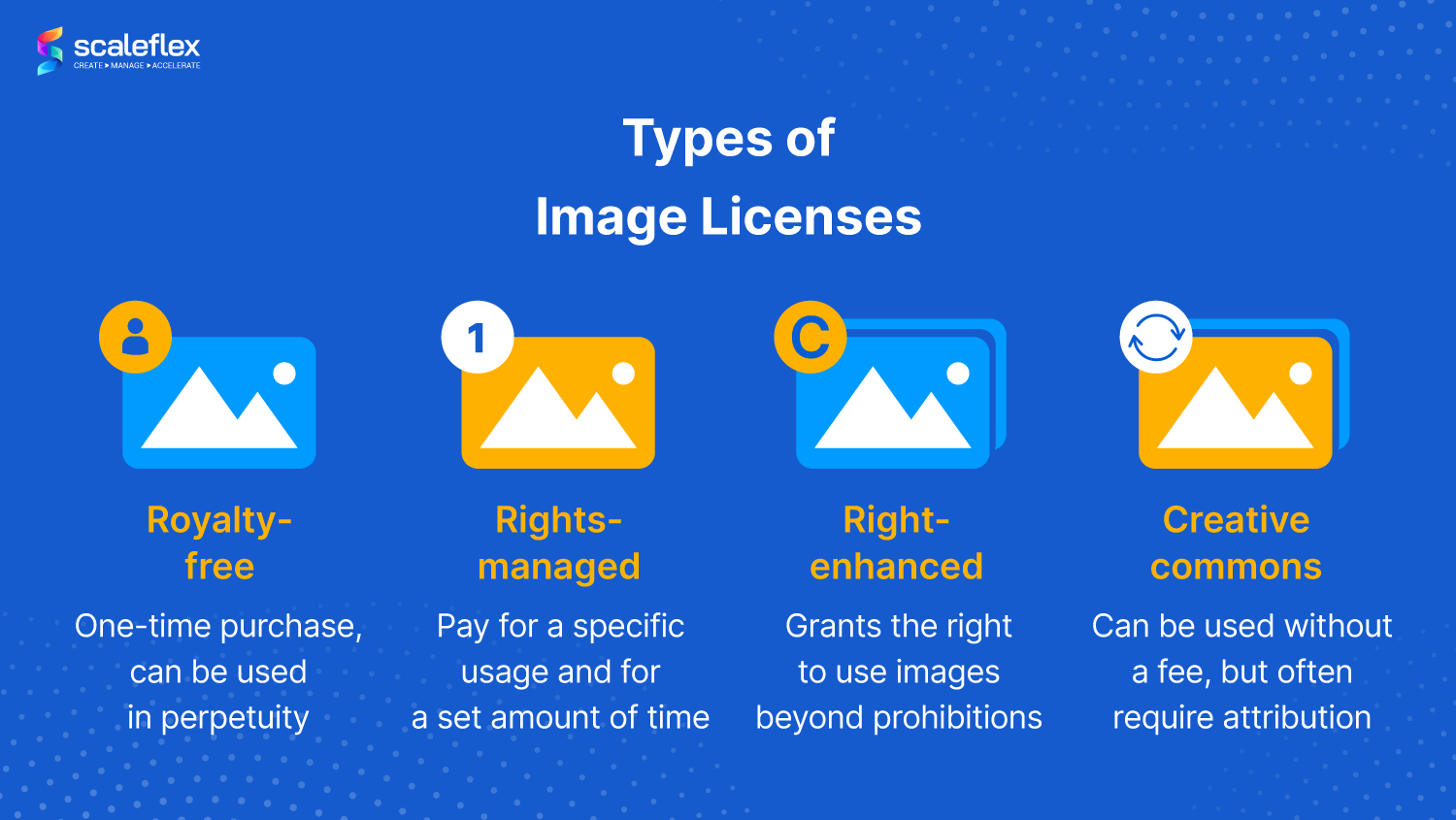 Royalty-free licenses
A royalty-free license grants you or anyone in your company access to use the image or photograph in perpetuity after you've made a one-time purchase. As long as you do not violate any terms of the license, you do not have to renew the license after the purchase.

Royalty-free images are typically not exclusive, and any other organization who has bought the license can also use the same photographs.
Rights-managed licenses
A rights-managed license usually means that a user would pay to use the image for a particular project and for a set amount of time. When the timeframe expires, and if users want to use it for a different purpose, they will need to purchase another license.

In this particular scenario, it is crucial to keep track of the expiration dates and how these licenses are used.
Rights-enhanced licenses
A rights-enhanced license can be seen as an extension of royalty-free images and fills in some of the gaps of a rights-managed license. It grants users the right to use images beyond the prohibitions of a regular royalty-free license, such as using it for print on t-shirts or pens. These enhancements could include requests to increase or restrict reproductions or to use the image for other ways of distribution.
Creative commons
Some people see creative commons as license-free images, but they are, in fact, not quite that. Creative commons licenses are intended to boost the dissemination of creative works and encourage sharing knowledge within the creative space.

Though organizations can use the images without actually paying a fee, they will need to use them in ways stipulated by the different types of creative commons licenses. In most cases, users will need to credit the creator.
Return to the Table of Contents
DAM and Digital Image License
With the different types of image licenses, it is essential to keep track of how and who uses them and track the expiration of these licenses to stop using them or renew their licenses when required. You'll then need image license management solutions like Digital Asset Management with powerful stock photo management capabilities to help you with that.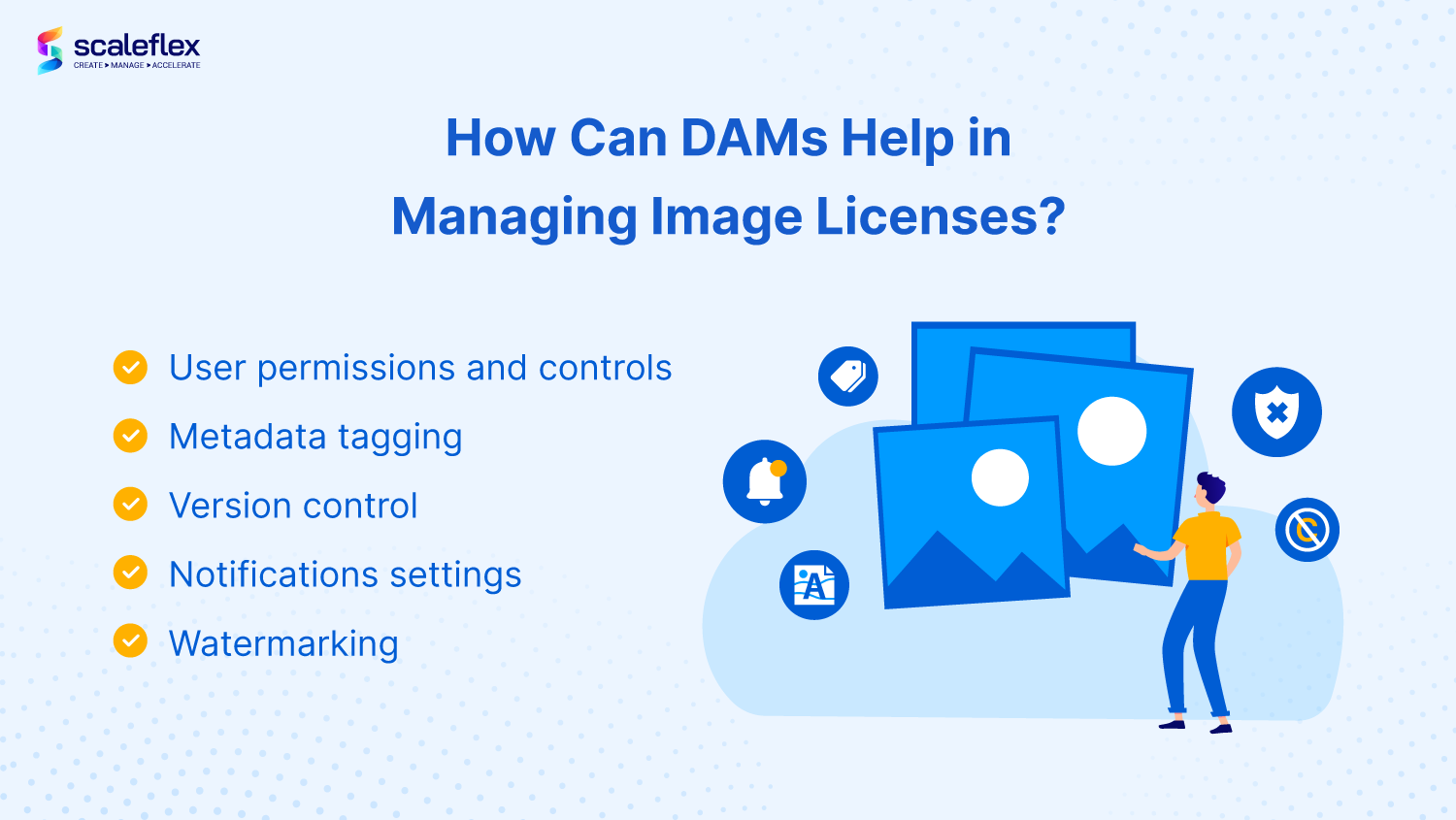 User permissions and controls
Consistently control who gets to assess the stock photos to ensure that they are used by and on behalf of your company which purchased them correctly. For instance, if you have some rights-managed images, you can restrict the access for certain user roles such as the marketing team so that they don't accidentally use these images for a different purpose.

You could also add an expiration date where the URL to this item is stored in the DAM so that it automatically expires and removes the shared image where you use them on your website. This feature is definitely a useful one in managing your digital image license.
Metadata tagging
Marketing, content, and design teams know how frustrating it is to search for a single image or photograph when the visual assets are not properly organized. Even if it is structured effectively, a newcomer will take some time to navigate through the different files. Especially for a licensed image, you need to be able to access the exact photograph that you have purchased a license.

Therefore, metadata is vital for an enriched search experience in your DAM. Minimally, you'll need to have a descriptive filename, relevant metadata tags, meta-descriptions, license details, and expiration dates.

Including such metadata in your images can be time-consuming, and DAM can help you automate that. DAM's AI & ML auto-tagging features can help you save time and reduce tagging errors. This feature is not just important as a stock photo management solution but also in organizing your original creations as well.
Version control
Whenever you renew your image license, you'll need to update the existing one with the new version of the licensed image, which might have gone through some form of reiteration. Instead of blasting an email to the entire company or to the external partners who are using these files, the version control feature can automatically replace the old file and update it everywhere.
Notifications settings
This might just be one of the most useful features - to set up notifications in your DAM so that you get informed whenever your media is about to reach its expiration date. This not only ensures that you don't get into legal trouble by using your media asset past its expiration but also grants you ample time to decide if you would like to renew your license. No more panicking and scrambling!
Watermarks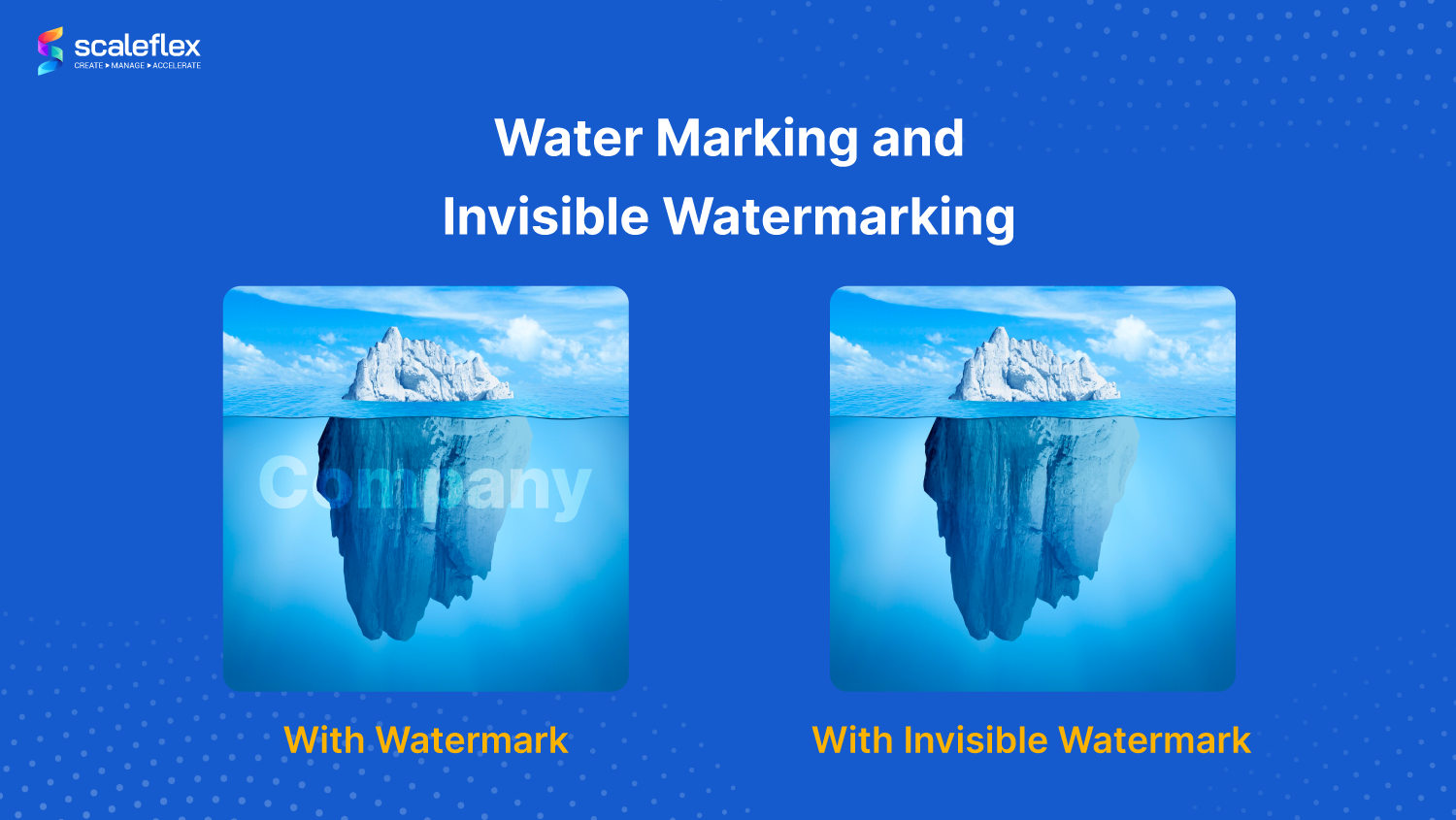 Beyond setting all the above features, you can also manage the copyright of your images using watermarks or invisible digital watermarking. Many times, users typically check images for copyright by looking for watermarks. Invisible watermarks, however, can be a helpful way to include your company's "signature" without covering essential parts of the original graphic.

Engrave an invisible digital watermark onto your digital image on upload to protect your image rights, proving that the image belongs to your company if it happens to be tampered with or the rights breached.
Key takeaways
Digital Asset Management is a good image license management tool within and outside your organization. Its features help automate many tedious processes surrounding image licenses and can free up your precious time to complete more important tasks.

We welcome you to look at Scaleflex's Filerobot Digital Asset Management solution and discover how it can help you track the usage of your stock photos and manage your image licenses. Speak to our DAM experts about your project today.
Return to the Table of Contents
---