How can a Document Management System Benefit Businesses in the Digital Era
In today's digital era, managing documents has become a crucial aspect of business operations. No matter which industry you are in, there are tons of documents that you need to keep track every day. Human resources might need to manage employees' data, legal teams might need to store and secure confidential contracts, and marketing teams have tons of marketing collateral they need to update and distribute. Managing and organizing all of these countless documents can be a tedious and time-consuming task, especially when dealing with paper-based documents.

A Document Management System (DMS) then comes in handy. In this comprehensive guide, we will explore the benefits, best practices, and real-world applications of document management software, and demonstrate how they can revolutionize your business operations.
Table of Content
What is the definition of a Document Management System?
Before we look at document management applications, the first question to ask is what is document management? Document management comprises workflows, document repositories, output systems, and information retrieval systems on top of document and content capture.

A document management system then is a digital platform that assists businesses in storing, organizing, managing, and tracking their documents. These documents can be of various types, such as PDFs, word-processing files, and digital scans of paper-based content.

As such, document management software is a critical component of modern business operations as it helps companies store documents securely by controlling permissions and access, streamlining search and retrieval, and providing an audit trail to reduce the risk of errors.

Document Management software is one of the technologies that led to content management and can also include Print Digital Asset Management (DAM) solutions, which allow businesses to manage their print assets, such as brochures, flyers, and other marketing materials.
What is the history of document management?
The need for document management solutions arose from the challenges that businesses faced in managing their paper-based documents. Some of these challenges included lost or misplaced documents, inefficient storage and retrieval, and limited access to important documents.

The advent of digital technology provided a solution to these challenges and document management systems were developed to help businesses transition to a paperless environment.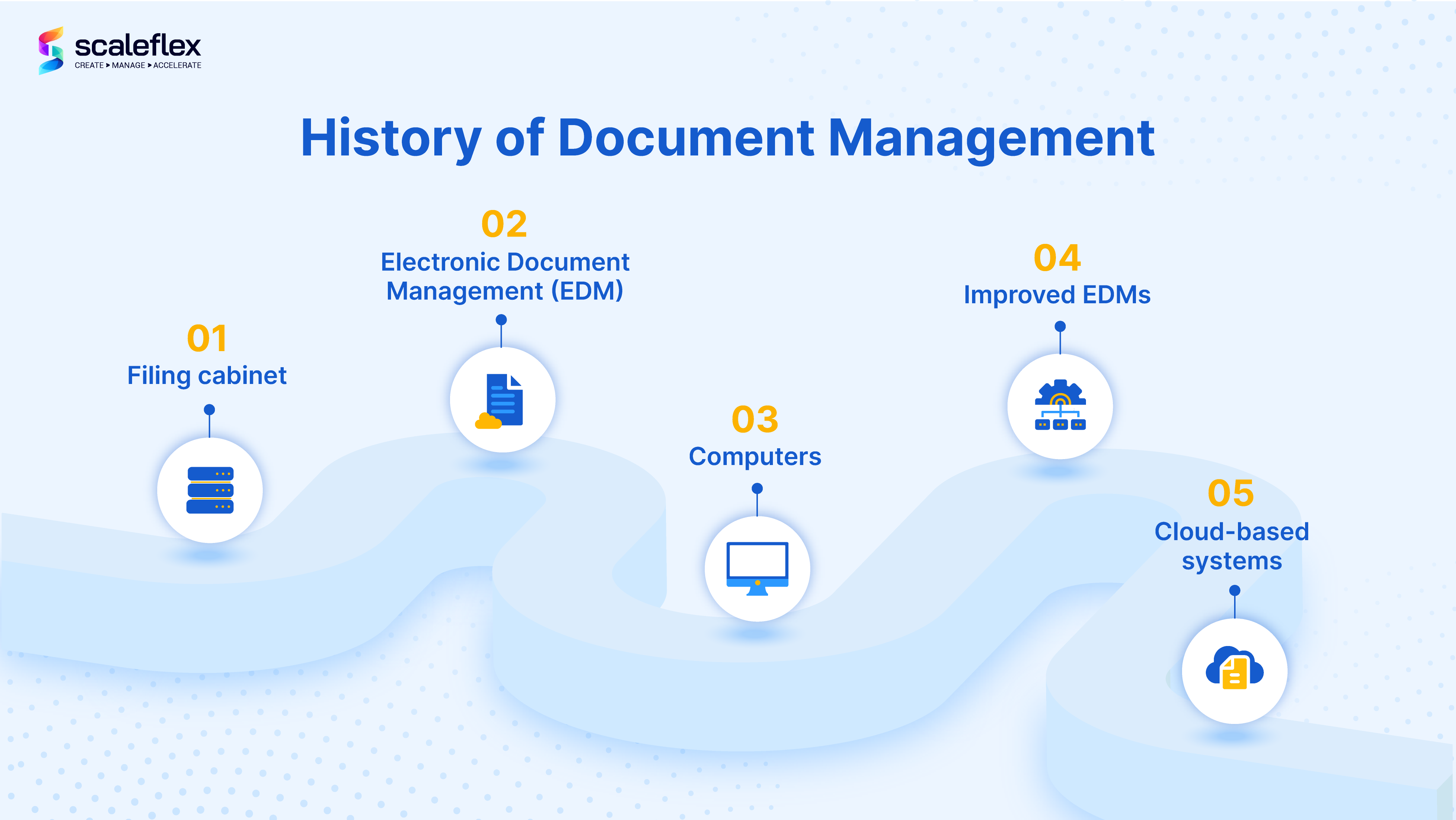 Dating back to the nineteenth century, document content management started with the filing cabinet. This was when documents were still in its paper form and was used for over a century before it faced backlash from techies and green activists.

Thereafter, electronic document management (EDM) in the form of servers began to solve the problem of office spaces filled with filing cabinets. These help companies recover unused space and lower storage mistakes. Yet, it still has problems in terms of computing costs and unstructured documents. Furthermore, because these require highly-skilled staff, companies often have to look for a document management company offering document management services that may not necessarily be as cost-effective.

After computers started to be dispersed and connected on Local Area Networks (LAN), companies were then able to create and keep their documents on their computers. These capabilities, though powerful, also brought in a proliferation and dispersal of unstructured documents. One employee could have a version in his or her computer, while another could have another version or a duplicate of the document on a different device.

The worldwide use of computers is also what sparked the earliest traces of document management program challenges that still persist in many organizations today, such as the absence of version control, security assurance, and audit trails.

In the 1980s, knowledge workers began utilizing document management software in their jobs, thanks to user-friendly solutions and this trend eventually led to most employees using it to manage their documents. With these improvements, we then started to notice an increase in client collaboration and compliance with security regulations.

Today, with the emergence of the internet, such systems have transited to cloud-based solutions. Since businesses don't need to rely on local servers to house their data or on specialized IT staff to keep it up-to-date, search and retrieval of documents are now much easier.
Return to the Table of Contents
What are the benefits of Document Management?
Other than helping to transition to a paperless environment, there are numerous benefits of a document management solution. Think more organized files, easy search and retrieval process, and better ways of working between teams.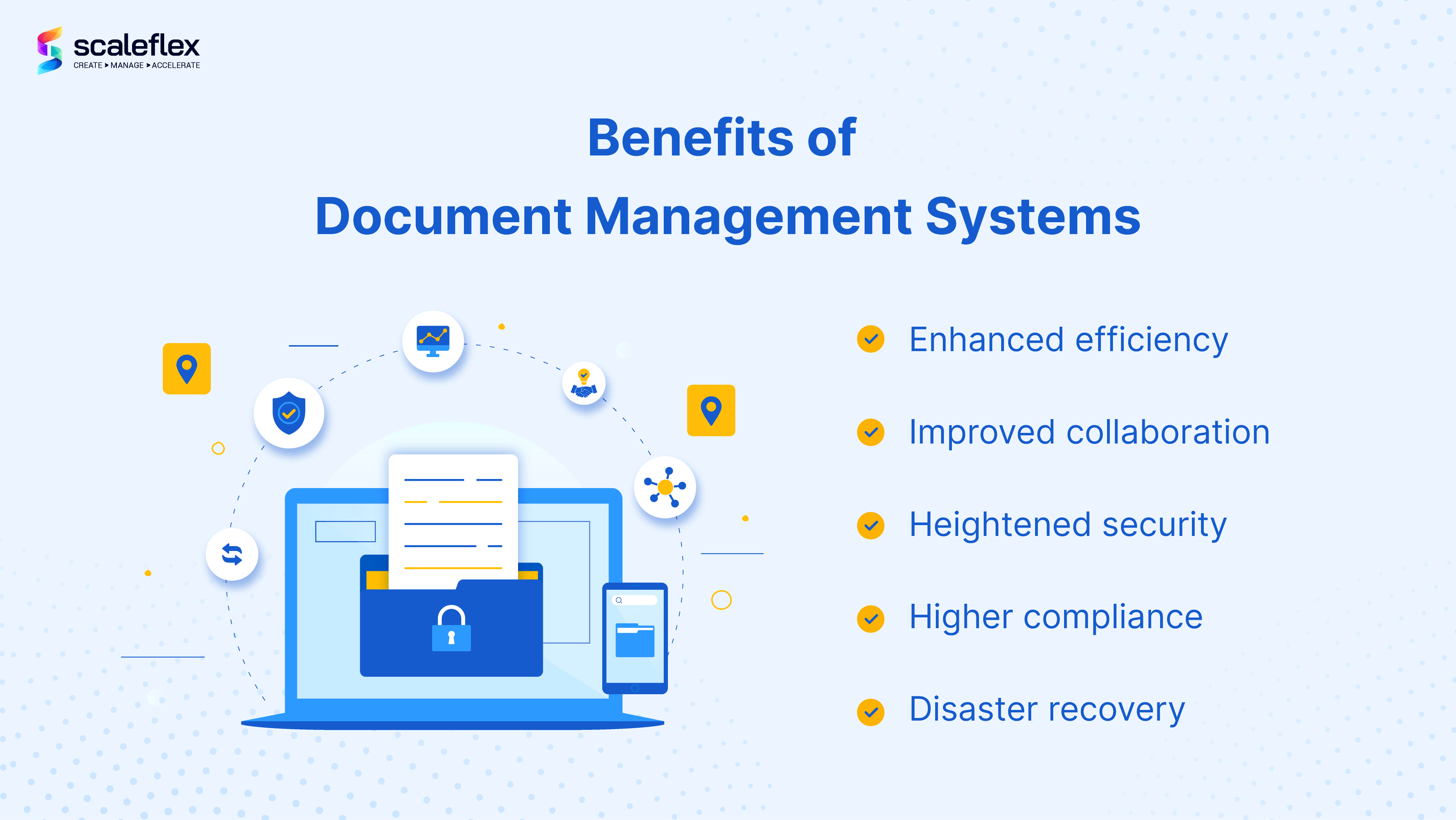 Enhanced Efficiency and Productivity
One of the primary benefits of a DMS is the improvement in efficiency and productivity. A DMS can significantly reduce the time it takes for employees to search for documents. With the ability to access documents quickly, employees can focus on other essential tasks, which can lead to improved productivity. Moreover, with a centralized system in place, the chances of misplacing or losing documents are significantly reduced.
Improved Collaboration
Collaboration is crucial in today's business environment, and a DMS can significantly enhance teamwork and collaboration in content operations. A DMS allows employees to access documents from anywhere, at any time, facilitating teamwork and collaboration. Moreover, with features like document versioning and commenting, employees can work on documents in real-time, providing feedback and making suggestions.
Heightened Security
Security is a top concern for businesses, and a DMS provides robust security features to protect sensitive documents from unauthorized access. A DMS allows for access control, meaning only authorized personnel can access specific documents. Furthermore, with features like document encryption, document watermarking, and audit trails, organizations can ensure that documents are secure and trackable.
Higher Compliance
Beyond security, compliance is another essential aspect of businesses. A document management tool can also help comply with regulations and standards. In healthcare industries, DMS with security protocols can help ensure patient records are HIPAA-compliant. In legal industries, DMS can help ensure documents are compliant with legal standards.
Disaster Recovery
A great benefit of DMS and when paper-based documents have been digitized is disaster recovery. When documents are stored in the cloud, it means that even if a physical disaster occurs, documents remain safe and secure. Automatic backups also help businesses ensure that documents are always available.
Better Decision Making
DMS allows for easier access to documents, facilitating better analysis and decision-making. Features like document tracking and audit trails are also useful to help teams track the history of a document, making it easier to make decisions based on historical data.
What are some of the best practices for document management systems
Today, most companies don't just work with documents and the best document management software is actually an all-in-one Digital Asset Management solution that also helps to store, manage, and organize all forms of digital assets such as images, videos, design files, and voice recordings.

DAM provides a central location for storing and organizing digital assets, making it easier for users to find and access the files they need. DAM systems often provide robust search capabilities that enable users to search for documents based on metadata, keywords, or other search criteria.

DAM solutions often include tools for creating and distributing content, such as image editors, video editors, and publishing tools. By integrating document management tools with DAM, businesses can streamline their content creation and distribution, making it way easier to create and distribute documents, images, videos, and other assets.

In today's highly connected digital world, companies also do not work independently and there's often a need to share documents with external organizations. As such, a DAM acting as an enterprise document management or a document management system for small businesses can help ensure secure sharing options by encrypting files and folders and limiting access by time or user permissions.

By using a DAM to enrich document management, businesses can have a comprehensive and centralized location to manage all their digital assets, including documents, images, videos, and audio files. Request a demo to find out how Scaleflex's Filerobot DAM can help you boost your document management capabilities.
Return to the Table of Contents
---