DAM vs. MAM: Key Differences Between Both Asset Management Platforms
If you're looking into ways to optimize your Content Operation strategies, chances are you've heard of DAM (digital asset management) and MAM (media asset management). Well, chances are that not only have you heard of the two terms but you've also faced the need to grasp their application in-depth. After all, that's the only way to help your growing organization manage its various content assets in a fast-paced, highly interactive environment.
The very first thing we should mention is that, even though DAM and MAM are often used interchangeably, in terms of their application and where they fit best, they have their differences. To understand these differences, in the following article we are about to answer some vital questions.
What are the differences and similarities between MAM and DAM, and why are the lines between the two so blurred? What are their definitions and key features? How are digital assets and media management integrated into the workflow? These are the questions we are about to answer in the upcoming sections, so be ready to take notes!
Table of Contents
What Is Similar Between DAM and MAM?
Let's start with the similarities these systems share. Both platforms help companies to manage their digital media assets. Both help optimize resources - from the editing, through the maintenance, to the distribution (sharing) part. Both allow the various organization members, employees and partners to work together by permitting direct access to repositories and libraries. Also, both systems aim to control content ownership, allowing access to content depending on entitlement and available tools needed to work with it.
In other words, what is considered a benefit in MAM is most certainly treated the same way in DAM. Some key features both types of platforms should provide include the following:
Access control;
Searching, including metadata search;
Preview of content;
Access to all content versions.
Both are modern technologies steadily becoming a necessity in creating and sustaining content strategies by increasing collaboration efficiency and asset accessibility.
Return to the Table of Contents
DAM vs. MAM: What's the Difference?
If they share so many similarities, it is only natural to wonder: What's the difference between MAM and DAM?
Generally speaking, it is widely accepted that MAM systems are entirely focused on video, whereas DAMs may not handle it that well. It can also be said that MAM is a subset of DAM, with the first one providing a broader set of video capabilities, whereas the second one is more versatile. We should mention that some modern DAMs can handle video, as well.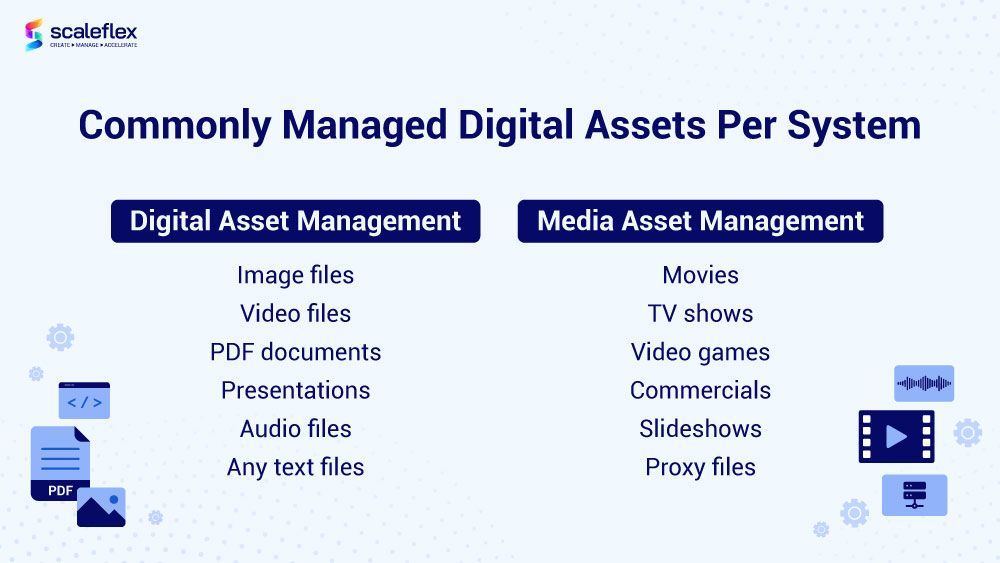 That being said, a media asset management system is a vital part of the audio-visual production chain, making it possible for editors to store content and in the meantime, work with non-linear (offline) editing tools, such as Adobe Premiere. On the other hand, a digital asset management system is meant for handling all types of brand digital assets, typically related to the sales and marketing teams. These assets include logos, product photographs, various marketing materials, PDF guidelines etc.
Return to the Table of Contents
Digital Asset Management (DAM)
DAM is all about the way your company manages its digital assets, such as product images and PDFs, starting from their creation and upload, all the way to publishing and archival.
A DAM system is central to your Content Operations strategy. Keep in mind that other systems, including CMS (Content Management System) and PIM (Product Information Management), can be powered by the content stored in your DAM.
DAMs are meant to store, organize and share all of your digital content in a centralized, secure location. Thanks to these platforms, your team members can locate and share assets, enabling an easy and highly efficient collaboration inside and outside your organization.
Shortly said, a DAM serves to organize and distribute media, visuals and content, related to brand and marketing assets, and manage their rights and permissions. Typically, it's in the hands of the marketing and/or sales teams. However, it can be accessed by various sectors of your organization, such as communications, product management, and even partners.
DAM Key Features
In terms of what a DAM system can do, here are its key features, summarized:
Search, upload and download of content - performing searches based on specific keywords, and being able to easily upload and download content files;
Sharing - being able to share your resources both in-house and externally;
Control of permissions - being able to control who access what thanks to an efficient control structure;
License and rights management - enabling you to oversee licenses and rights against certain assets;
Version control - making sure that your team uses the right version of any brand image, logo, etc.;
Approval workflows - giving you the right to approve anything that is uploaded to the DAM before it goes online for the world to see;
Customization - being able to customize the system so that it fits your company's needs best; Integrations with other systems - integrating all of your current tools with the platform for a more efficient work process;
Scalability - the system can grow together with your brand, as it allows you to scale it according to your changing needs.
Return to the Table of Contents
Media Asset Management (MAM)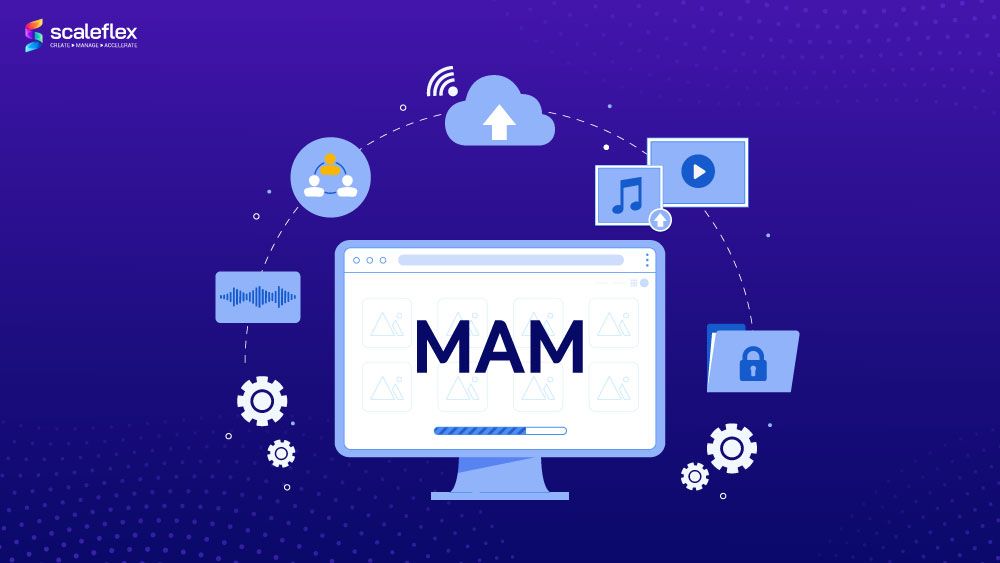 We already established that media asset management platforms are entirely focused on providing both the means and the software needed to manage video and multimedia files. These systems serve the need to contain large and rich media data, and as such, they're a crucial part of video production processes. Thanks to MAMs, companies can store and manage large media libraries in one centralized, secure location.
MAM Key Features
In terms of what a MAM system should be able to provide, here are some of its key features, summarized:
An excellent MAM system should deliver a great quality of handling audiovisual media;
It includes integration with external offline editing tools;
Such system should be capable of dealing with version requirements, controlling and updating the content while editing;
It should also enable collaboration across various functional team members and departments;
An excellent system should be cost-efficient, offering lower storage by centralizing storage functions.
Return to the Table of Contents
Integration of DAM vs. MAM
Regardless of the type of digital business you run, one thing is certain. You should aim at creating an integrated IT landscape in which data is centralized, secure and accessible.
With the expansive digitalization of business in a fast-paced workflow environment, in which new systems are being introduced daily while older ones also continue to function, flawless integration is a must. In other words, how well will a DAM/MAM system integrate with your existing business structure?
DAM Integration
First, you should decide whether you need a Headless DAM or a Collaborative DAM. Depending on the answer, you'd either get an API (Application Programming Interface) or a widget.
A headless DAM is aimed at developers, as in most cases it doesn't have a user interface or a front-end. In the reams of digital asset management, headless architecture provides a unified media library to help across departments, functions, and systems. This type of system decouples the master asset library from a single interface to enable asset consumption from other systems using custom or pre-built interfaces. To summarise, it is a type of software without a User Interface, designed to communicate and share content with the back-end of the apps via APIs in a cloud network.
A collaborative DAM is meant for your marketing and design team, as it provides a user-friendly media asset hub with the help of a widget. It would provide a file uploader and a media gallery in an easy-to-integrate modal or inline widget. Shortly put, this type of digital asset management system is perfect for building an interactive media upload and management in your web or mobile application.
MAM Integration
What about MAM integration?
This type of asset management software should provide multi-platform accessibility to be able to adapt to multisite requirements. This also means providing the needed user access control. A good recommendation is choosing a solution that is based on an open architecture via standard APIs for seamless communication with existing systems and other tools.
N.B. Keep in mind that there are different API languages, and the techniques in every solution available on the market vary. In most cases, the API for a particular system reflects the available User Interface (UI).
Return to the Table of Contents
Conclusion
So, in the battle of DAM v. MAM, which one is the winner?
The answer solely depends on the type of digital business you run, and what fits your organization's needs. If you are handling audio and video content and need integration with various non-linear editing tools, then a dedicated MAM may be the better choice. However, if your company handles thousands of various digital assets for various users within your organization, a flexible, versatile DAM, such as Filerobot, is what you need.
With Filerobot, your teams will be able to store, process, share and accelerate various types of content, including videos, on both web and mobile applications. That being said, a DAM such as Filerobot is more adaptable than a MAM, and should be more than enough to cover the needs of your content operations.
Return to the Table of Contents
---