Best Practices To Achieve Optimized Google Shopping Images
You've got your products listed online, and then on Google Shopping. It's been days, then weeks… and they're not flying off the racks like you thought they would. Wondering why that is the case? Perhaps you might want to take a closer look at optimizing your Google Shopping images.
Table of Content
The Importance of Google Shopping Images
Online shopping is a highly visual experience. Unlike in brick-and-mortar stores, you can no longer feel or touch the products online. That's why product images play one of the most prominent roles in your customer's decision to purchase an item on Google Shopping. It is the only way you get to show your customers how good your product is.

Customers think the same too - over 87% of online shoppers say that having clear product images is the most critical factor in creating a great online shopping experience.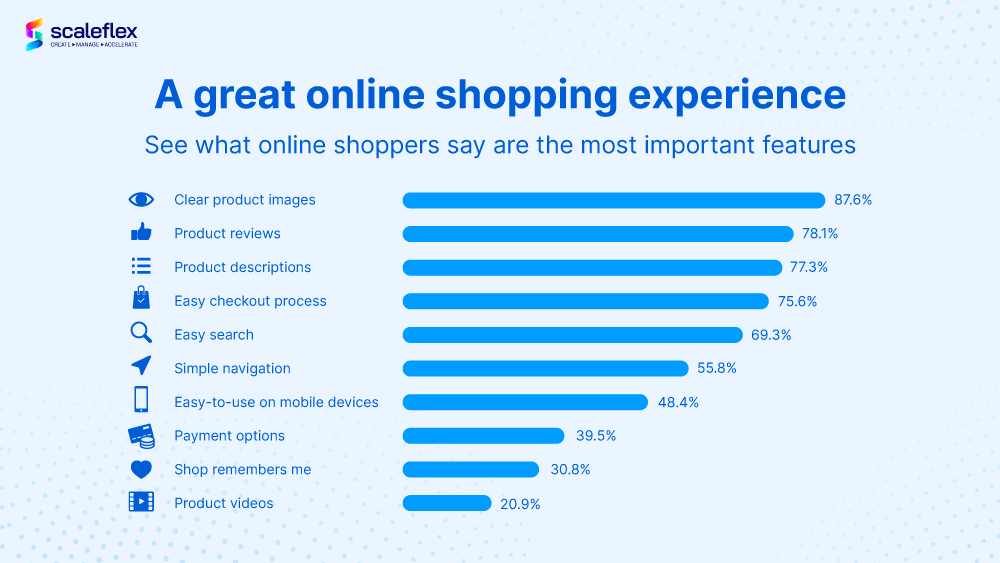 Images are even more important on Google Shopping as it is the most visible part of a listing - images are displayed on top of other product information such as title and price. It is really the first impression your customers have of your product and, subsequently, your brand.

Like shopping in retail stores, customers make a snap judgement of the product based on its image, and they tend to engage with attractive product images. No matter how great your product is, an impressive array of optimized Google Shopping images to attract more clicks and engagement is the first step to shopping cart conversions.
Return to the Table of Contents
Google Shopping Image Requirements
First things first, we'll cover a little about Google Shopping image guidelines. Ensure that you meet these requirements to avoid the trouble of spending too much time fixing errors and be successful when listing on Google Shopping.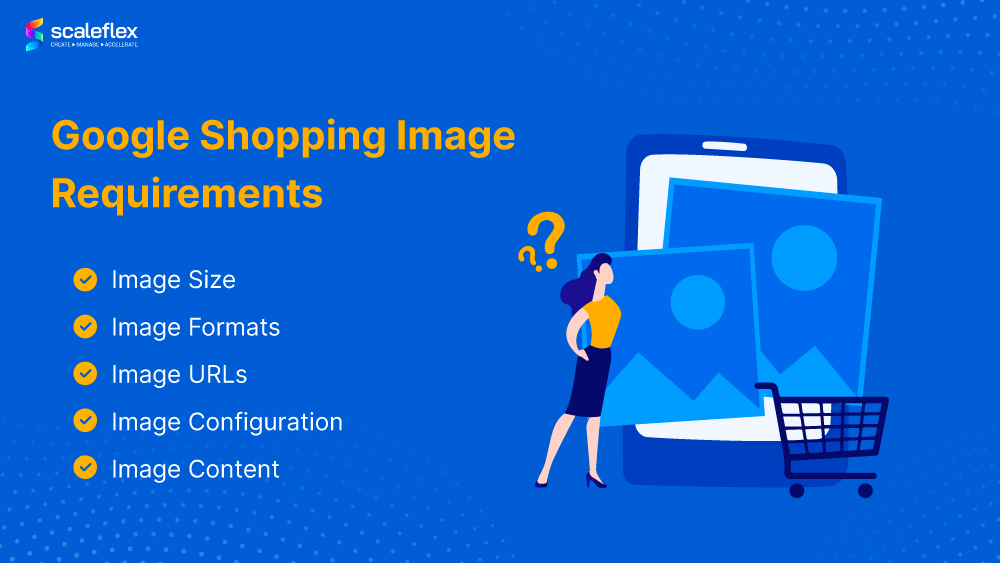 Image Size
If an image is too big or too small, you'll receive an error message on your Google Merchant Center account and your products will not be listed (even if you think that that product image looks absolutely stunning).

Google Shopping Image size needs to be:
Non-apparel images: minimally, 100 x 100 pixels
Apparel images: minimally, 250 x 250 pixels
Images should not be larger than 64 megapixels
Image files should not be larger than 16 MB
Image Formats
These are the only formats that are accepted by Google:
JPEG (.jpg/.jpeg)
WebP (.webp)
PNG (.png)
BMP (.bmp)
TIFF (.tif/.tiff)
non-animated GIF (.gif)
Image URL Formats
Due to Google's algorithm, there are also URL requirements you need to take note of so that they can understand your product images.

URLs need to:
point to an image in supported file formats
begin with http or https
comply with RFC 3986
replace symbols and spaces with URL encoded entities
Image Configuration
Google's crawlers examine your product images regularly to spot quality concerns. Set up your robots.txt file to ensure that you don't run into any problems. The most frequent product crawl errors come from merchants submitting incorrect URLs that lead to 404 pages, contain invalid characters, or are blocked by the server's robot.txt.
Image Content
Now let's look at the actual image itself. Images will need to accurately show the product that you are selling. Especially for items that have multiple variants and colours, your product title needs to match the image.

As much as consumers love Instagram-worthy staged product images and flat lays, Google states that its primary product images should display the entire product with little to no staging. Images should also not contain any promotional content that covers the product.
If your primary product comes along with other items, you'll need to display all these in the images and use the bundle [is_bundle] attribute. For example, silicone earbud tips are usually sold in a pack of varying sizes. This should be reflected in the product image to help users clearly and accurately identify what they will receive when they purchase the product.

What to avoid?
Generic images, illustrations and graphics are not recommended. If you wish to show these images as part of selling the lifestyle or branding, they can be used as additional images (just not the primary image).
Logos and icons (unless you sell under the computer software category)
Single colour images like a square of colour (unless you sell under the vehicle paint, ink and glaze, craft paint and painting consumables category)
Any overlay on the images including promotional tags, logos, watermarks, and brand names
Return to the Table of Contents
Google Shopping Images Best Practices
Now that you've got all those requirements and guidelines right, how can you stand out from the crowd and get your customers' attention? Here are some tips for Google Shopping images best practices to curate the best images for your listings.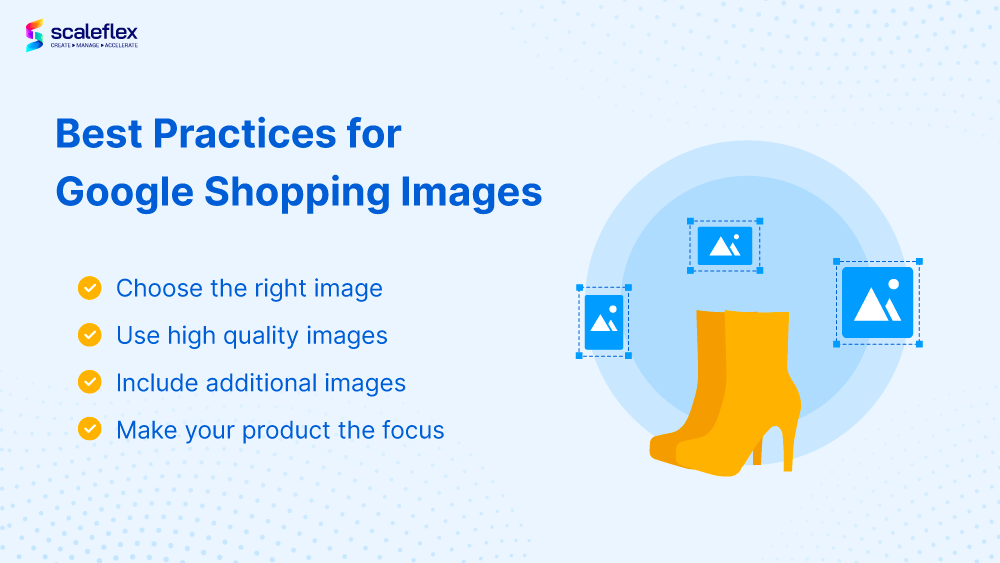 Choose the right image
This seems like a brainless best practice but it is highly essential for Google Shopping. Most of the time, you may have different variations of a particular product and you'll need to ensure that you choose images that tally with the title and description of your listing (pattern, colour, material and customization where applicable).
Use high-quality images
Customers today shop online with their eyes, and beautiful visual content is 40% more likely to be shared on social media. This implies that high-quality, high-resolution professional photographs are more crucial than ever. To online shoppers, the quality of the images they see online correlates to the quality of actual products they are buying. Why spend time purchasing something with a brand that does not put in the best effort to showcase its products?

We recommend either hiring a professional photographer to take these photographs or investing in a good camera that can capture high-quality product images. If you think long term, professional shots of your amazing products go beyond ensuring product appeal. It also is part of branding and community-building.

The size of the images matters too. Google recommends that your images be at least 800 by 800 pixels so that it is large enough to showcase your products.
Include additional images
When buying online, 73% of internet shoppers say they expect 3 or more photographs. On Google Shopping, you can have up to 10 images for each unique listing. These additional views should be submitted with the [additional_image_link] attribute.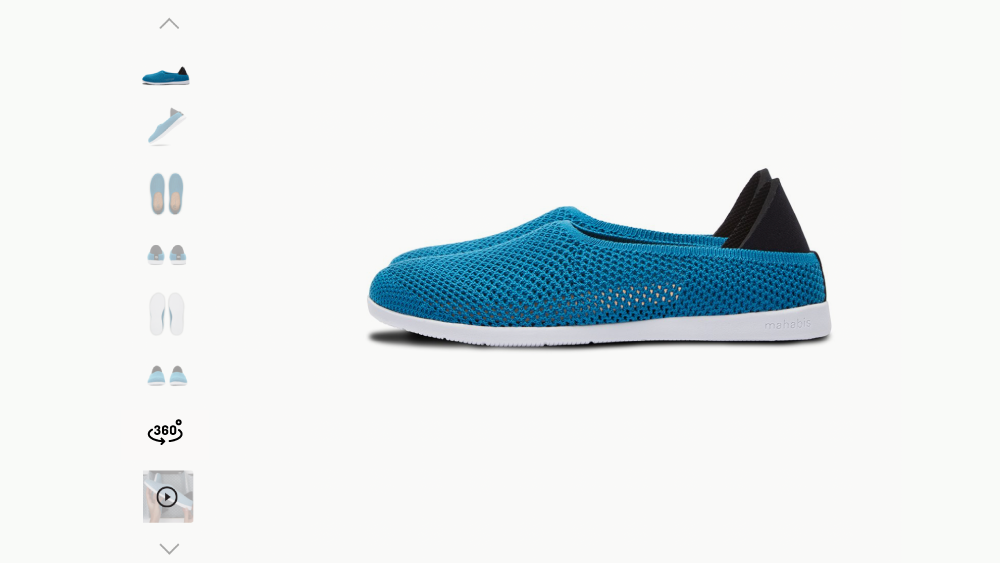 You may be wondering… What type of Google Shopping additional images will help sell the product more? Here we present some of the different additional images you can consider in your line-up:
Different angles: Where possible, you should try to include as many additional images that display different angles of the product as possible. Shoppers will be better able to understand how the item looks from the front, back, side, and so on.
Close-up shots: Statista has found that 64% of online shoppers report returning items as it does not match their expectations, which suggests that perhaps the images do not sufficiently display details of the item. Close-up product shots are then important to give customers a better view of the item beyond the overall aesthetics. The more you display finer details, the more businesses can increase sales and reduce returns.
Lifestyle product shots: 78% of shoppers online desire photographs that bring products to life. Lifestyle product photographs can also be used as part of additional images to invoke emotions and help shoppers visualize how your product can be part of a lifestyle.
Make your product the focus
This would be the most important tip of the lot. How can you stand out from the rest of your competitors when Google Shopping shows rows and columns of images?

Framing of your product is important here. This can be done when you are taking a photograph or during post-production. A tip is to ensure that your product takes up between 75% to 90% of the image. Your product will not look impressive if it takes up too little or too much of the overall image, so frame wisely!

Sometimes, props and backgrounds may overshadow your product in Google Shopping. Having a transparent or white background achieves the effect of making your product the focus as it removes clutter and distraction.

As you may not take the photographs of your products all at once or use the same photographer, white and transparent backgrounds make your product page look consistent. A white background makes your product look sleek, clean and sophisticated and uplifts your brand's image. Plus, your product's true colours are highlighted when using a white background.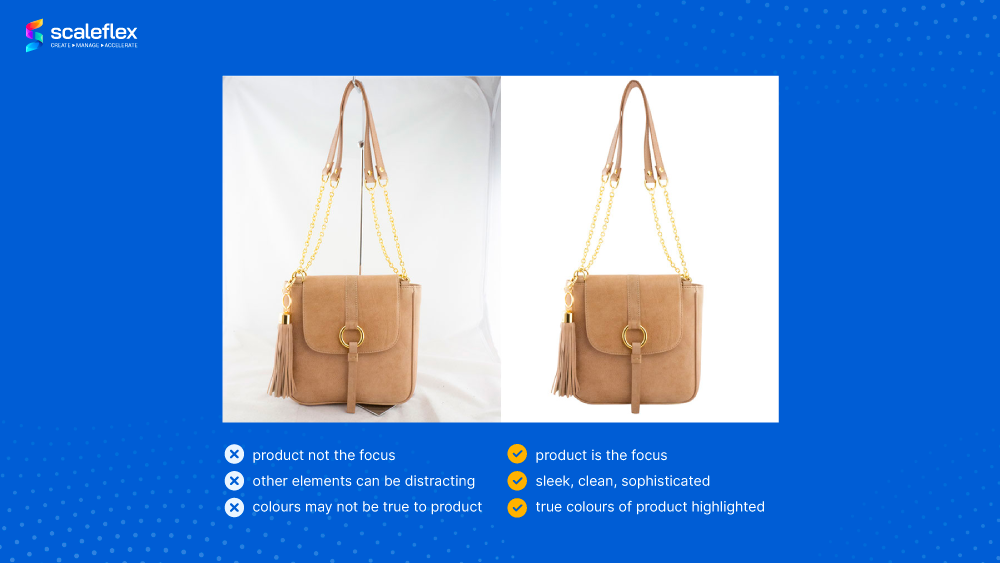 But, this is where the taxing part of how to optimize Google Shopping images comes in. Removing the backgrounds of all your images is time-consuming. One way to speed it up is to consider an automated background removal solution. Read on to learn more.
Return to the Table of Contents
Boost Image Optimization with Automated Technologies
Most E-Commerce businesses or marketplaces don't just sell one product, and having to pay a designer to spend hours, days, and weeks on repetitive, manual, non-creative work is not an effective use of your resources.

Digital Asset Management (DAM) platforms provide you with the full power and capability for ecommerce image optimization and organizing and systemizing your images for Google Shopping. DAMs help increase productivity and efficiency and maintain brand consistency to speed up your content workflows.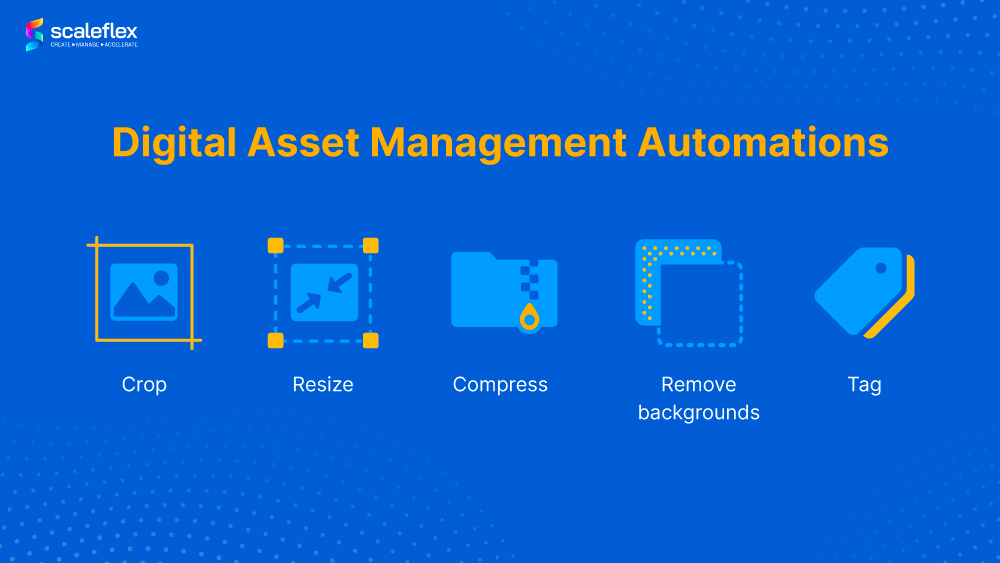 Repetitive image editing processes that can be automated with DAM:
Crop: Object recognition software can automatically detect objects and perform automated clipping to make your product the focus of a photograph.
Resize: Built-in presets so that you can easily resize your images and get them ready for your various social media needs.
Compress: Intelligent compression to reduce the weight of images with no loss in visual quality (supports modern image formats like WebP and AVIF).
Background Removal: Remove backgrounds from images automatically to create transparent cutouts or add single-colour backgrounds.
Smart-tagging: Image metadata such as tags can be added automatically to improve the search experience and retrieve images easily.
Save Time by Automating Background Removal
The most useful, time-saving feature for Google Shopping optimization is background removal. Tired of removing backgrounds with the pen tool on Photoshop?

Ask any designer or image editor. Even the most experienced and highly-skilled professionals spend far too much time on removing unsightly backgrounds from raw product images. Furthermore, the manual techniques used for background removal are varied.

It is now time for a change!

Automated background removal technologies can help you to boost image optimization for Google Shopping and offer benefits such as:
precision
quality
consistency
and most importantly, time-savings
2 methods, 1 highly effective solution
At Scaleflex, we're big on speeding up content workflows and maximizing time. Our newest background removal feature helps you to automate this mundane and repetitive image editing task. Discover how it works!

Filerobot: Digital Asset Management
Fuss-free background removal in one click
Create transparent cutouts or replace backgrounds with a unified colour
Request a demo

If you don't require all the functions of a Digital Asset Management, consider our media optimization and acceleration solution, Cloudimage, as it offers on-the-fly media transformation, including background removal in seconds.

Try out Cloudimage's on-the-fly background removal, just a parameter away: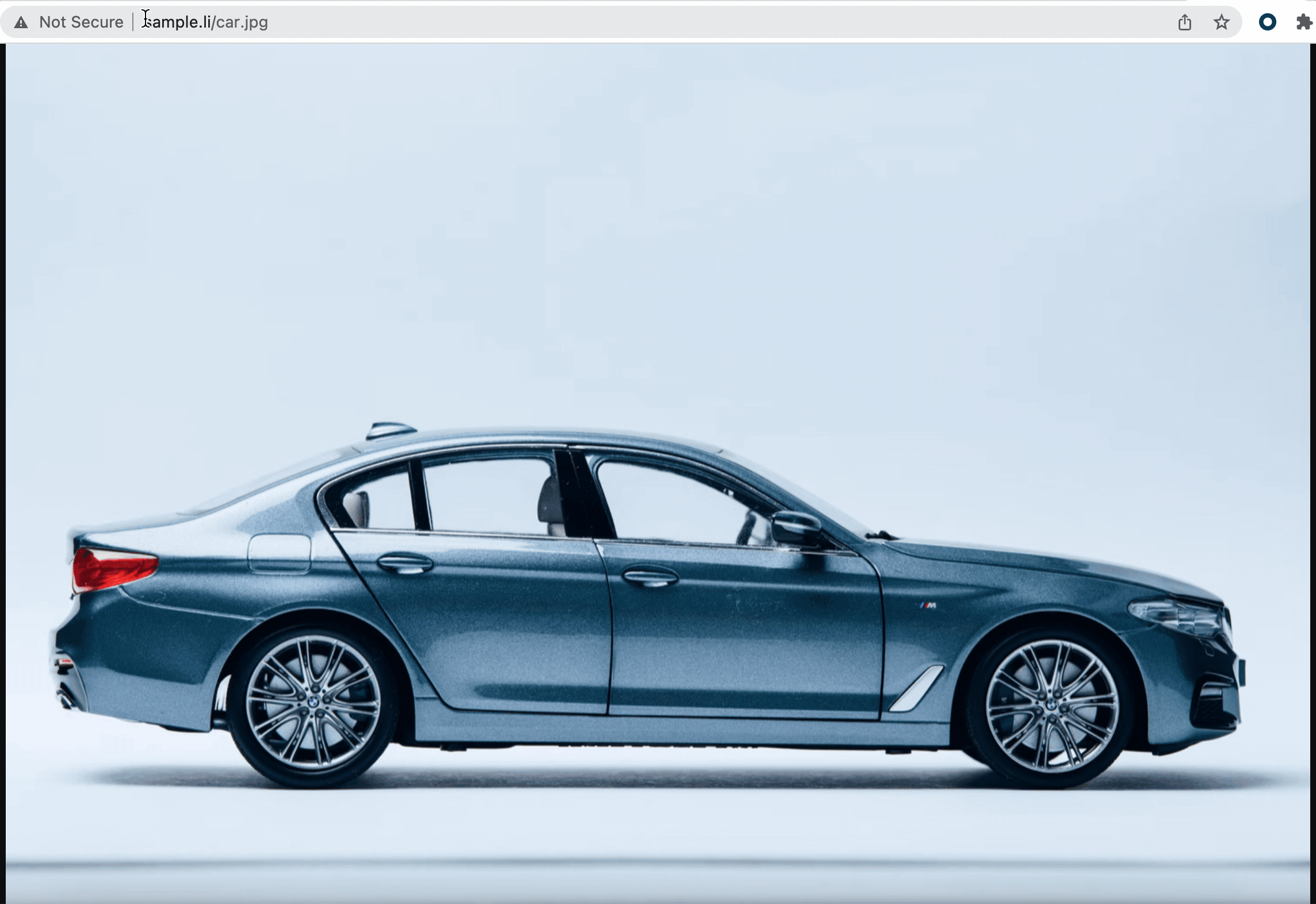 Conclusion
The online retail environment today is all about having great visuals. Impressive images that clearly highlight products convert more customers and deliver a positive brand experience.

With these best practices for optimizing images, plus great automation tools, you get to anticipate more eyeballs, more clicks, and more shopping cart conversions when you sell on Google Shopping!
Return to the Table of Contents
---