Master the Art of Content Lifecycle Management to Streamline Content Creation
In a world where omnichannel marketing has become the norm, a plethora of content types - 360-degree interactive views, photographs, graphics, and videos - are increasingly in demand. Marketing and creative teams might already feel the pressure and are overwhelmed with the content creation process.

Without a strategy for preserving, enhancing, and archiving your priceless content, time, resources, and money that were invested in content development will go down the drain. Research even shows that 60% of top brands' content is reduced to just clutter. It's time for brands to master the art of content lifecycle management to ensure you get the most out of your content!

In this comprehensive guide, we'll break down the content lifecycle and why it's crucial to your success. From ideation to archival, we'll explore each stage of the content lifecycle and provide actionable tips and tricks to optimize your workflow. Get ready to streamline your process, save time, and create content that resonates with your audience!
Table of Content
What is Content Lifecycle Management?
Did you know that, on average, 40% of marketers publish visual content twice to five times a week? The planning, creation, optimization, organization, distribution, tracking, and preservation of materials across the course of its existence in your business is known as content lifecycle management (CLM). It is a framework designed to help organizations manage content throughout their lifecycle.

In simple terms, CLM is a systematic approach to managing content ensuring that the right content is created, delivered, and maintained at the right time, to the right audience, and in the right format. It involves a set of activities designed to maximize the value of content over time, and minimize the costs and risks associated with content creation and management.
What are the content lifecycle stages?
Understanding the different stages of the content lifecycle can help you create a more effective content operations strategy aligned with your business goals.

It is crucial to remember that your digital assets: images, videos, logos, and other creative components that make up your content, go through the same stages as your content. As such, we can interpret the digital asset lifecycle as having similar trajectories as the content life cycle.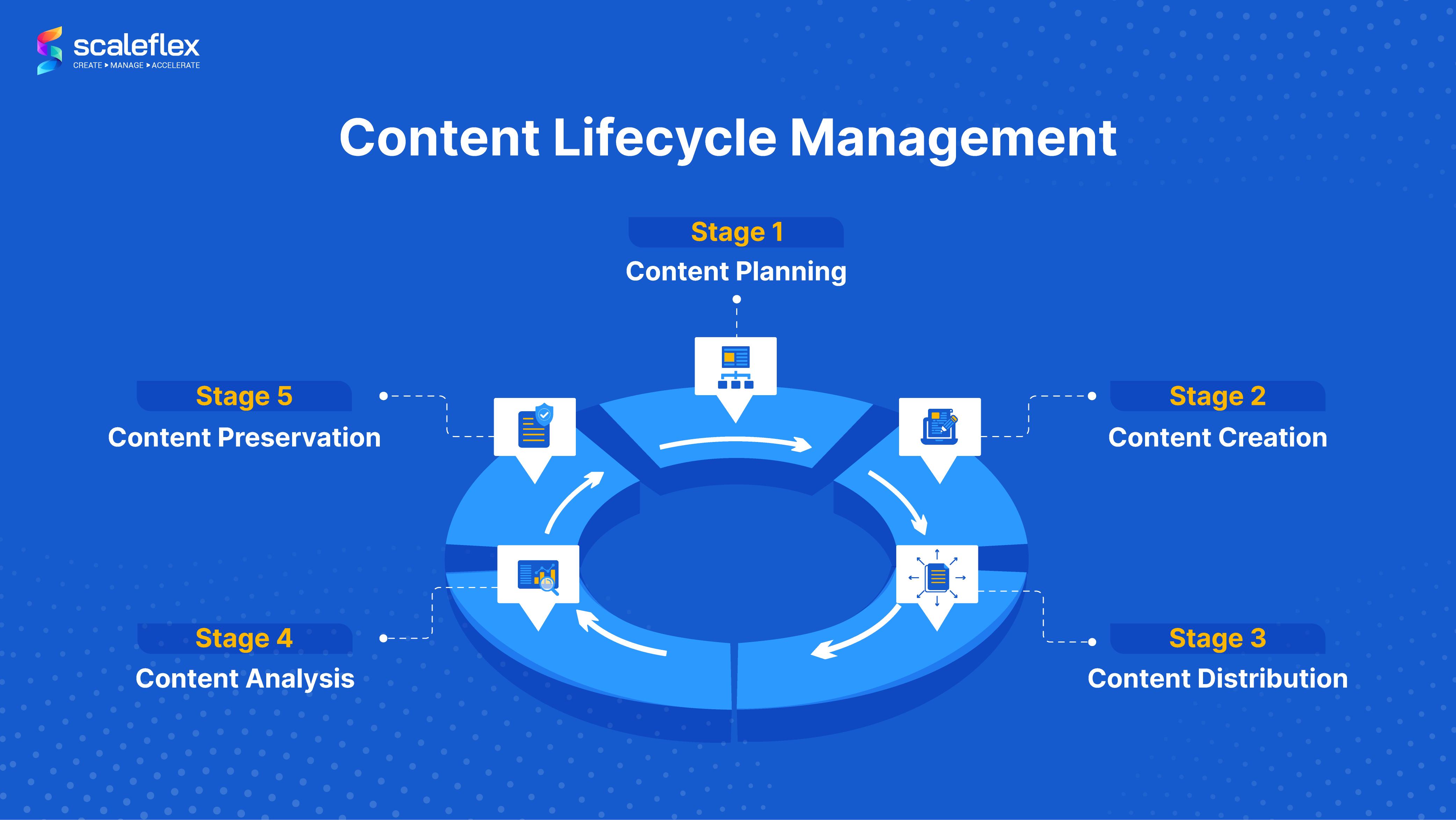 Stage 1: Content Planning
As cliché as it is, fail to plan and plan to fail. Creating content without a solid idea or strategy of the target audience, communication, and distribution channels will mean that that content goes to the trash.

The planning stage is where content ideation and strategy are formed. It is the foundation of the content lifecycle, where content managers or businesses define their objectives and target audience, determining what content will best serve them. In this stage, setting goals for your content and establishing key performance indicators (KPIs) to measure its success is essential.

One of the key benefits of the planning stage is that it helps create a shared vision among stakeholders. By defining your content's purpose, scope, and audience, you can ensure that everyone involved in its creation is working towards the same goal.
Stage 2: Content Creation
This stage is where the actual content is produced and where copywriters, designers, and other creatives get to work, using the insights from the planning stage to develop content that is aligned with your goals and resonates with your audience.

During the creation stage, staying focused on the objectives established in the planning stage is essential. It is also crucial to ensure that the content is optimized for the intended channels and formats and designed to be engaging, informative, and valuable to your audience.

After the content is created, it needs to go through quality checks, whereby the content may pass through multiple rounds of review and revision, with feedback from different stakeholders, including subject matter experts, legal and compliance teams, and senior executives. It is important to keep communication channels open and ensure that everyone involved is working towards the same objectives.

Here is also where it can get messy:
Text is done on documents
Visuals are designed on creative software
Videos are created on yet another software
All that content once put together, gets sent to another team via another file sharing software.
Feedback and approval channels may be all over the place.
That's why tools that can help streamline content management lifecycle are essential.
Stage 3: Content Distribution
After the content is created and approved, it needs to be promoted across different channels and formats. This includes social media, email marketing, content syndication, marketplaces (for e-commerce businesses), and other relevant channels to your target audience.

In this omnichannel digital era, 85% of users simultaneously consume content on multiple devices, and content managers and marketing teams must prepare different messaging and captions to suit the various platforms, and optimize their images and video content for the different channels. Doing so ensures that all content speaks to specific users and load fast for speed-obsessed digital consumers.
Stage 4: Content Measurement & Analysis
The analysis stage is where the performance of your content is measured and evaluated. Remember, in the first stage, you were supposed to set some KPIs for your content. Here is where you can determine if it has met its goals and identify areas for improvement.

In this analysis stage, it is essential to use data and analytics tools like Real User Monitoring to gain insights into how your content is performing. This may involve tracking metrics such as page views, click-through rates, and time on page, as well as analyzing audience engagement and social media sentiment.
Stage 5: Content Preservation
Just like furnishing your new home, it will not be new forever. You'll need regular maintenance and checks to ensure your appliances and furniture work correctly. You might decide to repurpose an old stool as a flower pot stand, or perhaps the heater is not working well and must be fixed until the next winter arrives.

Same for your content.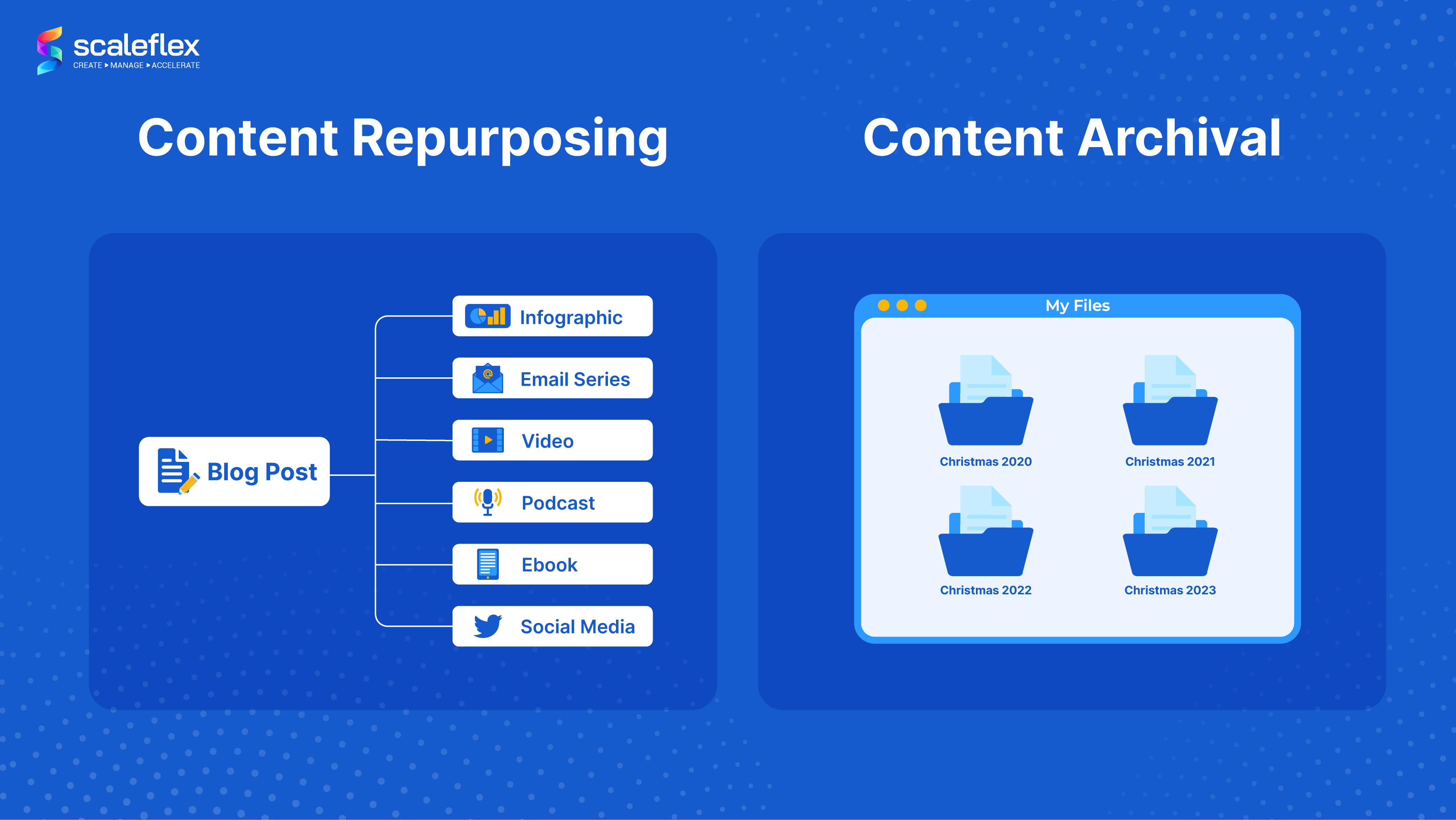 After analyzing your content performance, you'll come to conclusions about the different assets produced.

1. Repurposing content: You can take the insights from the analytics stage and use them to improve your content strategy (back to Stage 1). This may involve A/B testing different headlines, messages, calls-to-action, the use of colors, and other elements to optimize engagement and conversion rates. As such, you will need to update or repurpose the existing content, and develop new content and messaging that is aligned with audience preferences and behaviors, or refine your distribution strategy to reach new audiences.

2. Archiving content: There may be some content and digital assets that are not "evergreen" or are time-specific, which you can no longer use. For example, messages based on specific one-time off trends or visuals related to certain festive seasons, such as Christmas sales or Easter-themed ones you only need the next year. You will then need a sound management system to store them and should be able to find them quickly when you do need them again, ready to bring them back into the web content lifecycle.
Return to the Table of Contents
Why is Managing Web Content Lifecycle important?
Systems for managing the content lifecycle allow content strategists to oversee and control content programs of various sizes. Effective content lifecycle management can help organizations achieve a wide range of benefits.
Ensures consistency
A huge part of brand management is to ensure that assets are produced consistently and on-brand across all channels. Without a good understanding of the content life cycle, brands might end up with off-brand visual content, incorrect logos, and inconsistent use of brand colors.

While the job of design teams and branding strategists is to ensure such consistency, they cannot oversee the numerous slide decks, formal documents, or brochures that each department in an organization creates daily.

Ensuring your brand's content is up-to-date, relevant, and accurate can help build credibility, an engaging content experience, and brand loyalty with your audiences.
Streamlines content creation
A CLM strategy helps brands optimize their content production process and makes it more systematic and efficient. Content creators can optimize their role in the process, making their workflows more efficient and effective.

It also helps eliminate redundancies in the content creation process: multiple teams or individuals will not work on the same piece of content simultaneously, which can lead to confusion, errors, and wasted time. With a clear understanding of the web content lifecycle, teams can collaborate more effectively and ensure that everyone is working on the most pressing and valuable content.
Optimizes quality of content
With a defined process for content creation, there is a greater emphasis on planning and research, resulting in better-targeted and more engaging. Also, it streamlines content review and approval processes, ensuring that all content meets the necessary standards for quality and accuracy.
Increases return-on-investment
By optimizing your content production process, creating different types of media assets becomes easy and more efficient. Instead of creating thousands of variants for marketing purposes and having numerous teams working on the same content, the content creation process can be reduced from weeks to days.
Return to the Table of Contents
What are the best practices in choosing content lifecycle management solutions?
Now that we know the content management lifecycle's importance and its stages, what's next? Perhaps, it is time to pause and reflect if any of these content management pain points apply to you and your organization:
Teams are working in silos inside your marketing department.
Lack of cooperation, resulting in duplication of effort and waste of content.
Absence of a central system for managing and storing marketing assets.
Little to no information or reporting on the performance of your content across channels.
No understanding of how marketing campaigns are doing and progressing.
Processes and approval procedures are inefficient, causing the creation of content and campaigns to be delayed.
If you see any of these challenges within your enterprise content management lifecycle, then it is time to look for software and tools to help you better manage your content.

Choosing the right content lifecycle management solutions is critical for any organization that optimizes its content creation, management, and publishing processes. With the wide range of options available in the market, selecting the best one for your specific needs can be challenging.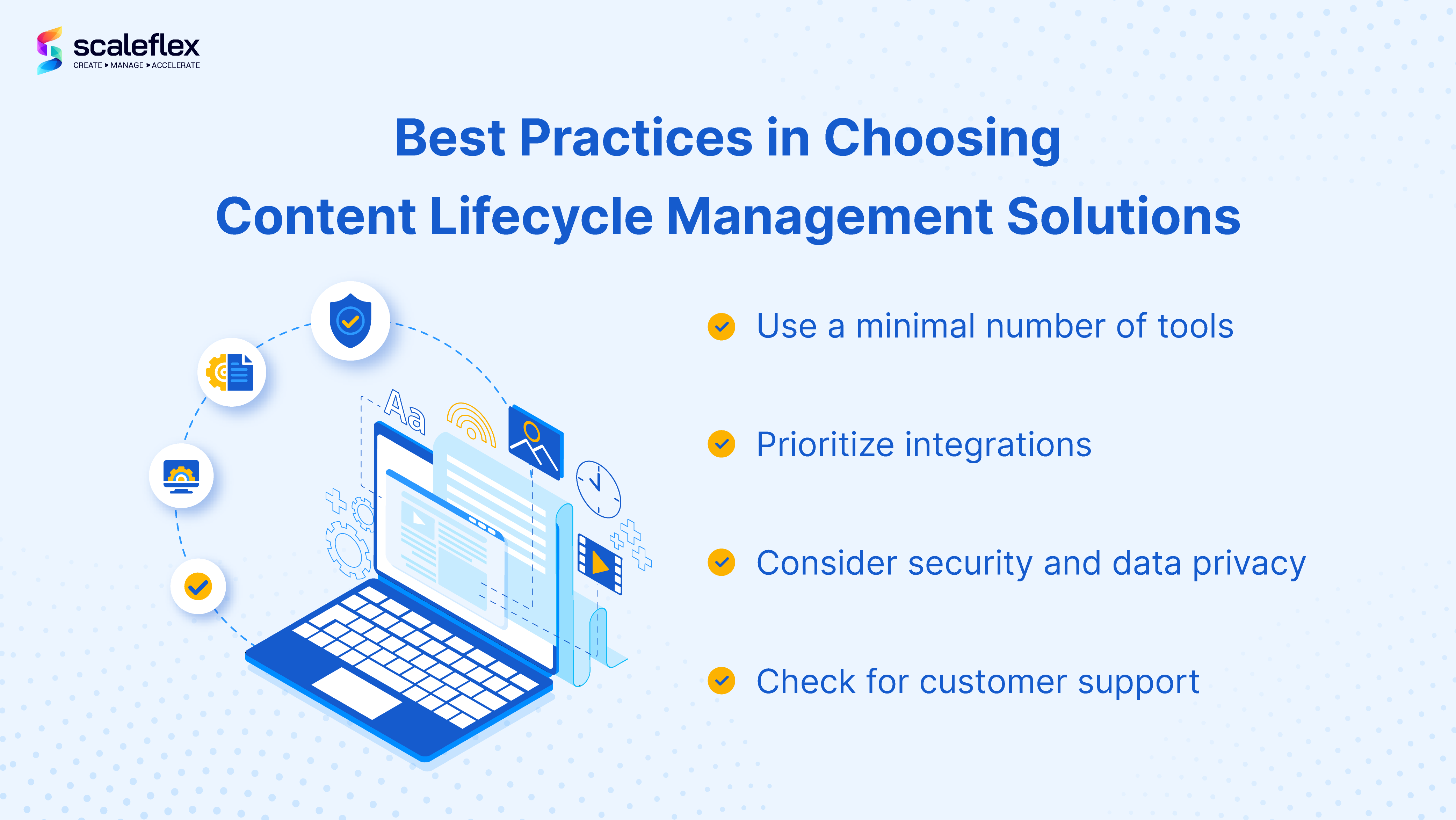 Use a minimal number of tools
On average, marketers use more than 12 different tools daily, with some using over 31 tools to manage analytics and campaigns. As such, less is more!

Content lifecycle management is all about streamlining processes, and having too many tools is counterproductive and eventually ineffectual. That's why it is good to go through your company's different forms of content and find one that best meets your needs.

For example, if your organization deals primarily with content, then a content management system is what you can consider. Similarly, if videos are what your company creates, then a media management system that is focused on video is what you need.

Suppose you have all types of digital assets, such as documents, images, videos, and audio files. In that case, a digital asset management solution should be your top choice to help manage your digital asset lifecycle.
Prioritize integrations
Even if you are careful in selecting the best and as few tools as possible, many times, companies still will need to work with other systems and platforms. And if you're looking to add a new tool, it should integrate seamlessly with your existing technology environment.

That is why you must prioritize software that offers numerous integrations to creative applications, e-commerce, and other platforms, or even select software with MACH architecture.
Consider security and data privacy
Your content is a valuable asset, and you must keep it secure. It is then essential to choose software that provides robust security features. Look for software that includes role-based access controls, two-factor authentication, and encryption.

Additionally, depending on your business location, ensure that the software complies with relevant data privacy regulations such as GDPR and CCPA.
Check for customer support
Many may overlook the availability and level of customer support the software provider offers. Sure, the sales team can provide many features and AI-powered automation that can help improve your content management. But when something doesn't work, will the provider allow you to resolve your challenges efficiently?

Look for providers that offer good support, with lots of online resources and documentation such as knowledge bases and a dedicated customer success team. Good customer support can make a significant difference in the success of your content lifecycle management initiative.
Key Takeaways
In conclusion, understanding the different content lifecycle stages can significantly improve the development of content that meets the needs of your target audience. It encourages you to plan, create, analyze, and monitor your content so that it does not become cluttered on the internet.

Choosing the right content lifecycle management software is critical for optimizing your content creation, management, and publishing processes. Following the tips above, you can select a solution that meets your business needs.

If your organization works with numerous digital assets daily, consider Scaleflex's Digital Asset Management solution, Filerobot. Not only does it integrate with a host of CMS, PIM, and e-commerce platforms, but it is also MACH-certified. Scaleflex also prioritizes security and has numerous features that secure your assets, like a vault!

We welcome you to schedule a demo with our friendly DAM experts to learn how it can help you and your business in your digital asset lifecycle management.
Return to the Table of Contents
---