Take Your Marketplace Selling To The Next Level with Digital Asset Management
In today's rapidly changing business environment, selling products on just a single channel is no longer sufficient. Instead, marketplaces have been increasingly popular for both buyers and sellers. To achieve success in the current marketplaces landscape, businesses need to have a presence on multiple channels.

By offering products through multiple channels - webstore, application, and marketplaces - businesses can reach more customers and increase their sales. However, managing products across multiple channels and marketplaces can be a daunting task. This is where Digital Asset Management (DAM) can help.

DAM refers to the practice of storing, organizing, sharing digital assets such as images, videos, product descriptions, and marketing collaterals. With DAM, businesses can easily manage and distribute their digital content to various channels, and at the same time eliminate duplicates across multiple channels, saving them lots of bandwidth and storage costs. Read on to find out how DAM can help take your marketplace sales to the next level!
Trends in Marketplaces and Omnichannel Sales
According to OC&C strategy consultants' report, spending on online marketplaces will surpass that of e-commerce websites in established travel and retail categories. In fact, marketplaces are a global phenomenon, with marketplaces in Asia quickly catching up with Europe and North America.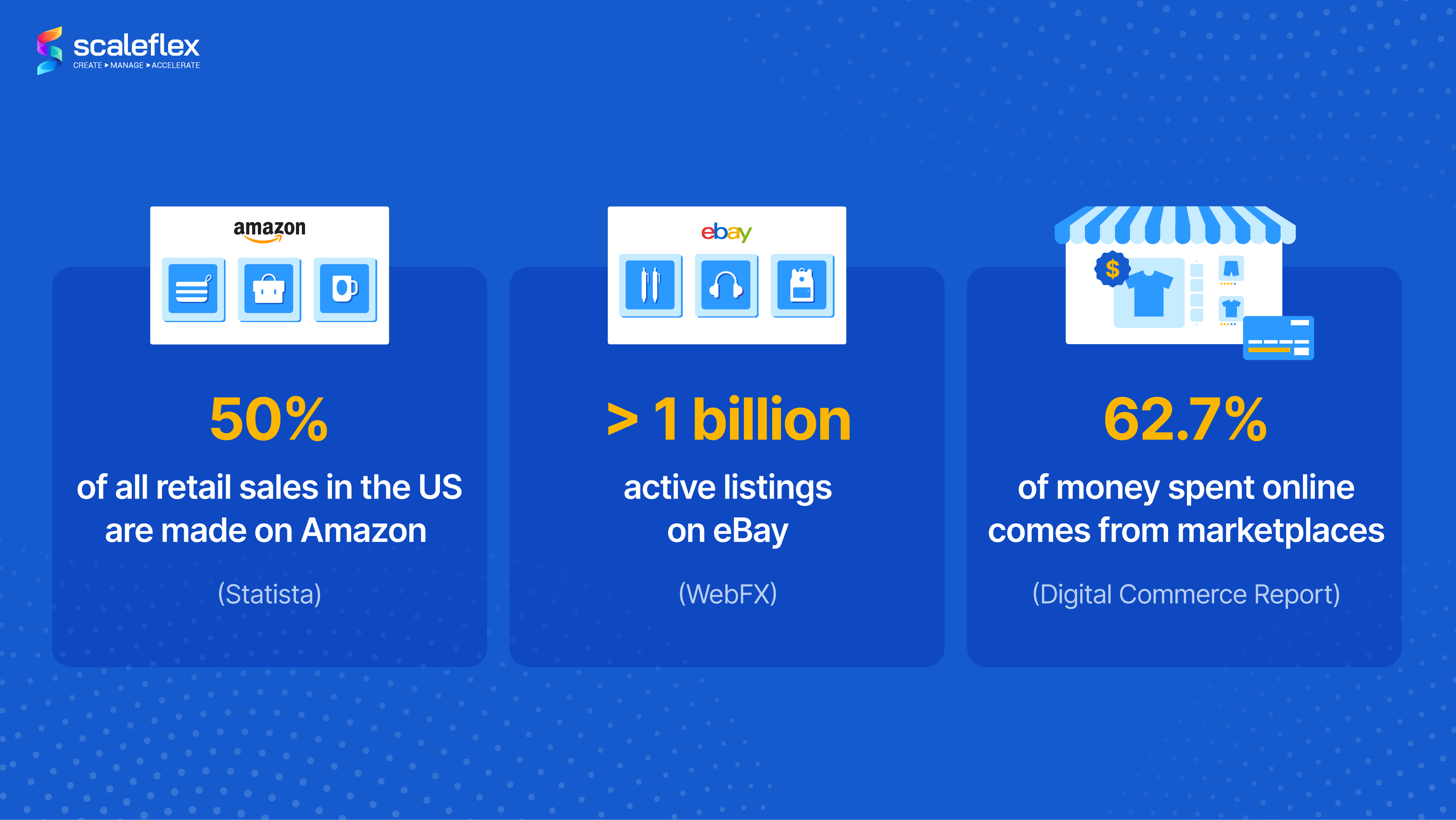 Marketplaces appeal to customers because they provide convenience, value, and an abundance of choices. Every online marketplace also functions as a search engine, allowing customers to look for and discover the goods and services that best meet their requirements.

Customers are also no longer limited to a single channel when it comes to purchasing products They may begin their search on a marketplace like Amazon, eBay and Rakuten, and ultimately purchase it from a retailer's website. This shift in customer behaviour means that businesses need to be present on multiple channels in order to meet customers where they are.

Yet, being omnipresent can be a huge challenge for businesses. With so many channels to manage, it can be difficult to ensure that your digital assets are consistent and optimized across all channels.

And marketplace businesses, they face the challenges of managing and processing user-generated content. So how can DAM help these 2 groups of businesses?
Benefits of DAM for Marketplaces
Have you faced the challenge of creating thousands of product image variants just for one single listing? One platform might be content with only one image, while another marketplace may need an entire album or images with particular resolutions in order to allow their visitors to zoom in and interact with the images. More significantly, different marketplaces have different technical requirements. Here's how DAM can help.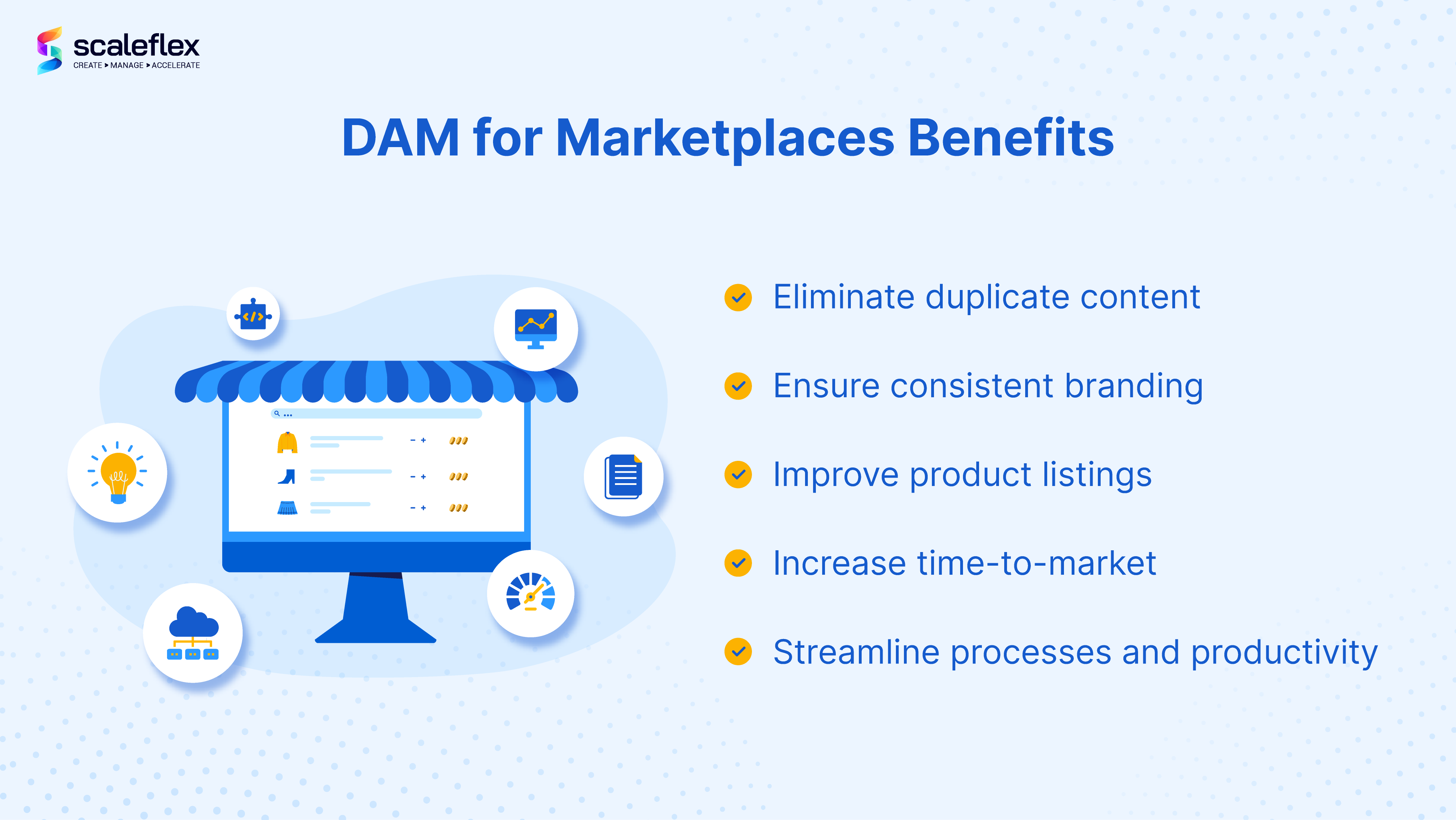 Eliminate duplicate content
What happens is that many times, online retailers face the problem of duplicate content in a bid to optimize their images and videos for multiple platforms. With so many products and image variants to list, you can easily chalk up a lot of storage and bandwidth that can become very expensive to manage, especially for small businesses.

A DAM can then help to create thousands of image variants quickly via presets that allow your teams to easily crop and resize via the in-built image editor. More importantly, rather than duplicating such variants, on-the-fly image transformations mean that only the original image is stored within the cloud.

When uploading new content, DAMs have in-built versioning control features and can automatically detect and clear up duplicate images, saving businesses lots of time and money.
Ensure consistent branding
With Digital Asset Management, marketing and creative teams can also ensure that brand assets are consistent across all channels. This includes logos, product images, and other visual content.

No more finding which is the right version as only the latest, approved asset will be stored and managed within the DAM. By maintaining such consistent brand identity, online retailers can build trust with their customers and increase brand recognition on marketplaces.

Marketplace businesses will also benefit from managing user-generated content: a DAM can automatically optimize the media, use AI to moderate the images and videos to ensure no NSFW content is present, remove the background of images and add a unified color to ensure consistent branding, or add a watermark at the exact same place every time.
Improve product listings
With over 24 million e-commerce websites and over 1 billion active listings on Marketplaces like eBay, marketplaces are highly competitive and retailers only have 3 seconds to stand out. Having high-quality product listings is then key to help the products stand out. With DAM, you can easily store and manage product images and videos, and optimize them to ensure that it loads fast while maintaining its quality. With AI automations within the DAM, teams can automate background removal to create sleek product visuals.
Increase time-to-market
In the world of e-commerce and marketplaces, speed is everything. With DAM, teams can quickly create and distribute digital content to multiple channels, including marketplaces.
Take GoCar for example, they integrated Filerobot Media Asset Widget seamlessly into 2 web applications and enabled car dealers and car owners to list their cars easily onto their marketplace. Users can upload images and edit them directly within the DAM. This means that GoCar employees do not need to manually update and approve media assets and listing a car on the marketplace is almost instantaneous! Read GoCar's case study to learn more.

With the plethora of DAM integrations, e-commerce players also no longer have to download and upload product images and videos onto the different marketplaces. Instead, teams can access the media assets directly from a single-source-of-truth. This can help get products to market much faster and stay ahead of the competition.
Streamline processes and productivity
Managing digital assets can be a time-consuming and tedious process. To work better with cross-functional teams, DAM can help automate workflows and tasks associated with managing digital content, freeing up time for other important tasks.
Key Takeaways
All in all, DAMs can truly benefit marketplaces and e-commerce businesses looking to reach a wider audience and increase their sales. With all the AI-powered workflow automations, it helps boost productivity and efficiency within the organization.

As marketplaces continue to evolve and new trends emerge, businesses that priortize managing their digital assets with a DAM will be better positioned to adapt and succeed in fast-paced marketplaces. Part of a marketplace business or want to take your online retail on marketplaces to the next level? Speak to Scaleflex's DAM experts to find out more.
---