Do All Business Owners Need Digital Asset Management Software? 5 Features That Make It a Worthwhile Investment
According to Forbes, media asset management is a vital component for companies to deliver a better digital customer experience. However, do you know how to spot a need for it in your business... read 5 things essential to DAM needs and integration in this article!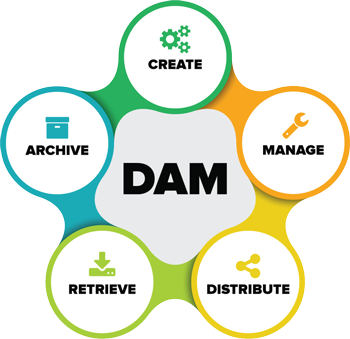 By definition, Digital Asset Management (DAM) software is a system that stores, shares and organizes digital assets in a central hub.
The DAM is a company's content sharing and storage solution which simplifies remote teamwork, accelerates the distribution of marketing content and maximizes the impact of visuals and campaigns.
Big corporations often require good DAM to manage and optimize their digital content in the virtual space.
But do small and medium business owners need them as well?
Given their limited budget and small manpower, is it a smart investment?

The answer is YES!
It's a useful tool for all businesses. According to Forbes, media asset  management is a vital component for companies to deliver a better digital customer experience.
It supplies both scale and governance for ensuring the right content is delivered at the right time and channel. A great DAM solution would provide its users to create, manage, optimize and maintain content in a single platform.
Ideally providing access to multiple users, securing information, and requiring fewer expenses.
If you need more proof, here are five features in DAM solutions that make the expense worthwhile:
Flexibility

Not all business owners are technology experts who are well versed in media content management, website development and optimization.

A good DAM is made to be flexible, enabling users not only to create content, but to design and customize the way website pages look and feel.
It is useful to the whole organization, especially the marketing and content teams as it optimizes the life cycle of every digital content on websites and mobile apps. It also helps them manage their workforce's access to features, which makes load management easier.
With this, they can collaborate more effectively within their teams without losing time and energy to look for an asset.
Search filters and strong SEO

Understanding SEO (search engine optimization) is important to increase your website traffic. A lot of content is similar to yours, and standing out among the crowd can be difficult.

The competition for the attention of customers is steep on the internet, and this useful feature optimizes your website, allowing your page to rank high among the biggest search engines.
Having your site on the first page or at the top results when a user searches for your relevant keywords makes it easier for your site to be found and for your target audience to reach your content.
Mobile-friendliness

More visitors tend to visit different websites through their smartphones with 57% of web traffic coming mobile devices.
That is why it is important to have a mobile-responsive website to ensure accessibility regardless of what device a visitor is viewing your site from.
A good digital asset management and image optimization tool can help you build a responsive and mobile-friendly website, ensuring it's still visually appealing when viewed on a smaller screen.
Even the photos would scale according to the website visitor's screen. Every business will benefit from this feature as it makes the user experience of website visitors more convenient, and thus, encourages them to explore the website, and in turn, purchase their products or services.

It also provides a professional-looking digital face for your brand.
Easy Integration

Having a central repository for your digital assets is one of the primary purposes of a DAM. But it doesn't mean it's the only place to store your digital assets.
By integrating your DAM with other systems, transferring files and data is faster and more convenient. People now expect to search and download assets in whatever system they are using, whether for editing on Adobe Photoshop or collaborating on Slack, among others.
Some of the most useful systems you should be able to integrate with are CMS, project management software, and PIM systems.
With that, you don't have to worry about having multiple versions and confusion as you can ensure visual brand consistency.
Scalable performance

Website visitors may get discouraged from availing one's product or service if the website loads too slowly.
It doesn't only show that the website is not well-maintained, but most internet users usually don't have the patience to wait too long.
If there are a lot of high-resolution images, videos and features in your website, the content might take a while to appear.
However, you can make use of useful functionalities to ensure your images load fast while still in good quality.

Good content operation solution providers help entrepreneurs guarantee that their website and mobile apps are not only engaging, but easily accessible no matter how media-heavy the layout is.
They ensure that every user experience is convenient. Thus, they increase the chances of converting visitors into customers.
Different types of digital asset management software tools are available for you to explore and compare. But there's no one-size-fits-all solution. Hence, you should look for one that matches your workflows, feature requirements, and budget.

To start, check out this review of Filerobot for an overview of its top-notch features to help your business enhance collaboration and workflow management.

It has all the essentials you need regardless of your business size, with transparent and scalable pricing that suits any budget requirements.
An Extension of the Company

Aside from having these features, a good DAM system should serve as an extension of a company's operations, and in turn, should provide technical support, training and/or tutorials if needed.

The best Digital Asset Management system depends on specific requirements based on business needs.
Thus, it is important to build a solid understanding of your organization's challenges related to Digital Asset Management and develop a comprehensive set of requirements before enlisting a Digital Asset Management solution.
Learn more about it with our latest White-paper: Choosing the Right DAM in 2021- 5 Steps for Selecting a Digital Asset Management Platform.



---