How AI Content Moderation Helps Brands Manage User-Generated Content
With the advent of social media, user-generated content has exploded. In fact, every single minute, we see 240,000 images posted on Facebook and 65,000 photographs shared on Instagram.

This presents a huge challenge for the vast majority of brands using social media for marketing as they have to deal with an influx of content from various sources.

With thousands of images uploaded daily, it is impractical for brands to manually screen through these high volumes of content. Furthermore, how does one decide whether or not content is on-brand or is considered NSFW?

To deal with such challenges, AI image content moderation is the next step in the evolution of user-generated content, saving precious time for companies and eliminating the need for subjective assessment in the process of content curation.
Table of Content
What is AI content moderation and why do we need it?
Regular content moderation is how businesses monitor content by applying a pre-defined set of rules for moderating user-generated content submissions to determine if it should be shown on the website or not.

The objective of content moderation is to uphold a brand's reputation and credibility for the businesses and followers across all mediums, including images, advertisements, text-based content, forums, videos, social media pages, websites, and mobile applications. Companies that conduct numerous campaigns and rely on online consumers must prioritize having a scalable online reputation management procedure. Research by Gartner shows that by 2024, C-suite executives will prioritize UGC moderation services in 30% of enterprises.

With the increasing volume of content on the internet, gone are the days of manual screening processes as they can pose serious challenges for businesses. The way that the volume of content grows means that content curation may fall prey to the following:
the lack of standardization due to subjective assessments
adverse psychological effects of continuous exposure to harmful content
poor working conditions and practices of human moderators
Automated content moderation uses artificial intelligence algorithms to sift through large amounts of data and find patterns or trends that can be used to predict whether a piece of content will be positive or negative. It provides a human-like layer of oversight on top of websites that deal with UGC content.

Content moderation tools that can automate the process will help businesses strengthen user engagement and shape brand identity. AI and ML technologies can solve the challenges of increasing digital content, and improving companies' productivity and efficiency.
Return to the Table of Contents
AI content moderation use cases and features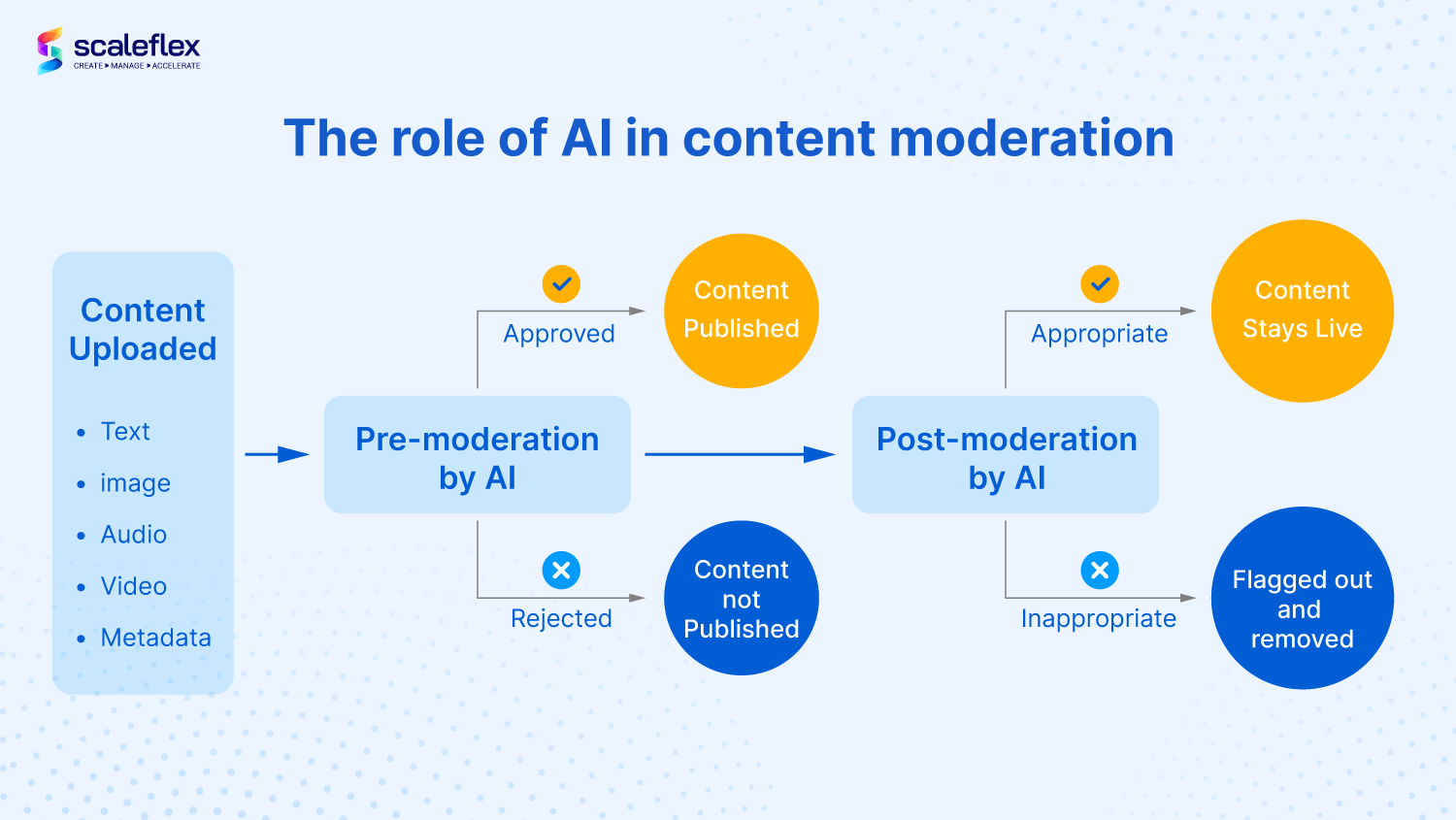 When we look at moderation, it can take place at different points in time in the content lifecycle:
Pre-moderation: Curation processes are done before the digital media is uploaded on the website, for example, ensuring that the right files are uploaded (formats and content).
Post-moderation: The content is reviewed only after it goes live on the site.
Reactive moderation: This method of curation depends highly on users to report the particular photograph or comment. After reporting, it alerts the moderators to check and decide if it should continue showing the content. Here, AI can be used as well, instead of manual moderation.
At each stage, it is possible to have AI perform such curation processes. While user-generated content is typically tied to social media content, we increasingly see numerous other uses of user-generated content and how AI can help.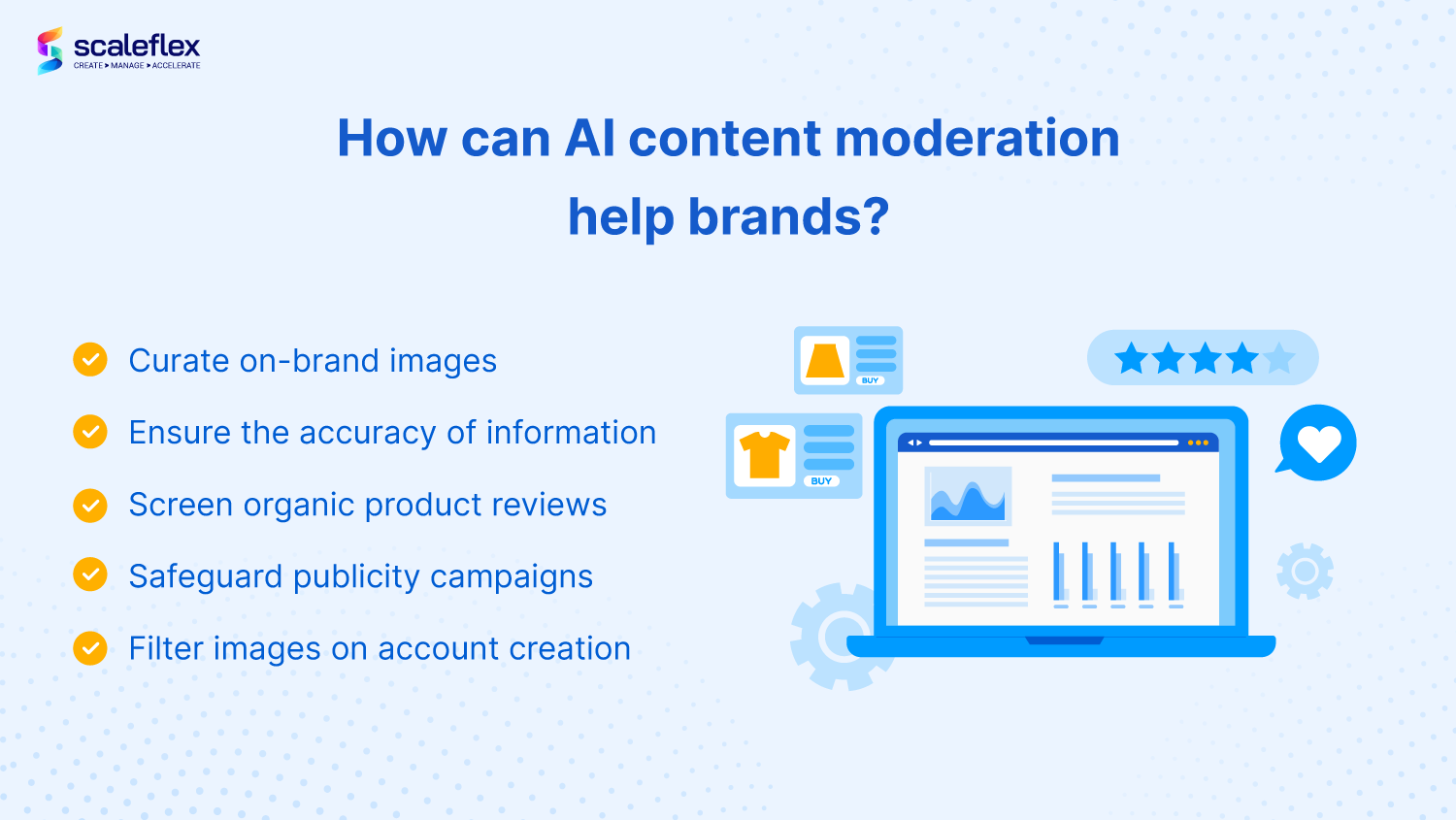 Curate on-brand images
Marketplaces in the e-commerce, automotive and real estate industries utilize UGC content to quicken the time-to-market.

Ebay, for example, allows independent sellers and stockists to take their product photographs (in their styling) and upload it onto their marketplaces. Instead of having one photographer shoot and edit product images, leveraging UGC content meant that marketplaces could multiply their listings.

Though this may be good, doing so without a proper curation process could result in a messy and disorganized marketplace page.

AI then can help in curating on-brand images in the following ways:
Background removal: for a sleek and professional-looking web page
Whitespace detection: standardized whitespace and auto-resizing
Image similarity: prevent duplicates and misuse of media, safeguarding copyright challenges
Pixelation removal: improves images that appear fuzzy and remove pixelation
Automated content moderation services actually go beyond merely filtering out the noise. It can also govern your brand reputation and preserve brand loyalty by ensuring that images uploaded are on-brand, following the guidelines brands set for the marketplace.
Ensure the accuracy of information
AI content moderation algorithms are designed to be able to read text, images, and videos in multiple languages. It can smartly and accurately extract information from media assets as a form of the verification process:
Optical Character Recognition (OCR) can seamlessly extract text from images in identification documents to validate what is keyed in by the user. This saves plenty of time in the approval process, eliminating numerous to-and-fro getting users to reapply for legal documents.
Plate number recognition helps to recognize the characters of the car plate numbers and extract information so that car dealers and automotive marketplaces can have a much faster and easier process in applying for car loans, automotive insurance, and listing the right information.
Screen organic product reviews
Product images are not everything that is important in an e-commerce landing page. There are descriptions, and more importantly, shoppers love reviews. Embedding UGC content into product pages or having it somewhere on the brand's website or social media helps shoppers connect with the products as they can browse through how others style that pair of boots the brand sells.

In this case, perhaps you'll want to ensure that your consumers upload the right boots brand, not a competitor's. Brand detection can help you in that aspect, even before publishing that content. AI technology assists in detecting over 290 brand logos and their location on images to extract information.
Safeguard publicity campaigns
Challenges encouraging users to upload a short video or photograph can be a good viral marketing and publicity campaign. This is increasingly a good way to raise awareness of social issues. At the same time, marketers and brand managers must screen through this media content to avoid doing the exact opposite - harming the brand's reputation.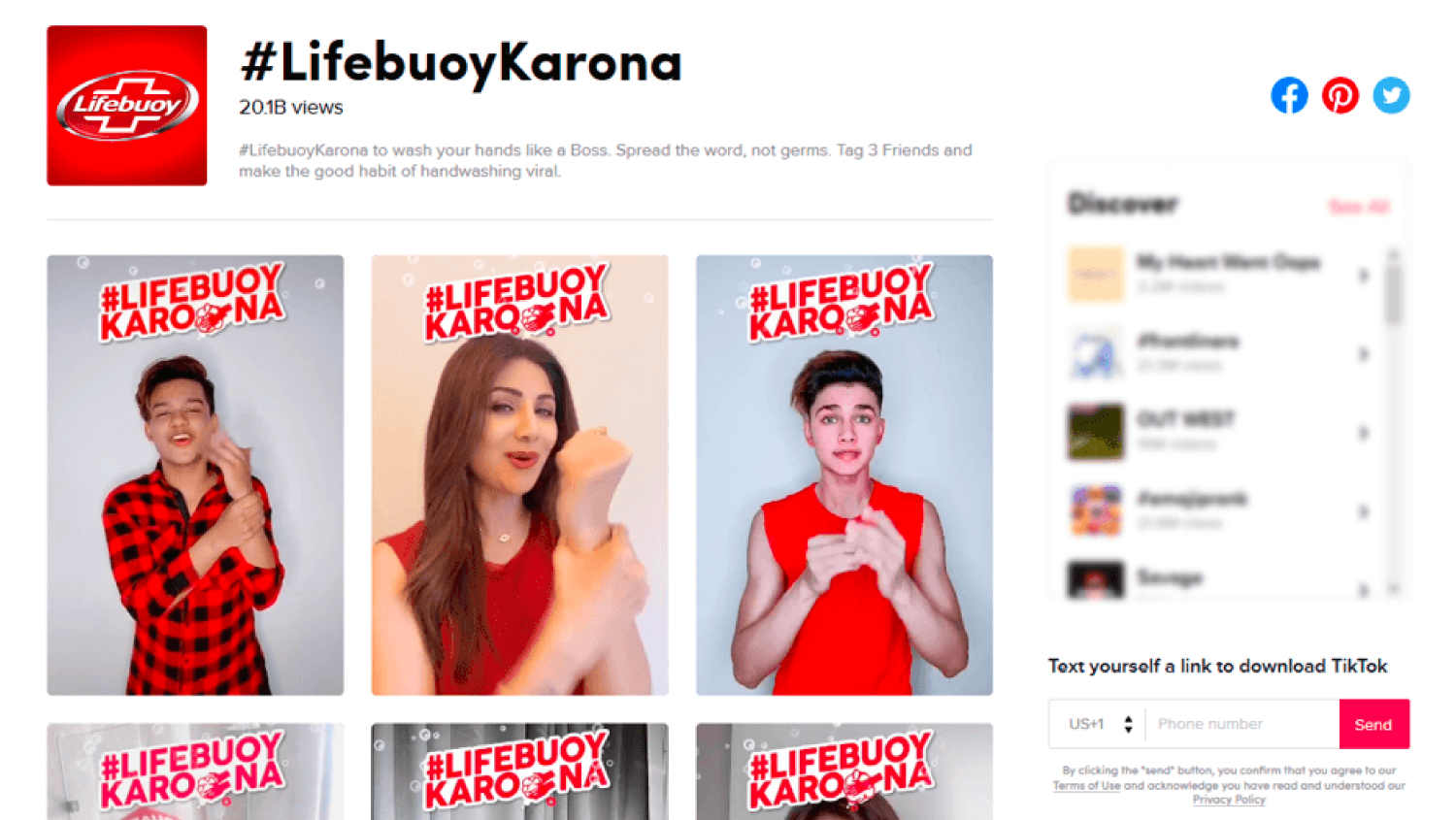 For example, when someone posts images that are not suitable for the younger audience - the AI NSFW detection system can detect nudity immediately to deny the upload and alert moderators so that it is removed from circulation at the earliest instance. Such AI nudity detection is extremely crucial, as just one image like this could potentially destroy your entire campaign. Especially for businesses that deal with children's products and services, nudity AI is a complete necessity.
Filter images on account creation
Job portals, consultancies, or businesses requiring reliable information on user profiles can also use AI to help save time-consuming manual filtering and lower labor costs.

For example, intelligent face detection software can recognize faces and trigger an action. It can reject photographs if it does not contain a face or automatically crop the photograph to create a profile image.
Should we automate content moderation with AI?
With the different scenarios where different businesses can benefit from automated content moderation software and tools, there is no question that AI is the best investment to improve productivity and efficiency.

Pair AI with a Digital Asset Management solution that organizes, manages, and optimizes your digital media assets; you can be assured that it will help you solve all your content challenges!

Discover ASK Filerobot, Scaleflex's AI-powered Digital Asset Management features that help you speed up your content workflows and reduce time to market from weeks to days. Start solving content challenges today and in the future!
Return to the Table of Contents
---