E-commerce Statistics and Trends in 2023 to Watch
How do you shop nowadays? Do you go to the nearby mall or shopping street to grab a new jacket to prepare for fall? Or do you go online, in the comfort of your home, via your trusty mobile phone to purchase that jacket and wait for it to arrive at your doorstep a few days later?

Just as you have changed the way you shop, the move to online shopping has increased exponentially in the past few years and its growth is set to continue.

To stay ahead of competitors, e-commerce players continuously look for ways to grow their website traffic, boost their email lists, and increase shopping cart conversions.

Understanding the latest consumer trends and e-commerce statistics is essential to help e-commerce marketers craft the best strategy for their next sales campaign (reminder: Black Friday is coming!)
Table of Content
The E-Commerce industry is booming
E-commerce stats in 2022 tell us that online shopping is booming:

1. By 2023, global e-commerce sales will reach $6.96 trillion - eMarketer

2. China brings in $2 trillion online sales, 52.1% of all e-commerce sales in the world, the largest share. - eMarketer

3. United States e-commerce market is predicted to reach over $875 billion in 2022, from $599.2 billion in 2021 - Statista

4. The e-commerce market in Japan is the third largest in the world, with annual revenue of $128 billion - eCommerceDB

5. United Kingdom's e-commerce annual revenue totals over $120 billion - International Trade Administration

6. South Korea's e-commerce revenue for 2021 adds up to $92 billion - eCommerceDB

7. Russia, the United Kingdom, and the Philippines saw e-commerce growth rates of 20% in 2021 - eMarketer

8. Latin America saw a 25% increase in online retail sales, to $85 billion in 2021 - Statista

9. By 2025, India's e-commerce market is expected to grow to $111.4 billion, from $46.2 billion in 2020 - India Brand Equity Market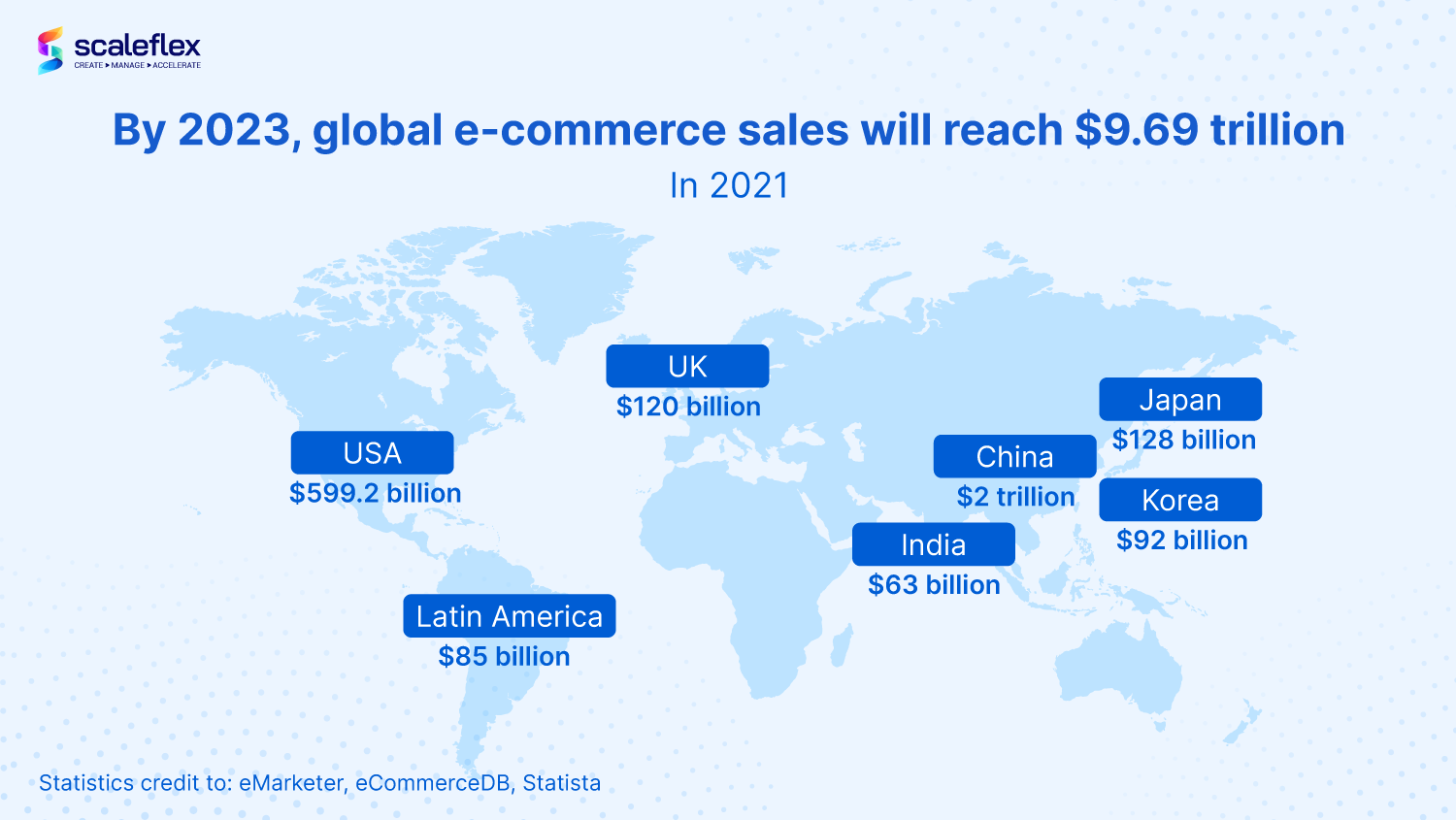 And the number of online shoppers are increasing:

10. 2.14 billion, that's how many online shoppers we have around the world - Statista

11. An average online shopper makes about 19 transactions in a year - Digital in the Round
Return to the Table of Contents
Challenges of the E-commerce industry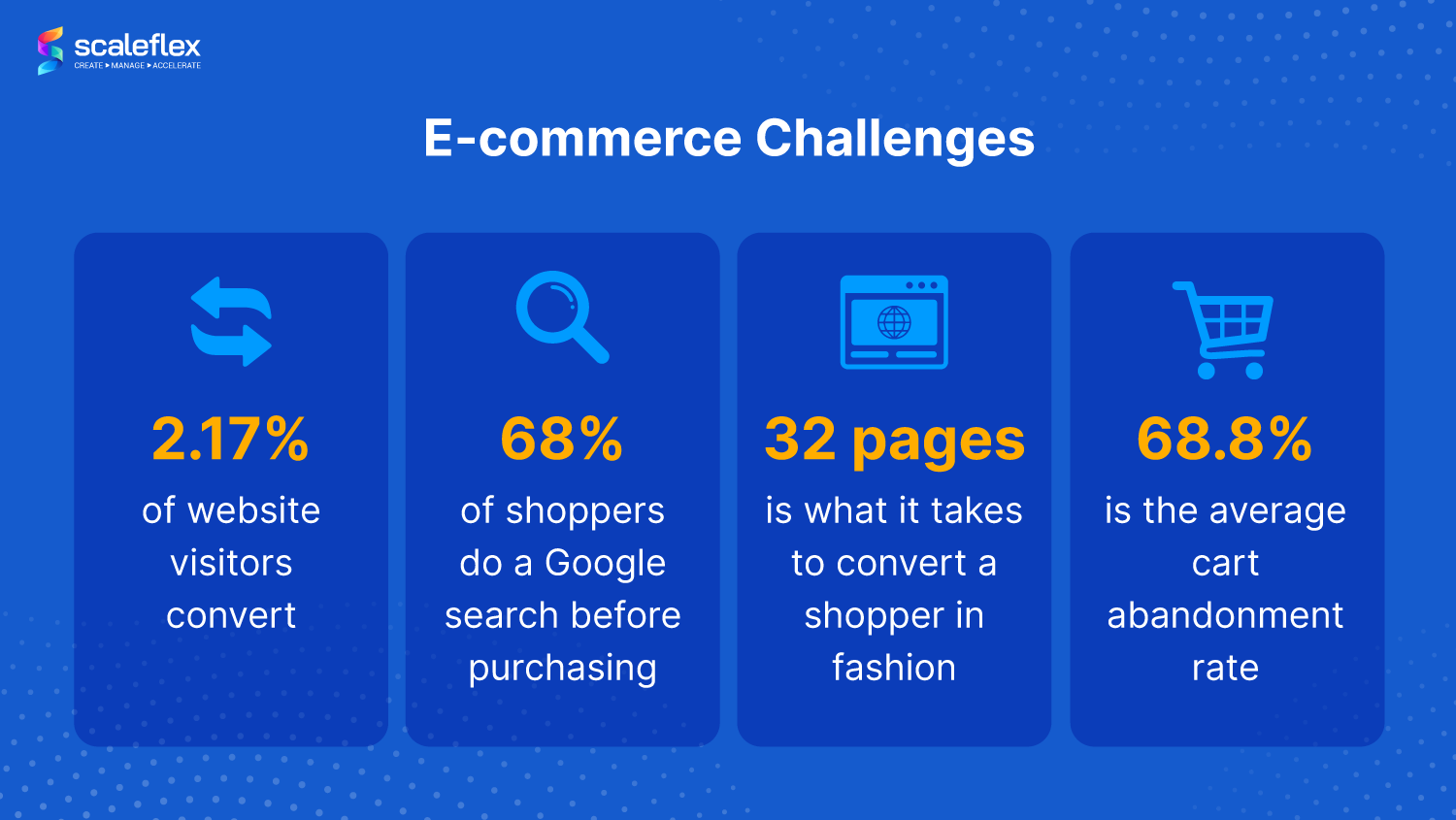 12. Yet, even with the huge global e-commerce market, only 2.17% of website visitors convert - Statista

Oh no, you mean after all that effort, only less than 3% of visitors convert? Even though this may sound like terrible news, it is also a reminder that there are a lot of untapped opportunities for e-commerce businesses to uncover. Faster and better web performance, image optimization, A/B testing, all of which can help you increase the chances for shoppers to add to cart.

13. 68% of shoppers online turn to Google to search for a product before purchasing - Statista

Whether it is looking for product images or reviews on Google, or purchasing via Google Shopping, these e-commerce statistics demonstrate the need for online retailers to pay attention to E-commerce image optimization and optimizing images for Google Shopping

14. It takes an average of 32 pages to convert a shopper in the fashion e-commerce industry - Statista

Sometimes, a single landing page or product page is not enough to convert your visitors. Statistics show that in the fashion industry, shoppers will need to go through around 32 pages for them to click the "cart out" button. That is why having different types of product images to nudge your buyers is important.

Read our e-commerce whitepaper to find out more.

15. Average cart abandonment rate is 68.8% - Baymard

16. Every year, 4.6 trillion is lost by online retailers - Finances Online

17. 260 billion of the 4 trillion losses could potentially be recovered - Retailbiz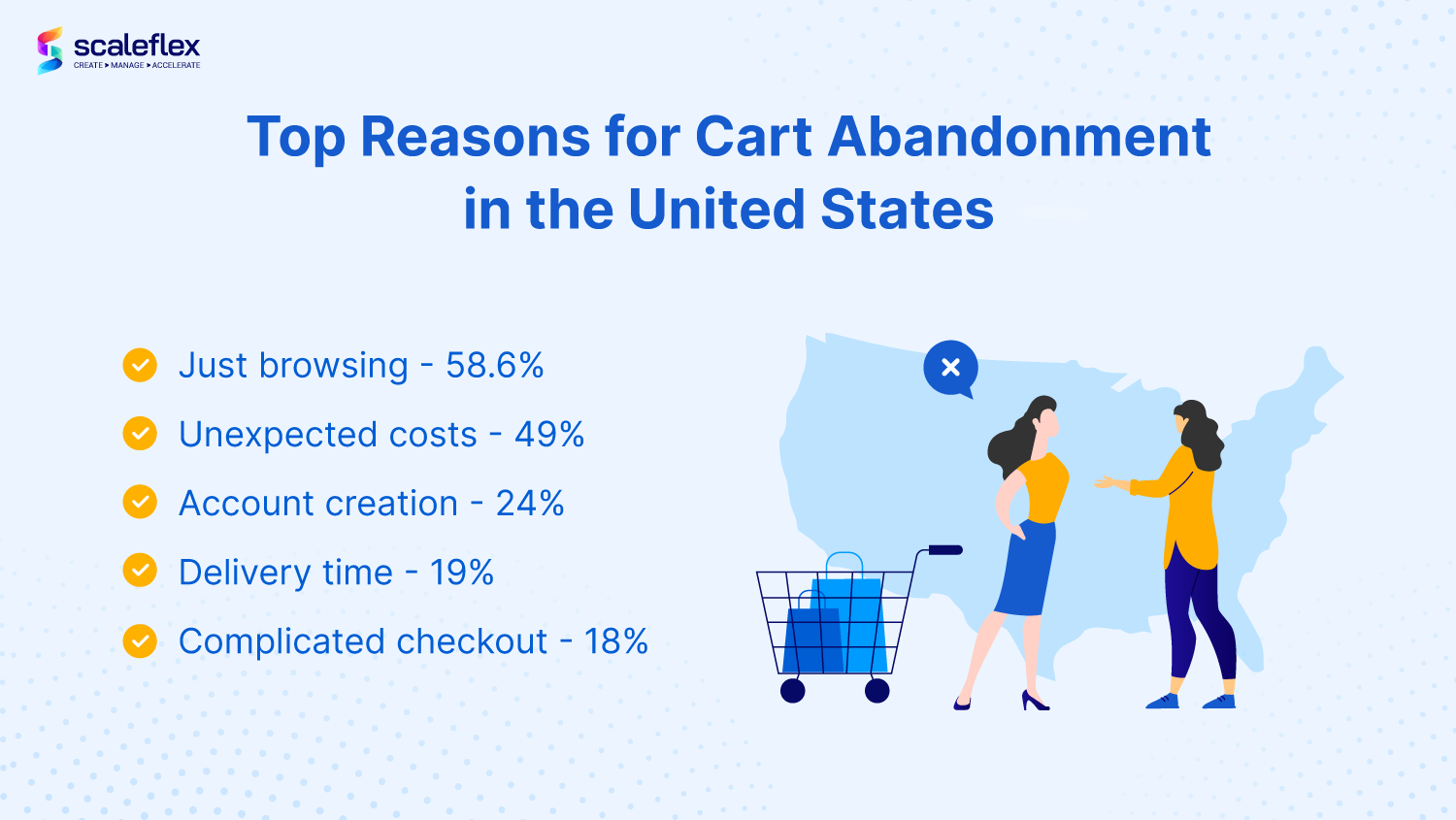 How do we do that? We have to better understand the numerous reasons for cart abandonment. In the US, this could range from:

18. 58.6% of buyers were just browsing with little intention to purchase

19. 49% abandoned their carts due to unexpected extra costs (like taxes and shipping)

20. 24% left the website due to the need to create an account

21. 19% cited a lengthy delivery time

22. 18% did want to go through the complicated checkout process

After knowing the cause of cart-abandonment, online retailers can use a range of methods such as sending a follow-up email about the products left in cart and retargeting ads to recover their shoppers.

Your biggest competitor?

23. There are about 24 million e-commerce websites around the world - Flashy

24. Online marketplaces accounted for 62.7% of the money spent online - Digital Commerce Report

Online marketplaces allow shoppers to look at different brands of the same product, enabling them to search and compare to find the best choice. While it is important for brands to list their items on the biggest online marketplaces, this also means that it is even more important to stay ahead of the competition with better product images, product descriptions, and user reviews.

25. Amazon accounts for half of all retail sales in the United States - Statista

26. There are over 1 billion active listings on eBay - WebFX
Return to the Table of Contents
E-commerce trends to take note
360° interactive images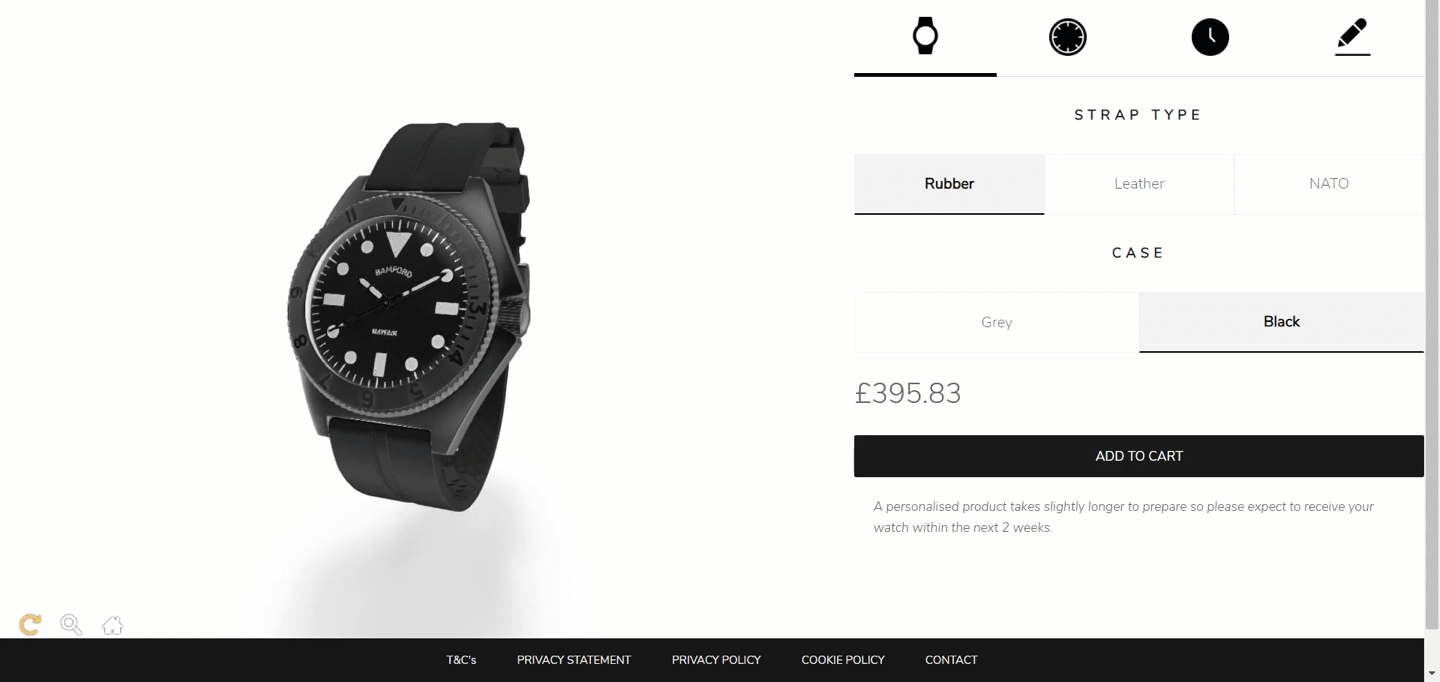 27. 360° degree product images increase conversions by 250% - Drip

360° rotating images can help potential customers have a better view of your products as the different angles provide a close-to-reality visualization. Not only does it increase conversions, it also reduces cart abandonment. It allows your product pages to become more interactive and nurtures sales.

Here's a helpful flowchart to help you determine if your business requires 360° product images.
Use of videos
28. 85% of e-commerce website visitors are more likely to purchase products after watching a video - Charged Retail

Videos are an engaging form of content as our eyes are naturally attracted to moving pictures and light. Product videos capture the attention of e-commerce shoppers and transmit much more information than any other form of visual media.
Shopping on mobile devices
29. 71% of online sales take place via mobile devices - Shopify

30. Mobile commerce (M-commerce) sales are expected to reach $3.56 million in 2021 - Oberlo

While e-commerce involves shopping online from your computers, online retailers should also need to account for mobile phone shoppers. This means that businesses cannot only rely on ensuring that their webpage looks good on desktops, but it has to look equally aesthetic and responsive on mobile devices.
Shopping on mobile applications and marketplaces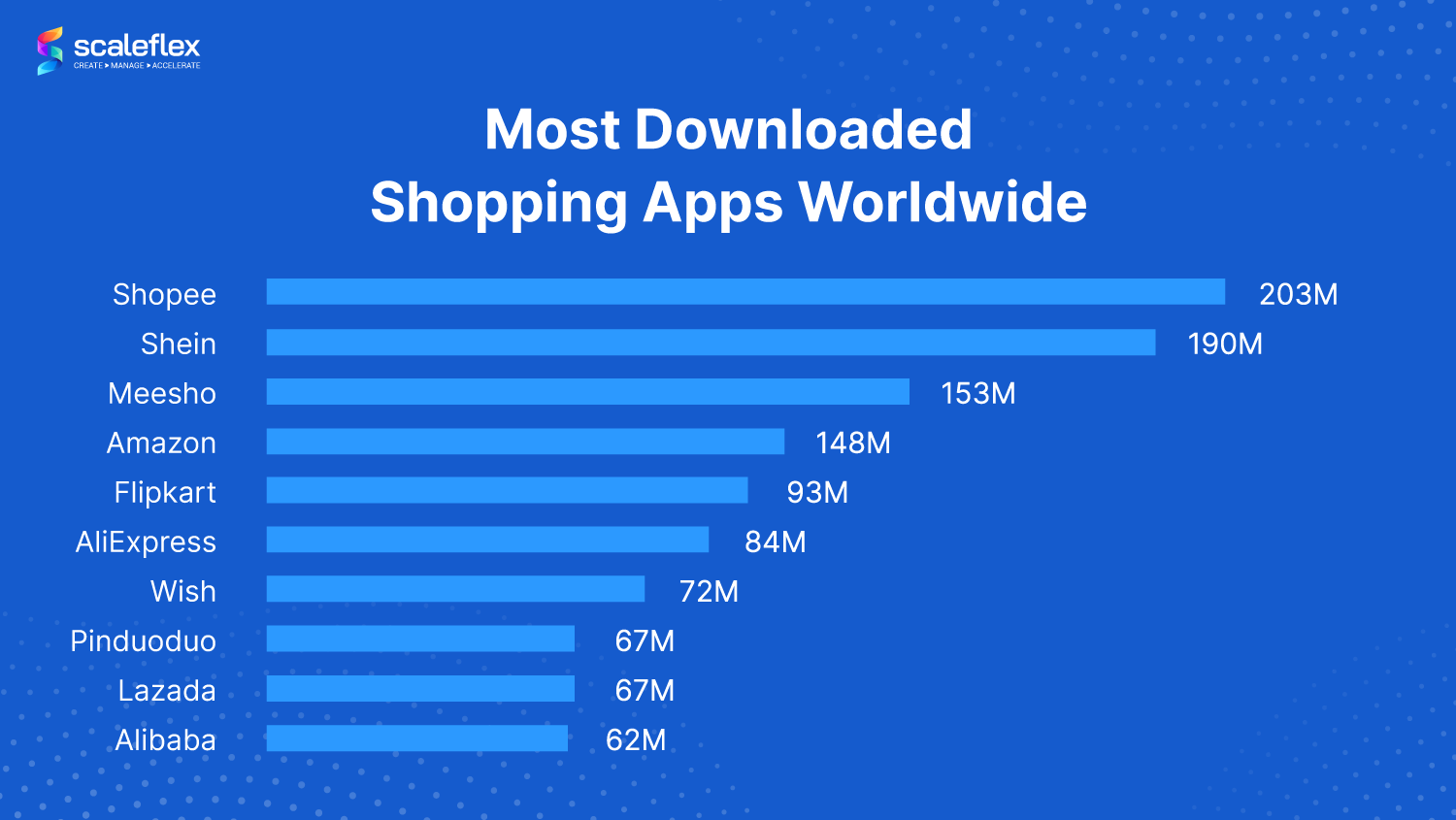 Marketplaces and their dedicated apps have become more popular, especially in Asia. Shopee, an e-commerce marketplace from Singapore has gained the top position, with aggressive and viral advertising in different channels and parts of the world. In 2021, their 9.9 sales even featured Christiano Ronaldo dancing to their jingle.
Social media shopping
31. Social media sites like Facebook, Twitter, Instagram, Tiktok, Pinterest have all introduced "buy buttons" that allow shoppers to purchase products without having to leave the platform. - Insider Intelligence

32. 48% of people had purchased via social media, 56% of them carted out through links to external websites - eMarketer

33. Facebook was the most popular social commerce platform due to its dedicated Facebook Marketplace - eMarketer

34. 60% of Gen Z used social media for shopping - Total Retail

The digital natives, Gen-Zs and Millennials contribute to most of the online and social media purchases. This means that e-commerce businesses will need to rethink their approach and to encompass an omnichannel strategy, introducing one-click checkouts to their websites.
Livestream shopping
35. The live shopping industry is predicted to be worth 600 billion dollar in China, and 25 billion dollar in the US by 2023 - Forbes

36. China is the leader in the livestream shopping industry, and in just 3 years, its live shopping market increased from $3 billion to an astounding $171 billion - McKinsey Report

37. By 2024, the live shopping market is predicted to grow to $35 billion - Retail Touchpoints

38. In 2020, TikTok joined hands with Shopify to create shoppable video ads - Techcrunch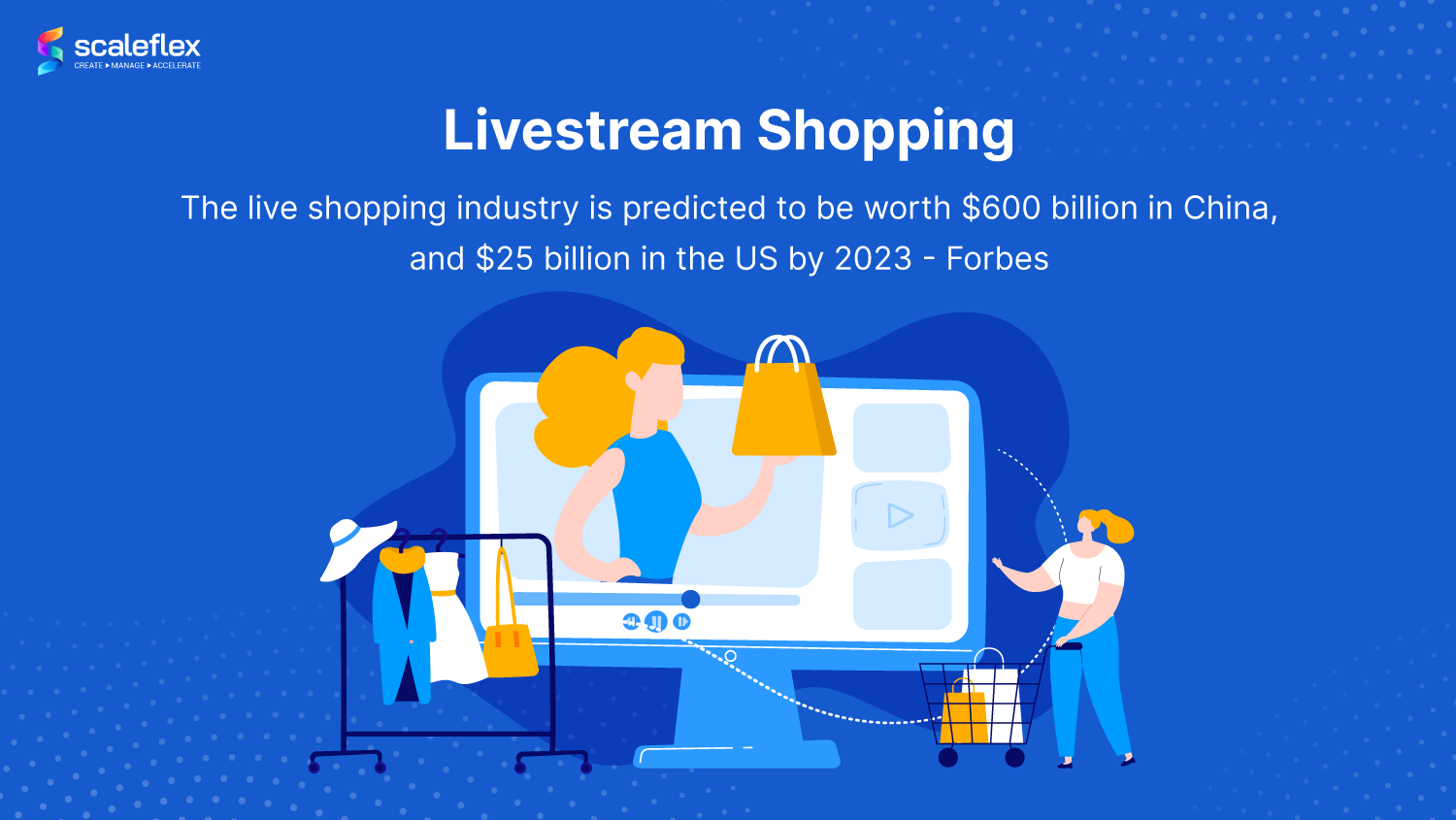 While e-commerce websites have greater reach, physical retail allows for greater interaction with customers and the products. Now, there is a way to combine the best of both worlds for the ultimate selling experience - Live shopping!

Livestream shopping, live commerce, or live shopping enables retailers to broadcast their products via a live video, connecting directly with online customers. Think of an online webinar where you get to interact with the speakers via comments, you can now do that with merchants and retailers.

Furthermore, livestream shopping leverages the power of social media as retailers can use Facebook, Instagram and TikTok to sell their products.
39. The earliest adopter of livestream shopping is German beauty retailer, Douglas. They reported conversion rates of close to 40%! - Publicis Sapient

In the beauty and fashion industry, western brands and marketplaces have started to establish their own live-commerce events to promote their products.

40. Over 40% of consumers expressed an interest in purchasing electronics on live streams - Statista

While online retailers in Europe have been a bit slower to take to this new trend, e-commerce statistics in 2022 inform us that consumers have already expressed interest in live shopping.
Key Takeaways: How to take advantage of these trends?
Now that you've got all these e-commerce stats, the best way to adopt these trends is to ensure that your website is able to support them. E-commerce websites cannot afford to be slow, and they need to have attractive and fast product images. 360 images and videos are no longer a good-to-have, but a must-have, and websites need to be able to support it.

Speak to Scaleflex's media optimization and digital asset management experts to find out how we can help you optimize your media and leverage on the latest e-commerce trends in 2022!
Return to the Table of Contents
---