Digital Asset Management for Influencers and Bloggers
As an influencer or blogger, you know that creating and sharing high-quality content is key to building your brand and attracting more followers. From stunning photographs to engaging videos, your digital assets are the heart of your content creation process.

Many times, you will also need to create various variants fit for different social media channels. Whether it is TikTok, Instagram, Snapchat, or your personal website and blog, there are tons of media assets to manage.

When your media library grows, managing these assets can be overwhelming. That's where Digital Asset Management (DAM) is key in helping you and your team keep track of your media assets and stay organized as an influencer or blogger.
Why is Digital Asset Management important?
Digital Asset Management is a system for organizing, storing, and sharing digital assets, such as photographs, videos, and other types of digital files like documents, contracts, invoices, that influencers and bloggers need to manage on a daily, weekly and even monthly basis.

Furthermore, managing your digital assets effectively can have a significant impact on your content creation process and overall success as an influencer or blogger. We'll go through some of these key benefits of implementing a DAM system.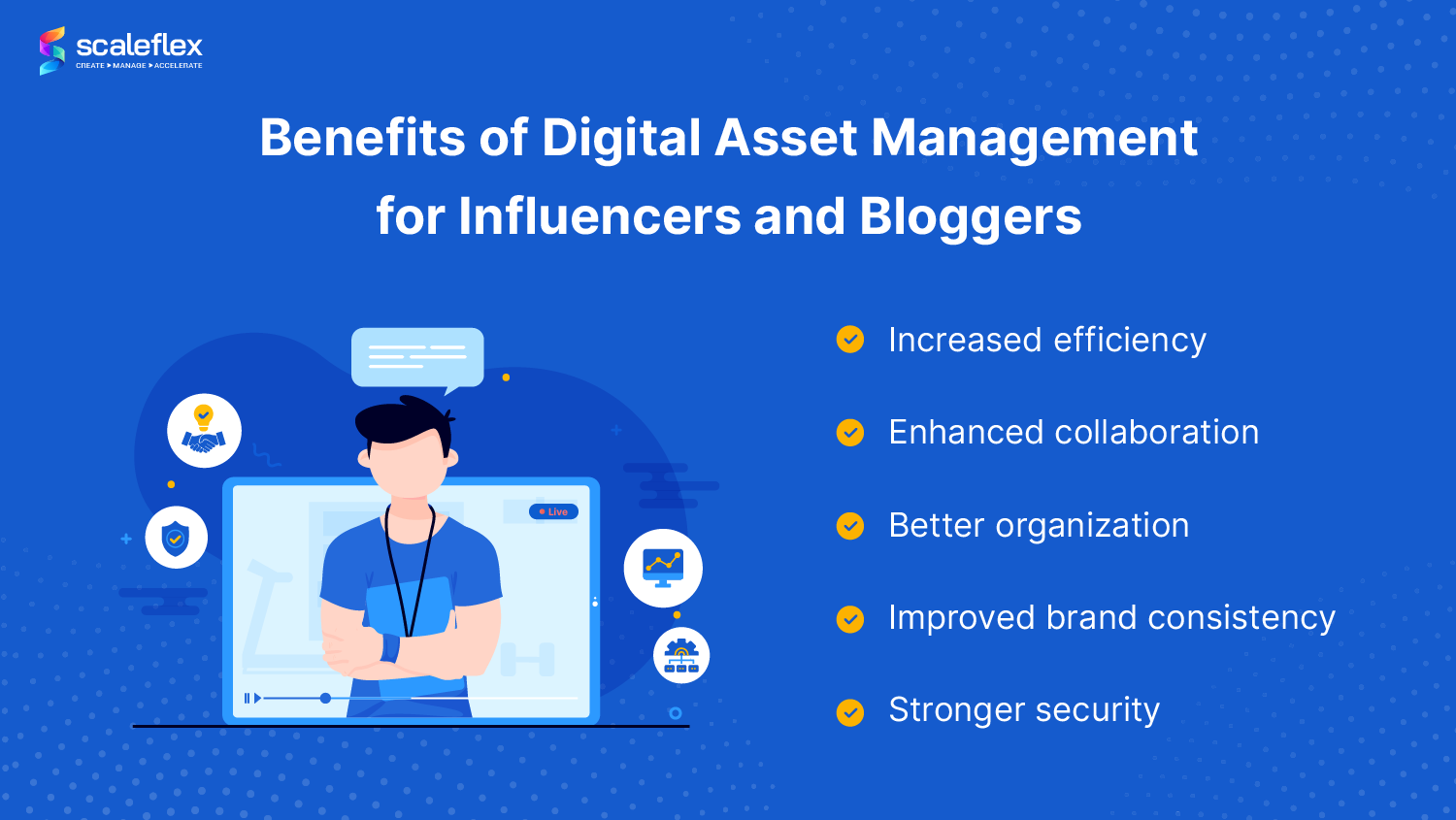 Increased efficiency
A DAM system can help save time and improve workflows by automating tasks such as file organization, metadata tagging, and image optimization. Your creative teams no longer need to manually resize images for the web, or remove the background from your images. With in-built social media presets, you can easily create different variants for your different channels.

All these can help you and your team focus on what you do best - creating high-quality content - instead of wasting time on image processing and administrative tasks.
Enhanced collaboration
As an influencer or blogger, you may have a team of content writers, content creators, designers, and video editors who need to work together and access these media assets easily, a DAM can greatly help to streamline the content-to-market process and improve your team's workflow. With a central location for all your digital assets, it will be easier to share files, provide feedback, and ensure everyone is on the same page.

When working with external partners, clients, photographers, videographers, and other professionals, a DAM makes it easy for you to share files securely, maintaining control over your digital library.
Better organization
Managing your digital assets manually can be a nightmare! Even if everything is already stored on the cloud. When your library grows, a DAM system can help keep everything organized according to folders, collections, and tags, making it easier to find the assets you need quickly. This can be particularly important when you are on the go and need to gain access from different devices - mobile, tablets, laptops, and desktops.
Improved brand consistency
Maintaining a consistent brand image is crucial. A DAM system can help ensure that all your digital assets that are accessible to your teams are on brand, with consistent colors, logos, and other elements. No more wondering which is the right version, and no more sending wrong media assets. A DAM for influencers can help you build a more cohesive brand and improve your recognition among your followers.
Stronger security
Your digital assets are so valuable, both in terms of the time and effort you've put into creating them, and in terms of their potential to attract new followers and clients. A DAM solution helps protect your assets by providing secure storage and access controls, and even making these shareable assets time-limited. You will be able to maintain control over who can access your assets and for how long.
How to choose the right DAM system for influencers and bloggers?
Now, if you're convinced that a DAM is a right solution for you, how do you go about choosing the right one? We now go through some key factors to consider when choosing a Digital Asset Management system.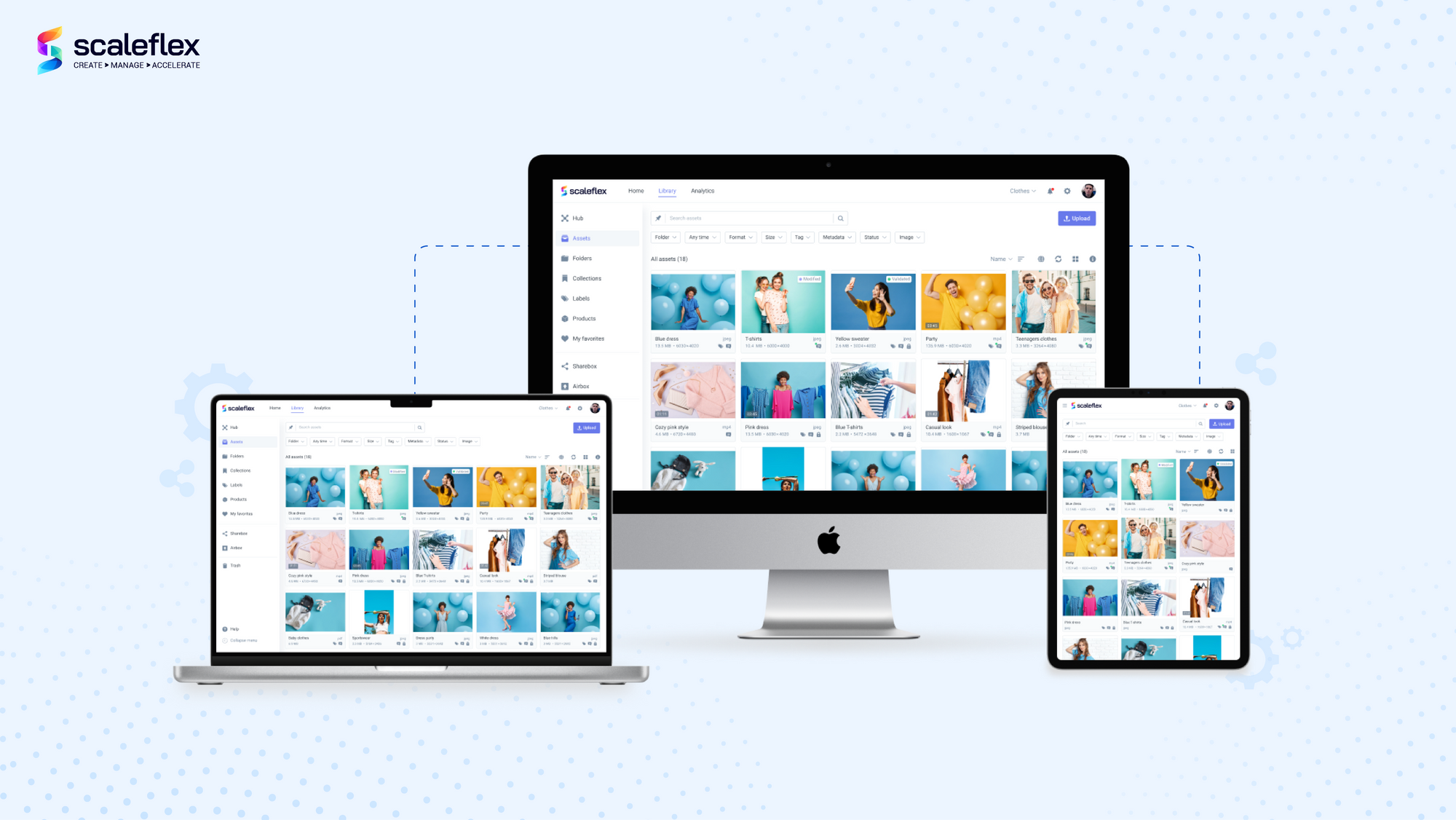 User-friendliness
A DAM should be intuitive and easy-to-use. No one wants to have a long training or onboarding process just to learn how to use the DAM.

Look for a system that has a simple and modern interface, easy search capabilities, and an organized structure.
Customization
Make sure the DAM system you choose can be customized to meet your specific needs. Look for one that allows you to create custom metadata fields, upload custom branding, and ability to tailor the system to fit your workflow.
Integrations
This is highly important! Many times, you would already use other tools for content creation, such as creating software, or CMS for your blogging needs, you need a DAM solution that can integrate seamlessly with these tools. This eliminates the time spent building software or integration from scratch, and also enables non-technical team members to integrate the DAM successfully.
Security
One of the most important factors to consider is security. Ensure that the DAM you choose has robust security features, such as permissions settings, two-factor authentication, and encryption. You don't want to risk losing or compromising your valuable assets.

Want a more in-depth guide to choosing a DAM? Read our whitepaper here.
Conclusion
As an influencer or blogger, managing your digital assets can be a time-consuming and overwhelming task. However, with a Digital Asset Management system, you can streamline your workflow, improve collaboration, and create great content more efficiently.

Want to take your content creation process to the next level? Discover Scaleflex's Filerobot DAM - a modern, intuitive Digital Asset Management solution powered by AI. Schedule a demo with our DAM experts to learn more about how it can help your blogging and influencer marketing efforts.
---