Digital Asset Management for Video: Benefits and Who is it for?
Videos are an essential part of any meaningful communications strategy. After accumulating numerous video files for a particular marketing or branding campaign - most turn to tools that offer a way to store these large files. But then comes another challenge. Storage of your finalized video content is just one part of the entire video content lifecycle.

When working with videos, many different types of media need to be managed concurrently: images, logos, animations, text, and audio, to name a few. Beyond that, these media assets will need to be properly organized so that you don't have to spend too much time just making a minor revision. So how then do you make sure that all of these media assets are stored and managed correctly? That's where a Digital Asset Management for video comes in!
Table of Content
Challenges of Video Storage and Management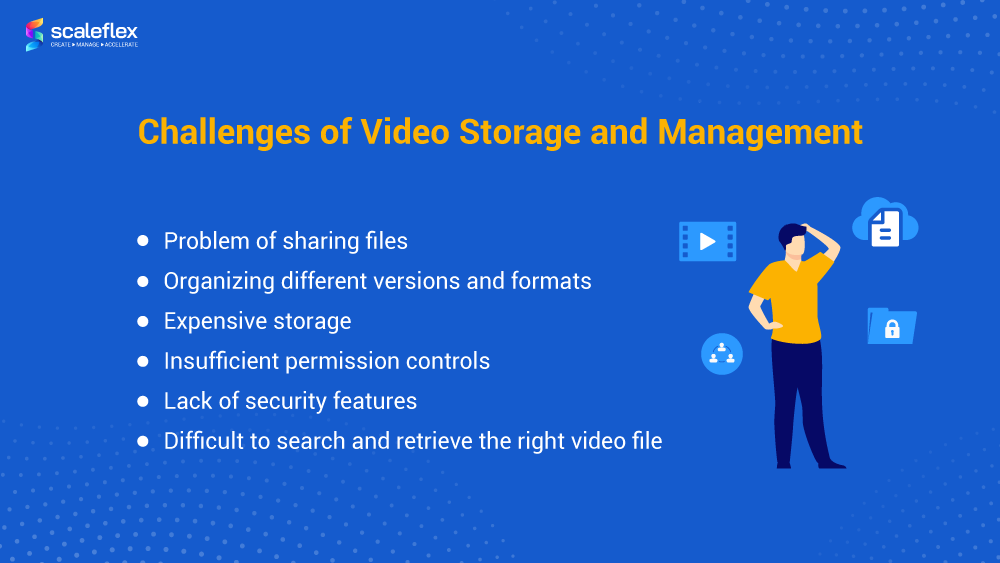 If you've ever worked in video production, you know the struggle:

The problem of sharing files—you have to make sure that whoever you're sending it to has the same version as you, or they won't be able to open it.

And let's not even get started on organizing all your different versions and formats in one place. Video assets take up a lot of space, and the more space you have to purchase, the more money you will spend. Over time, as you produce more video resources, traditional video storage that does nothing more than store your content can become expensive quickly over time.

If safeguarding your video content is your concern, traditional video storage may not have sufficient permission controls and security features. That means that when your password is compromised, it spells disaster!

The most troubling of all, is the difficulty to search and retrieve the right video file. The scenario? With a plethora of video files, you have to manage your assets, but you don't have time to spend hours searching through files and folders! Traditional video storage such as hard-disks or cloud-storage systems are not fully searchable, so it becomes difficult to locate specific clips whenever you need them.

In 2022, videos accounted for 82% of all online traffic, with people watching an average of 16 hours of video online per week. Increasingly, more videos are added online than ever before. So then, if traditional video storage is insufficient, what can help to store and organize videos?
Return to the Table of Contents
What is Digital Asset Management for Video?
Digital Asset Management (DAM) systems can help store, organize, manage, track, find, and deliver your video content. It enables you to manage the entire life cycle of your videos from their creation to their distribution and archival.

Sales and marketing teams typically require various types of digital content, such as product photographs, logos, marketing collaterals and PDF guidelines that go beyond just video assets. Compared to Video Asset Management (VAM) systems that work solely with video or Media Asset Management (MAM) that deals with media assets, DAMs work better with text-based files.

Digital Asset Management is the single source of truth for all types of digital content. It provides an excellent way to organize all the different types of assets, assigns meta-data to make it easy to search, and is the go-to resource for your stakeholders.

Furthermore, modern DAMs have powerful video asset management features and can help optimize your video after production. No more struggling to keep track of different versions of each file and no more using numerous tools to share or open video files. Video Digital Asset Management softwarereturns control to you on how you manage, publish and analyze your Video Content Operations.
Benefits of Video Digital Asset Management
Let's now take a closer look at some of its benefits and the useful features for businesses.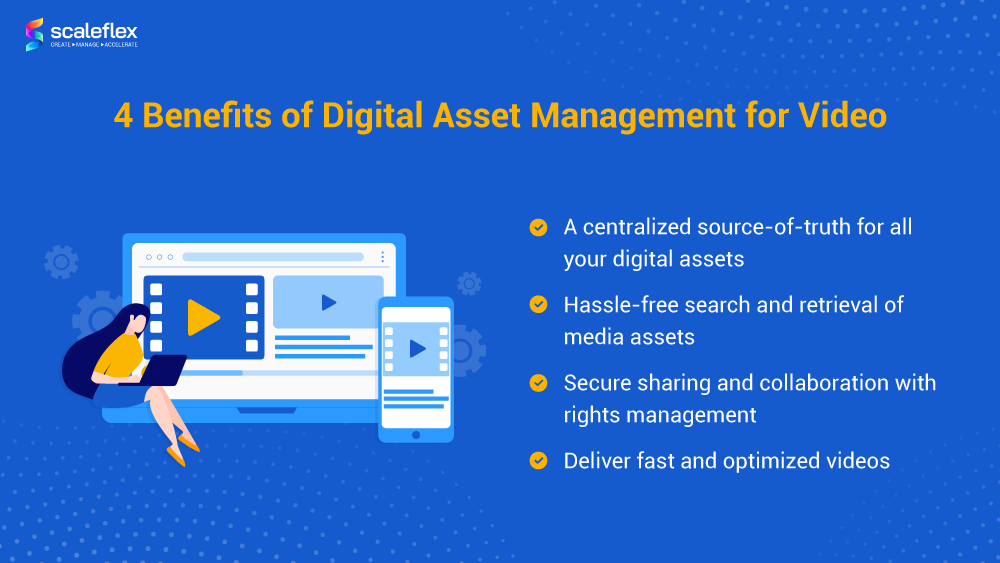 A centralized source-of-truth for all your digital assets
For most businesses, videos are just one of many other digital assets that you manage and produce every day. A strong marketing strategy involves using different types of media - images, photographs, branded brochures, whitepapers, flyers, and more.

Even for video production companies, creating a video involves utilizing a wide range of other media assets. Digital Asset Management video production software may be the more practical answer!
Hassle-free search and retrieval of media assets
Digital Video Asset Management systems are typically built around a database that allows you to store and organize your files. It provides tools for tagging and meta-data management (such as titles, descriptions, and tags), helping you keep your video content organized as well as discoverable by others who might be looking for it.

With duplicates management and versioning control features in Digital Asset Management video solutions, you don't have to worry about keeping track of several different versions of a single video. You'll be able to search your library easily to find the right and latest video, ensuring that you don't lose any of your videos or forget which ones are where, no matter how many people have access to them.
Secure sharing and collaboration with rights management
In addition, many DAM systems offer tools for rights management within your organization. For example, suppose someone leaves the company or otherwise changes roles within the company (e.g., from graphic designer to marketing manager). In that case, they may need access only to certain types of files instead of all files within the system - this makes it easier for everyone involved!

Rights management also makes it easy to share video files with people outside your organization. No more uploading your large assets onto a third-party file-sharing platform for sharing, as you can do it right from your video DAM!
Deliver fast and optimized videos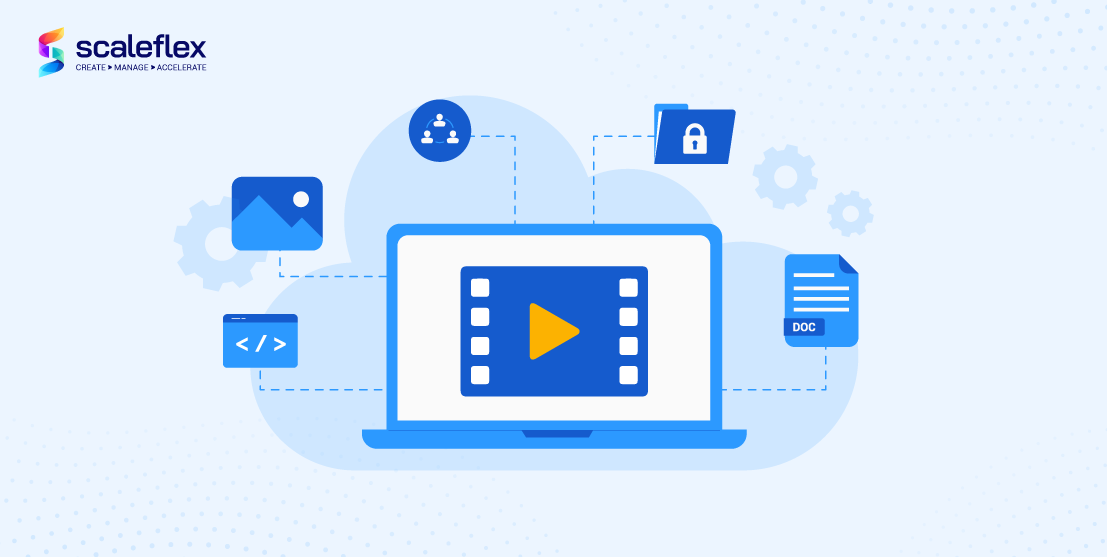 We all know that slow videos are a pain to watch, and when it takes a lot of time to load or freeze midway, it spells disaster for businesses! Studies have shown that viewers will start to abandon a video after a mere 2-second delay, with 6% leaving every second after. Especially when a significant pool of resources (time, effort, money, manpower) is invested in producing a video, they need to be delivered efficiently on every screen resolution and device.

Beyond managing video and digital assets, Digital Asset Management with Video Transcoding and Adaptive Streaming capabilities can then help eliminate problems in buffering and streaming interruptions. What these technologies do is that it enables you to deliver high-quality videos to users with fast internet speeds and high bandwidth while taking into account those in other locations with slower internet speeds. Paired up with a video CDN, it cache your videos on fast servers and deliver your optimized videos when it is needed. Whenever your user's internet connection slows down, adaptive bitrate streaming offers a lower-quality video until their signal strength improves.
Return to the Table of Contents
Who is Digital Asset Management for Video for?
The short answer is: for anyone who wants more control over their media (beyond just videos)!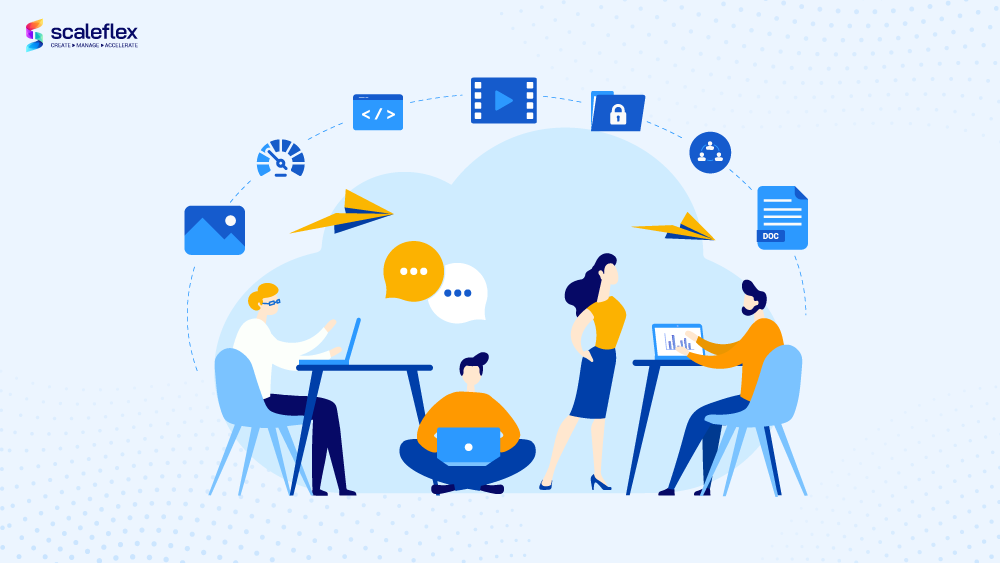 It's for the manager who needs to find the right video clips quickly so that they can make a presentation. The marketer who needs to publish on-brand and approved advertisement, or the sales person who wishes to engage and help its prospects visualize a concept better.

Digital Asset Management for video production is for the producer who wants to keep track of all the assets they need for a shoot. It helps the directorwho is looking for inspiration from past projects, or the editor who needs to find all the footage and assets they used on their last project so that they can cut together a reel. It's even for the aspiring filmmaker who dreams of someday being in charge of his or her own production company!

In the video game industry, it is for the video game producer who needs to oversee the development of various segments of the game and in museums, the curator who has to sieve through numerous videos to select the right asset.

Digital Asset Management software for video is designed specifically for businesses with large volumes of video content and requires the management of other types of digital assets. Whether these videos are used for marketing purposes, internal workflow, or sales training, it makes it easy to organize all your different files, versions, and formats to find them easily.
Conclusion: a DAM solution
Whether you're a small business owner or a large enterprise, we've all been there: it seems like every customer wants you to have their own custom-made video, but how do you keep track of all those assets as they're added and amended over time?

Get on board with an innovative digital asset management solution that will boost your video workflow!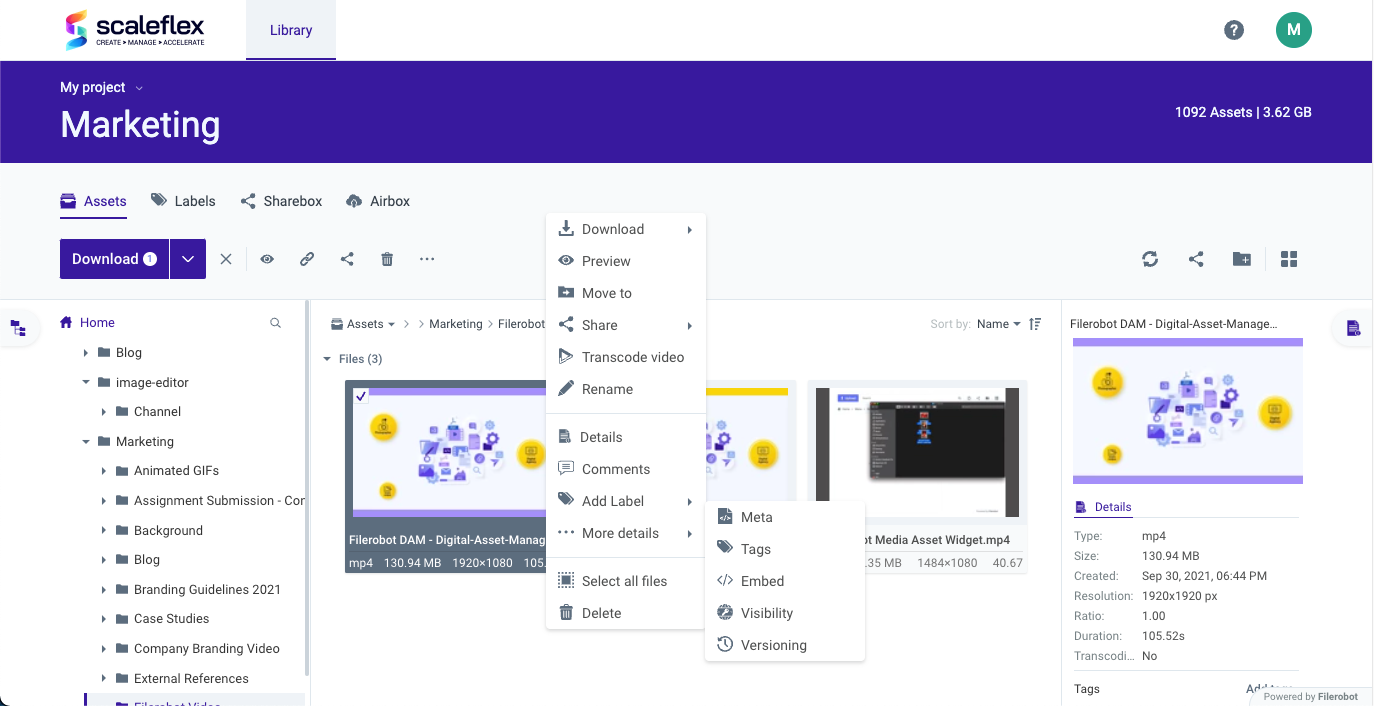 Filerobot is built to help you manage all of your digital assets (videos included!), from initial creation through revisions, to final distribution across any number of platforms. The platform can be used with any type of video content, whether you have one shot or thousands. We handle all the heavy lifting so that your team can focus on what matters most—creating amazing content that engages your audience and helps them get what they need from your brand.
Return to the Table of Contents
FAQs
What is the difference: Video Content Management vs Digital Asset Management?
Video Content Management Systems (CMS) and Video DAM are entirely separate systems but they do share some commonalities. Both tools work with digital video content and are built for teamwork. However, they converge in terms of the users. Video CMS are typically designed for marketing teams, while DAM can be used by all teams - big or small, and internal or external. Video DAMs can be used for developers, support managers, tech teams, sales, and so on.
VAM, PAM, MAM or DAM: Which Option to Choose?
In the VAM, PAM, MAM, DAM family, we would say that VAM and PAM are subsets (as they often require integrations) of MAM and DAM. And whether you choose MAM vs DAM, really boils down to the type of digital business you are running and what truly fits your organization's real needs. In this blog, we focus on a Digital Asset Management video solution as we truly believe it fits most use cases of modern businesses. DAM is also more adaptable as compared to MAM and its functionalities should cover the needs of your video content operations.
Return to the Table of Contents
---