Lights, Camera, Video SEO: How to Optimize Your Videos for Better Visibility
The digital landscape has been changing rapidly, and video content is fast becoming a dominant player in the online world. With the rise of video-sharing platforms like YouTube, Vimeo, and TikTok, video has become an integral part of any digital marketing strategy. Yet, creating and publishing video content is only half the battle. Getting your videos seen by your target audience is more important, and that's where SEO for video comes in.

In fact, studies have shown that video content can increase organic traffic from search results by up to 157%. With such impressive results, it's no surprise that more and more businesses are investing in video content and video SEO.

In this blog post, we'll take a deep dive into video SEO and provide practical tips and best practices to optimize your video for better visibility. From keyword research and video production to on-page optimization and video promotion, we'll cover everything you need to know to get your videos seen by the right audience at the right time. So grab your camera, turn on the lights, and optimize your videos for SEO.
Table of Content
What is SEO for Video?
Video Search Engine Optimization, or Video SEO in short, is the process of optimizing your video content to elevate the video's ranking and visibility in video platforms or search engine result pages (SERPs) By optimizing videos for SEO, businesses and content creators can ensure that their videos are discoverable and reach a wider audience.

Like traditional text-based SEO and image SEO, establishing the ranking for your videos involves a series of techniques that help search engines understand the content and relevance of your videos. It includes optimizing video titles, descriptions, tags with relevant keywords, indexing, using eye-catching thumbnails, and creating high-quality video content that is engaging and resonates with the target audience.

SEO for video also involves technical aspects such as optimizing video file formats, embedding videos correctly, and ensuring fast load times to improve user experience. Video marketers will also need to pay attention to the following:
how video-focused your website is,
the authority of your website,
and how it ranks for queries related to videos
With simply so much to think about and optimize, plus the fact that it is significantly challenging to get a high ranking in universal search results, many marketers don't invest enough time in video optimization. In the next section, we'll try to convince you why you should pay attention!
Why is video SEO necessary?
Did you know that, on average, 3.7 million videos are uploaded on the internet daily? Getting noticed in this wealth of content is definitely an uphill task - you'll have to figure out ways to make your content stand out and boost the position of your video in search engines. Since video creation takes up a lot of time and resources from various teams in your company, all your effort will go to waste if it is not well-distributed or seen.

With 96% of internet users relying on videos to find out more about different products and services, optimizing video for SEO and video SEO strategy have become essential aspects of digital marketing and content creation. Here are some key reasons why SEO for video matters:
Increases visibility of your website: By including video content on your website and optimizing it for SEO, you can drive more traffic to your site. This helps your videos appear in search results, and users are likelier to click on video results than text results.
Enhances user experience: Video is a trendy content format, and it can engage viewers in a way that text and images alone cannot. By optimizing your video content for SEO, you can attract more views and engagement, which can help build your brand, generate leads, and increase conversions.
Boosts conversions: Video content can be highly effective at increasing conversions, such as sign-ups, downloads, and purchases. Optimizing your video content for SEO can make it more visible to potential customers and increase the chances of them taking action.
Learning the best Video SEO tips can make your video relevant and highly accessible to Google bots, allowing you to attract new clients and viewers to your website, enhance user experience, and ultimately increase conversions.
Return to the Table of Contents
How to optimize your Videos for SEO?
Did you know that 70% of marketers plan to start a video marketing strategy in 2023? With more businesses getting into video content creation, competition will be tough. Knowing the right ways to optimize your video content for search engines will help in putting your videos and website in the top search results.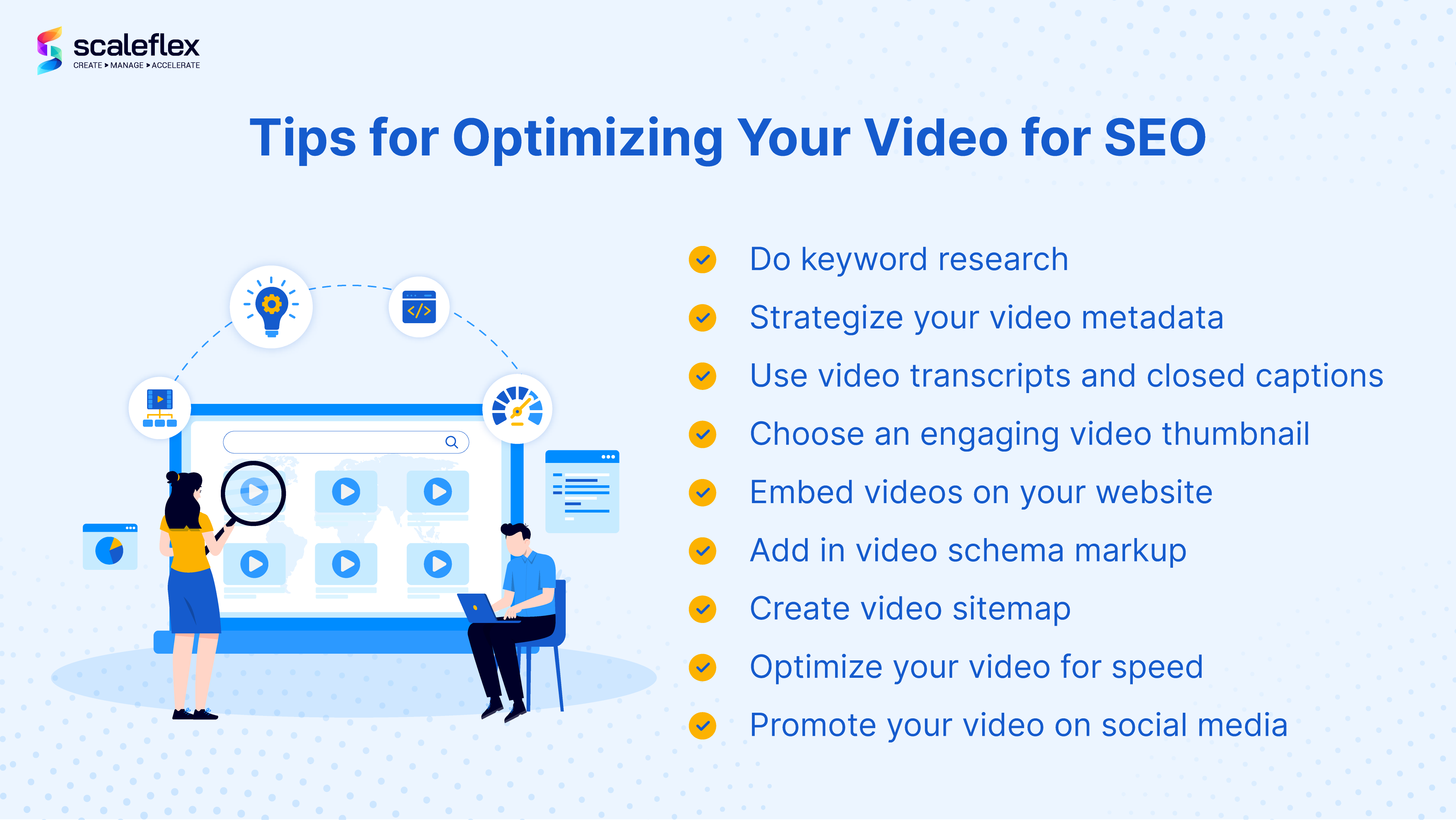 Do Keyword Research
An important aspect of SEO is using keywords. The same holds true for video SEO. Keyword research is the first step in optimizing your videos for SEO. This involves identifying relevant keywords and phrases that people are searching for and incorporating them into your video titles, descriptions, and tags. Using tools such as Google Keyword Planner can help you identify high-traffic, low-competition keywords that can improve your video's visibility.

More importantly, keywords are essential in informing the bots about your video's content. Plus, creating content and knowing what your users are looking for in a topic can be a good inspiration before even starting the video.
Strategize your video titles, descriptions, and metatags
The video title is the first thing people see when they come across your video, so making it catchy, engaging, and relevant to the content is vital. Having a hook for your title can entice viewers to click on your video, and including your primary keyword in the title helps inform Google search bots on the topic of your video, improving its chances of ranking higher in search results.

The same applies to descriptions. The description section allows you to give more context and information about your video. It's essential to make the description engaging, informative, and keyword-rich without being spammy. Writing a detailed description that contains your primary keyword in the first 50+ characters can help boost the algorithm, but remember to avoid keyword stuffing!

Another important detail that marketers and video creators miss is the use of metatags. This is an integral part of your video metadata that you should optimize, helping search engines categorize and understand your video.
Use video transcripts and closed captions
Using video transcripts and closed captions helps people in inconvenient situations assess your content and improves your video's SEO.

Search engines cannot watch videos and they rely on text to understand the content. Transcripts and closed captions provide text that search engines can crawl, making it easier for them to understand and rank your video.
Choose an engaging video thumbnail
After spending all that time creating the video, remember to spend time strategizing for that perfect eye-catching thumbnail. Video thumbnails are what people see when they are scrolling through the search results, and it play a crucial role in whether or not someone actually clicks on your video. Choose an engaging thumbnail that accurately represents the content of your video and encourages people to click through.

Here are a few ways to ensure the clickability of your thumbnail:
Have text under seven words to provide some context
Use contrasting colors to create visual hierarchy
Embed videos on your website
Embedding videos on your website not only increases engagement but also helps with SEO. It keeps visitors on your website for longer, as they do not have to leave for another video platform to watch the video. This reduces the bounce rates of your website and, in turn, is a good indicator for Google, informing that the content is relevant and should be ranked higher on the search engine.
Add video schema markup
Unlike humans, search engine bots do not have the visual intuition to understand videos on the web. They see through images and videos in their language.

Schema markup is a code in the form of structured data that is used for search engine bots to understand and read through the content of your web pages. Such on-page markups provide additional information to the bots by categorizing and identifying your content and letting the bots know what category and theme your web pages provide. Search engines can provide more pertinent results with access to these rich snippets.
Which one would you rather click? Video-rich snippets set your SERP listing apart from your competitors and visually direct your audience's eyes down to click on your listing.

You can create a schema markup through Google Structured Data Markup Helper or a schema.org generator, JSON-LD. It is a JavaScript notation which can be embedded in the script tag of the page's head or body. With the right tags, you can specify the name, thumbnai lURL, description, duration, and even the transcript of your video into your schema markup.
Create a Video Sitemap
Video sitemaps help Google find your videos more efficiently. With a sitemap, the information provided for your website's videos, pages, and other files, along with their connections to each other, will be more crawlable on search engines. It is recommended for sites with a lot of media content, such as images and videos. Through your page's sitemap, you can create a hierarchy of pages.

There are a few different sitemaps that you can work with, but these are the best sitemap protocols to work with for video content on websites:
XML sitemaps
XML sitemaps are the most configurable and versatile. You can use XML sitemaps to add data on videos, news content, images, and your page's localized versions.

With an XML sitemap format, you can utilize supported extensions for sitemaps provided by Google. These extensions allow you to include additional data on your videos.
Sitemaps must open with urlset and conclude with /urlset
Under the urlset tag, the namespace (protocol standard) needs to be specified
Each URL should have its entry via a parent XML tag
Each parent tag should contain a child entry
Files need to be UFT-8 encoded
Data values should use entity escape codes (for example, the escape code for "Ampersand &" is "&")
Optional tags may not be supported in certain search engines, so it's good practice to refer to the requirements of different search engines.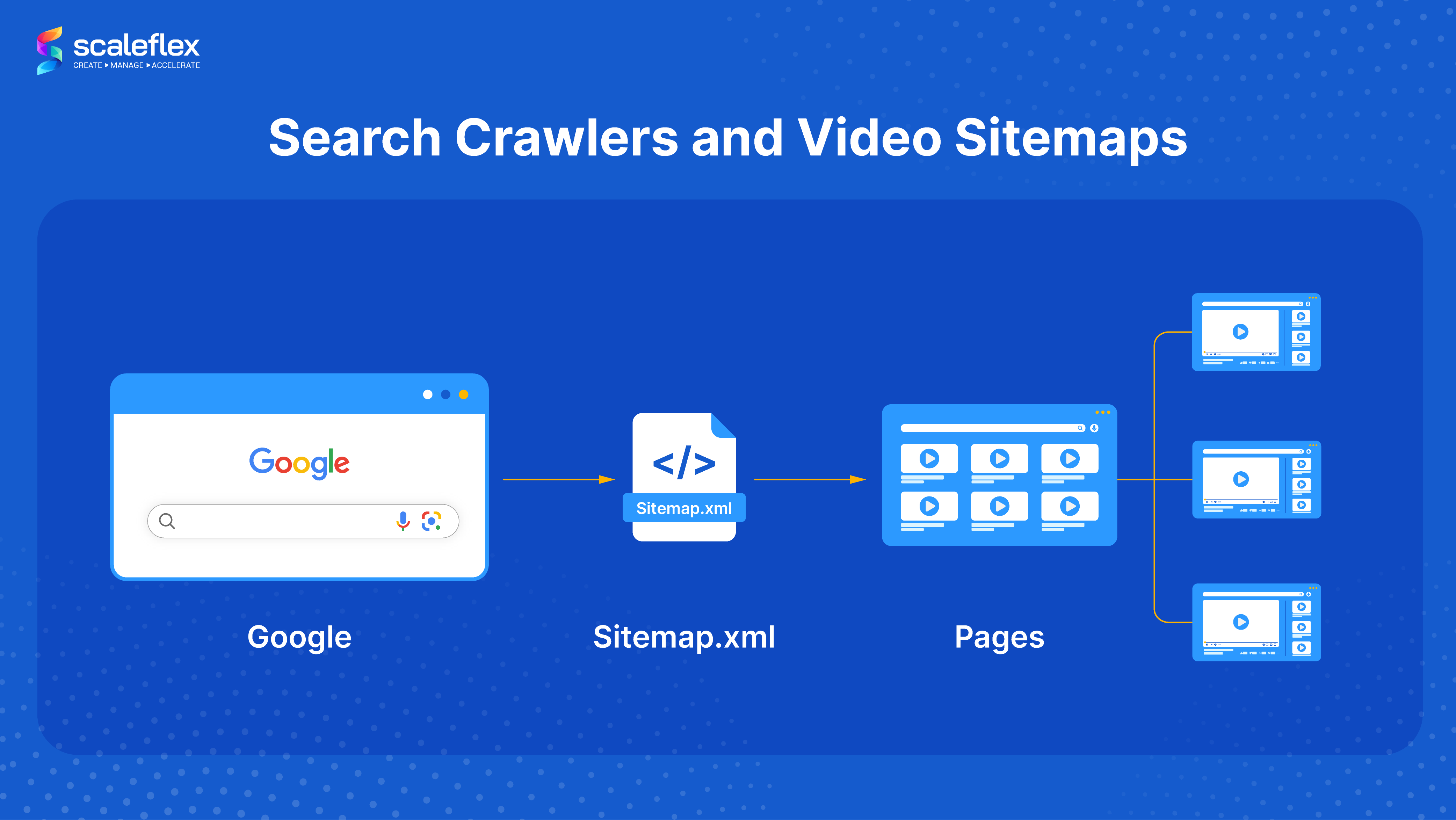 Here is an example of a simple XML sitemap with single URL location:
<?xml version="1.0" encoding="UTF-8"?>
<urlset xmlns="http://www.sitemaps.org/schemas/sitemap/0.9">
<url>
<loc>https://www.example.com/foo.html</loc>
<lastmod>2022-06-04</lastmod>
</url>
</urlset>
RSS, mRSS, and Atom feeds
RSS/Atom feeds have a similar structure to XML sitemaps, and most CMSes automatically generate them. The main difference between RSS/Atom and XML is that the former feeds recent changes. They are great for providing information on videos, HTML, and indexing pages.

For the best results, Google recommends using a combination of XML sitemaps and RSS/Atom feeds. While XML sitemaps inform Google about all the pages of your website, RSS/Atom feeds can let Google know of the updates happening on your site. This helps Google keep your content fresh in its index.
Optimize your video for speed
Nobody enjoys long waiting times and buffers! The average Internet user takes 3 seconds before leaving a loading website. Optimizing your videos to the best file size without losing their quality will increase your website retention rate. But that's only the first step. A website that can quickly adapt to the user's internet speed to play the best quality video is just as important.

2 seconds, that's all it takes when users start abandoning your videos, and 6% of viewers leave after every additional second. Their tolerance for slow-loading videos increases when their internet speeds increase. That's where adaptive streaming and video transcoding technology comes in.

These technologies work by automatically adapting the video resolution that suits your visitor's device and internet connection best. Just imagine responsive images but now for video. You can directly deliver high-quality videos to your users with fast internet speeds and higher bandwidth while accommodating users in locations with lower internet speeds. This solves two enormous challenges of video streaming - quality and buffering.

Some quick tips for implementing video transcoding and adaptive streaming as part of the video for SEO strategies are:
Transcode video on GPU services for faster processing: They can speed up transcoding at an average of 5 times. Most multimedia frameworks will be transcoded on FFmpeg, which is also helpful for video processing.
Upload video into your chosen storage solution: Since you now have multiple variants of the same video, you will need to have a robust storage solution with a good upload bandwidth. A Digital Asset Management solution for videos can be helpful in this case.
Deliver video chunks via CDN: This ensures that whichever part of the world your video is played in, CDNs will help play them at the best possible speed.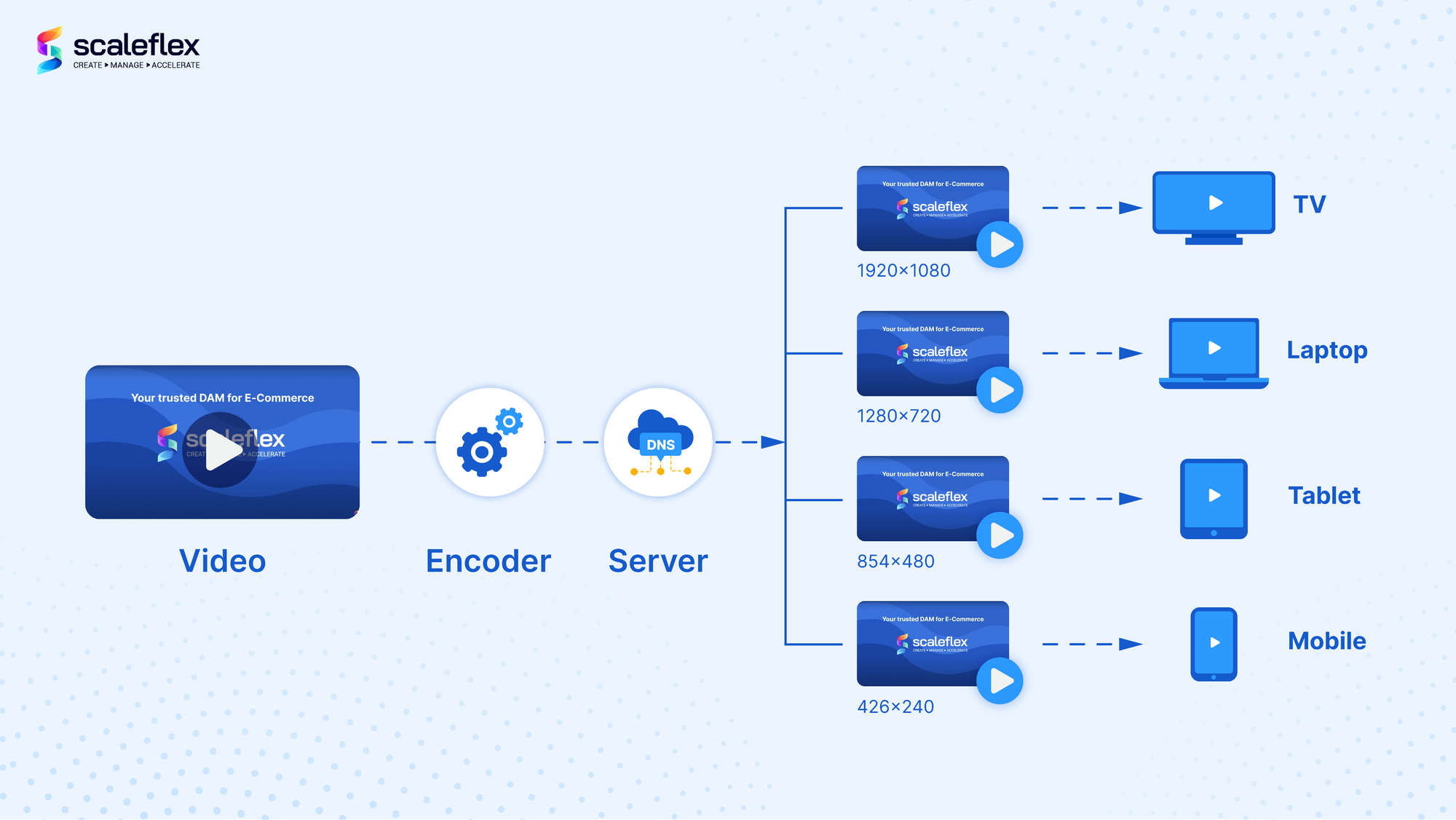 With adaptive streaming and video transcoding technologies, videos will be optimized immediately for your web or mobile application. This is extremely useful in today's climate, where anything can be accessed through any device.
Promote your videos on social media
Another important part of SEO for video is distribution: Social media platforms like Facebook, Twitter, Instagram, Linkedin, and even YouTube and TikTok provide an opportunity to promote your videos and increase engagement. Sharing your videos on social media can increase their visibility and drive more traffic to your website.

And when you do that, remember to optimize your videos for the different social media platforms, such as using hashtags, tagging other companies and creators, and including the keywords within the captions, just like the video SEO tips!
Return to the Table of Contents
What are some of the Video SEO Monitoring tools?
While all the tips on improving your SEO & video marketing are important, knowing the best tools to monitor and work with is just as essential. With video SEO monitoring tools, you can maximize your SEO for video content by verifying what is working for your websites. This will provide you with insights to improve your strategies for higher SEO ranking, and reaching out to more potential clients.
Google Search Console
Google Search Console is a free service from Google which provides real data from Google's index. It will show you how Google sees your website and how your pages appear in search results. Not only that, the video indexing report indicates the number of indexed pages on your site which contains one or more videos while also informing you of pages with videos that can be indexed.

Last year, Google launched a new report to help video creators and marketers understand your video's performance and identify improvement areas. With the new video indexing report, you can look into your daily video impressions over time, which are aggregated by page impressions. The sitemap filter will filter the report to show only video pages in a selected sitemap. This information will assist you in understanding the performance of your videos on Google and identify possible areas of improvement.
Google Analytics
Google Analytics is another powerful web analytics tool that can track video performance on your website. GA allows you to set up custom events and tracking codes to track video views, engagement, and other vital metrics.
Conclusion
Videos will continuously be increasingly popular among marketers, with more businesses seeing the benefits of videos on web pages. SEO for video then is an essential strategy for companies looking to improve their online visibility and reach a wider audience. Optimizing your videos for search engines can increase your chances of ranking higher on SERP and drive more traffic to your website.

The key to successful video optimization is to create high-quality, engaging videos that provide value to your target audience. Not only that, but it is also important to optimize your video content with relevant keywords, titles, descriptions, and tags and have eye-catching video thumbnails, ensuring your videos and website are optimized for speed. Many others we have discussed in this blog post will help you stand out from the competition.

Since video files take up a lot of bandwidth and creating videos also involves a whole lot of other types of media assets such as logos, animations, visuals, text, and more, a Digital Asset Management platform likeFilerobot DAM can help you store, manage, and optimize your video assets for SEO. Want to take your SEO for video to the next level? Speak to our friendly video optimization experts to find out more.
Return to the Table of Contents
---