Edit images in the browser with the open source Filerobot Image Editor
Integrated in a minute, the Filerobot Image Editor open source plugin will allow your users to apply a multitude transformations to images straight in their browser.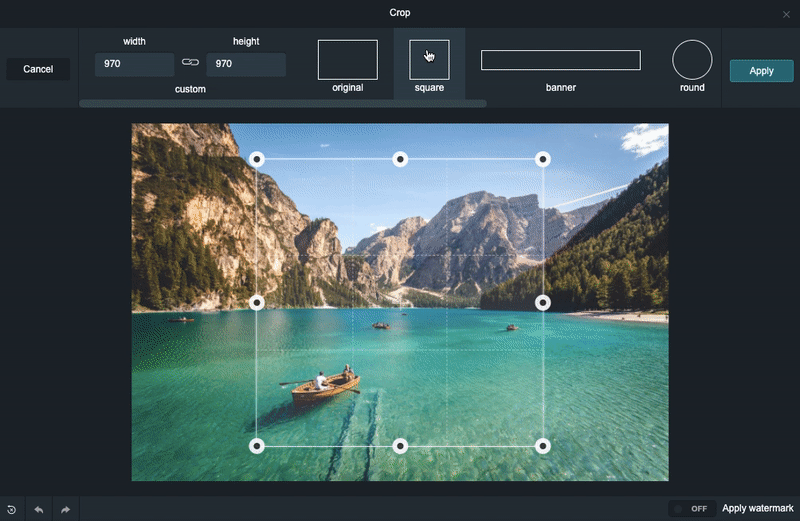 Resize, add effects and filters on any image
Cloudimage does a great job at resizing and optimizing images on-the-fly for automating fast delivery.
However, there are many use cases where marketing teams would like to modify the origin image before it gets processed by Cloudimage. This is usually done in a graphics editor like Photoshop and Illustrator, requiring to download the image, editing it, saving it and uploading it again to the media server (and also costly licenses!).

Most of the times, the transformation performed in the graphics editor are quite basic: resizing, cropping, adjusting brightness and contrast, filtering, watermarking, ...
Imagine all these features would be available to your teams in an easy-to-implement web plugin, directly in your CMS (Content Management System).
This is the solution the Filerobot Image Editor is enabling with a free, open source solution! Some of the features available in the Filerobot Image Editor:
Resize with custom width and height
Crop with custom of framed width and height
Rotate to 90°
Apply Watermark
Apply various filters and effects
Build collages
... and many more features available to test in the demo
Once edited, the Image Editor will return the edited image for download.
If you are a Filerobot DAM or Cloudimage customer, the edited image will be stored in your Media Library and delivered rocket fast over CDN all around the World 🚀.
The Filerobot Image Editor is fully integrated with the state-of-the-art Filerobot Uploader, also available as open source solution for adding a powerful uploader into your application.
Implementation guide as a video tutorial below:
We ♥️ ProductHunt & Github
We chose to release all our plugins open source as we are a team of developers working for and with developers! We are very excited about receiving your feedback and improving our tools consequently.
Our Latest Charts:

Made with ♥️ by Cloudimage Team
PS Make sure to subscribe to our newsletter below for monthly updates, news and case studies sent straight to your inbox! Be the first to know!
---