DAM for E-Commerce: Streamlining Your Content Workflows to Sell More
When it comes to online webshops, content is king. And bringing that new product to market requires the effort of multiple teams, collating different kinds of digital assets. From product descriptions and images to customer reviews and marketing materials, having high-quality, well-organized content is crucial for driving traffic to your website and converting visitors to customers.

With more products to sell every passing day, there come more product visuals and with multiple variants - for different social media platforms and various marketplaces. Creating numerous visual assets for different channels can be time-consuming, and managing them could be even more of a challenge.

This is where Digital Asset Management (DAM) comes in. Read on to find out how DAM can streamline your e-commerce workflows and increase your shopping cart conversions.
What is Digital Asset Management and how it benefits your E-Commerce business?
The global DAM market is expected to be worth over 8 billion by 2027. A DAM platform is a powerful tool for e-commerce businesses looking to streamline their content workflows and increase sales. It helps to store, maintain, and render text, graphics, images, videos, and music files for businesses.

While it can be a standalone solution, many online retailers also use a PIM DAM solution, or as a plugin and connector to their existing CMS and e-commerce systems to manage their media assets. So what are the benefits of DAM e-commerce solutions?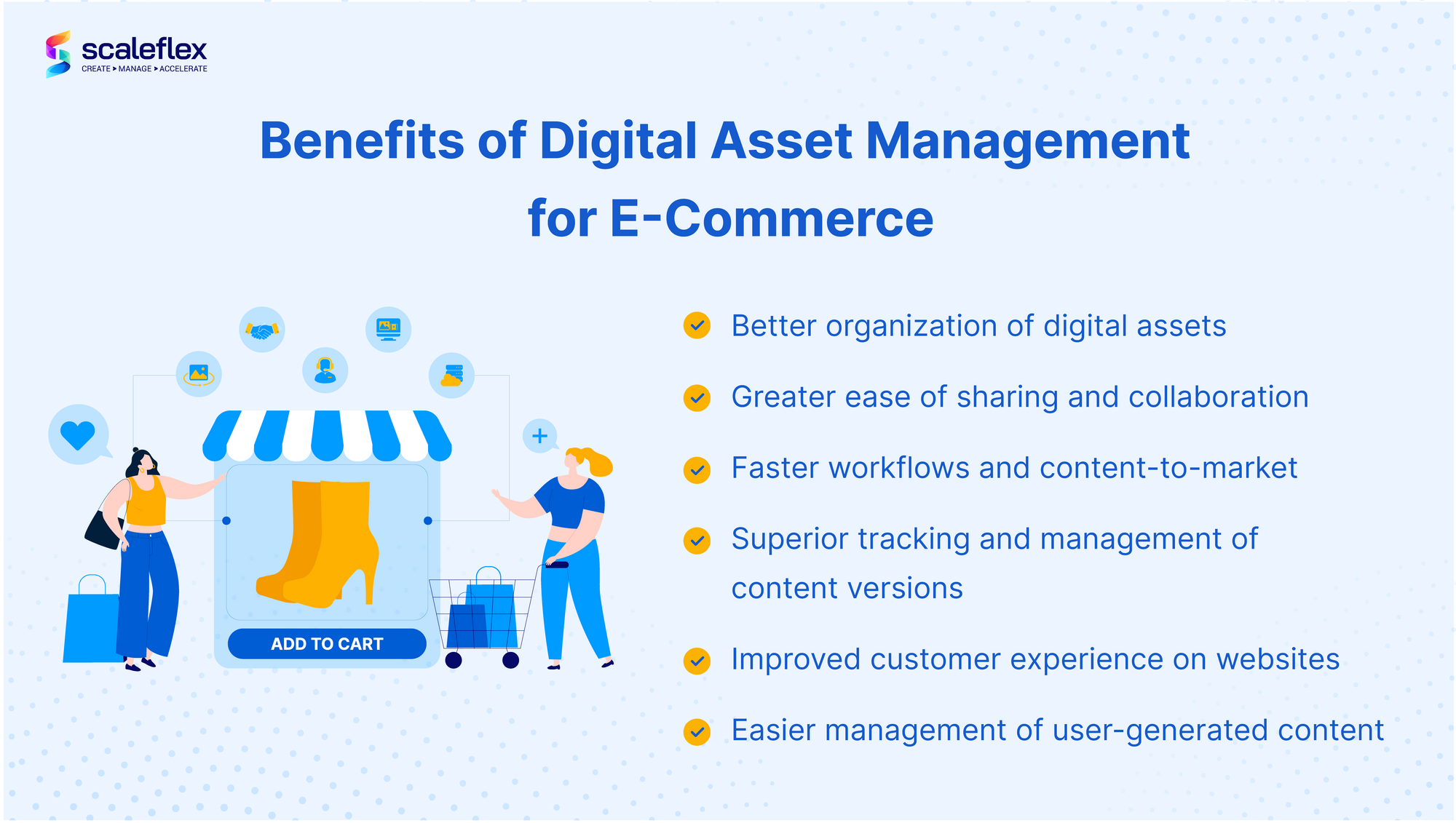 Better organization of digital assets
DAM allows e-commerce brands to centralize and organize all their digital assets - including images, videos, documents, and more - in one place. This makes it easy for team members to search and access the exact content they need, whenever they need it.

Maximize the productivity of your e-commerce teams as they no longer have to waste time searching through multiple folders or email inboxes for the right file. With a powerful DAM for e-commerce, everything is right at your teams' fingertips!
Greater ease of sharing and collaboration
Digital Asset Management enables e-commerce retailers to share assets and collaborate with internal and external teams in a centralized and secure space. Rather than having multiple email correspondents, teams can now streamline communications and approval processes in a single DAM e-commerce platform. With permission controls, e-commerce brands can also restrict or grant access to specific users and take back control of their media assets.
Faster e-commerce workflows and content-to-market
The benefits of DAM go beyond just organization. With the right DAM system, you can leverage workflow automation in e-commerce, making it easier and faster to get new products and information up on your website.

For example, you can use a DAM to automatically resize and reformat images to fit different sizes and resolutions, saving you time and effort when creating product listings and marketing materials. No more manual resizing or worrying about whether an image will look good on a mobile device or desktop computer!

Or you can use the AI and ML features in your DAM to automatically remove the background of your product visuals and add a unified background for use in Google shops or marketplaces. With an e-commerce DAM, you can ensure that your images are optimized for any device or platform.
Superior tracking and management of content versions
Online webshops with tons of media assets with various versions for the following seasonal sale or updated pricing can use a DAM to track and manage all of these content versions. This ensures that you have the most up-to-date information on your website to present the most accurate and current information to your customers.

With a DAM, marketing, design, and e-commerce teams can easily track changes to content, see who made them, and have the latest copy displayed on the website without manually updating the images one by one. This greatly reduces the margin of error and helps save precious time.

Furthermore, having an inaccurate visual with the outdated pricing displayed on your web store could cost your company lots of precious revenue!
Improved customer experience on e-commerce websites
Did you know shoppers go through an average of 31 pages (groceries) before they cart out? That is why having different product visuals to nudge your buyers and catch their attention is so important.

As such, Digital Asset Management for webshops can help improve a customer's experience. Not only will you achieve fast sites with high-quality images and videos, but you can also easily generate:
360° interactive product visuals
transcoded videos for smooth streaming
marketing variants automatically
optimized images with no compromise to quality
responsive images loading perfectly on any screen and device
All these will help your online shop stand out from the competition and make your products more interactive and appealing to potential customers.
Easier management of customer-generated content
With every product sold, online retailers usually ask for reviews and ratings as well as images or videos to have a more credible online store presence. But how can you manage all of these effectively?

DAM for webshop can help you centralize all of these content to help customer success teams to track and manage them, and ensure that marketing teams can display them prominently on the website, marketing materials, and campaigns. Doing all of the above builds trust and credibility with your customers, leading to increased sales and a strong retail brand.
E-Commerce Digital Asset Management Use Case
With the above benefits, we'll look at an example of how a DAM for E-commerce is used. Ludwig Beck, an emblematic and historical mall in Munich, Germany, moved its entire clothing references across the six-floor building on their Magento (now Adobe Commerce) e-shop following the digital shift.

As they were a multi-category store, it has different needs for product data in every category. Also, their existing e-store has zero automation, resulting in slow product-to-market speeds.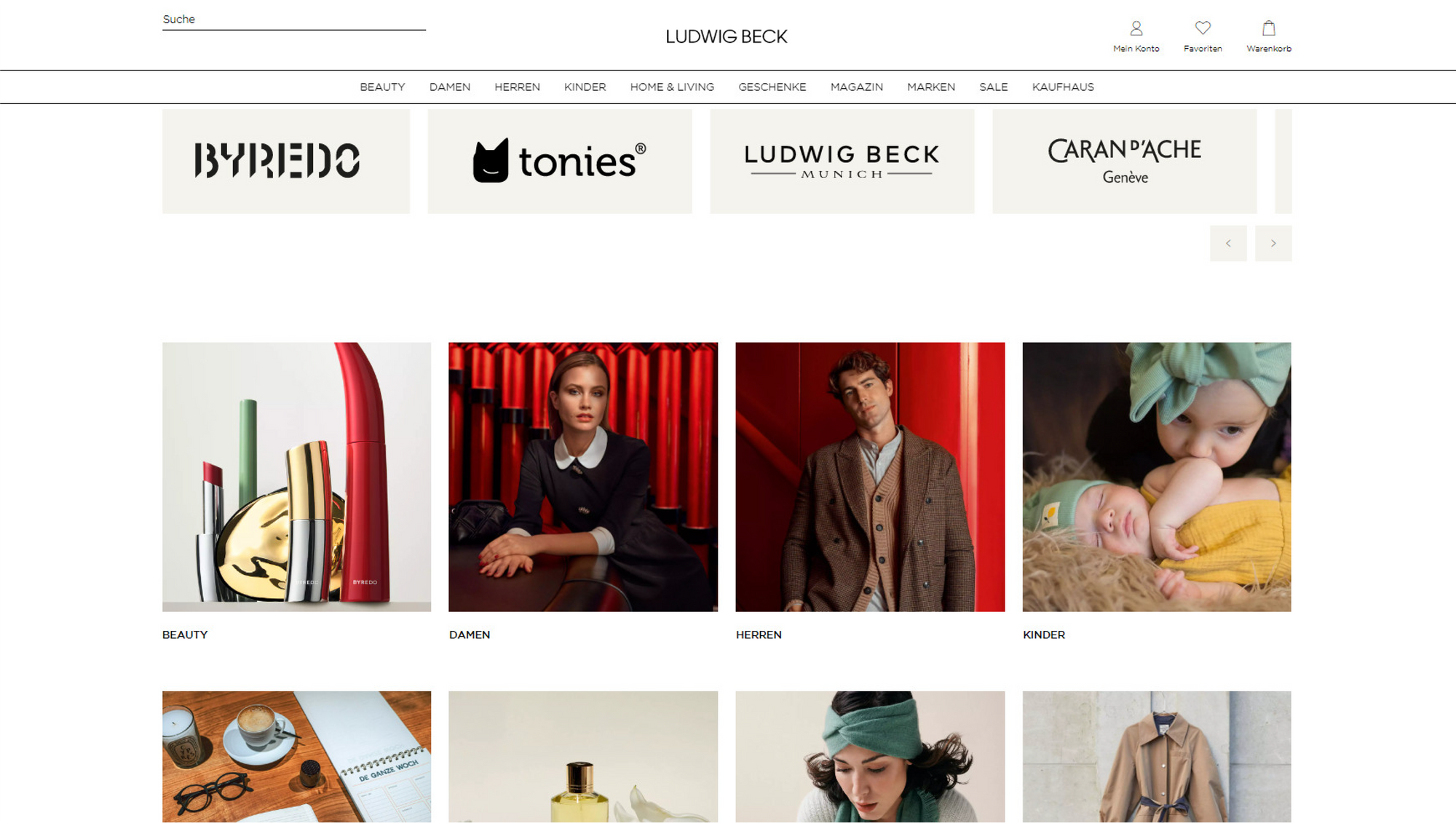 With a MACH-compliant Digital Asset Management for E-Commerce platforms, they were able to integrate DAM into Akeneo PIM, helping them to:
Synchronize all their media assets,
Utilize customizable and collaborative features
Achieve a better score in the Core Web Vitals
Optimize their user experience and performance
Read the full Ludwig Beck case study here.
Key Takeaways
Overall, implementing a DAM system can help your e-commerce business streamline its content workflows and increase efficiency, freeing up time and resources that can be better spent on other areas of your business. With the ability to quickly and easily access and publish high-quality product visuals and videos, you will be well-positioned to sell more and drive even more success for your online retail business.

Want to start 2023 right and take your online sales to the next level? Learn more about Scaleflex's Filerobot Digital Asset Management and its entire e-commerce plugin eco-system. Find out how you can sell more with organized digital assets.
---