Rank higher on Google with Page Speed and SEO
Imagine this: you've put in a lot of time and effort to ensure that your website runs well, has a great structure and contains powerfully-crafted content and visuals. But the truth is, no matter how amazing your site is, your users, customers, and clients will first need to effectively and quickly load the site. There will be a considerable drop-off if it takes too long to load. To Google, that's not good news.

Remember that it's only one click away from a much speedier competitor. Find out why page speed matters in SEO and your Google rankings and how to speed up your site, improving website performance.
Table of Content
What are Google's ranking factors?
The abundance of information on the internet requires a comprehensive way to sieve through and sort information. Otherwise, it will be nearly impossible for you to find your desired and relevant information. Google's search algorithms comprise numerous ranking factors and takes into account:
quality of content
mobile-friendliness
page experience
page speed
on-page optimization
internal and external links
In this blog post, our focus on page speed doesn't mean that the other ranking factors don't matter, but we do think that it is one that can create the greatest change.
How does page speed affect SEO and Google Rankings?
Google rankings and SEO metrics are important for your business's success. But how do they work? And what do you need to know to rank at the top of the search results?

Page speed is one of the essential factors in determining whether a website will rank well on Google. A site that loads quickly and offers a great user experience (UX) is more likely to be popular with visitors and, therefore, more visible in Google's search results.

Optimizing page speed is vital if you want to rank well in search engines. In contrast, slow sites are assumed to be less reliable and more prone to errors (just like broken links). It is why Google penalizes websites that use slow-loading scripts or images.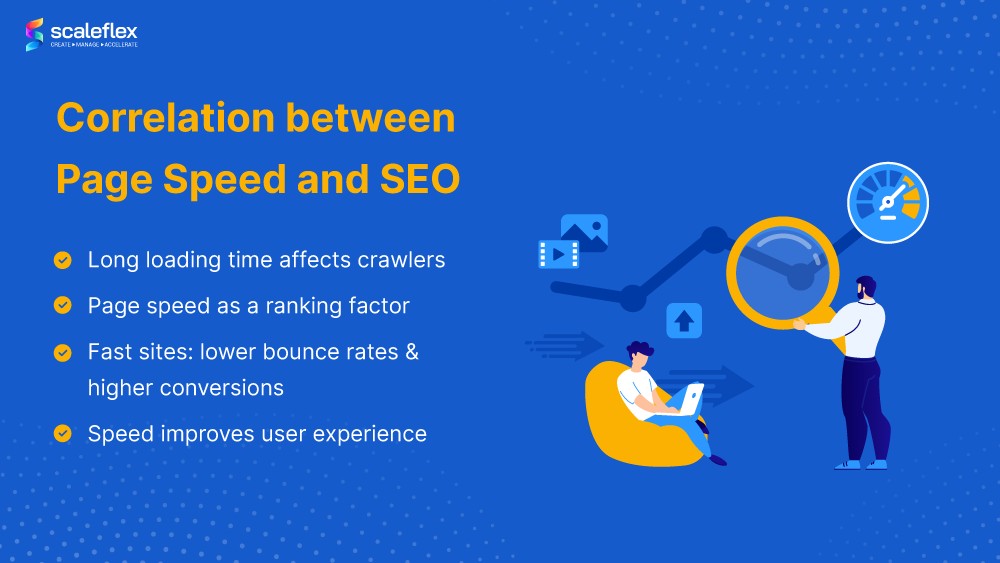 Long loading time affects crawlers
This is how Google looks at SEO:

1. First, Googlebot crawls the web.
2. It then adds crawlable and accurately optimized pages to Google's index, cataloguing them.
3. When people type in a search query, Google then displays what it thinks are the most relevant results.

If your pages take too long to load or times out, Googlebot may skip those pages altogether and move on to the next one in its queue. Long loading times, therefore, affect your crawl rate and crawl budget. In contrast, fast pages mean that Google crawlers can come by more often to get more done. This tells you how important the correlation is between page speed and SEO.
Page speed as a ranking factor
Google has continually stressed the importance of speed ever since 2010, "Like us; our users place a lot of value in speed – that's why we've decided to take site speed into account in our search rankings." And then with periodic updates to improve how it quantifies page speed ranking factor. The latest is the Core Web Vitals algorithm update, offering more comprehensive metrics that track speed. Google even has a special tool, called PageSpeed Insights, that measures load times.

Though there are other SEO ranking factors such as having quality and optimized content, mobile-friendliness, and so on… but don't you think page speed as a ranking factor triumphs? A perfectly mobile-friendly website makes no sense if it just does not load.
Fast sites: lower bounce rates and higher conversions
Plus, the users are always right - at least to Google. Page speed correlates to user's satisfaction. Google's research demonstrated that when a page load time went from 1 to 3 seconds, the bounce rate increases by 32%, if it goes up to 5 seconds, bounce rate increases by 90% and… you get the point: Slow load time = dissatisfied users. Pages with high bounce rates inform Google that their content may not be as relevant, pushing it further down the SERP.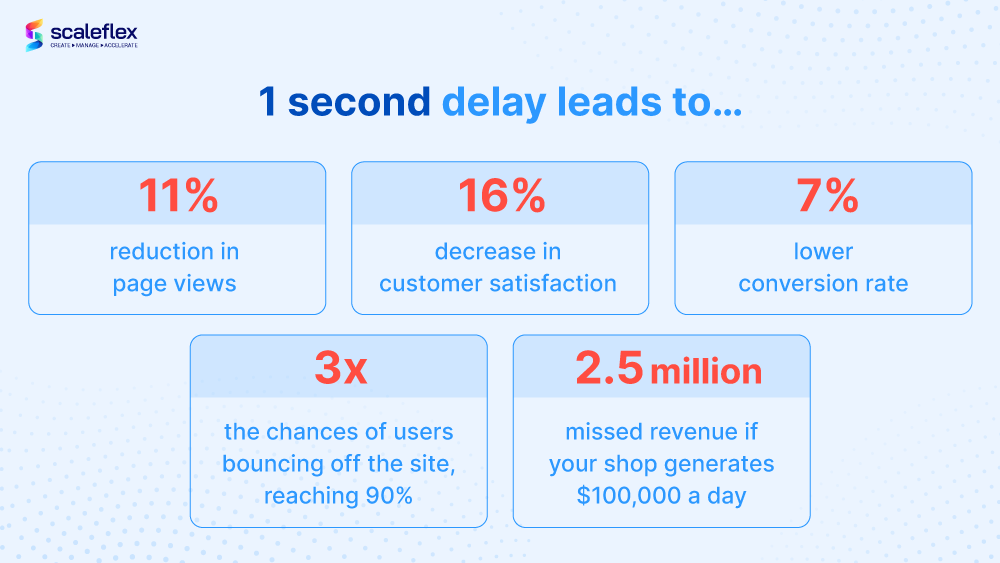 On the web, 1 second is oh-so-precious, and you only have one chance to make that first good impression. People hit that back button so quickly and often never return. Having fast pages increases your chances of converting your visitors and, at the same time, helps to build trust and brand loyalty.
Speed improves user experience
Just recall those times you've spent waiting for a particular page to load. Not cool? Then don't be that site.

Improving your page and site speed makes people happy. They'll enjoy the lightning-fast interactivity of your pages and will be more likely to convert and come back again and again. Of course, this tells Google that people value your website as a fantastic search result as you've been delivering amazing site quality. You may eventually get a tremendous ranking boost, what's not to like about that!

All in all, that's why page speed is such a big deal: it affects your bottom line! So what can you do about it?
Return to the Table of Contents
Analyse your website with a page speed test
Before you begin to improve your page's performance, a page speed test to gauge the existing performance is needed. Google's PageSpeed Insights is a helpful tool that gives you a score based on how your website performs against the best-ranking sites.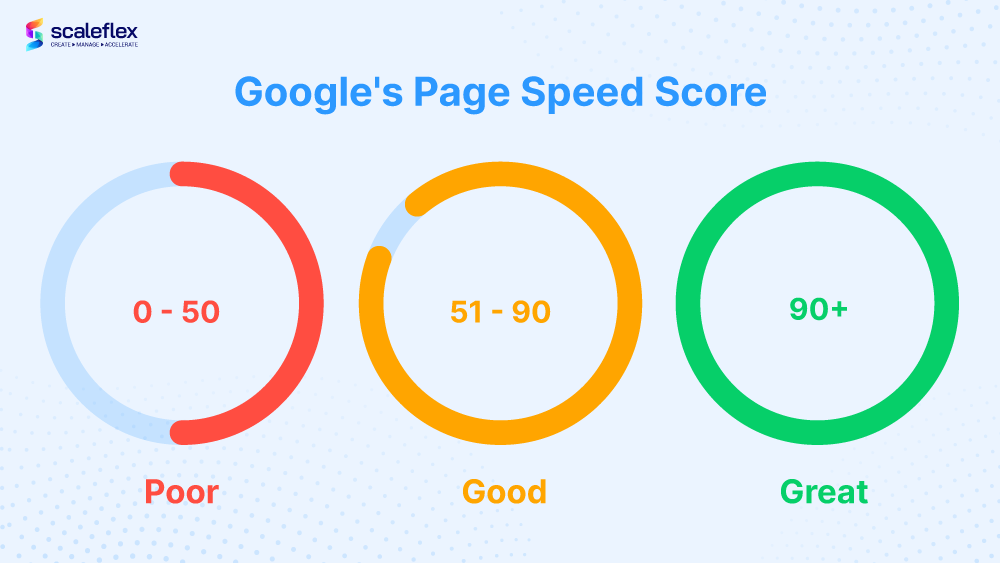 The Core Web Vitals assessment results will also be shown, providing you with a Pass / Fail rating alongside details for the three main metrics:
Largest Contentful Paint (LCP) - measures user experience based on the time taken to render the largest blocks visible to visitors
Cumulative Layout Shift (CLS) - identifies content that shifts once a page loads. CLS is related to the ease or difficulty of a user's experience when navigating a website
First Input Delay (FID) - measures the input latency (the time taken for a page to respond from a user's perspective)
It also provides you with some specific suggestions on where you can improve which we will cover a little bit more later.

You can also run your website through Scaleflex's Website Performance Report to see how Cloudimage's media optimization solution can improve your page speed.
Return to the Table of Contents
Gain best practices to boost your page speed
Now that you're all set, let's look at the best practices to boost your page speed for SEO. There is, of course, a lot more to do in the page speed optimization process than what we're covering in this blog post, but here are the key ones that help answer how to do superfast SEO.
Optimize images
We've placed image optimization at the top as it is the biggest win. After all, images take up the bulk of your page's size, about 50 - 90%.

Image optimization helps to create lighter pages by decreasing the load times and network resources. It also plays a large part in running a consistent and successful SEO strategy.

Serve next-gen image formats

In particular, it is important to use modern image formats like WebP and AVIF that offer much better compression than JPEG and PNG. This would greatly improve the speed of the website.

As part of optimizing images, you should also use responsive images as having large images on mobile will slow it down, affecting your mobile SEO speed. Lazy loading is another important feature as it defers some images from loading until your users arrive at that portion. This would help improve your First Contentful Paint (FCP) time, a critical website speed SEO Core Web Vitals metric.
Transcode videos
Having amazing animations to help users visualize your products is excellent, but it is not exactly valuable if they are constantly buffering. Similar to images, videos take up a significant portion of your page's weight. Video transcoding and adaptive streaming processes can help you to solve this to deliver optimized videos to your users, speeding up your page speed and, in turn, SEO.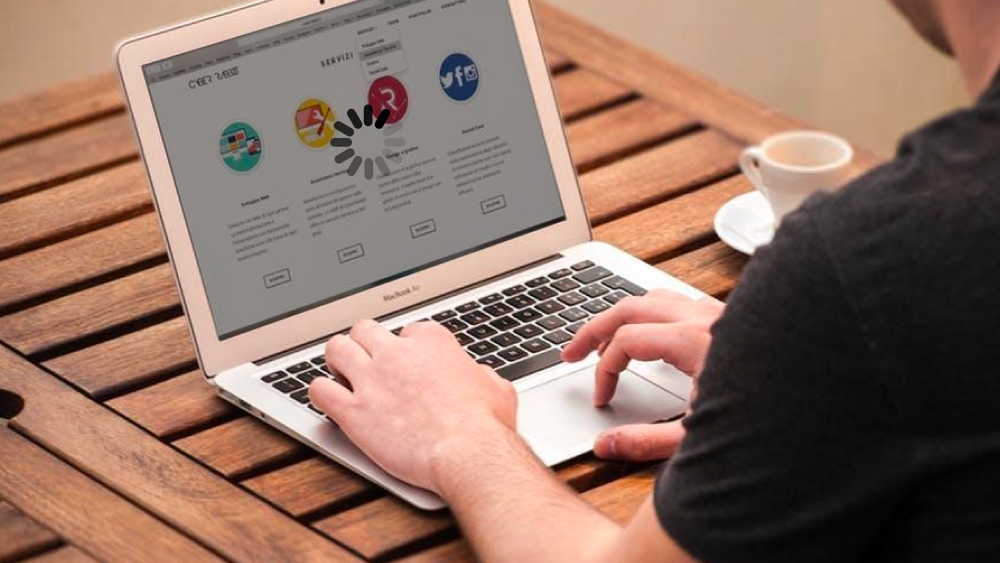 Implement a CDN
Content Delivery Networks (CDNs) are another easy win. It helps to detect where your user is geographically located (especially for global websites) and serve up your site's cached resources from a server closer to them, improving page speed. Without a CDN, a user who is surfing your website hosted in the United States from Australia will experience longer load times than someone who is surfing it from within the US. Again, this means SEO page speed is affected.
Key Takeaways
Ultimately, since page speed is a ranking factor , websites should aim for better and faster sites. Not only do faster speeds help Google bots crawl your website easily for SEO purposes, it also helps in numerous business aspects such as lowering bounce rates, increasing conversion and improving a user's experience and impression of your business.

Page speed and SEO optimization is a long game. If you would like some help improving your page speed for better SEO and Google Ranking, request a demo with one of our friendly Scaleflex heroes for a non-obligatory performance review of your site!
Return to the Table of Contents
---