Website Speed Optimization For Global Websites: How To Manage It?
Website speed optimization is a major factor in SEO, and it's one that many businesses are still struggling with. However, if your site isn't optimized for speed, you're losing money to competitors who have made an effort.

The stakes are much higher when running a global website as it can be hard to optimize for each country. Thankfully, there are ways to manage your site's speed across different countries to ensure they have the best experience possible.
Table of Content
What are the pros and cons of a global website?
Global websites are designed to support an international marketing strategy and expansion by presenting users with multiple language choices. The benefits of a global website are replete. Not only can you reach a larger audience, but you can also have content specifically tailored to different audiences.

Yet, the cons of a global website are that providing a seamless experience to your global audience takes time and effort. A website may work well in one location but perhaps not the other, hurting your chances of converting those visitors into customers. That's why website speed optimization for global websites needs a more targeted approach.
What are the metrics that matter for your global website?
Core Web Vitals
The Core Web Vitals is a set of metrics formed by Google as a standard to help developers interpret how a visitor experiences a web page. It evaluates the Largest Contentful Paint (LCP), First Input Delay (FID), Cumulative Layout Shift (CLS), and the newest being Interaction to Next Paint (INP).

This metric is applicable to every site, global or not. You can run your site through a global website speed test via PageSpeed Insights or GTmetrix.
Data from Google Analytics
Apart from the usual CWV metrics, website speed global optimization strategies should also examine data from Google Analytics.

Google Analytics has a lot of great data on how users in different areas are using your site, including where they come from (Audience > Geo for Universal Analytics and Reports > Demographics >Demographics details: Country for Google Analytics 4) and how long they stay on the page before leaving (Behavior). You can use this information to ensure your site loads fast enough in every area.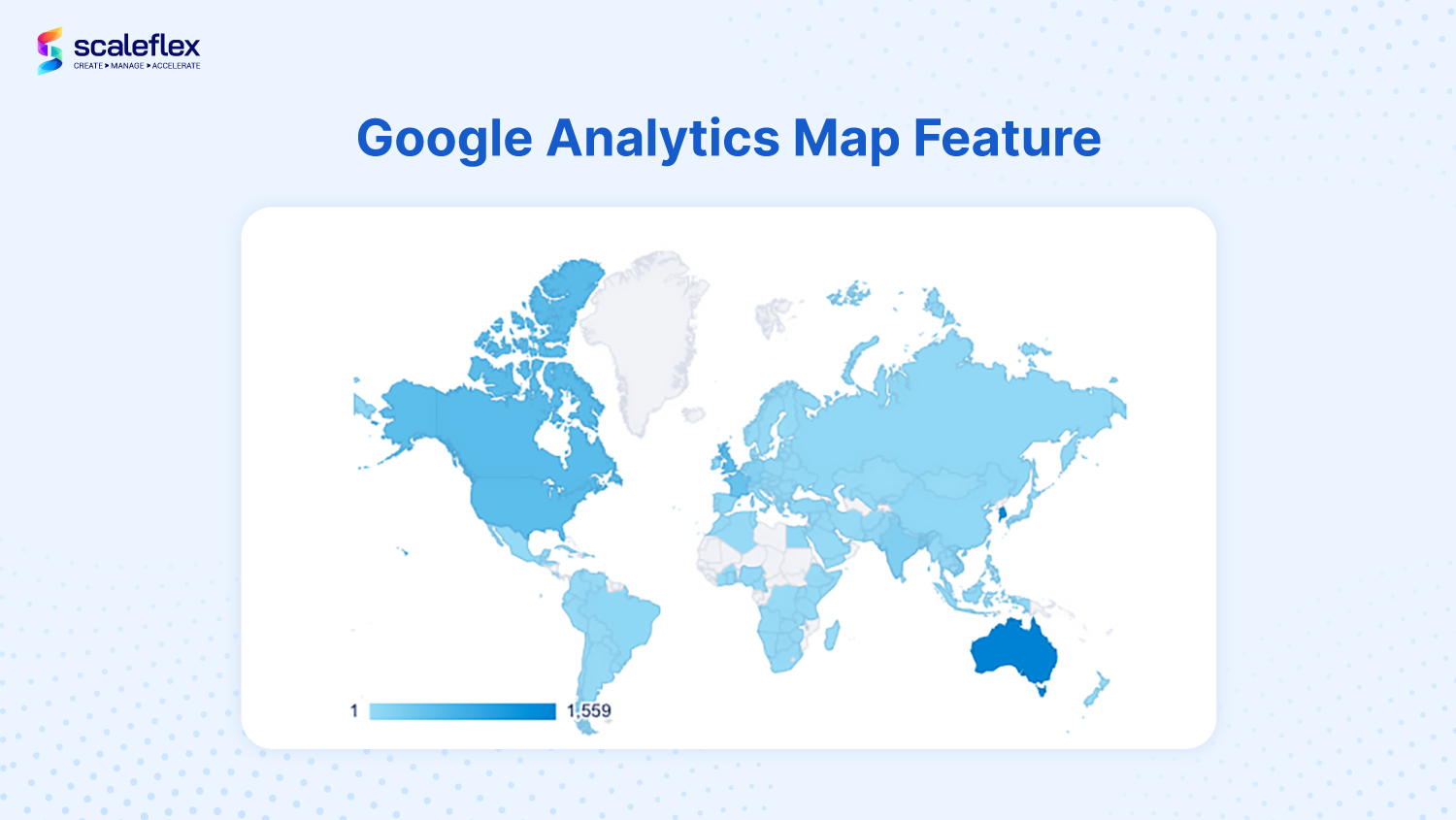 In particular, these are the metrics that matter most:
Traffic: The number of visits and visitors to your website (sessions and users) is a key measurement of site reach and growth.
Bounce Rate: Indicated as a percentage of single-page site visits, bounce rates reflect user engagement and the quality of content. Yet, website speed in different locations may also affect this metric.
Pages Per Session: This measures the average number of pages viewed when a user visits your site.
Average Session Duration: This indicates the average length of all site visits.
The above metrics help inform you whether or not your website speed global is doing well. For example, if you see high bounce rates from a specific location, it might indicate that users from that location may experience slow page loading speeds compared to others with lower bounce rates.
Data from Real User Monitoring Tools
Another useful metric is data from real user monitoring (RUM) tools. Unlike synthetic monitoring, it helps to estimate the quality of user experience based on network connectivity, page load times, and interactivity.

Page speed international website needs just more delicate care. Website speed test global using RUM goes beyond examining Google's web vital data and considers geospatial data such as country, city and ISP. This helps companies with global websites segment their visitors based on geographical regions so they can better understand how their web pages load across the world.
Return to the Table of Contents
How to improve global website speed?
What are the ways to improve website speed and page speed? Are they the same for global websites? Let's have a look: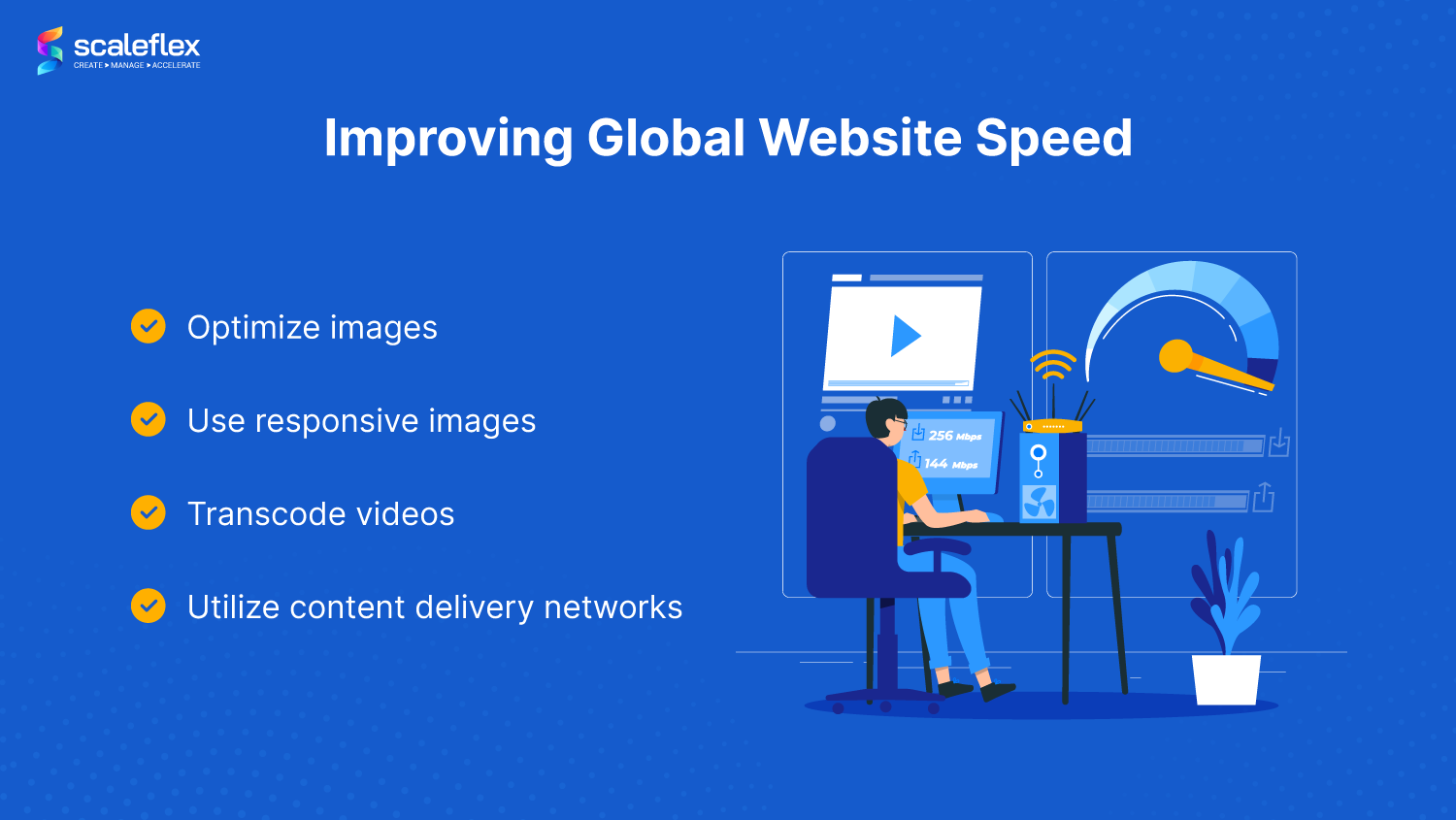 Optimize images
Since images take up the most page weight on a site, having images that are too large and take too long to load is obviously going to slow down page load times for all users - but especially for those who live in places with slower internet speed or slower connections (such as rural areas).

To solve this problem, image optimization is necessary to reduce files without losing quality and will drastically speed up page load times.
Use responsive images
Nowadays, users no longer keep to a single device to surf the internet. Responsive images are key in ensuring that your website works well across devices. By implementing responsive images, you don't need to use a large image on a small mobile screen, which helps boost your site's performance.
Optimize videos
Many websites now make use of videos to improve the engagement of users on the website. Optimizing videos using video transcoding and adaptive streaming technologies will eliminate the annoying problem of buffering.
Utilize Content Delivery Networks
How CDNs work is that it caches content at the nearest possible points-of-presence (PoPs). When the website content is cache in the nearest PoPs, users can access your website much faster than if you do not already have a CDN. After all that optimization, delivering all your images over Content Delivery Networks is necessary.

Other than improving website speed, CDNs can also help protect your global website from malicious intruders.
Return to the Table of Contents
Case Study: Michelin
Michelin is a French multinational tire manufacturing company that manages over 250 websites across 40+ countries. As a global website, web performance is a priority of the Digital team, which wants to spot weaknesses at the earliest instance and iterate constantly.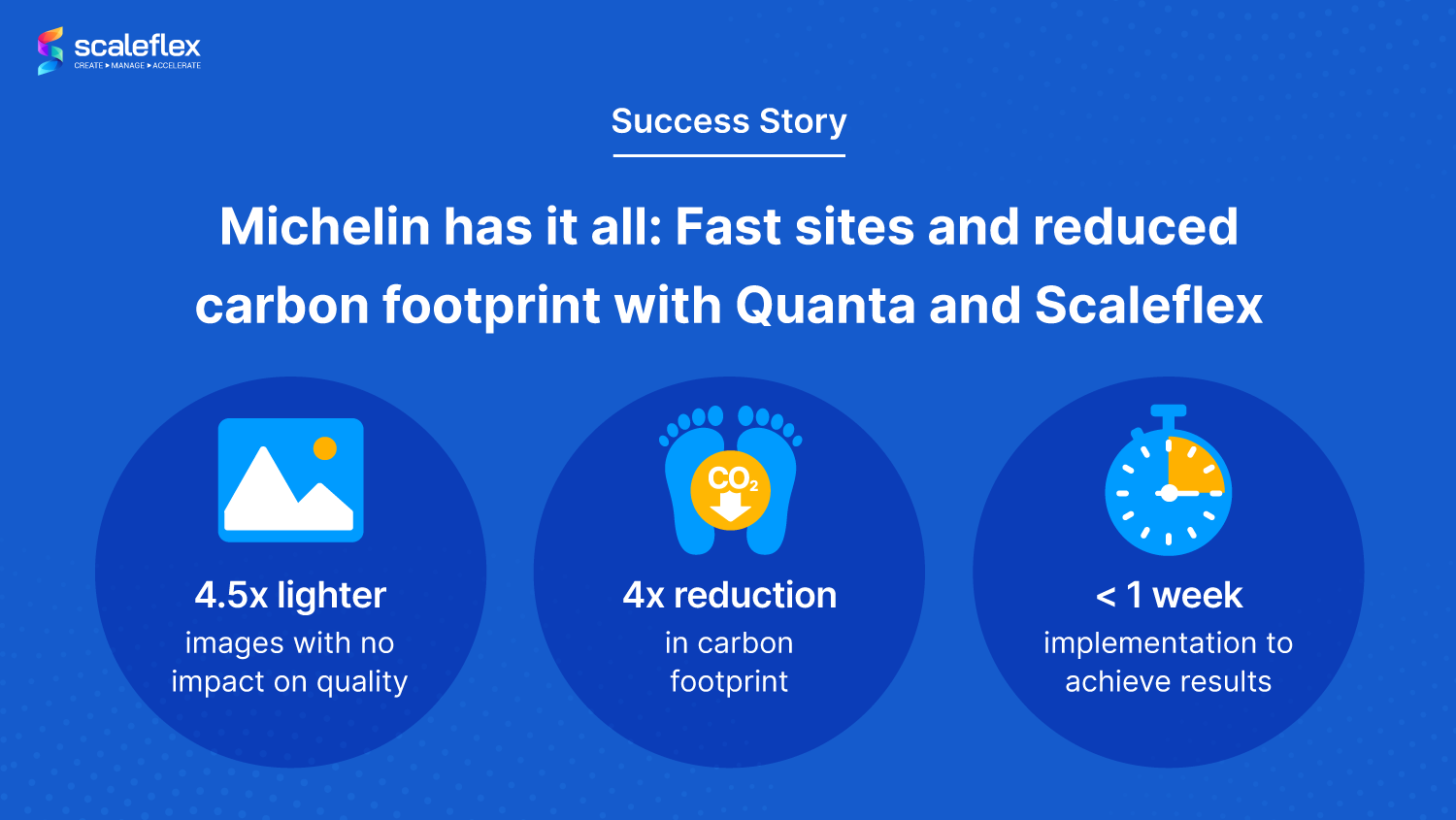 To address their challenges, they implemented a real user monitoring dashboard on their website, Michelinman.com, and identified their performance score. They then utilized Scaleflex's Cloudimage web performance optimization solution to smartly compress, optimize and deliver images via its multi-CDNs.

They implemented Cloudimage and achieved results in less than 1 week:
4.5x lighter images with no impact on quality
4x reduction in carbon footprint
Huge decrease in data transfer
Faster user experience
Read the case study to find out more.
Return to the Table of Contents
Special Case: China
With over 400 million users in China, large and medium size companies have huge opportunities to expand their customer base and increase revenue. Yet, many companies are still not able to successfully expand their market into China. Why?

Website speed in China is a whole different game:
Global websites need a special technique as many best-in-class technologies do not work the same in China
China's internet infrastructure introduces delay, which impacts user loading times
The Great Firewall of China slows down website loading times by 40%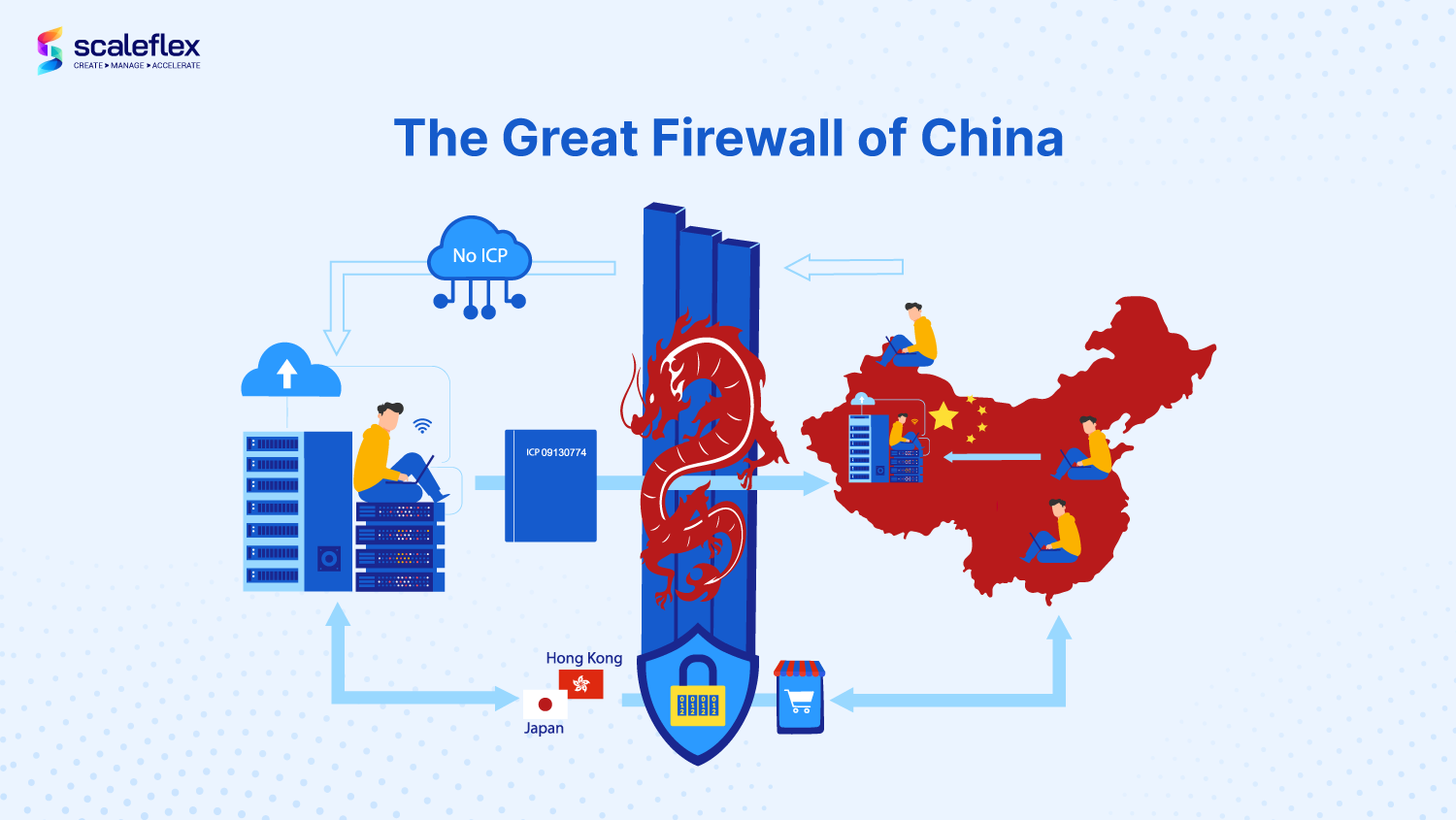 Therefore, website speed optimization matters even more in China. And the special techniques to improve your page speeds in the Chinese continent? You'll need a web performance solution dedicated to surpassing the great China firewall.

Here, we invite you to explore Scaleflex's Digital Asset Management and web performance solutions that have been specially designed to deliver website content anywhere in the world with the highest performance and dependability.

Our China Acceleration solutions offer 3 ways to penetrate the market: Near-China Acceleration, Mainland China Acceleration, and China Virtual Private Line.
Key Takeaways
Overall, website speed optimization for global websites presents a more significant challenge. Not only do you have to do all you can to optimize your website speed, global website performance, and ensure a seamless visual experience, but you'll also need to take into account how your site loads differently across the world.

As such, your best bet is to have a reliable Digital Asset Manager and Web Performance solution like Scaleflex. If you are keen to find out more, schedule a chat with our experts.
Return to the Table of Contents
---