Free Digital Asset Management Platforms: Do they exist?
Are you looking for free digital asset management software to help you store, organize and manage your important documents and media files? Suppose you've been diligently searching for one for some time or even tried out the free trial solutions. In that case, you'll soon realize that most "free" options come with basic features or are technically challenging to implement.

If you're starting your freelance career or startup, that may still be useful for you. However, as your business grows, the number of digital assets produced increases exponentially. That includes slide decks, product images, brand logos, animated videos, collaterals, documents and contracts. These are assets for businesses and should be treated as such!
Table of Content
How Digital Asset Management software works?
Have you ever seen desktops crammed with file icons and numerous folders? What's even more painful is the tedious search to find a file you desperately need for your next meeting - and when that file is an image or video recording that is not correctly named or tagged. It spells disaster! This is a typical illustration of poorly managed content.

Digital Asset Management (DAM) software allows you to manage your digital assets (such as photographs, images, videos, and documents like PDFs) by providing a central location for all your files. DAM solutions enable different employees to access, search, retrieve, share, and collaborate on digital media assets in one place and at the same time. No one needs to worry about losing track of their files or accidentally overwriting another person's work.
Key features of Digital Asset Management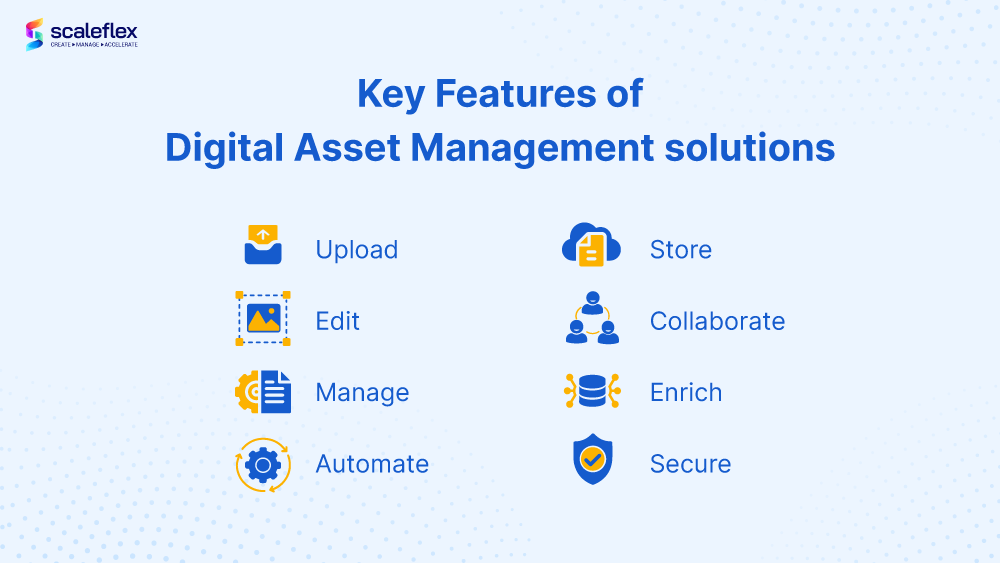 Upload
With one click, you can upload or bulk-upload numerous types of digital files into your DAM via an uploader widget, an admin console or via an API to centralize your digital and media assets in one place. Permissions and user roles help you to assess and approve user uploads.
Store
All your digital assets, be it images, videos, audio recordings or documents, can be securely stored as DAM software stores data in servers by creating a library, archive or database.
Edit
Marketers will know that different channels require different sizes and dimensions of images or even file formats. The great thing about Digital Asset Management solutions is those good ones can assist you in making simple but necessary image transformations without any design expertise.

Require a photograph for Instagram? Checked. How about a different dimension for Linkedin? Checked. What about background removal? Yes, some do it too!

Look forward to image editor features to ace your omnichannel marketing strategies!
Collaborate
No man is an island - which also applies to the entire content operations lifecycle! Whether you're a freelancer looking to send drafts to your clients or a manager searching for all-in-one feedback and approval workflow management solution, Digital Asset Management software can help you with it.

Team members can work on a project from a single, centralized platform without wasting time finding the right version.
Manage
Manage your digital assets with versioning and duplicates control features, which help eliminate duplicates and ensure that your team always gets the latest and most updated assets. Save time and eliminate lengthy processes of figuring out which is the right document!
Enrich
Searching and retrieving digital and media assets is fuss-free with a DAM. Auto-tagging features help add meta-data to images and videos for easy retrieval.
Automate
Automation is key to boosting the efficiency of businesses large and small. DAM with AI features such as image recognition, background removal, auto-tagging and smart-cropping can help accelerate your content-to-market speeds.
Secure
When everything is on the Internet, security is vital! Good DAM providers should have layers of security protocols to protect your data. Even better if your provider adheres to high data security regulation standards, such as GDPR compliance.

Differentiated access controls are another essential feature to restrict information to specific people. A freelancer working in your company for a month on a project should not have access to all of your company's confidential files. And when working with individuals outside your organization, they shouldn't have the same rights to add or delete files as your employees.
What are some other good-to-have features?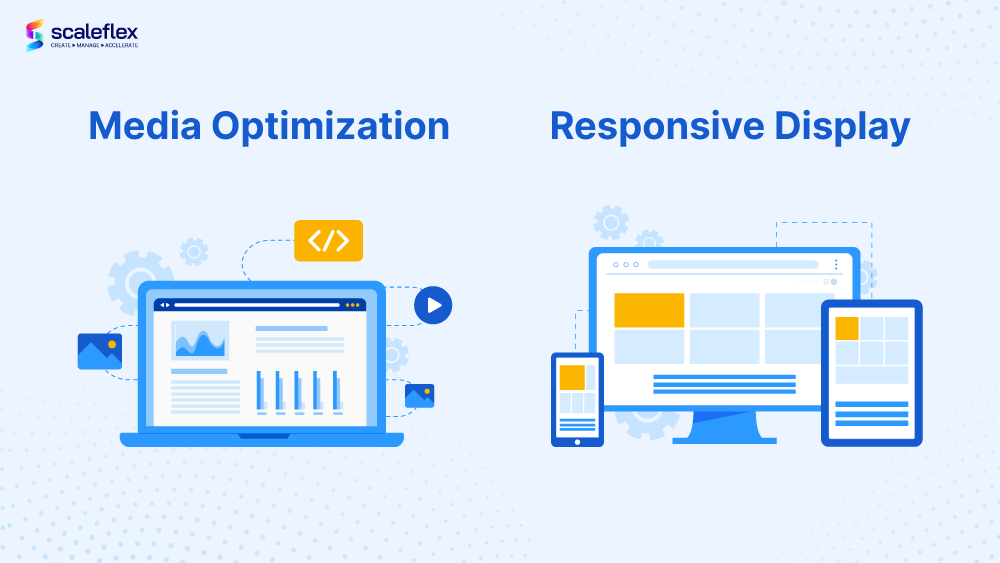 Optimize: In the race to the top of Google rankings and SEO, image and video optimization are essential. If your DAM can help you resize, compress, transcode and accelerate your images and video worldwide, you don't need to rely on yet another external tool to do so.

Responsive: With users viewing your websites on different devices daily, responsiveness is critical. If your DAM has features to help create responsive assets, you'll be able to deliver a better user experience and increase conversions!
Return to the Table of Contents
Choosing the right Digital Asset Management free software
With that many valuable and essential features in a DAM, it is not surprising that very few comprehensive free Digital Asset Management platforms are available in the market.

Another thing to note is that digital asset management free or open-source software does not have customizable options. An E-Commerce business interacts with DAMs quite differently from a Real-Estate or Banking and Finance business. As your company is unique, you'll need a customized DAM, not a "one-size-fits-all" solution.
Assessing your company's DAM needs
Before shortlisting a provider, free-to-use or not, you'll need to understand, assess, and prioritize your company's requirements for a DAM. After that, you can start searching for DAM providers that meet your requirements.

If you're not sure how you can assess your company's needs, our DAM Whitepaper can guide you through the process.
What are some ways to obtain a free Digital Asset Management software?
There are generally 3 ways to gain access to a Digital Asset Management free software:

1. Open-source DAM: If you have the technical expertise, you can choose to deploy an open-source Digital Asset Management solution, such as ResourceSpace and Razuna. That said, remember that the software is free, but not necessarily the cloud storage and CDN server space. You'll have to source for providers for that separately.

2. Free Trial: DAM providers like Nuxeo, Pics.io, Pimcore, Bynder, Keepeek and Canto offer free trials. The cons? Sometimes, these free trials may not offer you the complete set of features to try out or you may run out of time even before adding your assets and testing the software.

3. Free Demo: Mediavalet, Widen, Wedia and Scaleflex offer free demos to grant you some insights and provide use cases as to how powerful their DAMs are. This is by far, one of the better ways to have access to a Digital Asset Management solution without that much investment. By having someone talk through how the DAM is used in a similar use case can help you make the right decision.

Having software that can help manage your digital assets without paying anything is amazing! Yet, price should not be your main consideration if you want an effective Digital Asset Management tool that will genuinely support your content operations. Look instead for one that addresses all your company's needs.
Return to the Table of Contents
When should you pay for a DAM?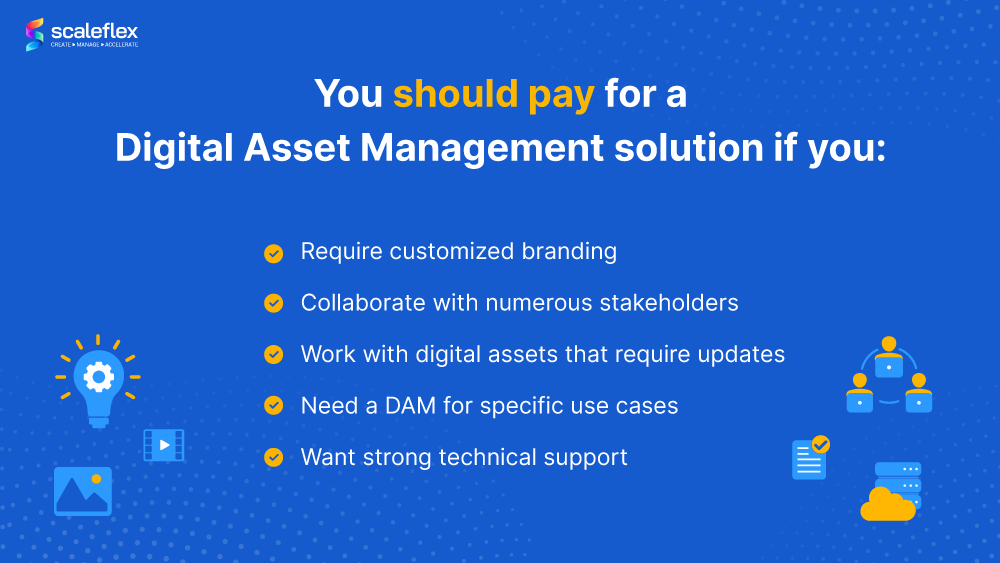 There's no one correct answer to this question, and it depends on your company's use case and stage of growth. We have a few generic points that you may wish to consider:

You need customized branding: If it matters to have your logo and branding colors when sharing files with other stakeholders and customers, then a paid solution that you can brand with your own colors, logos and custom URLs can help boost your brand reputation. You can even integrate DAMs with your website so that clients feel that they are not sent to another place when viewing, downloading, and uploading files to you.

You collaborate with a lot of internal and external parties: When you need extensive security features, investing in a good DAM makes a lot of sense. Having user roles and permissions control lets you control what can or cannot be accessed.

You work with digital and media assets that require multiple updates: Companies that need constant updating and evolution of collaterals, logos, and websites should pay for a DAM that offers versioning control, saving time to replace URLs, images, visuals on the website continually.

You need a DAM for specific use cases: Every company is unique, so should be your DAM. A free Digital Asset Management software cannot be customized, and if you need one that fits your specific needs and requirements, it is wise to invest. For example, marketplaces that rely on user-generated content may need automation to save time vetting through thousands of visuals daily. These advanced and specific features are usually not included in a free DAM software.

You need strong technical support: If you don't have an existing tech team, then you'll need a paid DAM provider that can offer you technical or product support with quick turnaround times.
Ready to Boost Your Content Operations with a DAM?
The price-point of a Digital Asset Management platform should not be your primary deciding factor, as this may mean you would have overlooked better providers that don't have a digital asset management software free trial or open-source version.

Seasoned DAM experts will tell you that there is no such thing as a free lunch in the DAM world! They'll say that choosing the right DAM is so important as you'll have to take into consideration the amount of time and effort you'll take to implement a DAM with a free trial and then the pains you'll have to go through once you find out it is insufficient and want to switch providers.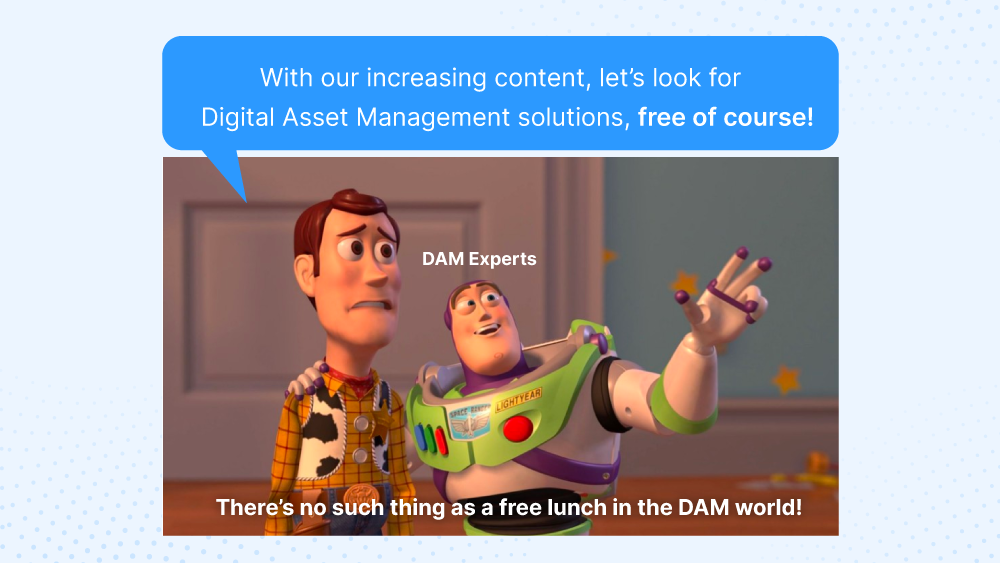 Gain control of your digital and media assets from day 1 and look for DAM vendors offering free demos or free consultations to make the right investment.

Scaleflex offers customized, at-scale solutions to meet your digital asset needs. Select our Collaborative DAM with sleek, customizable UI and multilingual dashboards, or integrate our Headless DAM seamlessly into your existing environment. Want to learn more? Schedule a free demo and consultation with our friendly DAM experts today!
Return to the Table of Contents
---