360 Degree Product View: Why Rotating Images Can Boost Your Sales
What is the best way to assess a product you plan to purchase from an e-commerce store? Since the product is online, the best way to get an idea of it is by viewing the available images to get a 360 product view. The more qualified the images, the better perception of the product you will havе, thus increasing the chances of buying it.

Over the past few years, 360° product images (also known as 360 spin images and rotating images) have become more of a necessity rather than a luxury in e-commerce, and can be considered more important to sales than standard product images. Long story short, 360° images make the product evaluation process a lot easier for potential customers, and have the capacity to boost sales significantly. They also increase the time spent on a page, improve the overall user experience, and minimize the risk of product returns.

The biggest downside to an online store is that you can't really interact with the product, and this is where 360 spin images come into play. They allow you to view the item from all angles in great detail, zooming in and out and giving an interactive feeling to the website. E-commerce, however, is not the only sector that profits from 360 product images. Hotel, automotive and real-estate business websitescan perform better, if they are equipped with such imagery.

How can you create 360 product images? They can be created in a professional photography studio and by using a specific software application. The first option is quite costly and time-consuming, whereas the second one will save you both time and money, especially if you have a large inventory catalog.

In this article, we will tell you everything you should know about 360° images, including their creation, and tell you more about why your online business might need them.
Table of Contents
What Are 360° Product Images?
The definition is kind of straightforward and self-explanatory. 360 degree product images can be described as a series of still, high-resolution photographs of an item, which users can rotate with the cursor or touch screen. The item is photographed in sequence utilizing a specific 360 photo turntables, rotating on one plane. The process is "overseen" by specific software that controls the turntable and camera.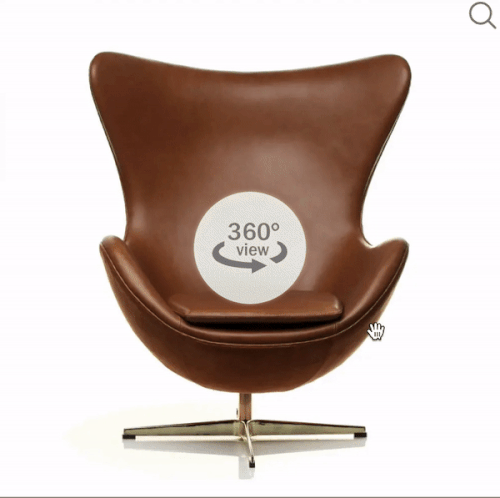 How does the turntable work? It rotates and stops at predefined degree intervals (usually at 15 degree increments), at which the software activates the camera shutter to capture the picture. The "360 effect" comes when all the pictures are displayed in a specialized 360 view application that plays in a browser. The pictures are shown in sequence, allowing the customer to rotate the item and zoom into it to view it in greater detail.
Which Businesses Need Rotating Images?
Any business that relies heavily on providing high-quality visual experience of a place or a product; more specifically, e-commerce, hotel, automotive and real estate are good examples of businesses that can thrive on 360 rotating images.

Let's think of an example. Imagine that you own a beautiful hotel in an area known to attract lots of tourists. How will you lure these tourists in? Of course, the first thing you need is a full-on professional marketing strategy but we are here to give you a particular tip. Let's face it - long gone are the days of "walk-in" reservations. Today, every vacation starts online.

Integrating photos with a 360 degree view to your hotel website will create a persuasive narrative. Your potential customers will be able to picture themselves in your hotel. You will be able to show everything about it in a high-definition, interactive manner - from the lobby, to your best, most luxurious suite. Images tell stories and nurture the imagination. Correction. 360 product images tell stories and nurture the imagination.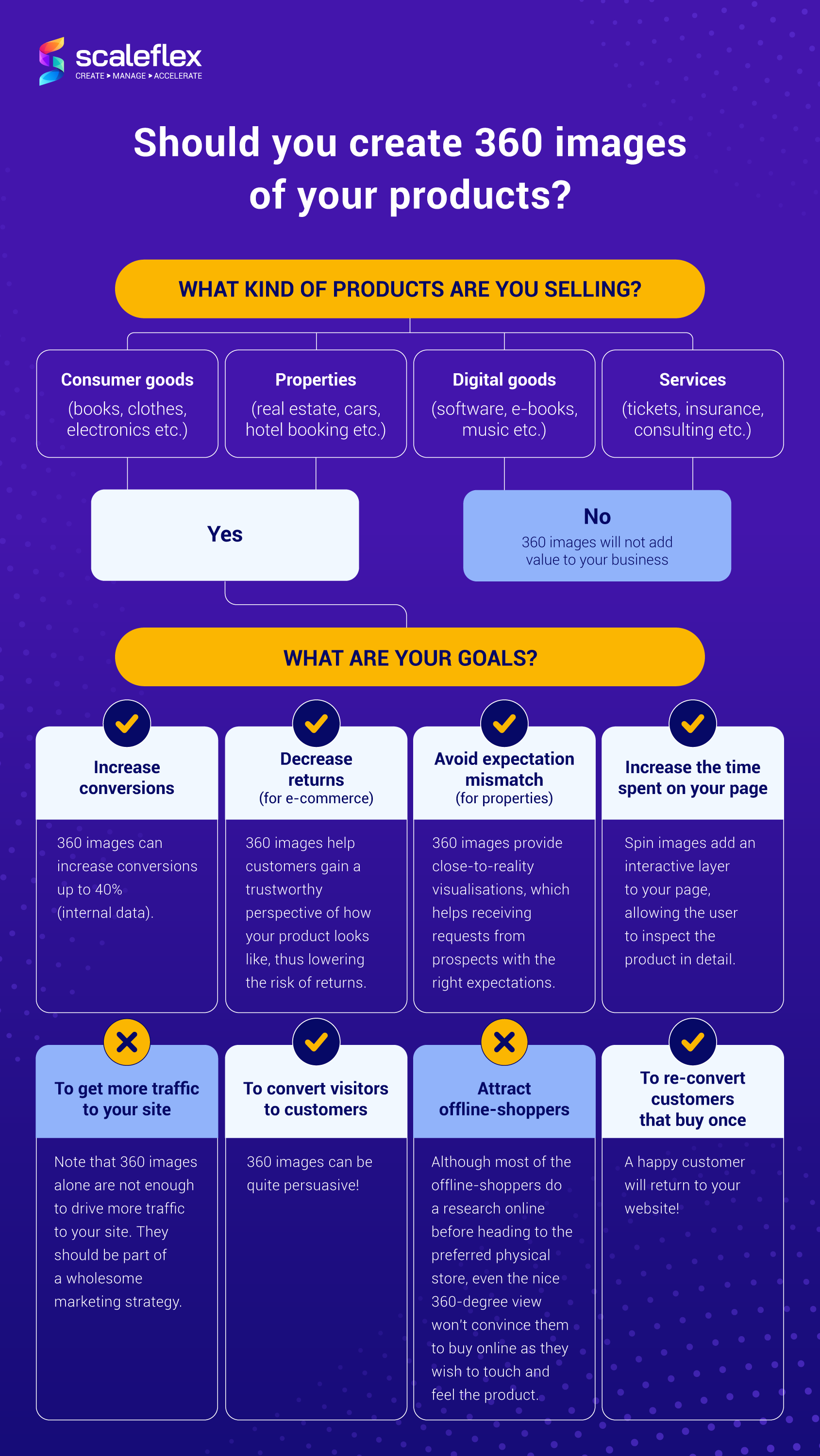 Can 360 Product Images Boost Your Sales?
With no hesitation - yes. To illustrate the concrete "yes," we will give you some statistics.

Did you know that only about 2 percent of e-commerce website visits convert into a sale? This translates to only one in 50 online users actually buying a product! In other words, the so-called shopping cart abandonment is the biggest nightmare of e-commerce store owners. Talk about abandonment issues!

A Baymard Institute analysis of 44 studies carried out between 2006 and 2020 recently revealed that the average cart abandonment rate is 69.8%. Even though most shoppers abandon items because they are "just browsing" or not ready to purchase, others abandon carts due to issues with pricing, delivery, and website performance.

Why are we telling you these, well, discouraging statistics, in a place where we should be talking about boosting sales? It's simple – to highlight the importance of an excellent e-commerce user experience. On the backend of things, 360 images can be good for your SEO, too. Posting a single such photo to Google My Business has shown significant impact on local search results. Let's not forget that Google itself is quite keen on this type of photography (Google Street View, anyone?).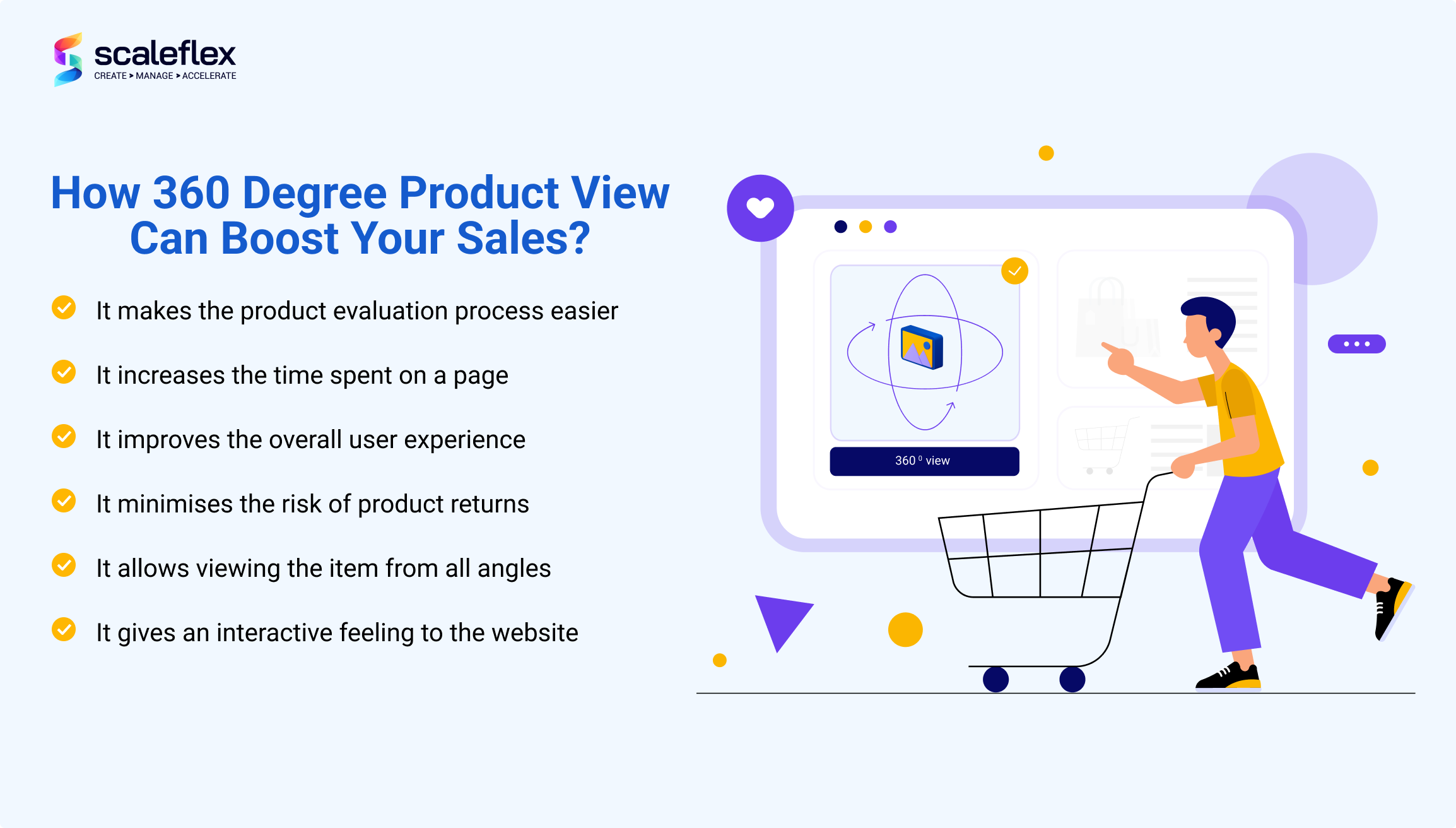 Your online store needs to be stronger than the average stats and should provide a wholesome experience to the visitor. Since images are the ones telling the story of your products, make them 360. And make them good! Let's see how.
The Process Of Creating 360 Degree Product Images
What do you need to create 360 photos? Here's a short list of the things you need:
The right equipment (including camera, lenses, and the turntable we mentioned earlier)
The right lightning
Products in perfect shape (so that you get perfect results)
360 image software or plugin
The minimum number of pictures you should create is 24 to 36 product photos from various angles. However, keep in mind that the best quality may require more than 60 photos. One crucial step in creating these photos is resizing them; otherwise, the rotating image would be too heavy. The final step would be combining all the images in one spinning image by using the appropriate 360 image plugin.

Smart tip: 360 spin photography requires you to handle and adjust your product and light during the setup stage. There's the chance that you may need to keep re-adjusting the product, so that it is positioned properly to the camera. This may sound easy but it is not – while you're re-adjusting the item, you should be careful not to obscure any part of it as it is rotating.
Ways To Approach The Production Of 360 Views
As a matter of fact, before starting the process, you should evaluate all the options. Here are several scenarios to consider before making up your mind.

Decide whether you want to hire a digital agency to take care of everything. Of course, this depends on your budget. Hiring an agency is quite pricey.

Then, there's the option of hiring a professional photographer for the photoshoot, and a web designer to resize and merge the 360 images. This option is not only expensive but also time-consuming. If you want to make a budget cut, you can use a professional photographer for the pictures but combine them yourself. This will save you some money.

Finally, there's the option that may seem too scary or too challenging – do it yourself (shortly known as DIY)… and save a whole lot of time and money. After all, how hard can it be?
The DIY Production, in a Nutshell
1. Place the product in the center of the 360 turntable at the necessary camera angle. Prop the product, if needed.

2. Adjust the lights in accordance with the product, so that it has enough light all around it. Be careful not to create glares in the images.

3. Enter the exact number of images you want to take in the turntable's software.

4. Make a test spin to make sure everything looks good. Re-adjust lights and composition, if necessary.

5. Click the Start button, and the first image will be taken; the turntable will rotate, the second image will be taken, and so on, till the number is completed.

6. Note that the software names individual image files according to the sequence in which they were taken. This is how the software plays the images, too, while you can rotate and zoom the product.

7. Research and find a quality 360 tool or plugin to merge the images.

8. There it is! Your 360 images gallery is ready to impress the world!
Conclusion
The impact of 360 product photography should not be underestimated, as it can help you sell your products by improving the buying experience. Thanks to the 360 image, you can display any item interactively. You will increase user interaction and the time spent on the page, which will also positively affect the overall SEO.

The best news is that, to integrate a 360 view images gallery to your e-commerce site, you don't need to hire a professional team. With the right 360 image plugin, such as Cloudimage 360 view plugin, you can do wonders. The plugin will help you win your customers with an impressive 360 view of your products.

To learn more about the process of using the plugin, we invite you to watch the following video:
FAQ
What is the difference between a 3D and a 360 image?
This is an excellent question, as the two terms are often used interchangeably even by professionals. Technically, a 3D and a 360 image are not the same. As we already established in the article above, 360 spin photography requires the use of a turntable. The product is placed on the turntable in a single plane, whereas 3D spin photography requires multiple planes. In other words, the camera will move up and over the item, and will also capture a comprehensive 360 view around it.
---