Discover the Latest Digital Asset Management Industry Statistics and Trends
Digital Asset Management (DAM) has become an essential part of managing digital assets effectively. Companies that manage digital assets without the help of DAM systems may face challenges such as difficulty in finding assets, duplicate files, and disorganized file structures. DAM systems offer a centralized location to store and manage digital assets, providing an easy-to-use platform to find, share, and collaborate on digital assets.

In this blog post, we will explore some interesting statistics on Digital Asset Management that demonstrate the importance and benefits of implementing DAM solutions.
The Challenges of Managing Digital Assets
Managing digital assets presents a myriad of challenges for organizations of various sizes. The exponential growth of digital content, ranging from images and videos, to documents and multimedia files, has made it increasingly difficult for marketing, sales, and design teams to organize, find, and maintain the accuracy of these assets.

1. 52% of adults in the US use an average of six digital channels (Forrester).

2.70% of B2C marketers say that content marketing has become increasingly important to their organizations (Content Marketing Institute).

3.39% of decision-makers find that asset management systems that are siloed are the top challenge in building customer experiences (Little Black Book).

4.35% of these decision-makers see duplicate content in various locations as a pain point (Little Black Book).

5. 83% of employees had to recreate a particular asset just because they couldn't find it. (Documill)

Teams often struggle with version control, wasting valuable time searching for the right assets and facing compatibility issues across various platforms. Just think of that time when you want to send your company's latest brochure via email to a prospective client - but your email client doesn't allow you to send large files! You'll then need to go through lengthy processes to compress them on a third-party site.

6. Employees spend 1.8 hours each day, and 9.3 hours a week searching and gathering information (McKinsey Report)

7. In a week, 7 hours go to waste thanks to duplication of marketing work processes (Net imperative)

8. In a year, recurring tasks are costing businesses 19 working days. (Information age)

Moreover, maintaining brand consistency across different channels and ensuring compliance with licensing and usage rights pose additional hurdles.

9. Misusing digital assets can potentially cost companies an astounding $150,000 for each infringement (Petapixel)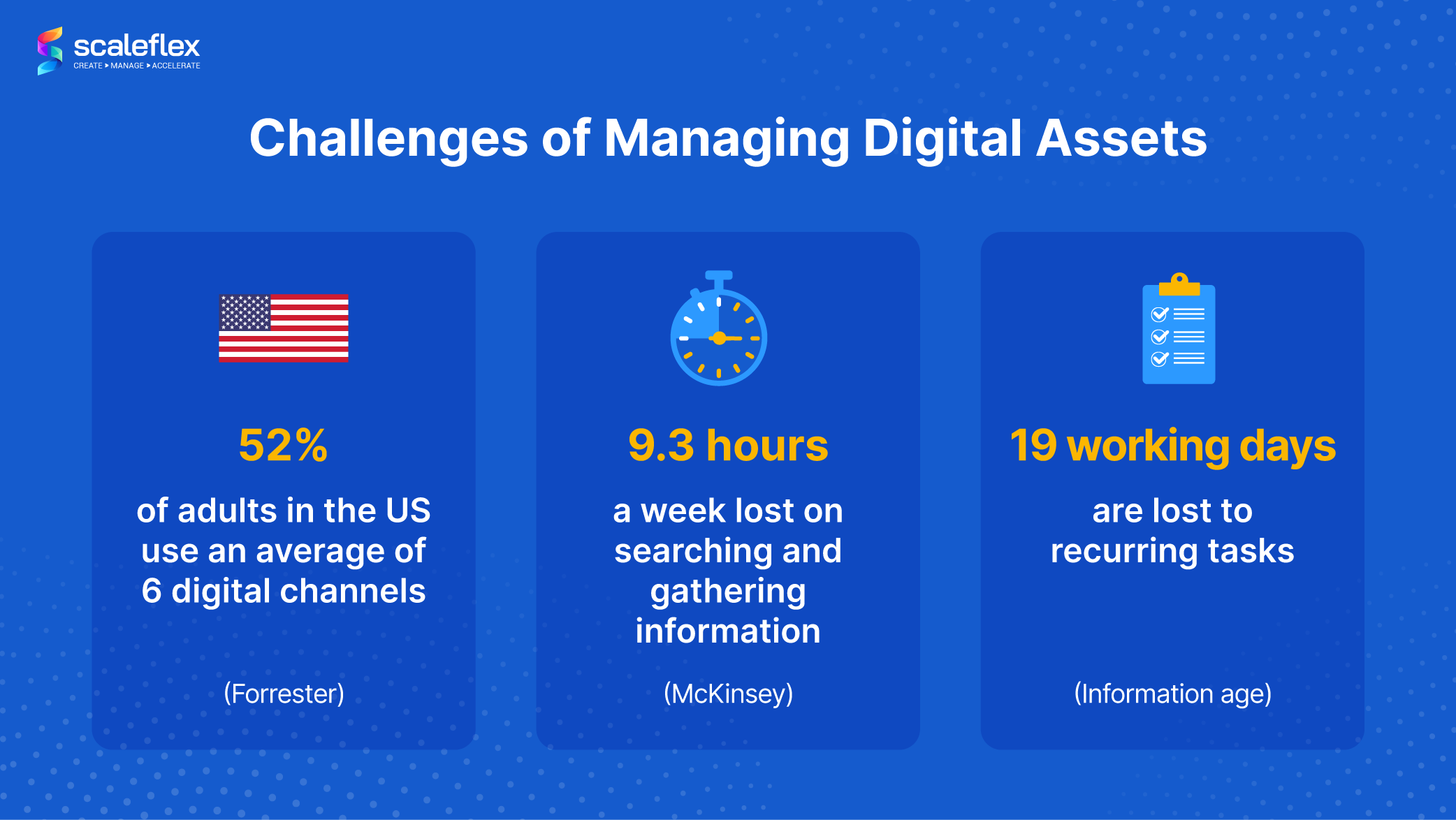 The Digital Asset Management Industry Trends
The DAM industry is continually evolving to meet the growing demands of managing and leveraging digital assets effectively.

10. The global DAM market size is expected to reach $8 billion by 2027 (Markets and Markets Report)

11. 34% of the DAM market growth originated from North America (PRNewsWire)

12. 72% of retail industries are investing in DAM, followed by 65% in manufacturing, 61% in financial services, and 54% in IT (Little Black Book)

13. 31% of marketing decision makers say that content management tools like DAM are critical in their marketing processes (Forrester)

Furthermore, several notable trends are shaping the landscape. That includes, AI-powered automations, automated metadata tagging for improved asset discoverability and organization, and MACH architectures and effective integration of DAM with other marketing technologies.
Digital Asset Management and Productivity Statistics
14. Streamlining content creation, improving visibility and reducing the amount of workflow steps can help companies save 1000 hours of time (Forrester)

15. It is 5 times faster to find assets with Digital Asset Management (Gleanster)

16. 97% of businesses with a DAM have reduced their content creation costs by 10% (Digital Marketing Blog)

"Fuss-free and easy-to-use, with minimal training required. This is what we were looking to manage challenges of high staff rotation schedules in the dealerships" - Eduardo Cisneros Escalona, Innocean Worldwide Mexico

17. Large files, >2 MB, that were difficult to send via emails can be done easily from within the DAM, saving lots of time and resources (Hyundai Case Study)

18. Easy-to-use widgets can be implemented within 0.5 days instead of weeks or months, saving businesses lots of unnecessary development time. (Go Car Case Study)

19. The unification of digital assets (images, videos, JS, CSS, and PDFs) into a central location avoids complexity and bad practices such as duplication, lost assets, and wasted time. (April Case Study)
Conclusion
These statistics demonstrate that implementing a DAM solution can bring significant benefits to companies, including increased productivity and efficiency. The great reduction in search times for digital assets, and ensuring that all these assets are organized and easily accessible, DAM solutions help companies create relevant content and maintain a consistent brand identity. Especially for marketers, DAM solutions help them reuse, repurpose, and manage their content more effectively.

Want to find out more about how a Digital Asset Management can power your content operations? Speak to Scaleflex's DAM experts.
---