Digital Asset Management for Education: Solving Content Management Challenges
In the fast-paced world of education, it can be hard to keep up with everything from student records to class schedules. But one thing that's impossible to ignore is that technology is taking over every industry - and education is no exception.

Research and teaching in higher education institutions are becoming more reliant on primary and secondary sources, available in forms other than conventional paper-based books, manuscripts, and journals. These resources are no longer purely in text forms but increasingly multimodal - visuals, images, videos, and sound recordings.

In the past decade, the number of digital assets and technologies that the increasingly digital native student population has access to has skyrocketed. Together with the growing number of online learning institutions, this booming content trend shows no signs of slowing down.

While universities might be tempted to stick with their tried-and-true approach to managing digital assets in this changing environment, we'd suggest taking a second look at how you can use a Digital Asset Management solution to make research life easier and more efficient.
Challenges of organizing digital assets in education
Institutions of higher learning have always been content powerhouses: They are accustomed to overseeing substantial asset collections as they serve as hubs for original research and guardians of dynamic libraries. In fact, such content operations are the lifeblood of higher education institutions.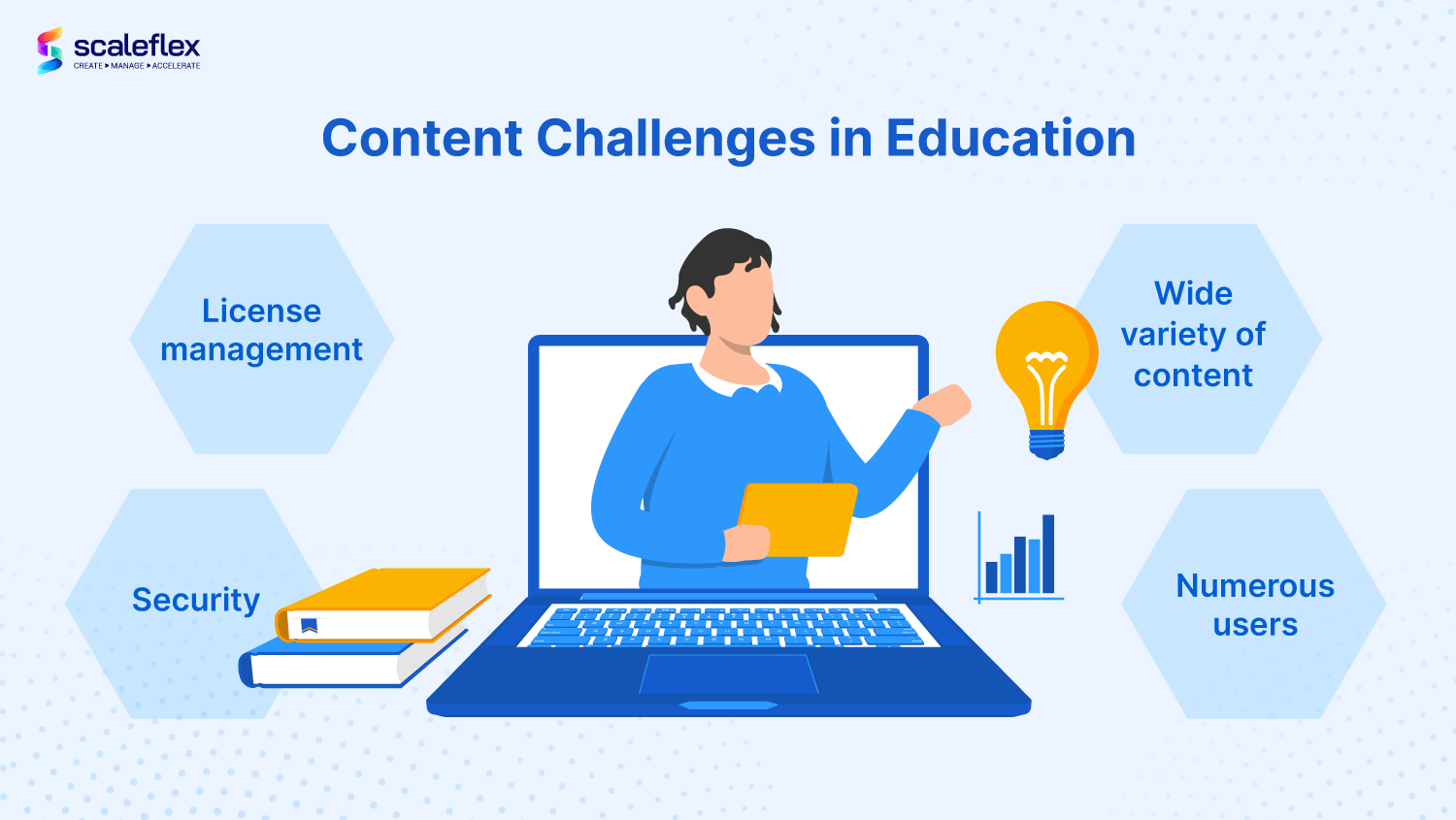 A wide variety of content
Universities and higher learning institutions have numerous digital and media assets, from slide decks, images to videos for teaching and PDFs for administrative purposes. Multimodal content is necessary to cater to students' different learning, depending on whether they are visual or auditory learners.

Gone are the days when professors could send just a PDF paper for e-learning. Now, they will need to create recorded lectures, quizzes, assignments, and upload them onto the institute's Learning Management Software (LMS).
Easily retrieved by numerous users, with varying degrees of permission
Not only do universities have to manage the vast forms of content, but these digital and media assets also need to be easily accessible to thousands of instructors and lecturers across the various departments and by staff, students, and stakeholders.

Imagine your school's professor being unable to access his presentation deck an hour before the lecture or if a student has access to the "teacher's copy" of the assignment - disaster!
Importance of secure storage
Research is a long process, taking months to years of a professor or a PHD candidate's time. These documents, voice recordings, and interview transcripts must be securely stored.

Especially when there are quantitative and qualitative interviews with personal information collected, faculty members are responsible for keeping these data safe.

How about during the examination season? Confidential documents such as examination papers, tests, and results will need to be encrypted by layers of security measures, including passwords.
Need for managing licenses
Since most higher education institutions' resources are stored digitally, universities will need a good way to manage different journals, research papers, and visual assets licenses. Like managing licenses for images, they are expiry dates to keep track of and intellectual property laws to follow.
The solution: Digital Asset Management for Education
That's why Digital Asset Management (DAM) is such a necessary solution for the education industry. DAM, by definition, is a corporate process for organizing, archiving, and retrieving digital assets as well as controlling access rights and permissions.

Digital assets range from multimedia resources like images, photographs, audio, video, logos, papers, presentations - and basically anything that can be detailed by its metadata.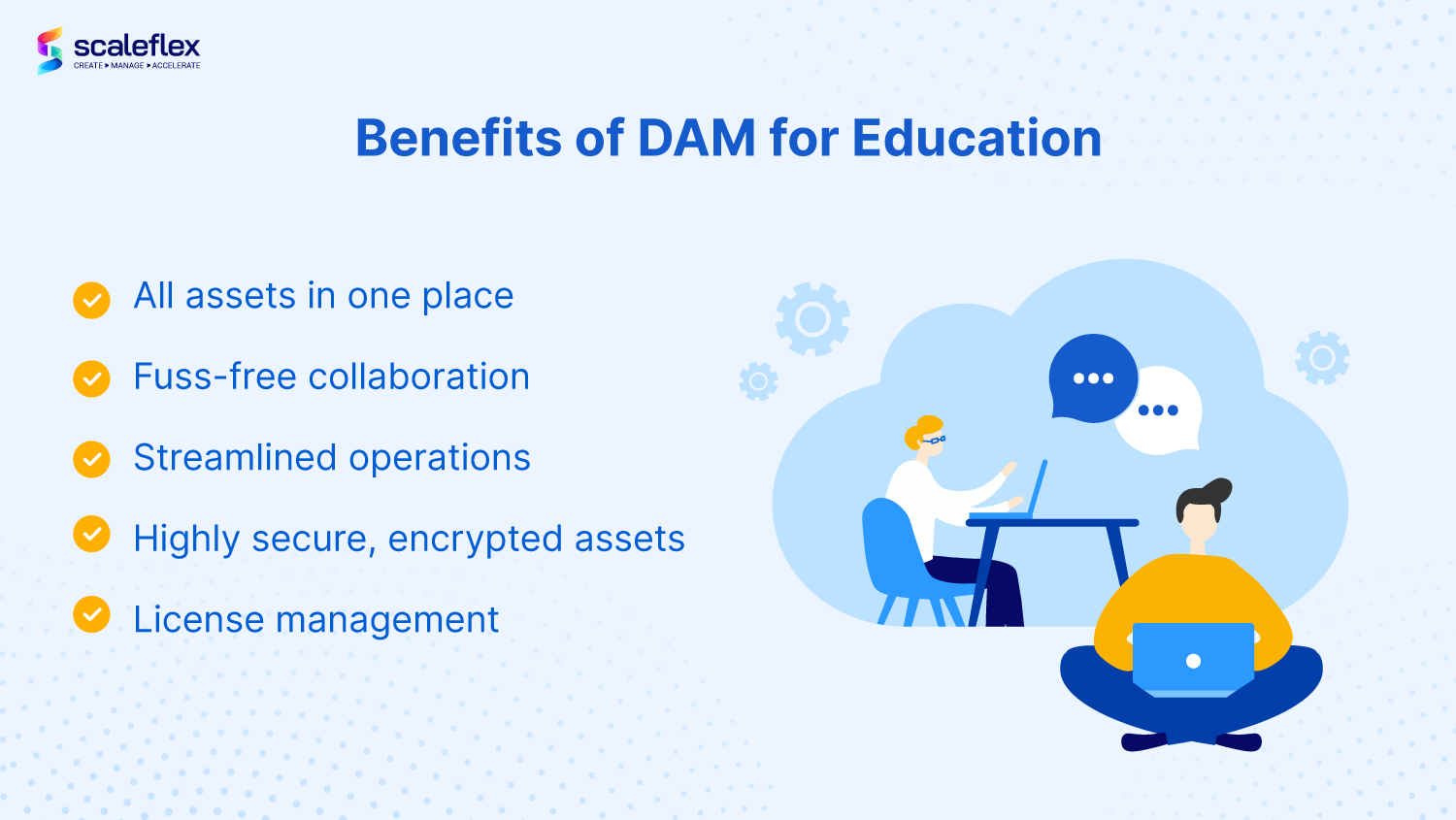 All assets in one place
DAM for universities is an invaluable tool because it helps educators keep track of all kinds of information related to their students and their programs in a single centralized repository. Faculty members get to access digital assets anywhere and everywhere, especially when it is a cloud-based DAM.

Digital Asset Management education features and benefits include:
Duplicate control and versioning ensure that only the latest approved asset is available, reducing time lost trying to figure out the correct document.
Metadata tagging allows visual assets like images, photographs and, videos to be searchable
Fuss-free collaboration
Digital Asset Management for education also makes it easy for collaboration to take place. Research staff no longer have to send files to and fro emails, and large file transfer software when they can provide feedback, review assets, and approve them directly from the DAM.

DAM for universities also helps reduce costs by allowing teachers and professors to share resources between different classrooms without spending money on duplicating materials.

When working with stakeholders outside the organization, a DAM higher education software allows secure sharing without sending documents from another software. All it takes is to send a URL link to the DAM (including security features like encryption).
Streamlined operations
We know how hard it is to delete files one at a time manually. With DAM software for universities, you can share numerous assets or entire collections (and folders), plus add and delete assets at any time.

Optimization of visual assets, such as video transcoding and adaptive streaming to minimize videos and image optimization to reduce file size, can be done in bulk and from within the DAM.
Highly secure, encrypted assets
Digital Asset Management for higher education needs to be highly secure, and assets must be correctly encrypted according to the user roles. DAMs have such features and allow administrators to manage user access to different folders.
License management
Set alerts and notifications so you know when your digital assets or journal paper's license expires. This speeds up the manual workflow of periodically checking through the overwhelming amount of research documents.

When sharing the university's research paper, you are also able to set a time validity so that it automatically expires and disallow access when the other party no longer needs it. This safeguards your team's information.
Why do universities need a digital asset manager?
Not only should higher learning institutions invest in a DAM, they should also think about the personnel who take charge of their most important digital assets - a digital asset manager.

To become a digital asset manager, individuals typically need a bachelor's degree in computer science or information science. They will need to have extensive knowledge of the field of technology along with a general understanding of computer programming. Some soft skills they require include being analytical and working well with others.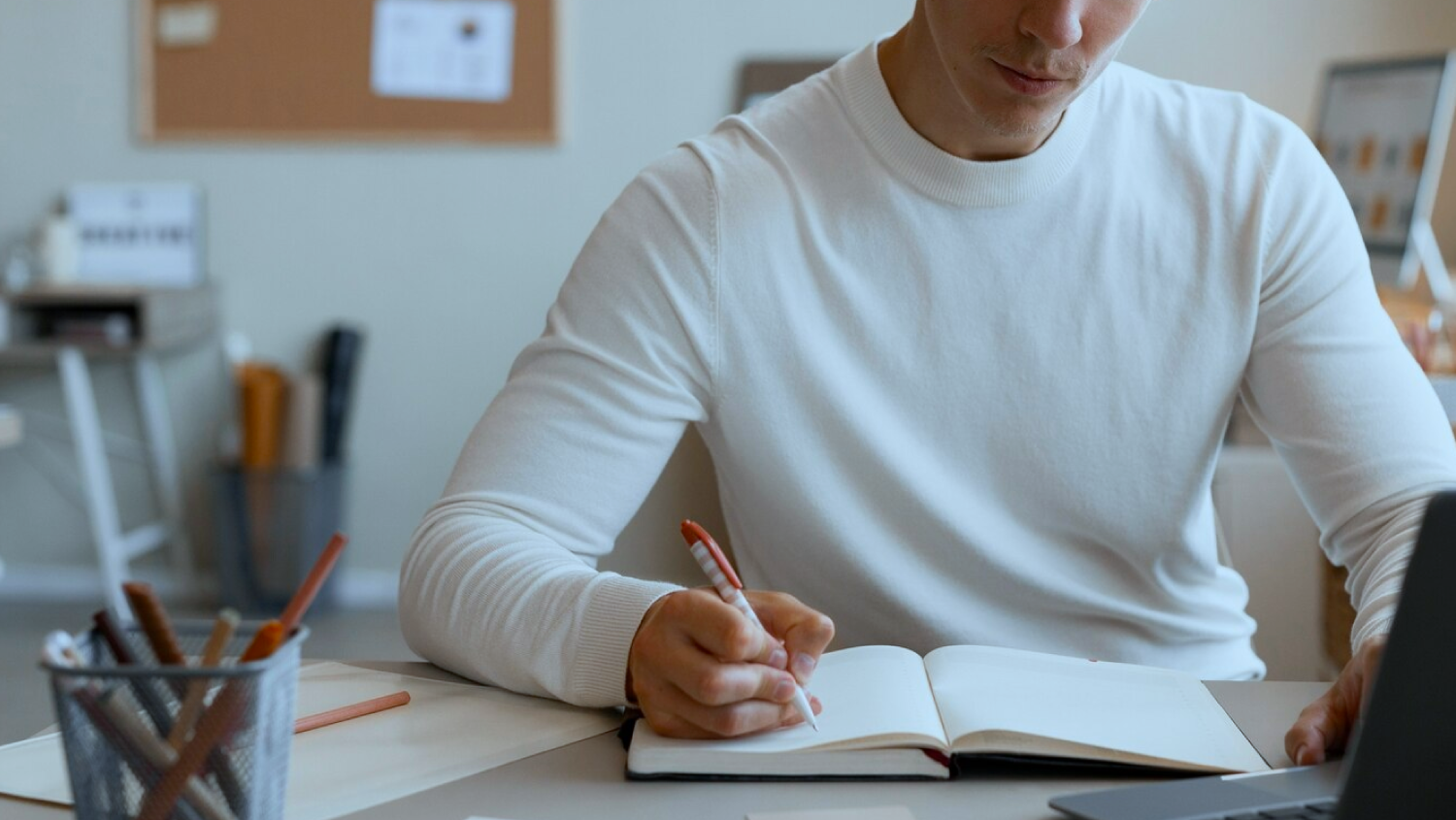 Some private universities offer a digital asset management course with a digital asset management certificate at the end of it. Many of these are online learning courses to help attendees gain practical skills in their job. DAM providers also typically hold Digital Asset Management training as the Digital Asset Manager will need to familiarize himself or herself with the software before effectively managing all the assets in it.

When universities hire the right DAM manager, he or she can help improve the way the DAM is being used, recognize modifications to the business and include them in the execution and make sure that the implementation is ongoing, pertinent, and in line with the business requirements.
Key Takeaways
When managing content is so crucial in universities and institutes of higher learning, don't you think executives should invest in DAM software for higher education?

With Scaleflex's Filerobot DAM, you can create folders and collections for organizing your assets by department or project. You can assign custom labels, keywords, and metadata for typically unsearchable assets (images and video) so that your faculty can easily search for specific files.

All these features make it easy for everyone in the organization to get what they need when they need it - and without having to worry about losing track of anything!

Better still, users can use it without extensive digital asset management training. At Scaleflex, we build software specifically for your needs. Our customizable, easy-to-use interface with our comprehensive documentation acts as a digital asset management tutorial, so it is easily integrated into the organization. Explore Filerobot DAM or connect with our DAM experts.
---