35 Artificial Intelligence and Machine Learning Statistics in 2023
"Hey, Siri, tell me where's the nearest subway?"

"Okay Google, switch on the TV"

From Google Maps traffic simulation during rush hours to Spotify's curated music choices, artificial intelligence is all around us.

As one of the most fascinating (and contentious) technological trends of the century, AI software is used by companies across every sector - banking, healthcare, transportation, retail, manufacturing, and entertainment to automate processes, boost productivity and increase profits.

You might just be wondering - how big is the AI market, though and how quickly is it expanding, too?

In this blog post, we'll look at the latest trends and statistics together with its future growth predictions to help you decide if adopting AI is the way to go for your business.
Table of Content
How big is the artificial intelligence and machine learning market?
Artificial intelligence refers to the use of sophisticated analysis and logic-based approaches, such as Machine Learning (ML), to analyze events, automate decisions, and perform actions.
1. The global AI market is estimated to grow to $1394 billion by 2029 - Fortune Business Insights

2. By 2025, 97 million people will work in the AI space - The Future of Jobs Report 2020

3. Over 3 billion voice assistants are now in use, and 8 billion will be used by 2023. - Tech Crunch

4. 77% of the devices we use today feature some form of AI - Tech Jury

5. AI will contribute to $15.7 trillion of the global economy by 2030 - PwC Global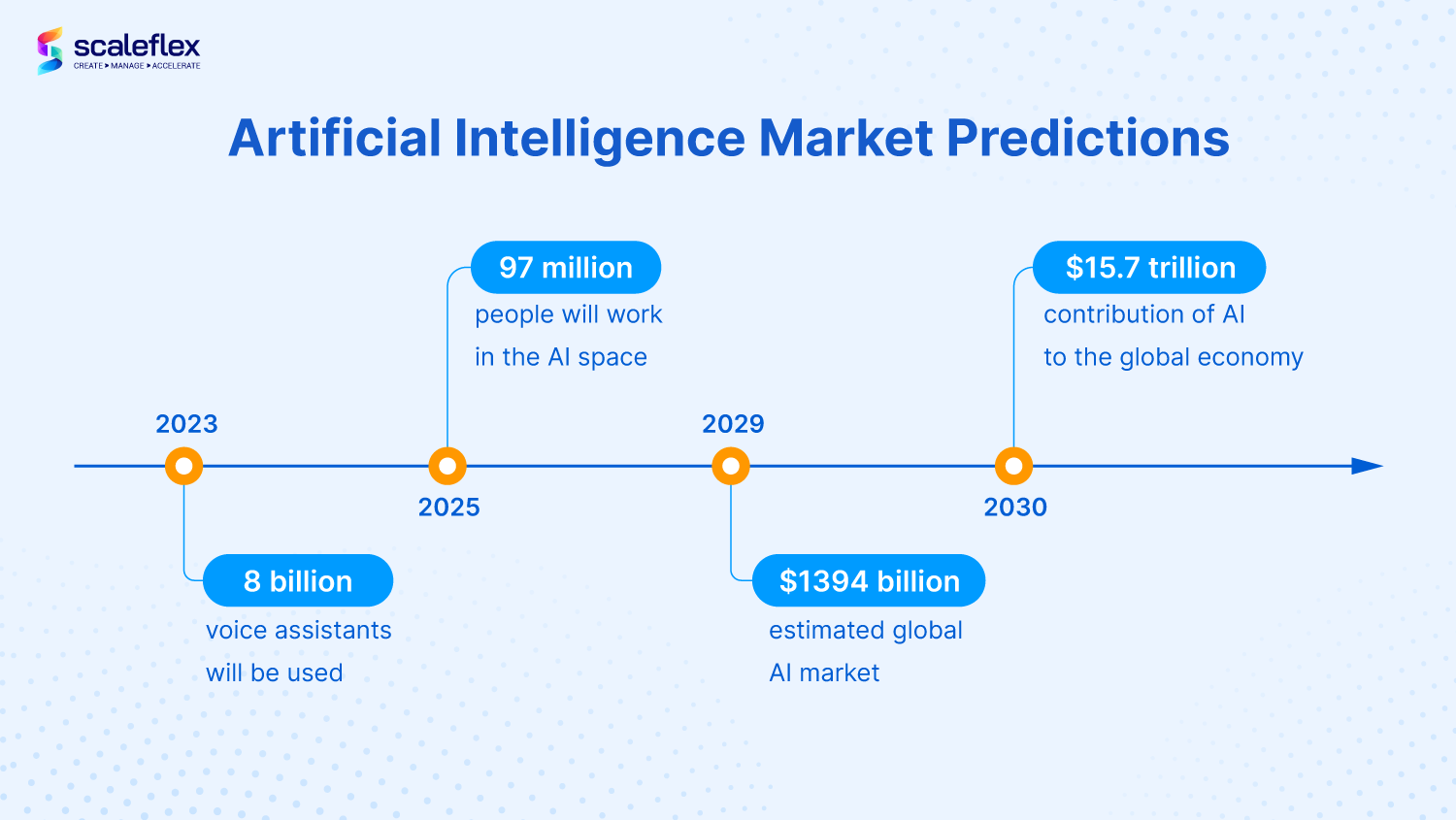 6. The number of businesses utilizing artificial intelligence technologies grew by 270% in 4 years - Gartner

7. Over 9 in 10 leading businesses have investments in artificial intelligence - New Vantage

8. 76% of businesses prioritize AI and ML in their business plans - Forbes

9. 48% of companies use some form of AI to utilize big data effectively - McKinsey

10. 26% of consumers say that they interact with AI daily - Blumberg Capital

11. 91% of tech executives view machine learning as critical or important to their companies - CNBC
Return to the Table of Contents
Benefits of artificial intelligence and machine learning
The benefits of artificial intelligence and machine learning are replete. From improving productivity in workplaces to delivering seamless experiences, read on to uncover the data we've researched on the benefits of artificial intelligence.
12. 81% of employees say that AI helps to improve their productivity - VentureBeat

13. Business productivity is increased by 40% thanks to AI - Accenture

14. A total of $1 billion was saved by Netflix due to the use of machine learning in 2017 - Forbes

15. Amazon has reduced its 'click-to-ship' time to 15 minutes with machine learning technologies. This accounts for a 225% reduction. - Amazon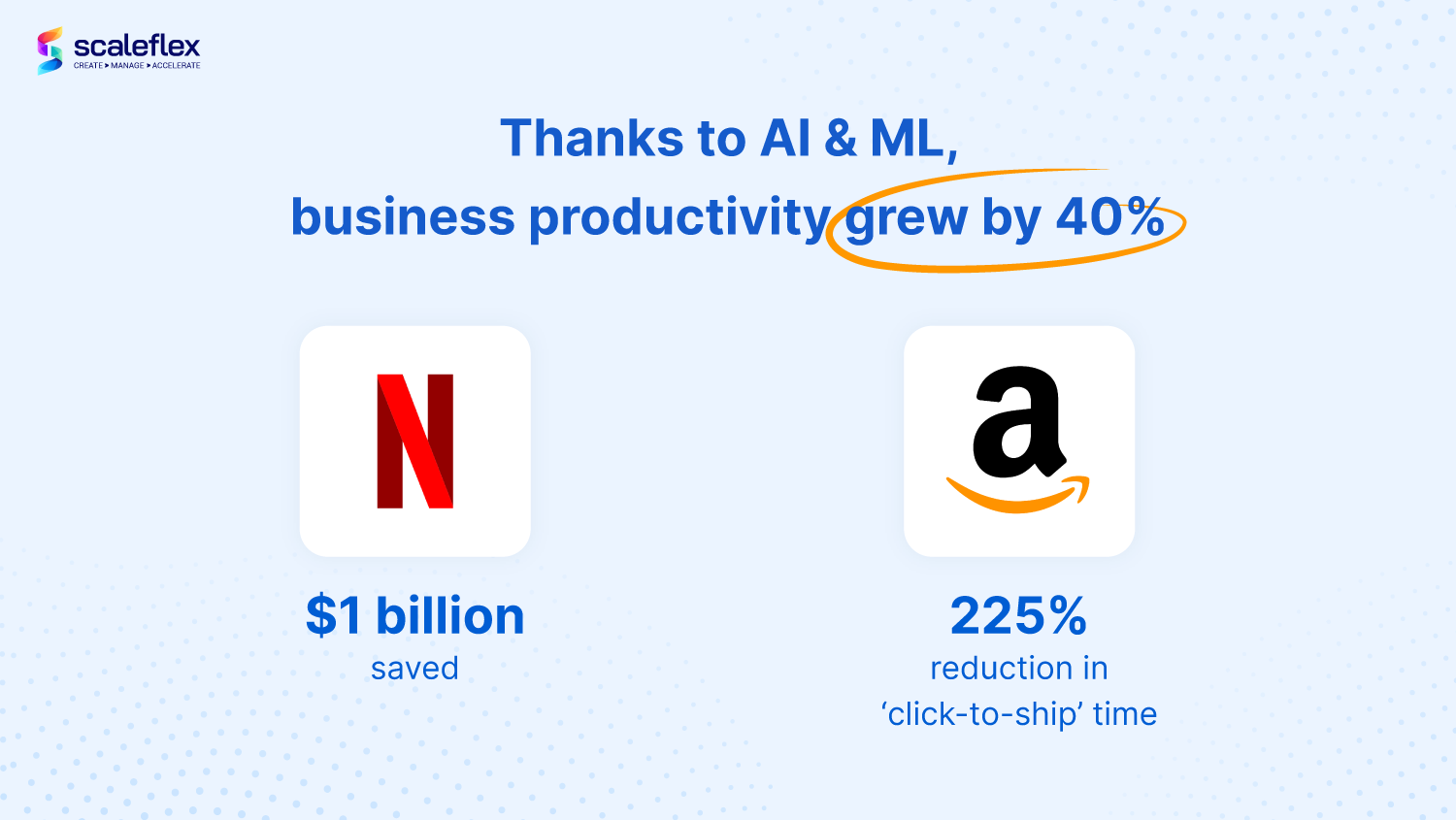 16. 36% of executives incorporated AI to optimize internal business operations - Harvard Business Review

17. Machine learning implementations can yield 2 to 5 times the return on the investment costs - g2

18. 84% of businesses worldwide believe that AI will grant them a competitive advantage - Statista

19. 44% of organizations have reported cost savings due to AI implementation - McKinsey

20. 51% of e-commerce companies use AI to deliver a seamless experience - CompTIA

21. Almost 1 in 4 sales teams use AI in their day-to-day operations - Salesforce

22. 63% of consumers think that AI will solve complex problems in the future - PwC

23. Automating time-consuming tasks saves time by at least 27% - g2
Return to the Table of Contents
How is artificial intelligence used?
Voice search
With increasingly more voice assistants, voice search has become more popular.

24. 97% of mobile users utilize AI-powered voice assistants - Enterprise Apps

Tech Jury found:

25. 40% of adults utilize voice assistants for search daily

26. In 2020, 50% of all searches were the result of a voice search

27. 43% of users use digital voice assistants to search as they are faster than typing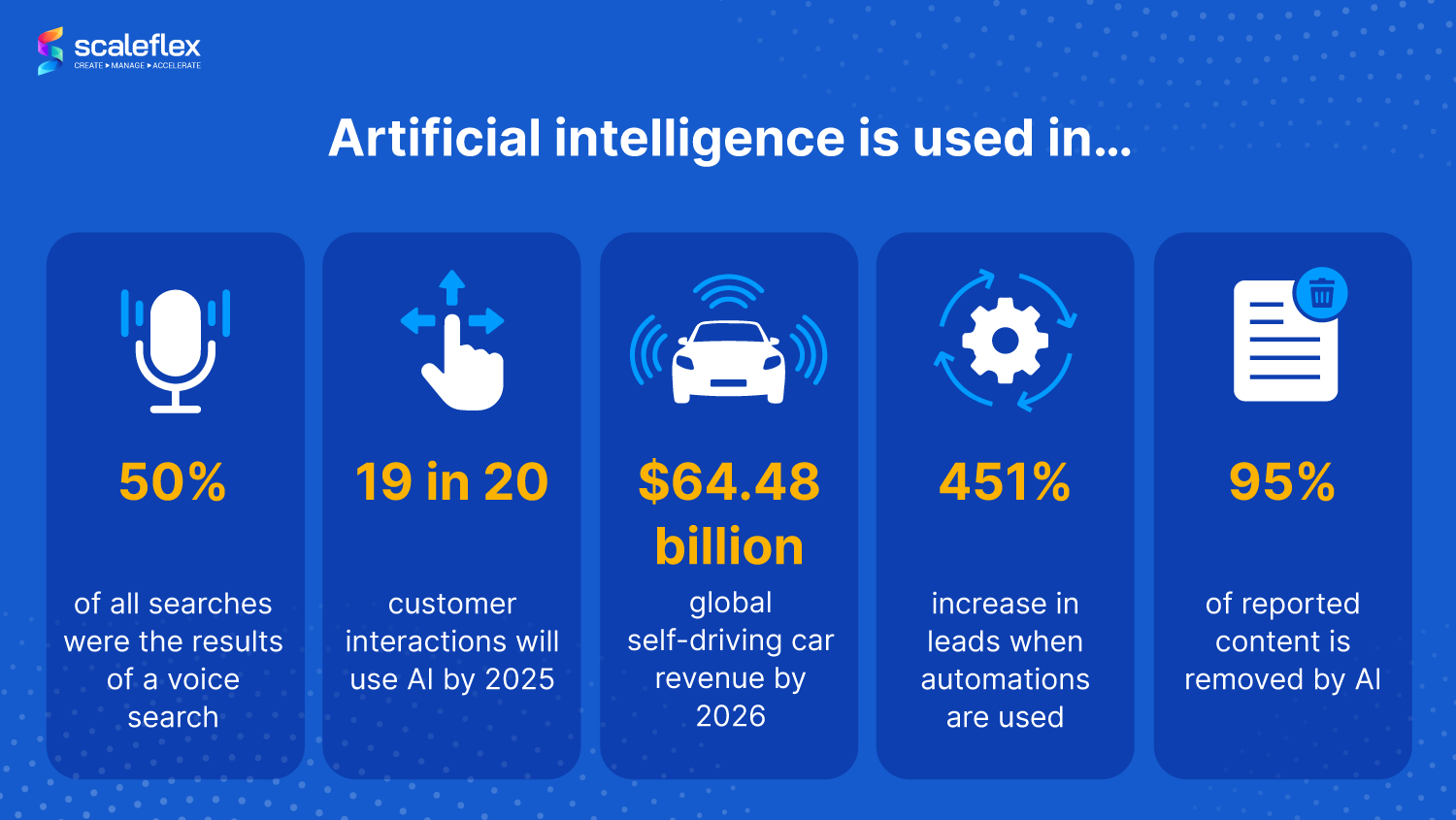 Customer Interactions and Chatbots
28. More than 50% of telecommunications organizations utilize chatbots - Gartner

29. By 2025, 19 in every 20 customer interactions will use AI - AI Businesses

30. The top use case of machine learning and artificial intelligence for business is to improve customer experience (57%) - g2
Automobiles
31. The self-driving car market's global revenue will reach $64.88 billion by 2026 - Globe News Wire
Marketing
32. 52% of marketers believe that AI is important for their lead generation success - Marketing AI institute

33. 70% of marketers currently use automation and they see a 451% increase in leads - Annuitas Group
Content moderation
Since content moderation takes up so much time and can take a toll on content moderators, using AI to automate content curation that is tedious and mentally-draining can be very helpful.

34. 95% of reported content is removed by AI - Business Insider

35. Facebook has its own content moderation algorithms able to detect 99.9% spam, and 99.3% terrorist propaganda - Telus International
Key Takeaways
These AI statistics prove that artificial intelligence is here to stay, and for businesses to improve their operations and gain a competitive advantage, they should be looking for ways to automate their processes.

Here at Scaleflex, our goal is to empower businesses by simplifying the management and optimization of your digital assets with our AI-powered DAM.

ASK FIlerobot, our AI & ML playground includes technologies such as plate number recognition, auto metadata tagging for images, NSFW detection and more to boost your business' productivity.

Find out more about ASK Filerobot and test out the cool features!
Return to the Table of Contents
---