Maximizing Your Online Presence on Visual Search Engines
When we want to find more information about something, we go online, type in a search query, and let search engines do their magic. Today, we even use AI and ML tools like ChatGPT to find answers and solutions.

With the rise of smartphones and the increasing use of mobile devices for browsing and searching online, visual image search is quickly becoming a more popular and intuitive way for users to find what they are looking for. The growing trend of visual search in search engines is quickly gaining popularity, as research has found that 62% of millennials and Gen Z favor visual search over all kinds of search.

Visual search technology has been around for a while. It is integrated into well-known search engines and social media sites, including Bing, Pinterest, Amazon, Snapchat, and of course, Google! Yet, it is less-discussed, and many businesses have yet to maximize the potential it brings fully. In this blog post, we'll look at visual search, the main players in the visual image search space, how brands can optimize their content for visual search, and the benefits it brings.
Table of Content
What is visual search?
Humans are naturally drawn to all forms of visual content - about 30% of the cortex of the human brain is made up of neurons that are used to process visual information, compared to 8% for the sense of touch, and 3% for the sense of hearing. This innate tendency then influences how consumers behave.

Visual search is a technology that allows users to search for information on the internet through images and videos as input. Instead of typing in a query into a search engine, users can simply upload an image or video or even point their camera at an object, and the visual search engine then analyzes the media and return relevant results, including similar images, product information, and links to the source of the media.

This means that visual search can be a powerful platform for a variety of industries, including e-commerce, fashion, home decor, and more. For example, a user might come across a product they like in-store. They take a photograph of the product and use visual search to find the product online, or they can use visual search to find similar products and compare prices. Similarly, fashion and home decor enthusiasts can use visual search to find products that match their style, and e-commerce brands can use visual search to help customers discover products they are interested in.
Visual Search vs Image Search: Are they the same?
While image and visual search are often used interchangeably, they are not the same thing. Although both are based on imagery, the key distinction between the two is that users of image searches use words, while users of visual searches use images.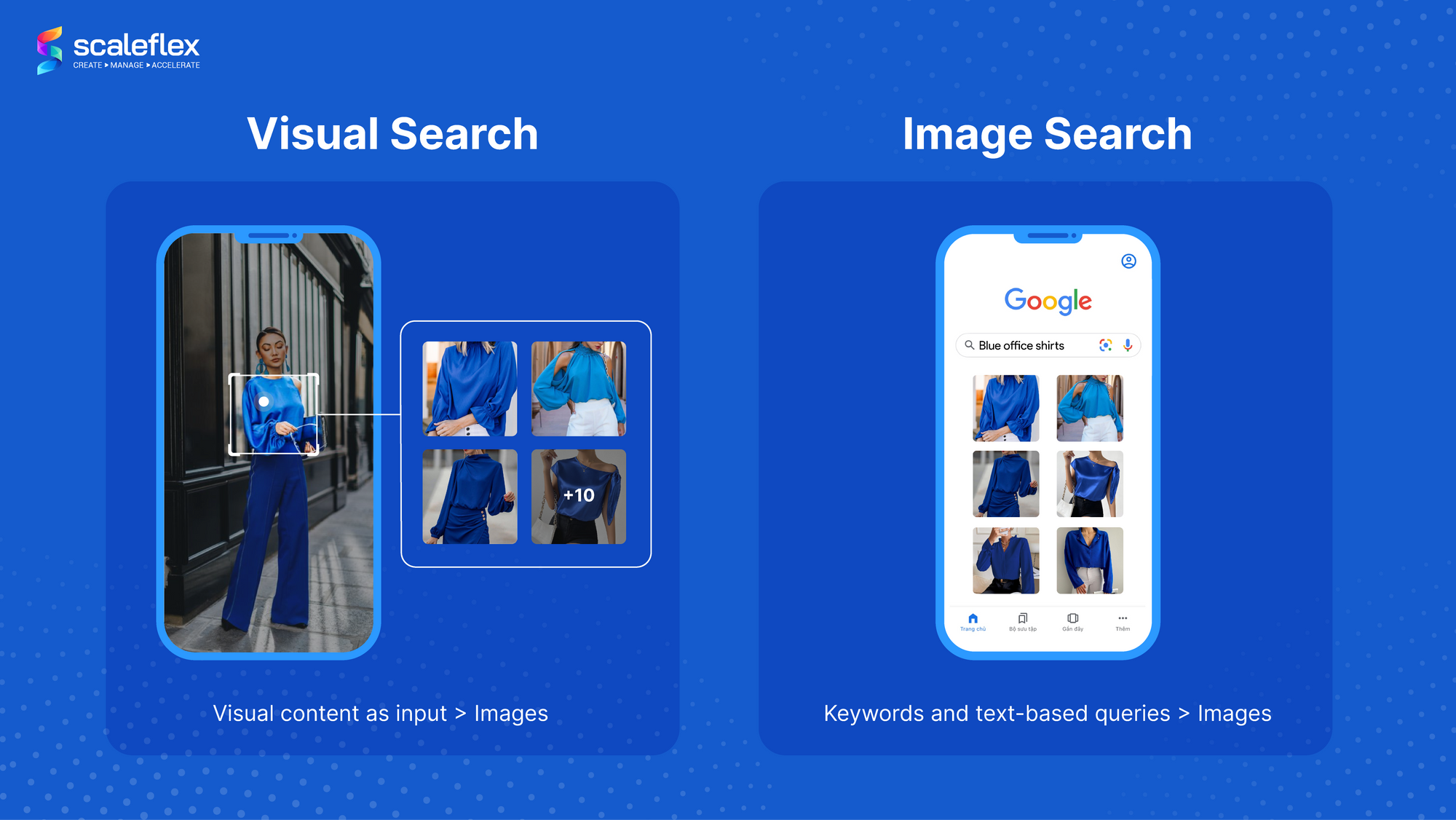 Visual search uses media as the primary input. It can identify objects and objects within images through a combination of machine learning, computer vision, and image recognition technology.

In comparison, image search relies on keywords and text-based queries, to return results based on the text-based metadata associated with the image, such as the file and alt tags.
Return to the Table of Contents
Who are the main players in visual search?
In 2017, Ben Silbermann, Pinterest's CEO, said that images, not keywords, will be the main focus of search in the future. Since then, the major search engines in the industry have actively spent time researching, creating, and enhancing their visual image search applications. From $17,911 million in 2017, the image recognition market is expected to grow to more than $86 million by 2025.

Today, Google, Bing, and Pinterest are the leading players in the visual search space. Other e-commerce marketplaces like Amazon and eBay also offer opportunities to improve consumers' online shopping experience. Users typically use each major visual search platform for a different type of needs, with the exception of Google and Bing, which are usually used to retrieve information coupled with online shopping.
Visual Search Google
Launched in 2017, Google Lens quickly became the world's most popular visual search platform as it offers advanced visual search capabilities. Today, it is used over 10 billion times monthly.

How to do a visual search on Google? Mobile users can find Google Lens technology in numerous applications, including Photos, Google Assistant, and Google Search. In 2018, Google incorporated Google Lens into Google Image Search, allowing desktop users to do a visual search from their computers.

In April 2022, multisearch was launched, combining both visual and text-based searches. Users can start with a visual image search and further enrich and filter the results based on text-based keywords.

As such, we're not saying that text-based search is dead, but there will be more multimodal ways of searching for answers on the internet. Google is also looking to improve this feature with its latest AI model in search - the Google MUM (Multitask Unified Model) update.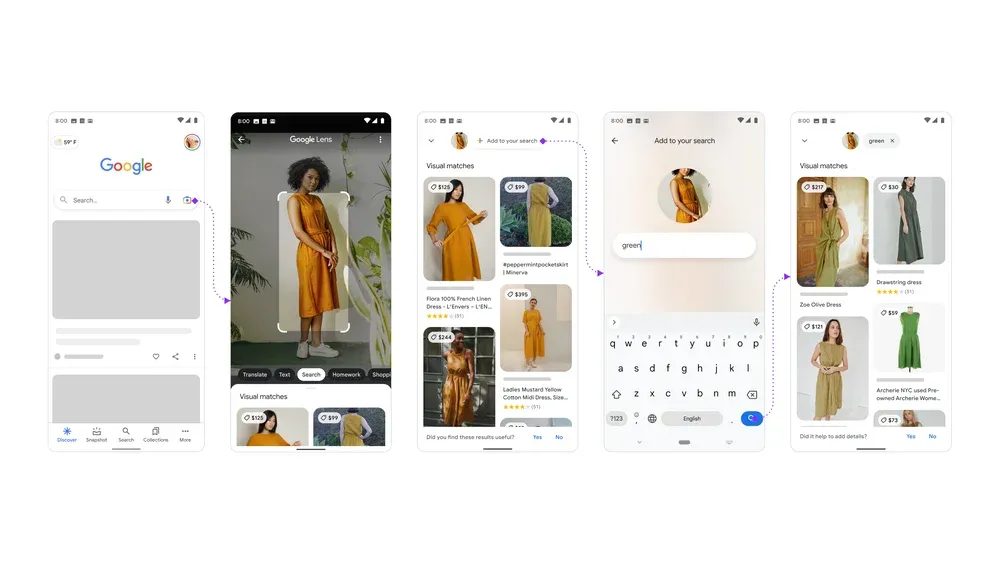 Bing Visual Search
Bing visual search works similarly to the Bing search engine. It allows users to search for products and images using an image as the primary input. It uses deep learning algorithms to analyze the image and return results based on the visual content of the image.

Even though Bing works the same as other visual search engines, it is still the preferred platform by many developers because of its extensive developer platform. For example, Bing enables developers to command the search engine what information people should gain from a specific visual.
Visual Search Pinterest
With over 250 million active users and 600 million searches every month, Pinterest is a popular platform for visual search. Users can search for products and images using keywords, and they can also use the visual search tool to find similar images and products. The visual search tool allows users to zoom in on an image to see more details and provides suggestions for similar photos and products.

Unlike the other two players, what's unique about Pinterest is that users can find, save, and "shop the look" for the items in the image.
Return to the Table of Contents
How do businesses benefit from visual search optimization?
Picture this: You're scrolling through your social media feed, and you come across a stunning piece of jewelry. You take a screenshot and use your visual search tool to find similar pieces. A few seconds later, you've found exactly what you're looking for and are ready to cart out.

Does this scenario sound familiar? Optimizing media for visual search will help businesses gain greater organic visibility, and being one of the "first-movers" in the market by taking advantage of the growing trend will be beneficial for brands in the long run.
Improved User Experience
Marketers who are imaginative and think about visual search engines in their marketing approaches can provide their customers with an omni-sensory experience.

Visual search allows users to interact with websites in a more intuitive and engaging way. Instead of typing in keywords and sifting through results, users can simply upload an image or take a photo to find what they are looking for, leading to longer user engagement and greater opportunities to convert.
Better Discovery of Products and Services
Research on visual search psychology shows that humans process images 60,000 times faster than text. With visual search, users can quickly discover products and services that are relevant to their interests. When businesses optimize their images for visual search, they make it easier for users to find their sites.
Enhanced Competitive Advantage
Being one of the first sites to embrace visual search technologies can be a useful differentiator from your competitors. Since visual search is still a relatively "new" technology, brands leveraging it can gain a huge opportunity to get ahead of their competitors. It also helps position your brand as a modern, forward-looking company that adopts new technologies quickly.
Better Understanding of Customer Needs
Brands that go one step further to track the images that users search for on their sites can help them gain valuable insights into their customers' preferences and shopping habits. This information can then be used to improve marketing strategies which help to increase conversions.
Return to the Table of Contents
How to optimize your content for a visual search engine?
With such an innovative technology that has revolutionized the way people search for information on the internet, marketers and businesses need to optimize their content for visual search to take advantage of the increasing popularity.

These are some best practices in optimizing your content for visual search.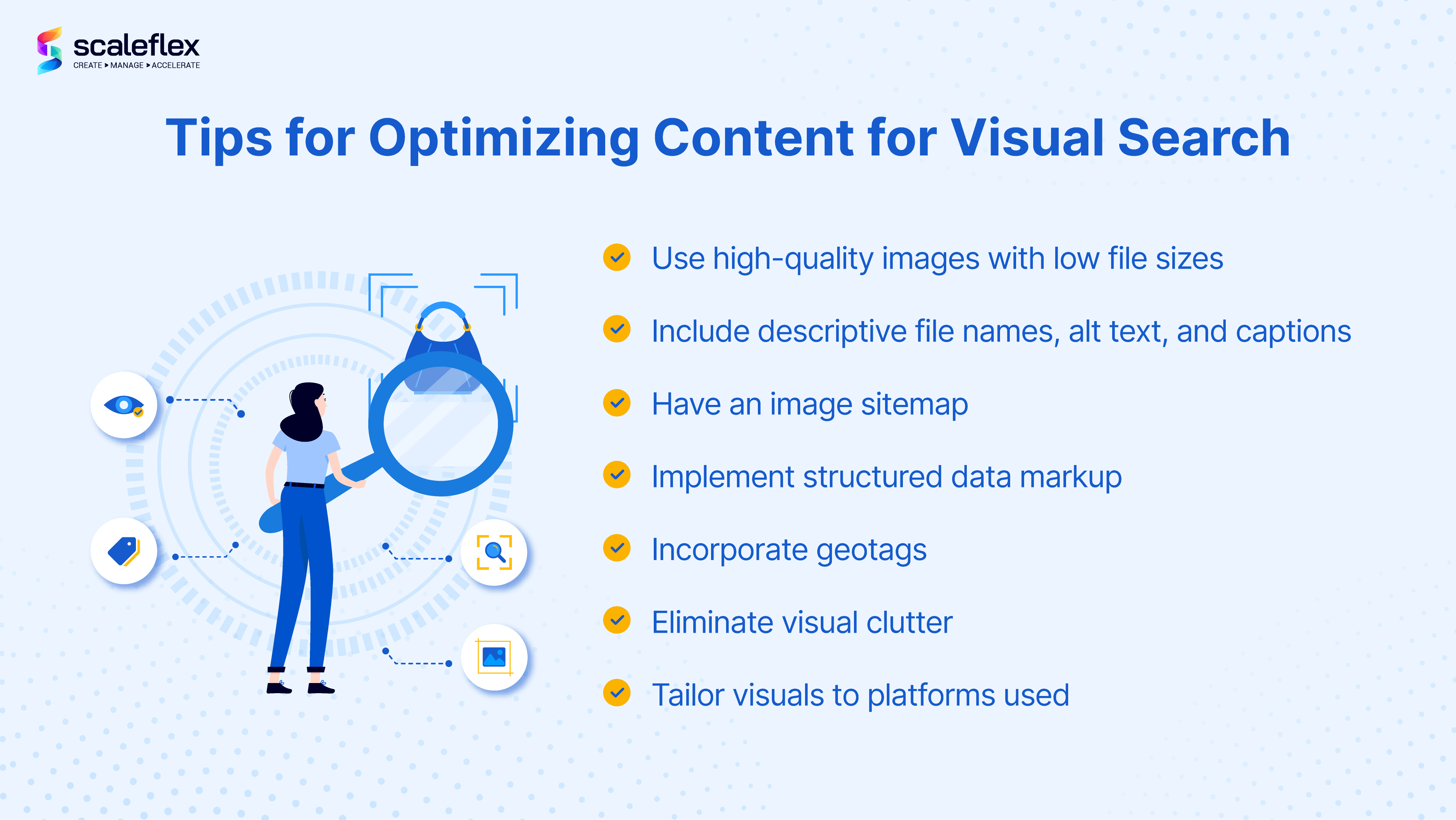 Use high-quality images with low file sizes
Visual search engines prioritize high-quality images over low-quality ones, so it is important to use images that are clear, well-lit, and in focus. Moreover, these high-quality visuals need to load fast too, as how quickly your site loads to users will affect the user's experience and bounce rates.

Brands will need to use the right image formats to ensure that images are compressed without compromising too much on the quality.
Include descriptive file names
Search engines don't just crawl a website copy. They crawl the file names of images too. Marketers should not leave file names as IMG_56124.jpg and, instead, rename them to reflect what is contained within the images as far as possible.
Add descriptive alt text
Context is everything for search engines! Alt text is a short description of an image that is used by search engines to understand the context of your images, making it easier for users to find your content.

These alt texts, will need to be descriptive and contain essential SEO-optimized keywords on images to reduce the room for error when the webpage is scanned.
Include descriptive captions
Concise and relevant captions added to images help to provide search bots with additional context. Not only will captions help users understand what your images are displaying, but provide more information for search bots to figure out the contents of the images.
Have an image sitemap
Image sitemaps increase the chances of your images being discovered by various search engines, especially when images are loaded via Javascript. Image sitemaps help create a structured way of organizing your visuals that are readable by search bots.
Implement Structured Data Markup
Structured data helps to make information and images easier for Google and other search engines to understand. Leveraging structured data helps provide semantic meanings for the media assets, and trains Google or other search engines to recognize your content for visual searches.

Image licensing metadata should also be accessible and visible to Google at all times to help web searchers filter photographs.

Similarly, businesses can use schema:about attributes to link an image and a concept in Google's Knowledge Graph when it depicts a well-known entity (such as a person, or a location).
Incorporate Geotags
Geotags can position an image in a specific location, which may be helpful to surface them in related visual search queries.

Pinterest has a location-based search feature where users can search for images from a specific location. And if images contain a geotag, it can help in the discovery search process.
Eliminate visual clutter
Even as visual search engines get better at classifying photographs, having a clear and uncluttered image can help computer vision algorithms reduce classification mistakes.

The more complex the image, the harder it is for algorithms to make sense of it.

For example, even though lifestyle images, such as showcasing a new bag while shopping in a mall, can look aesthetically pleasing for online shoppers, a photo with a unified background can work better for visual search technologies.
Tailor visuals to the platform used
Depending on the platform, visuals need to be resized and customized specifically to the platform your business wishes to rank. Visuals for Pinterest might be different from visuals for Google. As such, having a quick way to create visual variants automatically is essential to save time and speed up time-to-market.
Key Takeaways
Visual search is a growing trend that has the potential to drive significant traffic to your brand's websites. By optimizing your businesses' content for visual search, brands can reach new audiences, increase visibility, and ultimately drive more sales. With the future of search engine optimization moving towards visuals, it is clear that brands that embrace this new technology will be well-positioned to succeed in the future.

Has your business optimized your site for visual search yet? If not, now is the time to start! We invite you to discover Scaleflex's Digital Asset Management and Media Optimization solutions that can help get your site ready for multimodal search technologies. Filerobot DAM can help businesses add descriptive alt tags automatically and remove the background of your images seamlessly in one click and in bulk. Speak to our DAM and Media Optimization experts to find out how we can help.
Return to the Table of Contents
---