How To Choose An Open-Source Image Editor And What Are Its Benefits?
More than 2.4 million images are enhanced, transformed and restored annually. Across the world, over 15,000 working hours are invested into this process to ensure accuracy, quality and timely delivery.

With the demand for more people, companies and organizations to publish high-quality photos online, image editing software has become increasingly important. One possible route to take in order to make the most of image editing is to opt for open-source software, but what does this mean exactly?
Table of Content
What Is An Open-Source Image Editor?
Firstly, an image editor is simply a software package that makes it possible to achieve various tweaks and improvements to photographs. There are many of these solutions available at the moment, and they vary in terms of features and functionality. Still, they are all intended to help users enhance the quality of photographic images.

Open source means that the source code associated with a particular software package has been made freely available for modification by a community of dedicated users. Users get to modify their interface by including and removing plugins and modules. Open-Source software is made with the intention to correct errors, improve and enhance the package over a period of time. Open-Source software has become popular due to the increasing existence of community-led projects online. Such programs are great for those looking for tools with customizable interfaces and who don't want to pay large amounts of money for licensed software.

Thus, an open-source image editor is simply any image editing package that has been opened up to the general public. This does not apply to many commercial packages as typically, the source code for such software is protected under copyright and is therefore kept entirely private.

But why is there a need to opt for open-source photo editors? Why can't we use the licensed and reputable ones? Let's read on to find out the advantages and disadvantages.
Advantages Of Open-Source Image Editors
While open-source image editing software is often seen as the solution for newbies looking to experiment or startups entrepreneurs looking to cut costs, we do notice a trend of enterprises and large businesses adopting open-source software. In the aspect of image editors, open-source offers several advantages to content curators and companies. Here are just a few examples: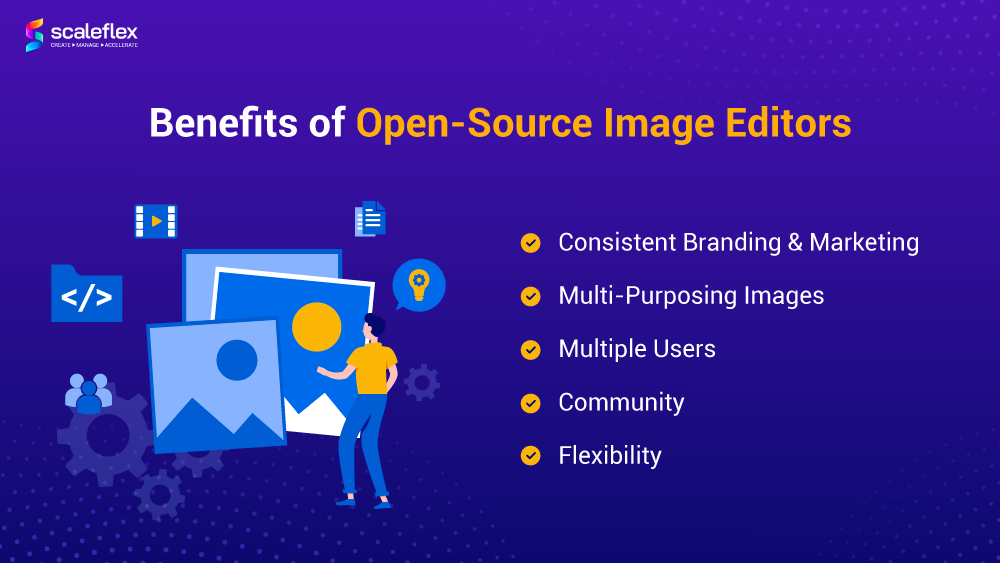 Branding and Marketing – Producing high-quality images, and particularly having complete control over those images, can play a significant role in marketing. The variety of techniques available in image editors makes it possible to produce appropriate and consistent content, which is critical in building a brand. Place watermarks to protect your images and deliver consistent branding to your customers. The nature of open source means that branding and marketing teams do not have to be limited to the functions of the image editor and can extend its capabilities by installing third-party plugins.

Multi-Purposing – With the multiple options available to improve an image via photo editing, it becomes possible to use one image across multiple platforms in different ways. Experimenting with different backgrounds, colour variations, and other tweaks can be highly productive. You can also make efficiency gains by reusing images instead of seeking new images for all essential tasks. Most of the time, these image transformations are considered quite basic, and you may not need separate paid software for it. The right open-source image editing software can help you do more with less!

Multiple Users - Unlike image editors like Adobe, where licensing keys, product activation and serial numbers tied to a particular device are required, open source is free to use and allows access to the entire team. Boost content-to-market speeds! For simple image transformations, you don't have to leave it to that particular design team member and wait till he or she clears her existing tasks - marketing team members can crop and resize images for different purposes on their own.

You could also potentially utilize these image editors for user-generated photographs and images. It is simply inefficient for your team to manually resize and crop images for marketplaces, real-estate, automotive or news and media companies with high user volumes. Let your users do it instead! For example, they can list their property on your marketplace, utilize the in-browser photograph editor to crop and resize before publishing them on your site.

Community - Rather than relying on one proprietary provider, businesses that adopt open-source image editing software can benefit from the thriving communities and brains around them. A common goal unites these global communities and talents to improve the quality and functionality. Unlike a professional image editing software, where content and design teams have to navigate the limitations, new features can be introduced faster and more effectively with open-source photography editors. In-house developers, too, can heave a sigh of relief and save weeks of production time trying to build image editing software that meets the company's specific needs from scratch.

Flexibility – Above all else, open-source photo editors offer flexibility, delivering resizing, cropping, plus an array of other effects that you can customize. You can do so much more with a base image purely by possessing an image editor, which opens up a world of possibility.
Return to the Table of Contents
Disadvantages Of Open-Source Image Editors
Limited Features - An obvious disadvantage of open-source image editing software is that they cannot possibly replace the full repertoire of professional image editing features and tools of Adobe Illustrator and Photoshop. For example, when it comes to advanced features like real pixel manipulation, most of its open-source alternatives are still lacking in this area. Nonetheless, companies will need to understand what kind of image editing needs they have. Do you really need advanced editing tools all the time?

Difficulty of use - Although contemporary packages are user-friendly, there can be a learning curve involved with using them. Especially since developers usually create open-source software, they may not have put as much effort into the user interface, making it difficult for non-technical users to use them for their image editing needs.

Training - When hiring a new employee, businesses will need to consider how they can't just search for a designer or photographer who is skilled in commercially produced programs and allow for learning time before they can get to work. Sometimes there are limitations to what can be achieved with image editing. And the process, even for an expert, is also time-consuming.

Compatibility - Some open-source image editors require specialized drivers to function on proprietary hardware, which is frequently only accessible from the equipment maker. This may increase the price of your project. That's where in-browser open-source image editing software may come in handy, as they do not need specialized drivers to function.

Integration - Commercial image editors are often just one part of the larger eco-system. Design teams often need to work on different applications just to complete one project. A single image editing application may then lose in this aspect as it works in silos, and you may require more effort to transfer these images.
Return to the Table of Contents
In-Browser vs. Desktop Editor: Differences
Another aspect of image editors, and indeed software in general, is that modern packages can be run on a desktop or in a browser. This simply means that you utilize an Internet browser, such as Google Chrome. In contrast, the other approach requires a dedicated application, which runs entirely separate from any Internet access.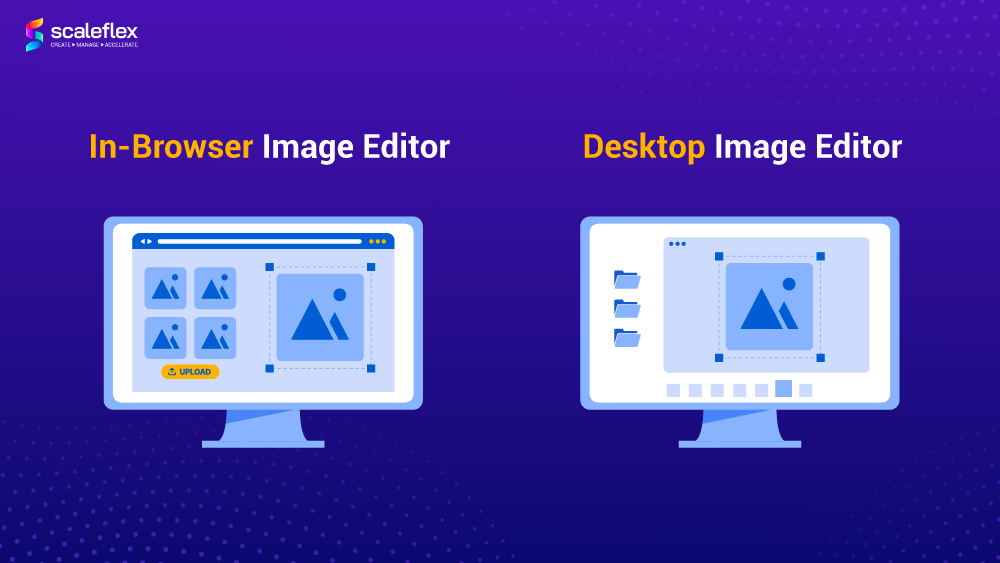 There are advantages and disadvantages of both of these approaches to image editing. Desktop applications tend to provide a more consistent user experience, as they are more responsive than their web counterparts. There is no reliance on Internet connectivity, and therefore they are less impacted by reduced Internet speeds. Desktop apps deliver an extremely consistent experience.

By contrast, Internet issues can have a big impact on how in-browser editors operate. But, conversely, they are also far less reliant on hardware specifications. This is one of the reasons that users often opt for in-browser editors. With in-browser editors, they are widely available, accessible, and they require a small hardware footprint.

Desktop applications can also be considered easier to access once installed. Again, the fact that they are not reliant on Internet access means that once the program is part of your computer or system, you can use it whenever you wish. This can be an issue with in-browser technology, which becomes redundant without an Internet connection.

On the other hand, updates and upgrades are easier with in-browser software, which can be updated without any effort from users. Desktop applications typically need programs to be updated on a machine-by-machine basis, which certainly doesn't apply to in-browser packages. Indeed, you don't need to install anything with an in-browser solution, which is rather convenient in itself. Desktop packages take up quite a lot of disk space, which can be problematic if you run out of hard drive capacity.
Return to the Table of Contents
Why Are Most Web Image Editors Based On JavaScript?
JavaScript is a popular programming language that plays a major role in the contemporary Internet. Even for those not as familiar with programming, JavaScript's syntax is straightforward, easily understood and can be quickly picked up by newbies!

Javascript's popularity has grown due to its flexibility across platforms, and its open standards and community. As a result, 97% of websites use JavaScript, which means that it is easily the most widely utilized programming language in the world, according to Stack Overflow's 2020 Developer Survey.

This is the primary reason why most web-based image editors are based on JavaScript. Open-source Javascript image editor simply makes sense given the constituency of the existing Internet, while it is almost unequivocally regarded as a more suitable language for website development compared to its competitor CSS and HTML.

As a general rule, it is also more likely that developers will be familiar with JavaScript, and this makes it easier to seek out coders if any assistance, updating, or other work is required.

A JavaScript open-source image editor ticks several boxes, and just makes sense for the vast majority of web-based software for all your image editing needs.
How To Find A Good In-Browser Open-Source Image Editor?
This is an interesting question, but the answer to this conundrum actually begins with other questions!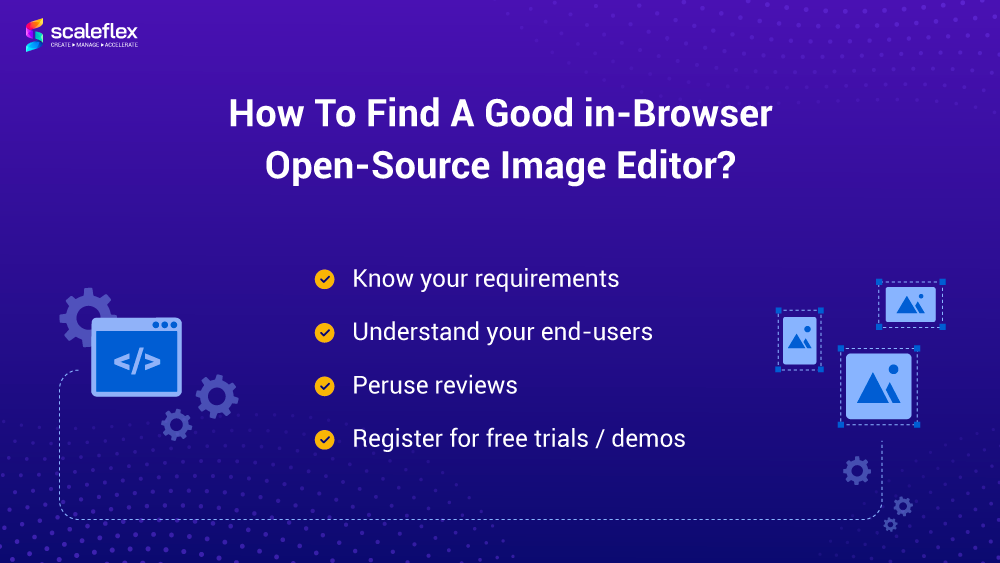 What are your requirements?
The first thing you should ask yourself when seeking a good in-browser open-source photo editor is to examine what you require from the software. Start by making a list of all the functional aspects and qualities that you would like to be included in the browser image editor, and from there, begin your research on this basis.

Examples of basic image editing in browsers include cropping, resizing, adjusting the brightness and contrast, while more advanced features could consist of filtering and watermarking.

It would be good also to consider the processes required following image editing. Would you need to optimize the images, store them on the cloud, or deliver them over a CDN?
Who are your end-users?
It would be best if you also examined who the end-users are. Are you looking for an open-source in browser image editor for your marketing team - where you don't need the full capabilities of advanced editing features of Adobe?

There can be so many different factors that impact this decision-making process. Powerful editing features may be important to one user, while another may require a cross-platform licence. Others may value an active and helpful community, while impressive customer support could be a significant factor for another user. Whatever you choose, the best image editor in browser is the one that best fits the needs of your teams.
Peruse reviews
Software review sites and customer reviews can also be an essential source of information, providing valuable feedback on existing browser-based image editor packages. They will help you highlight the known advantages and disadvantages and objectively compare image editors to make a well-informed decision.
Free trials
Seeking free trials or at least a demo is also worthwhile, as this can give you an unequalled insight into how a package functions and whether it is compatible with your CMS. Reading reviews can only do so much, as you will need to try it out first-hand to know best whether or not it fits into your current ecosystem.

The important thing is to be clear on what you require from the browser image editor and do diligent research on the Internet. There is a wealth of information available on all open-source photo editors.
Return to the Table of Contents
Conclusion
In conclusion, open-source image editors are an excellent way of producing better quality photographic images, while also being affordable, accessible, and blessed with excellent support and community contribution. Packages such as the Filerobot Image Editor, which is open source, browser-based and on JavaScript, is one such package that can help you to edit all your Images with an Easy-to-Use Open-Source Plugin. Some features available on the Filerobot Image Editor include resizing, cropping, rotating, applying watermark, filters and effects, creating collages, and more!

Plus, if you decide to take your content operations up a notch, the Filerobot Image Editor can work with Scaleflex's powerful Digital Asset Management solution - Filerobot, and offers image CDN capabilities via Cloudimage.
FAQs
What is an open-source image editor?
Open-source image editors are any software package used to improve the quality of photographic images whereby its source code is publicly available for sharing and modification.
What is an image editing tool that runs in the browser?
An image editing tool that runs in the browser is any software package or solution used for the enhancing of photographic images that has been designed to run within the software used to browse the Internet. This means you can edit your pictures from Chrome, Safari, Firefox, or any compatible Internet browser. Such packages differ from apps that require installation on a machine or network.
Is there a web-based alternative to Photoshop?
There are many web-based alternatives to Photoshop, such as in-browser solutions, which are becoming increasingly popular due to their flexibility and accessibility. Filerobot Image Editor is an excellent alternative for Marketing teams if all they require are basic image transformations. While it sure does not have the entire repertoire and advanced editing capabilities of Photoshop, marketers can edit images quickly and easily, without having in-depth knowledge of design skills.
Return to the Table of Contents
---