Media optimization: In-house solutions vs Cloudimage
Find the right media optimization solution for your business. Here are the pros and cons of in-house solutions vs. Cloudimage - Europe's leading media optimization tool.
Did you know that a 0.1s site speed improvement can equal an 8% increase in conversions for your business?
A fast-loading website is crucial for the user experience and SEO of every online page. Nowadays, there are numerous tools, plugins, and services on the market to help you with website speed and image optimization. Finding the right solution for your business is not an easy task and we get that.
This is why we have decided to compare having an in-house solution for image compression vs. Cloudimage - Europe's leading media optimization tool.
In-house media optimization solutions
Keeping everything in-house is something businesses opt for, thinking it is the best solution for them. There is, in fact, just one benefit that comes with in-house media optimization.
Higher control
With an in-house solution for image file compression, you'd have greater control over the process, image sizing, and everything else that comes with it. You would know all the bits and pieces that happen "backstage", giving you the option to make custom alterations and tailor each file to your needs.
Despite having the opportunity to practice higher control, optimizing everything manually has its limitations. And here are just a few.
Greater control comes with greater responsibilities - you'd need to make customizations to each image, according to its specifics.
Requires great effort and resources
Taking care of a website is not a one-off job. New content gets constantly uploaded, old content is being updated. Big files, such as images, are one of the top reasons that make websites suffer from low speed and bad user experience. You can find out more about the importance of image optimization in our blog post here - why it is needed and how it can improve your site.
This is also the reason why image optimization needs to be done constantly. The usual solution for businesses is to have someone do it manually whenever new images are being uploaded. This would mean spending time and effort, maybe even hiring extra staff just for this one time-consuming task.
Risk of human mistakes
When image optimization is done manually, there will always be a risk of mistakes. It is unrealistic to expect no mistakes from a human being, especially when it comes to repetitive work like this.
Limited access to CDNs across the world
In order for a website to load fast, its content must be stored on a CDN, geographically close to the user. Of course, you are able to purchase your own CDN space, but this is way too expensive for just one business.
The lack of local CDN can lead to a slower load time, which means worse user experience and most probably fewer conversions.
More costly in the long run
Having people work on image optimization in-house leads to direct cost for their working hours. Not to mention the costs if you decide to invest in a Content Delivery Network (CDN). If you look at the bigger picture, your business will scale if you invest these potential expenses in something else, such as improving or promoting your product or service.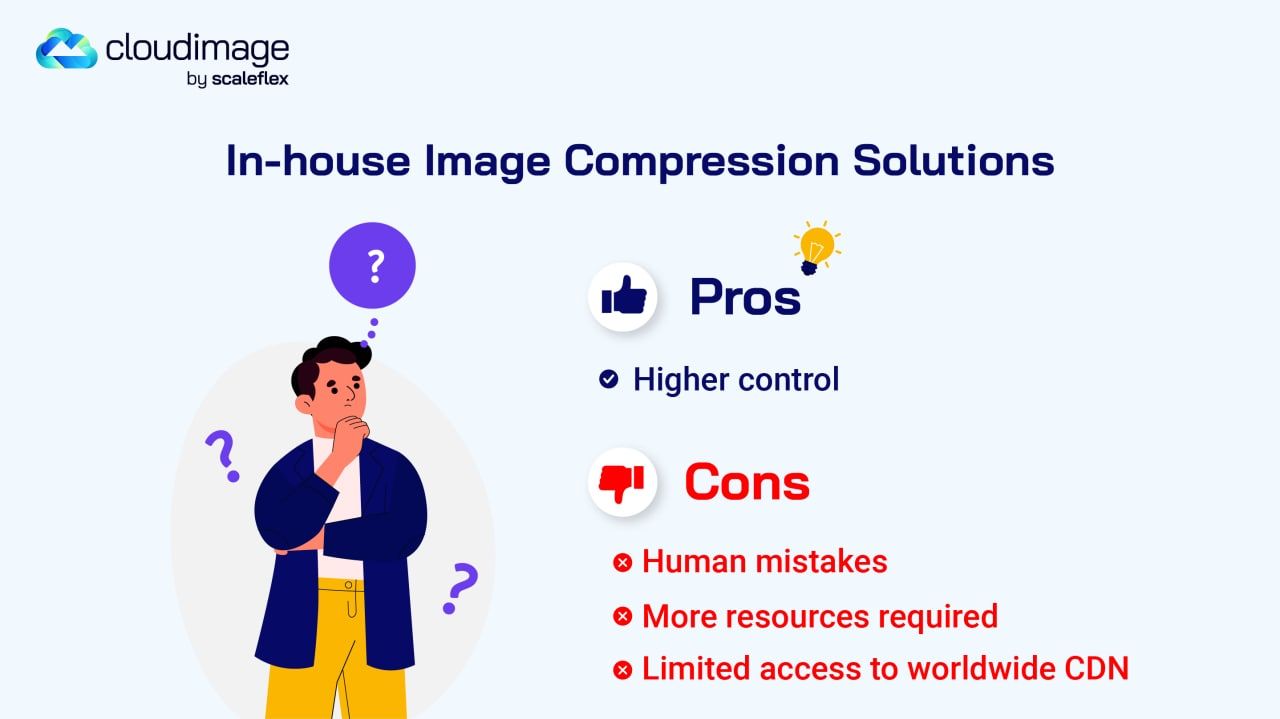 Image optimization with Cloudimage
Outsourcing part of your manual work saves you time, money, and energy. It allows you to focus on more important aspects of your business while things like image optimization are taking care of themselves, thanks to an already developed software. Here are the main benefits of using Cloudimage for your website.
Easier to set up
Simplicity is key for us. And this is why Cloudimage is the winner in the category.
For example, to integrate Cloudimage on a WordPress website, you can just download the plugin and activate it. Your images will then be automatically compressed and resized. Depending on your technical abilities and preferences, you are also able to manually integrate Cloudimage into your website.
Time-saving
Compressing each image one by one vs. having a software do it all for you - which one would you pick? We would certainly go for the second one. Time is precious and having a fast solution to certain issues is just priceless.
Lazy load and no downtime
Not only does Cloudimage optimize all of your website's images, but it also enables a lazy load, which in return helps your site load faster. Cloudimage leverages Content Delivery Networks (CDN) to accelerate the delivery of your images worldwide. We work with multiple CDN providers to optimize the delivery of your images and provide superb reliability.
In addition to accelerating your images, the CDN provides DDoS (Distributed Denial of Service) protection, which will act as a shield to your servers and avoid any downtime.
Rich Feature Set
Cloudimage comes with many easy-to-use features, such as cropping capabilities, 360-degree views, responsive images depending on the display, image filters, resizing, and adjusting.
Automatic watermark placement
Another exciting and time-saving feature of Cloudimage is the automatic watermark placement. Both dynamic and static watermark types are being supported and you can set them up in order to protect your content from being copied or used by someone else.
Cost-effective
Let's face it - getting an online tool is much more cost-effective than having an employee working hours-on-end just to ensure every single image on the website is compressed and resized.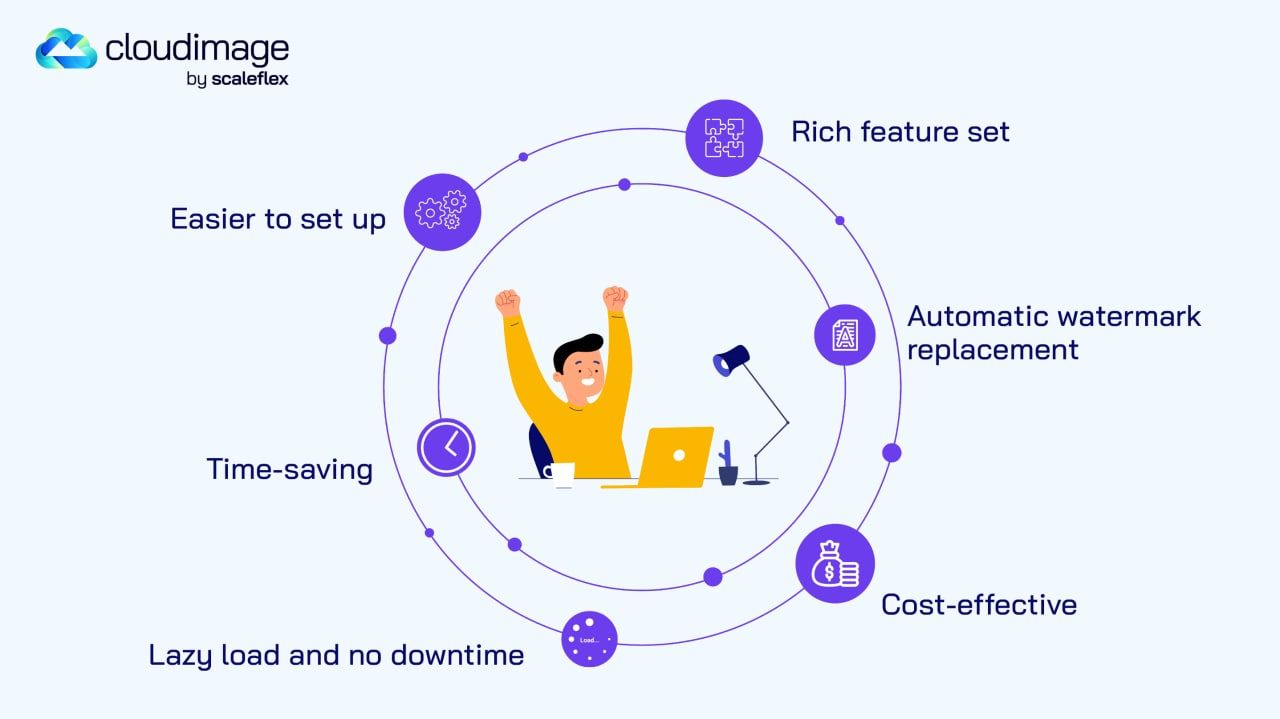 Conclusion
All in all, investing in external image optimization software is something every business must consider for their website. Having extra time on your hands to focus on more important aspects of your business is priceless, and this is exactly what we at Cloudimage do.
Cloudimage is Europe's leading media optimization tool and delivers immense value to both small businesses and large companies. Let us help you scale your business by doing what we do best - optimizing your website to perform at its maximum potential.
Sign up for our newsletter to receive the latest news and information on how to improve the performance of your website.
---