Improve NFT Delivery Speeds With Image Optimization and CDN
With trading volumes hitting more than 17 billion in 2021, the digital world focuses on the rapid growth of Non-Fungible Token (NFT) marketplaces. Today, it is not just creators and artists discovering their potential. Still, many corporations and organizations use NFTs to represent uniqueness, grant evidence of ownership, and guarantee transferability.

While you might wonder how visuals of apes can be sold for over tens of millions of dollars, NFT sites still suffer the same website optimization challenges as other visual-heavy companies.

In fact, they may face even more challenges than mainstream businesses or even e-commerce websites when the legitimacy of NFT businesses depends strongly on delivering high-quality media and providing seamless and fast visual experiences with little to no downtime. To make the most out of their NFTs, companies will need to start focusing on optimizing images and hosting these new digital formats on reliable platforms.
Table of Content
The need for speed
Is your NFT site loading too slowly? 47% of users expect a website to load in under 2 seconds. Successful websites prioritize their speed performance. Even more so for NFT marketplaces. Website speed and page speed are tightly connected to SEO, influencing a site's bounce rate, overall user experience, and conversion.

Although NFTs offer numerous qualities, one of the most crucial aspects that businesses should consider relates to the speed of transactions on the blockchain network these NFTs are part of. Couple that with the need for high-quality images.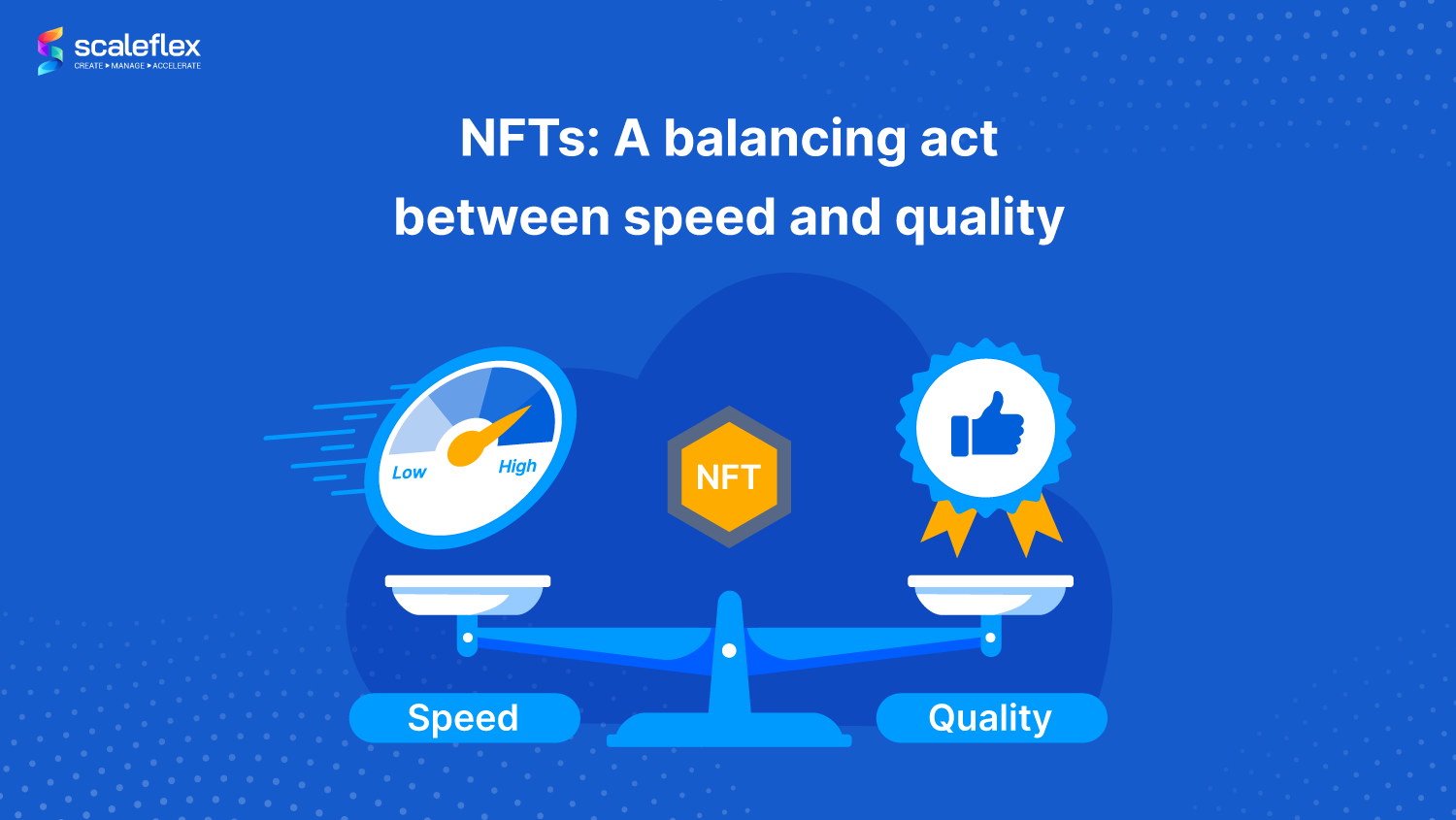 Buyers look out for red flags such as buffering videos, slow load times, low-quality GIFs, and poor UI. NFT marketplaces need speed and performance as major trust factors to convince users to shelve tons of money.

When a single user uploads to the marketplace for minting just one individual NFT, speed may not be as crucial. Still, speed is everything when you start growing with several users uploading and minting thousands and millions of NFTs representing images and video files with different sizes, licenses, rights, or even physical objects. "Lazy minting" which enables users to offer on the marketplace their NFTs without paying minting fees, and synch them to the blockchain only upon sale, have attracted crowds of NFT creators!

Imagine going into a supermarket, and every time you want to purchase an item, you'll have to queue to wait for 10 minutes. I'm sure even the most passionate shopaholic will soon give up after a while.

Such delays and long waiting times will discourage an NFT first-timer. And that's what we want to avoid!
Image optimization for NFT
Image optimization is a great place to start if you're looking to improve your NFT delivery speeds.

Images are the most significant part of an NFT package, so they take up most of the space on your CDN servers. Optimizing your NFT images can reduce the size of each file, lower bandwidth, speed up delivery and improve the overall user experience.

Furthermore, NFT marketplaces seeking to be on top of the game must focus their efforts on improving their SEO. If you want your NFTs to be discoverable and rank well on Google, image optimization for NFTs dramatically affects your SEO rankings as it impacts the Core Web Vitals (CWV). To guarantee an engaging and smooth visual experience, appropriate tools and safeguards must be put in place.

With the basis of NFTs' is to be highly visual and immersive, sites and marketplaces that cannot provide a high level of user engagement won't be able to compete in a market where competition is intense.
How to optimize NFT images?
Optimizing NFT images is not so different from image optimization for websites, but there are some added considerations. Here are some helpful tips to guide you through the process: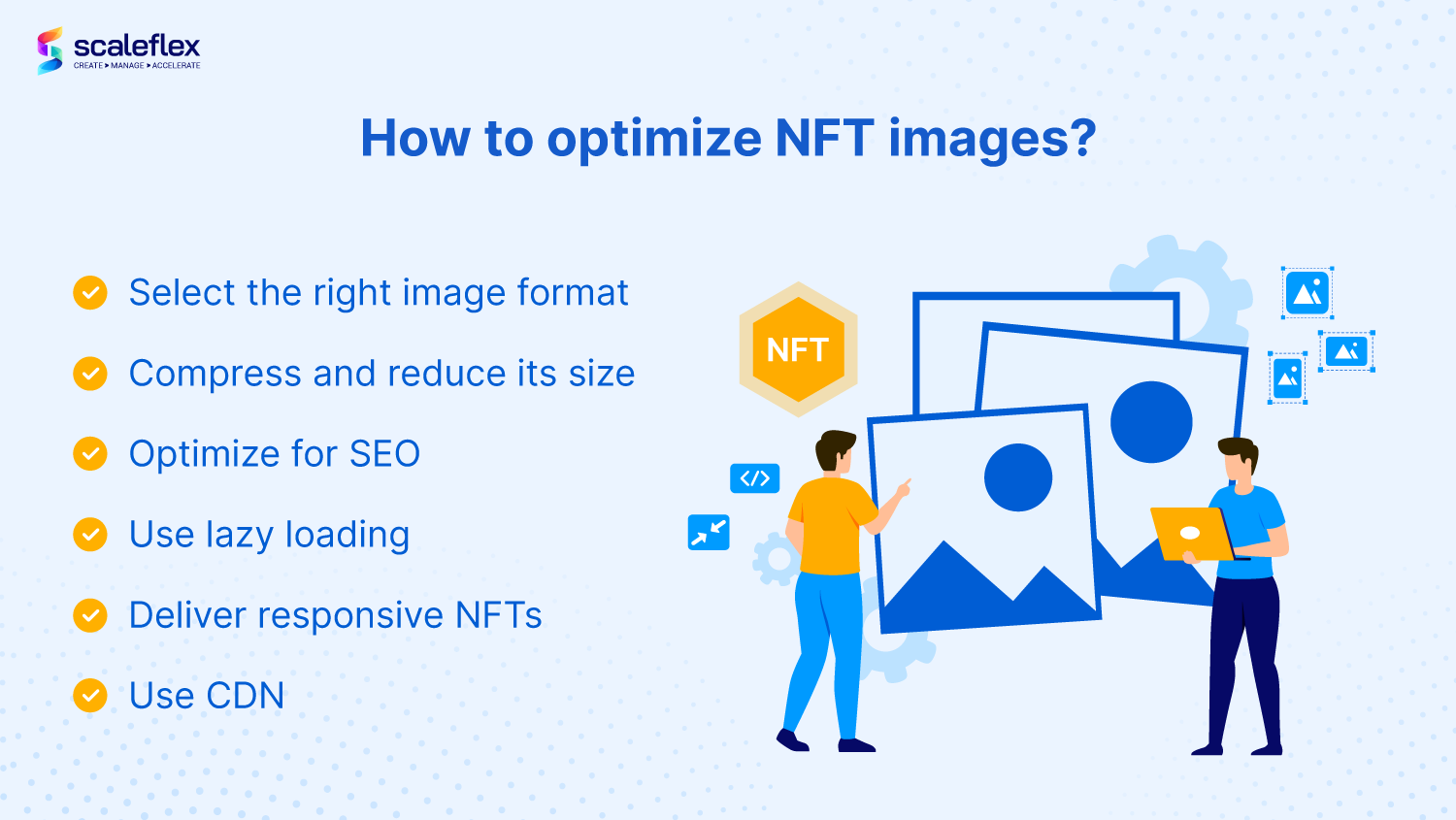 Select the right image format: Depending on the type of NFT, you'll need to use the most optimized format for each image you use. Modern image formats like WebP and AVIF are preferred as they are much lighter and will help speed up your images, and in turn, your sites.

Compress and reduce its size: Choosing the best NFT image size dimension will help ensure that they load quickly on your website and don't take up too much cloud storage.

Optimize NFTs for SEO: This includes proper and descriptive naming of your visual assets and including image alt tags and title tags so that Google bots can make sense of your NFTs and crawl them.

Use lazy loading: Lazy loading works by prioritizing the visuals at the top fold to ensure that your viewers see the essential elements on the top of your page first. To do so, you can include the (src) loading attribute on an "img" element to inform the browser to delay the loading of these images that are "off-screen" until your user gets to them. Alternatively, you can use a lazy loading plugin.

Deliver responsive NFTs: NFT marketplaces have to consider different screen resolutions, browsers, and devices. As such, their NFT images will need to be responsive. Adopting responsive NFT images can also help speed up the website's loading time as it selects and delivers the best resolution for NFT and a smaller, resized NFT image size instead of a heavy one.

The above ways to optimize your NFT images are fantastic. Still, to ensure that all your media assets are prepared for high-quality, quick distribution to all devices and browsers, NFT webmasters need assistance. Automated image optimization software is the solution in this case, especially in light of the sheer volume of assets that NFT marketplaces are in charge of at any given moment. Rather than putting in the time and effort to manually optimize all NFT images, free up your team's time to focus on more important and pressing matters
Return to the Table of Contents
Always accessible, 24/7
Beyond speed, NFT sites will also need to ensure that their websites must always be accessible at all times. Although this may seem an obvious must-have for all websites, NFT marketplaces' challenge is compounded by their goal to serve up images.

An NFT web team headquartered in the United States may see a surge in traffic from another region of the world in the morning, and they will need to ensure that their page stays accessible. Peak periods for the crypto community such as bull runs may also create traffic spikes.
Content Delivery Networks and NFT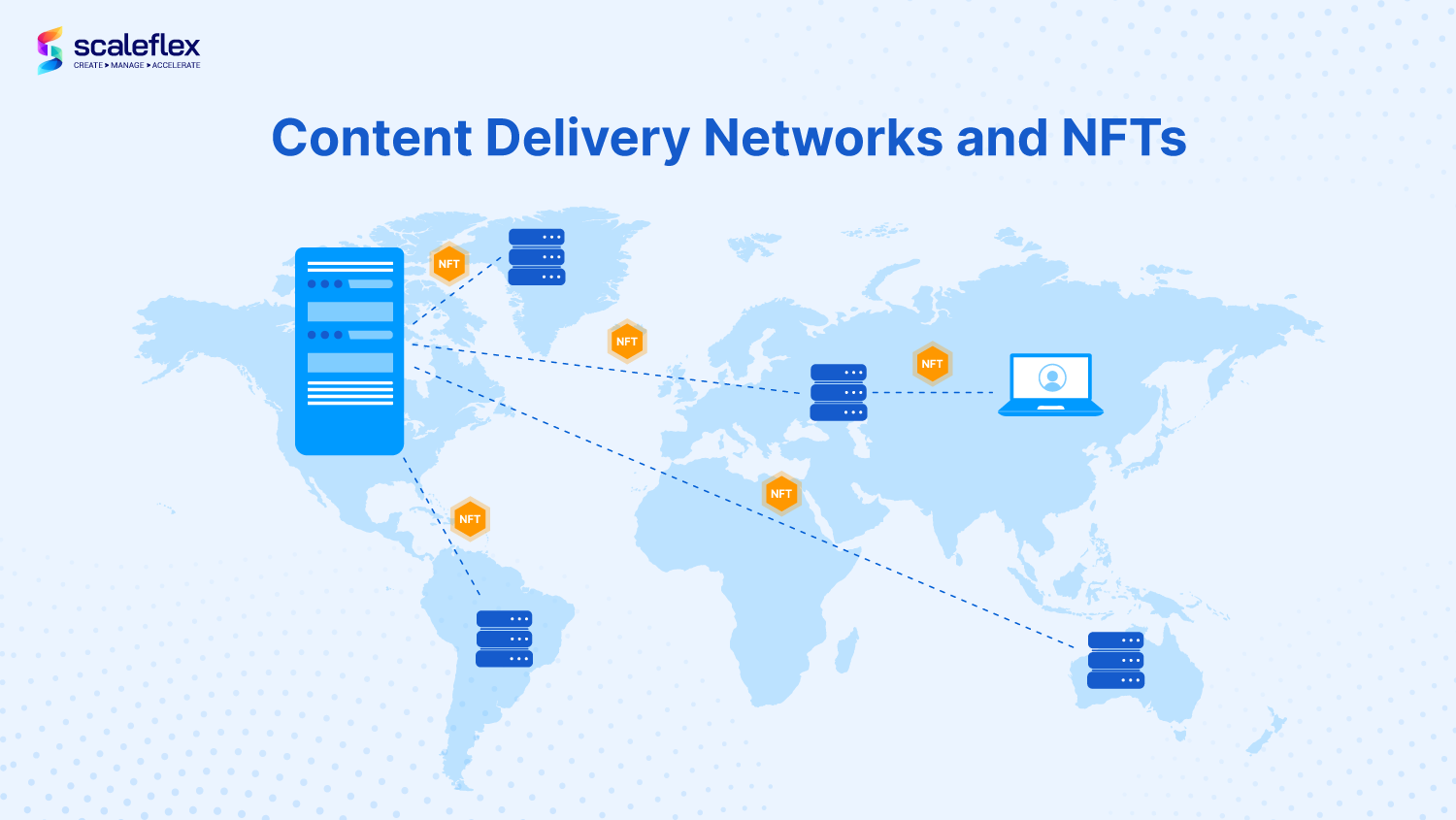 And that is why NFT sites must utilize a multi-content delivery network (CDN) strategy to ensure availability. When one network is delayed or goes down, the website should instantly reconnect to another CDN provider to ensure no downtime, allowing customers to complete its transactions successfully.

This is especially useful for NFT marketplaces when tens of thousands of hopeful customers camp to mint an NFT on release day. You can't put them through all that effort only to get to an error page.
Key Takeaways: Use an Image CDN
Scaleflex's Cloudimage automates the optimization of NFT images and videos on-the-fly, and accelerates the distribution of media assets via multiple CDNs. Image CDNs combine image optimization and CDNs to help boost your NFT delivery. With such solutions, you no longer have to worry about downtime or error pages. And, your site is ready for the next bull run!

Want to learn more about image optimization for NFTs? With just one tool, you'll get optimized images and fast NFT sites; what's there not to like? Discuss your project with our experts today.
Return to the Table of Contents
---