Preserving the Past, Empowering the Future: Digital Asset Management for Museums
Galleries, Libraries, Archives, and Museums (GLAM) are custodians of the globe's collective cultural heritage, and they hold invaluable artifacts, resources, and artworks that are steeped in history and tradition. In today's digital age, the way consumers interact with museums is changing rapidly, and museums need to keep pace with these changes to safeguard their collection and provide accessibility by adopting digitization.

Though the digital transformation of GLAMs is not a new challenge, it is becoming increasingly important every year. Museums need to leverage the latest modern technologies and manage their assets more effectively , so that they can concentrate on what they do best: preserving the past and empowering the future. That's where Digital Asset Management for Museums (DAM) comes in.
What is Digital Asset Management for Museums?
Digital Asset Management is the practice of organizing, storing, and retrieving digital assets such as images, videos, audio clips, and documents. In the context of galleries, libraries, archives, and museums, DAM involves managing the museum's collections of digital assets, such as photographs of artworks, audio recordings of interviews with artists, and perhaps even virtual tours of exhibitions.
Why museum Digital Asset Management is more important than ever?
As we've entered the digital age, the way people interact with museums and their collections has changed. Museum visitors today expect access to a wide range of digital content, such as audio tours, interactive exhibits, and immersive experiences. Additionally, as more museums move their collections online, digital asset management becomes crucial for ensuring that these digital assets are organized and accessible.

Yet, unlike in other businesses, the digitization and management of digital assets in museums present more significant challenges. Museums need to remain compliant with copyright laws, usage restrictions, and follow strict preservation regulations. These are challenges on top of the fact that resources must be available to digitize the artifacts.

DAM is a critical tool to help museums meet these changing consumer expectations and demands. By using a museum DAM, managing and organizing collections of digital assets can become much easier.
What are the benefits of Digital Asset Management for museums?
DAM is not just about the organization and management of media assets. Specifically for museums, it offers numerous benefits and solves various challenges for the museum's digital strategy.

Just think about having a single source of truth - to house all the different types of information, collaterals, assets, and artworks a museum has. This makes the management of digital assets and the search and retrieval experience more enjoyable.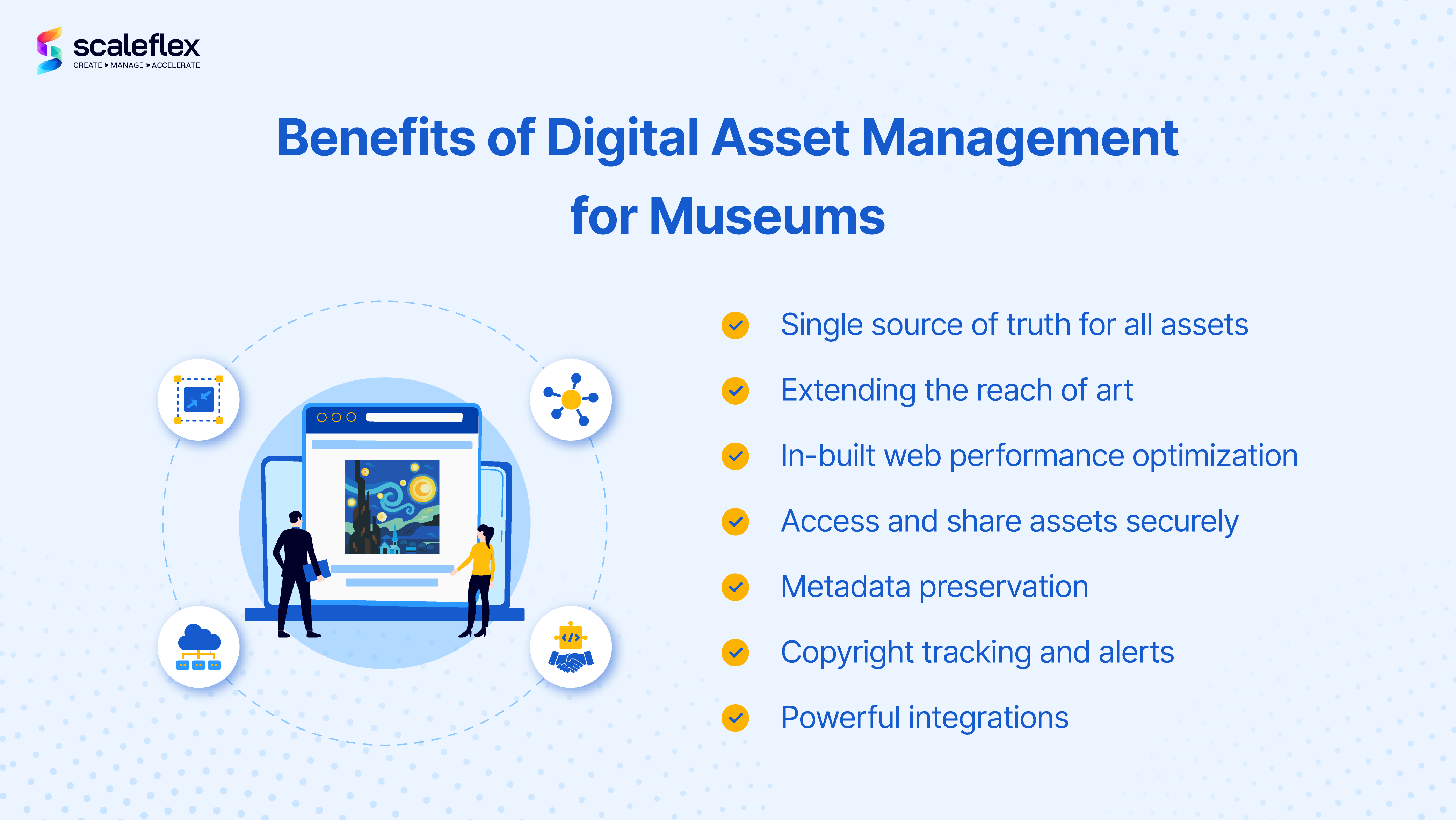 Single source of truth for all assets
Today, museums have to manage websites where they put up their tickets for sale and work with tourism boards and travel agencies to market their museums and boost ticket sales. As such, other than just taking care of the physical artworks and collections, museum asset management involves storing and managing a plethora of digital assets such as marketing materials, documents to share with internal and external stakeholders, and photographs and videos from events and activities.

A DAM can help to store, manage, and accelerate all assets in one place.
Extending the reach of art
Traditionally, GLAM organizations have kept tangible artifacts in physical places, displaying them in stunning structures that store precious artifacts and historical pieces. With the growing importance of digital media and the need to make collections more accessible to a broader audience, museums have increasingly started to place their collections online.

DAM museum can improve the accessibility of artworks and collections for people who may not be able to visit in person. By making these digital assets available online and organizing them well, museums can expand their reach and make their collections available to a global audience. The virtual Smithsonian is one such example where over 4.5 million media assets are accessible to the public. Its website reaches 121 million visitors in 2022, far more than what the physical museum sees.

Moreover, providing such artworks on the internet enables museums to showcase their entire collections, including those artifacts that they could not display in the physical museum due to space constraints or other factors. This can even be a way to pique the interest of the public and encourage them to go to the museum in person to see these exhibits in person.

Museums can also use digital media to enhance the visitor experience by providing additional information and context about the artworks. As compared to having small text on the walls of the galleries or boards and stands, which may be hard to read on a crowded weekend, browsing through the collections online with the descriptions, artist biographies, and other relevant contextual information can in fact, be more engaging and enjoyable when reading on a personal screen.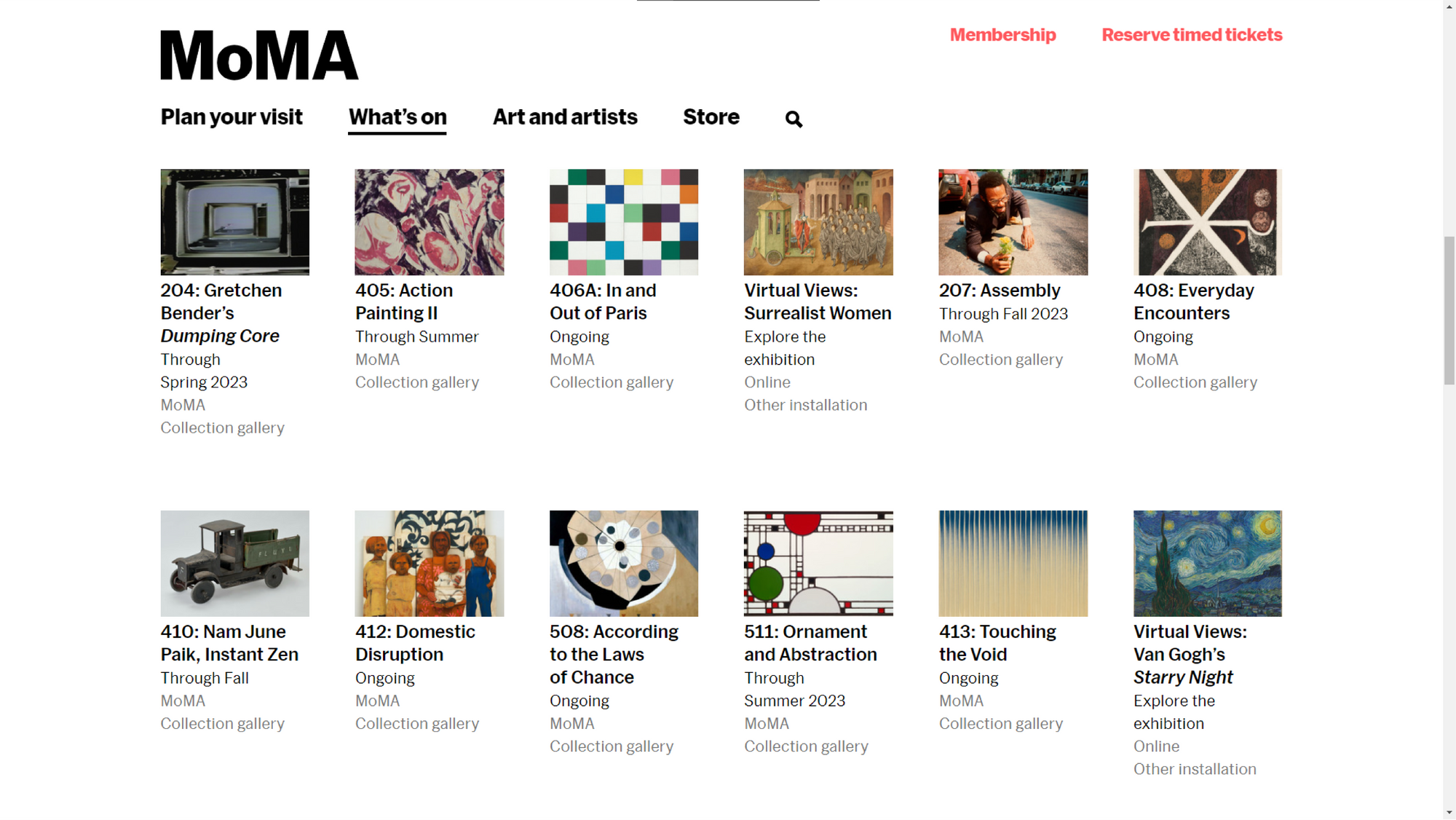 Web performance and media optimization
When putting up beautiful images and thought-provoking videos on a museum website, webmasters must also account for the speed the website loads. Having such high-quality artwork can slow down the website, deterring people from actually accessing the site. That completely defeats the purpose of extending the reach of art to new audiences.

Digital Asset Management museum that has in-built web performance and media optimization features can help to automate time-consuming image processing tasks such as compressing images, creating responsive images, and delivering them over a CDN network.

Read the case study of how TicketsNET, Spain's one-stop ticket sales platform for museums and other entertainment experiences, has benefited from web performance optimization.

With one more challenge of optimizing their websites for speed taken care of by a DAM with in-built web performance optimization features, museums can concentrate on what they do best: curating the best art pieces for the public.
Access and Share Assets Securely
Keeping assets secure is a critical component of managing them well. The majority of DAM systems provide sophisticated sharing features that enable organizations to employ permission groups, settings, expiration dates, password-protected folders, and asset-level permissions like "view only" options to restrict access to protect the security of assets.

As Digital Asset Management museum has robust permissions, it allows employees to securely share assets or collections of assets with external stakeholders who are not set up as users from a centralized location. In general, all these security measures ensure that each specific user can only access the resources they require.
Preservation and Archival Efforts with Metadata
Museum Digital Asset Management typically uses the best practices for information management. As a result, they can accommodate both assets and the many kinds of metadata that must be added after them.

Through workflow automations in DAM, metadata can be automatically retrieved and appended to visuals. Media assets can be further enriched with usage limits and creative rights that are very important to the preservation and archival activities.

Furthermore, DAMs can store several file types, enabling the usage of a number of preservation formats. Some DAM platforms even support widely-used metadata standards, guaranteeing that these metadata are available throughout the whole lifecycle of an asset. Even if a DAM platform does not support metadata standards, it most often still provides techniques for mapping the metadata when the files are exported. When the right museum DAM system is selected, it will make the archival and preservation activities much more effortless.
Track Copyrights and Provide Alerts
Tracking copyrights is easy with a museum dam, ensuring that usage restrictions are attached to every part of the asset's life cycle. It can further send automatic alerts and warnings when an asset's copyrights or usage terms are near its expiration date. When an asset's copyright expires, it can also restrict access so that no one in the organization will use it without the right authorization.
Powerful integrations with other DXPs
Museums can even leverage a DAM's powerful integrations with other digital experience platforms (DXP) for a seamless omnichannel experience. Whether it is to host images on a website, or to put up memorabilia and souvenirs in an online retail store, DAMs with MACH architecture can work seamlessly with PIM, ERP, CMS and other platforms via headless APIs.
Get started with Digital Asset Management
Digital Asset Management has become an essential tool for museums in the digital age. By preserving the past and empowering the future, DAM museum can help GLAMs better manage their digital asset collections, improve accessibility, and streamline workflows.

Find out more about Scaleflex's Filerobot Digital Asset Management, a powerful solution to help galleries, libraries, archives, and museums store, manage, and accelerate all their digital assets. Contact our friendly museum DAM experts to request a non-obligatory demo.
---